By

Olena Kagui
Updated 12/07/2023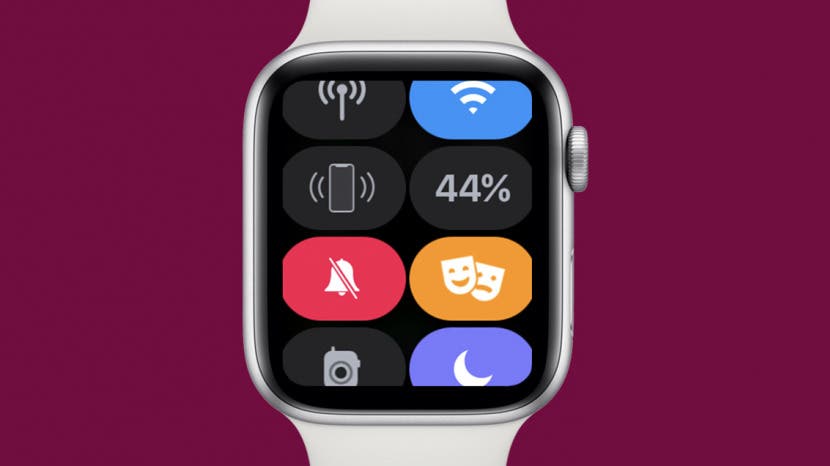 The Apple Watch Control Center gives you quick access to various modes, features, and information. Use it to check your battery percentage, silence alerts, enable and disable Bluetooth, and even ping your lost iPhone. We'll teach you how to rearrange and customize Apple Watch Control Center icons to make using your watch even easier.
Related: Apple Watch Icons & Symbols: Understanding Your Apple Watch
Jump To:
How to Access the Apple Watch Control Center
The Control Center on Apple Watch can be accessed directly from the watch face.  

Discover your iPhone's hidden features
Get a daily tip (with screenshots and clear instructions) so you can master your iPhone in just one minute a day.
Go to your Apple Watch clock face by pressing the Digital Crown.


 
Swipe up from the bottom of the watch face or tap the Side button on watchOS 10 or newer.


 

You'll now see your Apple Watch Control Center, including various icons, buttons, and connectivity symbols.


You can scroll up or down with the Digital Crown or by swiping to see all the Control Center buttons. To learn more Apple Watch tips and tricks, like what to do if your watch won't pair without an update, sign up for our free Tip of the Day newsletter!
How to Edit & Rearrange Apple Watch Control Center Icons
You can customize the Control Center on your Apple Watch with a few quick taps.
Open the Control Center by swiping up from the bottom of your watch face.


 
Scroll to the bottom and tap Edit.


 

Tap the red minus icon to remove buttons. Tap the green plus icon to add buttons.


 
To rearrange your Control Center, long press an icon and drag it to where you want it, then release.
Some icons cannot be removed from the Control Center, such as Airplane mode. You can still rearrange the icon, but you can't remove it.
What Can You Do in the Apple Watch Control Center?
The Control Center lets you control certain Apple Watch settings. Within your watch's Control Center, you can:
Keep reading for an explanation of each of these features, including the corresponding Apple Watch Control Center icons.
Apple Watch Control Center Icons
You can have up to fifteen icons in your Control Center. Certain Apple Watch models will offer fewer icon options than others. For example, Schooltime mode is only available on Apple Watch Series 4, 5, 6, or SE cellular models that are running current versions of watchOS.

Apple Watch Cellular Icon
The cellular icon turns the Apple Watch cellular connection on or off. It is only available on Apple Watch models with cellular. Enabling cellular functions allows you to make and receive calls and texts when don't have your iPhone near you and can't access Wi-Fi.
If your iPhone is in range, the cellular icon will have a white background, and you will see a green iPhone icon in the top-left corner of your display. If you are away from your iPhone, the cellular icon will be green, and there will be green dots in the top-left corner of your screen. The dots indicate signal strength.  
To turn cellular on and off, you have to tap the icon then toggle the slider on (green) or off (gray). If the background of the cellular icon is gray, that means your watch is not connected to a cellular network. However, if you see the phone icon, you can still make and receive calls and texts via the Apple Watch's connection to your iPhone.
Pro Tip: If you want to conserve battery life, turn the cellular network off when you aren't using it. It does drain the battery significantly if you are away from your iPhone.

Apple Watch Wi-Fi Icon
The Wi-Fi icon lets you connect and disconnect from a wireless network. If you long-press the Wi-Fi icon, you can see the network that you are connected to and others within range.
When the Wi-Fi icon has a blue background, that means that you are connected to the internet. Tap it to disconnect; this will make the background gray.

Apple Watch Ping Phone Icon
The icon that looks like an iPhone with two sound waves on either side will make your phone play a ping sound to help you locate it if it's lost but nearby. This works even if your phone is set to Silent or Do Not Disturb. If you long press the ping phone icon, your iPhone will beep and flash a light to help you find it. This is particularly useful at night or in dark spaces. 
Typically, the ping phone icon will have a gray background, but if it's black, that means that your phone is turned off or out of range, and therefore can't be pinged.

Apple Watch Battery Percentage Icon
The battery percentage icon is pretty self-explanatory; it shows you how charged your Apple Watch is. If you tap and hold the battery percentage icon you will see an option to enable Power Reserve mode. Drag the switch to activate it, but bear in mind that this will turn off all features other than showing the time.
Pro tip: You can add complications to your Apple Watch face that show both your watch and iPhone batteries. Ironically, complications can make your watch battery drain faster. 

Apple Watch Silent Mode: Bell Icon
The bell icon on your Apple Watch turns Silent Mode on and off. If the background of the icon is gray, Silent Mode is off. If it is red and the bell has a diagonal line going through it, then Silent Mode is on. When your watch is in Silent Mode, it will still vibrate and light up when there is a notification.
Pro tip: If you forget to silence your Apple Watch and find yourself receiving a call during a meeting, you can temporarily silence it by covering the display with your hand.

Apple Watch Theater Mode: Masks Icon
If you tap the masks icon, the background will be orange, and Theater Mode will be on. When your watch is in Theater Mode, Silent Mode will also be activated. This means that your watch will only vibrate if you receive a notification, but it won't ring or light up your screen. 
Pro Tip: You can tap Silent Mode to turn it off while leaving Theater Mode on. When your watch is in Theater Mode only, notifications will make a sound without lighting up your screen.

Apple Watch Walkie-Talkie Icon
The Walkie-Talkie icon is automatically activated unless Theater Mode is on. It has a yellow background when enabled. Once you set up Apple Watch Walkie-Talkie, you can use it to talk to other people who have an Apple Watch. 
Walkie-Talkie doesn't let you have conversations in real-time; it uses a push system for messages. You can only hear the messages once, and they are played automatically. You will not be able to play them again, so make sure you only keep your Walkie-Talkie mode on when you are available!

Apple Watch Do Not Disturb Mode: Moon Icon
The Do Not Disturb icon looks like a moon. When you tap it, you can choose between various Focus Modes, . You can always manually turn off Do Not Disturb mode by tapping the icon again. Tap it to turn on regular Do Not Disturb or to select one of the new Focus Modes. If you don't see the options you want, you can add existing Focus Modes and create custom ones on your iPhone, iPad, or Mac. They will sync accross your devices so that you can use them on your watch as well.
Pro Tip: Sleep Mode used to have its own icon. Now, you can activate Sleep Mode by tapping the Do Not Disturb and selecting Sleep Mode.

Apple Watch Flashlight Icon 
Just like on your iPhone, your Apple Watch has a flashlight. The only difference is that your Apple Watch uses the display's brightness instead of a separate light. Tapping the flashlight icon will take you to a completely white display. When the watch is turned away from you, the light will get brighter. The Apple Watch Flashlight also includes a flashing light and a red light.

Apple Watch Airplane Mode Icon
The plane icon turns Airplane Mode on and off. If the background of the icon is orange, Airplane Mode is on. By default, Airplane Mode will turn off your Wi-Fi and cellular networks but will keep your Bluetooth enabled. 
You will still get notifications in Airplane Mode, especially if you are connected to Wi-Fi. It doesn't silence your notifications, it simply prevents you from connecting to the cellular network. That is the main difference between Airplane Mode and Do Not Disturb. 

Water Lock: Droplet Icon
The droplet icon turns the Water Lock on but not off. When you turn on Water Lock, you will still be able to see your watch face, but you won't be able to open anything. To turn it off, you will need to turn the Digital Crown to unlock your phone. Water Lock can even be employed to prevent accidental taps to your watch face when doing various activities!
Pro Tip: You can use the Water Lock even after getting your Apple Watch wet to help remove water from the speaker.

Audio Output Icon
The audio output icon on your Apple Watch takes you to a list of any Bluetooth speakers, headphones, or earbuds that your watch is connected to. You can also add new audio devices here by tapping Connect a Device.

Apple Watch Schooltime: Raised Hand Icon
The raised hand icon enables Schooltime but doesn't disable it. Once enabled, you will only be able to see the date, time, and your name. To disable Schooltime, you need to turn the Digital Crown. It functions as an Apple Watch lock button, similar to Water Lock and Sleep mode.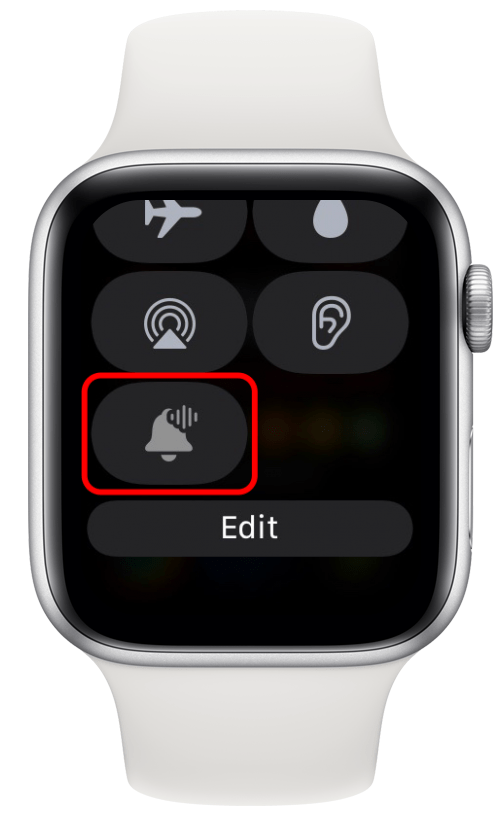 Apple Watch Announce Messages Icon
If you are using your AirPods while they're paired with your Apple Watch, you will see the icon for Announce Messages. When the background of the icon is red, it is enabled. You can tap it to turn it off. When Announce Messages is on, Siri will read your incoming messages. You can also customize your Announce Messages settings if you choose to.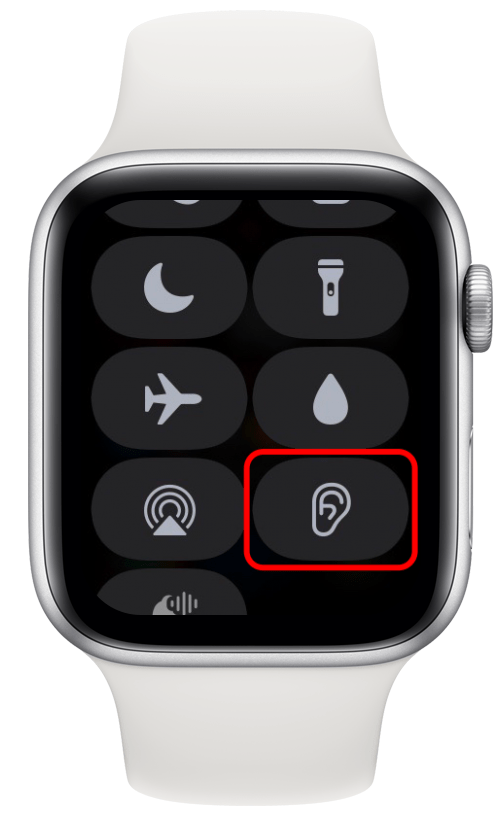 Headphone Volume Icon on Apple Watch
Tapping the ear symbol in the Control Center takes you to headphone volume. It looks the same as the app to measure noise levels that can be found in the App Library.
The buttons in your Apple Watch Control Center all have different purposes that can take a while to get familiar with, so hopefully this guide helped speed up that process for you! You can discover even more
Apple Watch icons and symbols here
 and also learn
how to unlock your Apple Watch
in Sleep or Water Lock Mode. If you're interested in upgrading, check out our
review of the Apple Watch Series 8
.