By

Hallei Halter
Mon, 03/11/2019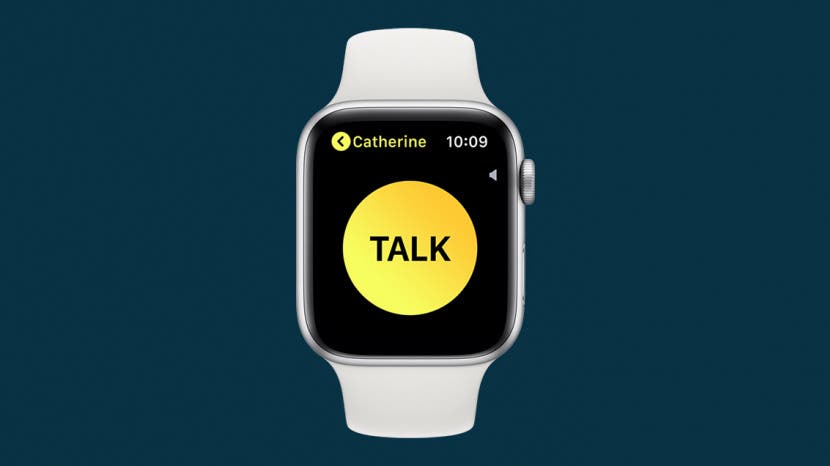 * This post is part of iPhone Life's Tip of the Day newsletter. Sign Up. *
I didn't use walkie-talkies much as a kid, but now with this feature on Apple Watch I can indulge in a slightly more futuristic way. Here's a general overview on how to use Walkie-Talkie on Apple Watch. To use Walkie-Talkie, you'll need Apple Watch series 1 or later updated to watchOS 5.
Related: How to Automatically Reopen an App on Your Apple Watch

Discover your iPhone's hidden features
Get one daily tip each day (with screenshots and clear instructions) so you can master your iPhone in just one minute a day.
How to Turn on Walkie-Talkie
There are two ways to make yourself turn on the Walkie-Talkie feature so that you can send and recieve messages:
Open the Walkie-Talkie app and toggle Available to ON.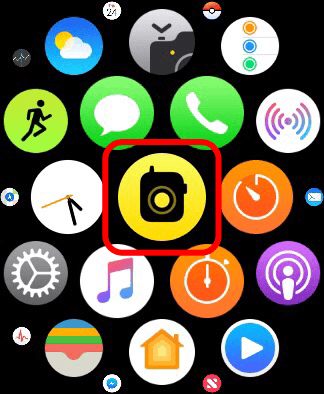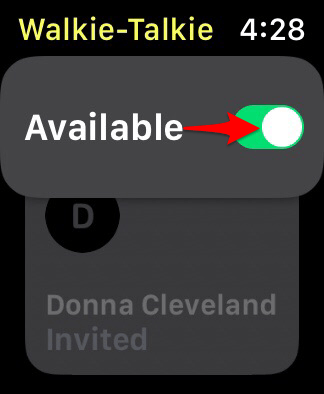 Swipe up on the watch face to open the Control Center and tap on the Walkie-Talkie icon to turn it yellow.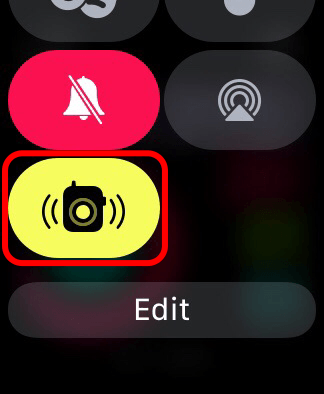 How to Find & Add Contacts
For the most part, you'll have to invite contacts to use Walkie-Talkie. The first time you open Walkie-Talkie, you'll see a welcome message followed by a list of suggested contacts with compatible Apple Watches.
Scroll through the contact list and tap the name of the person you want to add.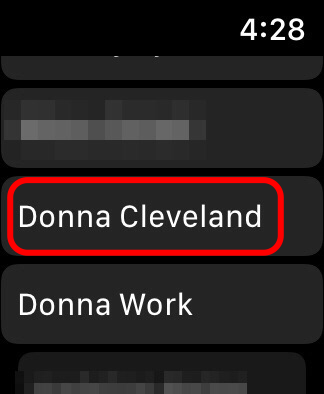 If you send an invite to someone who can't use Walkie-Talkie, a notification will pop up and you can cancel the invite.
In the future when you open the app, you'll see a list of your Walkie-Talkie contacts and a yellow+ below the contact list. Tap the yellow + to invite contacts.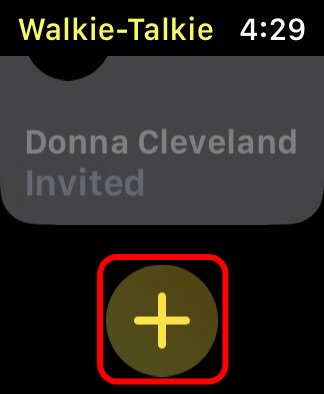 Their contact card will say Invited until they accept. After acceptance, their contact card will be yellow and you chat with them using Walkie-Talkie.
For you to accept a Walkie-Talkie invitation, tap the notification and tap Always Allow.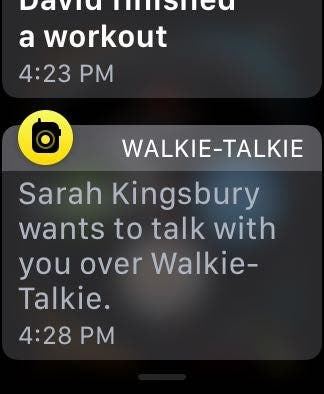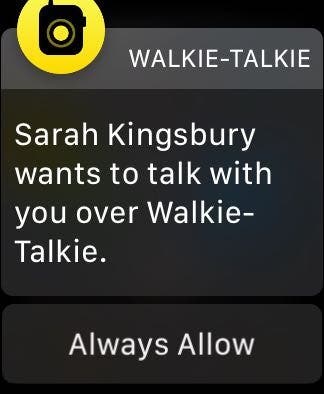 How to Send A Message
Open Walkie-Talkie and select a contact.
Tap and hold the yellow Talk button. As you hold it down, say your message. When you're done, let go to send. 
When the other person replies, pulsating concentric circles will appear on the screen.
Walkie-Talkie doesn't work as a live conversation but as a push-message system. The messages are played automatically and can't be replayed.
You can use the Digital Crown to adjust the volume.
How to Make Yourself Unavailable
Here are a few ways to be undisturbed by Walkie-Talkie messages:
In Walkie-Talkie, toggle Available to OFF.
Swipe up from the bottom of your watch face to open the Control Center and tap the Walkie-Talkie icon. You are available when the icon is yellow and unvailable when the icon is clear.
Enable Theater Mode or Do Not Disturb mode.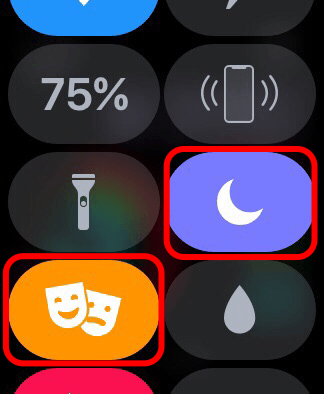 If your Watch is in Silent Mode, you'll still hear the chimes from an incoming Walkie-Talkie call and the voice message.
Walkie-Talkie is a fun feature for quick conversations. You won't be able to save any messages, so you can use it for casual conversation while enjoying an updated version of a childhood classic.