By

Cullen Thomas
Updated 01/25/2023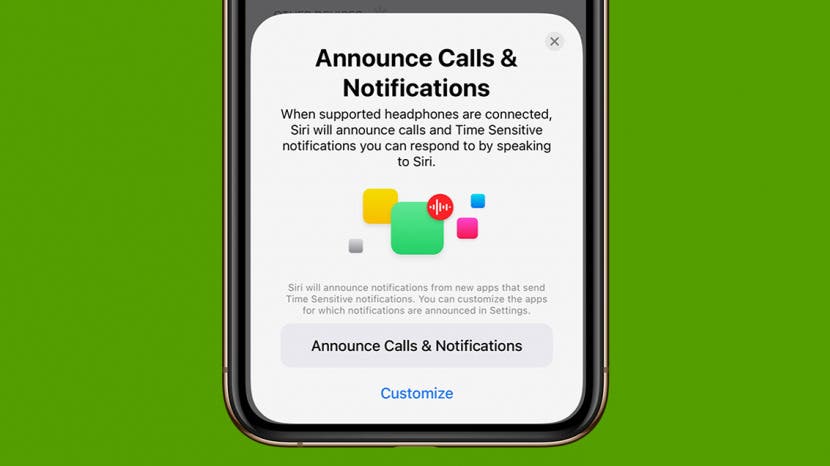 * This post is part of iPhone Life's Tip of the Day newsletter. Sign Up. *
Have you ever wanted your iPhone to automatically read your texts to you? It's possible! With this feature turned on, when you're sitting in the car, or out on a walk at night, Siri will announce your messages' contents as they arrive. Let's cover how to turn on the feature and have Siri read your text messages.
Related: How to Have Siri Read Text to You on the iPhone

Discover your iPhone's hidden features
Get one daily tip each day (with screenshots and clear instructions) so you can master your iPhone in just one minute a day.
Why You'll Love This Tip
Avoid hunting for your iPhone and have Siri read your text messages aloud as they arrive. 
Listen to text messages and respond without ever having to pick up your iPhone. 
How to Make Siri Read Messages on iPhone
Siri will only announce your messages as they arrive if you are using one of a small list of compatible earbuds: AirPods (2nd or 3rd Generation), AirPods Pro, Powerbeats Pro, or Beats Solo Pro. If you want Siri to read new messages as they arrive, you need compatible earbuds and to follow the steps below. For more handy Siri tips, consider checking out our free Tip of the Day newsletter.
Open the Settings app.


 
Tap Notifications.


 

Tap Announce Notifications to enter a menu of options related to the feature. (If you don't see this option, skip to step 5.)


 
Tap to enable the Announce Notifications toggle. Now Siri will automatically read out your messages and notifications!


 

If the option to have Siri read your messages through your compatible earbuds is not available, then you may need to unpair and re-pair your earbuds.
Tap Settings in the top corner to return to the main Settings screen. 


 

Tap Bluetooth.


 
Look for your earbuds and tap the info icon.


 

Tap Forget This Device.


 
To re-pair your AirPods, open the charging case and bring them near your iPhone. Follow the prompts to pair your earbuds.

A popup window will appear offering the option to announce notifications. Tap Announce Calls & Notifications.


 
Tap Done. 


 

Siri will only read new messages if they arrive when the screen is off and your compatible earbuds are in your ears.
After Siri has read a text to you, Siri will start listening for your reply. You can answer without saying, "Hey, Siri."
There is a way to hear your messages read without compatible earbuds, but it's not as good. Tell Siri something like: "Hey, Siri, read my messages," and Siri will read your new messages to you. This is available all the time, but Siri will only read messages when you give the command.  Still, this can sometimes be handy! Now you know two different ways to hear what your message says, even with your iPhone still in your pocket. If you start getting irritated with new message announcements interrupting your music or podcasts, you can find out how to turn Announce Messages with Siri off. If you'd like to adjust your Siri's voice, you can also learn how to enable the gender-neutral voice on Siri.