By

Rachel Needell
Updated 02/28/2023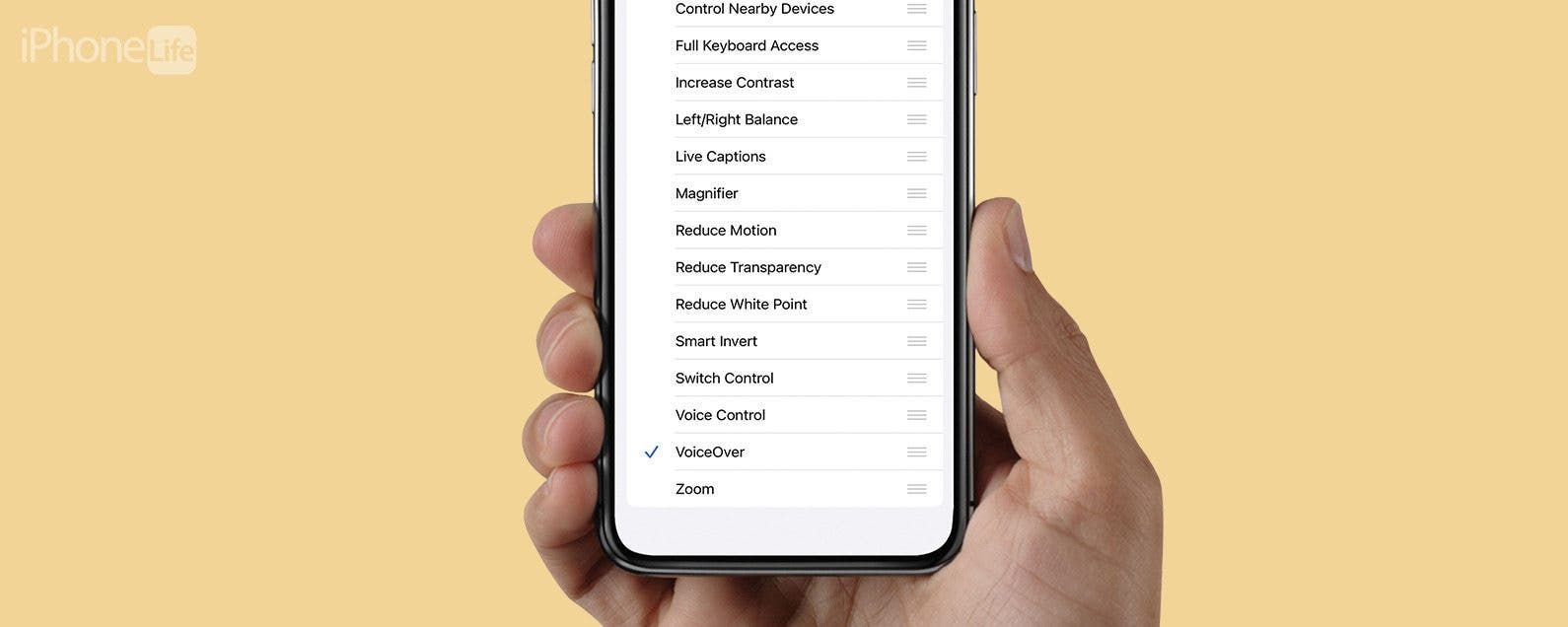 * This post is part of iPhone Life's Tip of the Day newsletter. Sign Up. *
Apple's accessibility feature known as VoiceOver can be quite unruly if you're not used to it. It fundamentally changes the way you interact with your iPhone, and therefore most people tend to stay away. However, we discovered a way to enable VoiceOver temporarily just to have it read text on your phone screen aloud when you need it and quickly turn it off right afterward. It may sound complicated, but it's so simple and fun! Here's how to set it up!
Why You'll Love This Tip
Have any text on your iPhone screen read aloud by tapping the side button three times.
Don't worry about fumbling around with VoiceOver just to use it temporarily; instead, set up the Accessibility Shortcut feature to use it only when you need it and turn it off right after.
How to Turn On & Use VoiceOver
If it's your first time using VoiceOver, stick around and read through this section to get the feature set up and practice a bit before diving in. If you have a bit more practice, you can skip down to How to Have your iPhone Read Text Aloud.

Discover your iPhone's hidden features
Get a daily tip (with screenshots and clear instructions) so you can master your iPhone in just one minute a day.
Open Settings on your iPhone.


Tap Accessibility.



Tap VoiceOver.


Before turning on VoiceOver, we strongly recommend tapping Learn more under the VoiceOver toggle to familiarize yourself with navigating your phone using VoiceOver.



You may want to adjust the speaking rate to speak a bit slower or faster by sliding the bar under Speaking Rate. If you slide it closer to the bunny, Siri will speak faster. If you slide it closer to the turtle, Siri will speak slower.


Then toggle VoiceOver on. It will be green and to the right when enabled.



If this is your first time using VoiceOver, you will be prompted by an instructional screen informing you how to use it, which is, admittedly, tricky. Read through this note carefully. Then, double tap OK.


Next, you will be asked if you'd like VoiceOver to send you notifications. Choosing will not affect your ability to perform this tip. Double tap either Don't Allow or Allow.



Once VoiceOver is on, you can use VoiceOver Practice to practice before leaving the Settings app. To select VoiceOver Practice with VoiceOver turned on, double tap it.


Basic VoiceOver Instructions:
To scroll, use three fingers.
To go to an item or follow a link, double tap.
To have her read something aloud, tap it once.
Note: Be careful of activating Screen Curtain, which will turn your screen black, by triple tapping with three fingers on your iPhone. If you accidentally activate this feature, you can turn it off by repeating the triple tap with three fingers gesture.
Related: iPad Won't Download Apps? How to Download iPad Apps Correctly
How to Have your iPhone Read Text Aloud
Whether it's a text message, an article on the web, or a note in the Notes app, by setting up the Accessibility Shortcut to open VoiceOver, you can instantly activate the VoiceOver Feature without having to navigate your iPhone in a new weird way. If you like tips about using your iPhone in new or cool ways, be sure to sign up for our free Tip of the Day! Let's dive in.
On your iPhone, open Settings.


Tap Accessibility.



Scroll down and tap Accessibility Shortcut.


Tap VoiceOver.



And that's it! Now, go to an article or something you can practice with and press the side button three times. Siri will begin to read aloud to you, tap the text you want her to read. When you're finished, press the side button three times again and VoiceOver will turn off.


And that's how you do it! It's fairly simple, although VoiceOver is difficult to use. That's why being able to press the side button three times is a great way to abort the mission if VoiceOver becomes too unwieldy. While this is very much a rainy-day feature, you never know when tips like this might come in handy!