Tired of the default font on the iPhone Mail app? We'll show you how to change it to whatever you want.
By

Leanne Hays
Updated 05/08/2023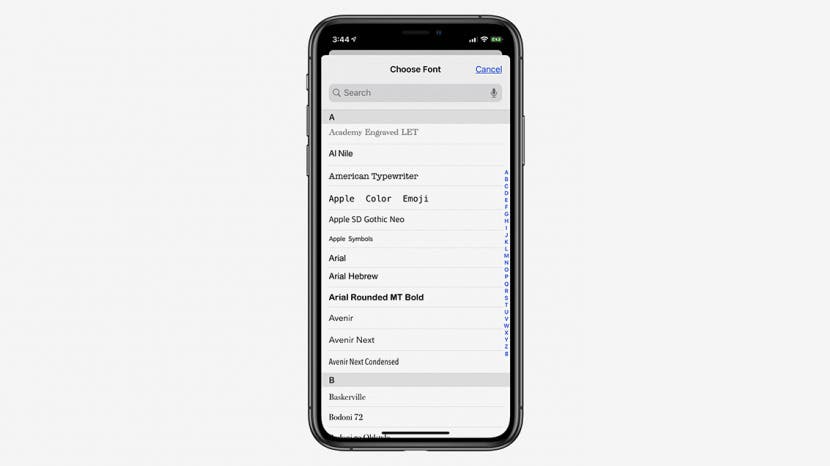 * This post is part of iPhone Life's Tip of the Day newsletter. Sign Up. *
Learn how to change fonts in the Mail app by choosing between other pre-installed fonts. The option isn't easy to find, so we'll show you how to do it. Let's start learning how to get different fonts in your iPhone's Mail app. 
How to Use iOS Font Options on Your iPhone & iPad
Please note, that this tip does not cover how to install and use custom fonts. For many other quick guides on tweaking your Apple devices to your tastes, be sure to subscribe to our free Tip of the Day newsletter.
To begin, open the Mail app on your iPhone or iPad, tap the email account that you want to use, tap the compose button, and enter an email address and subject line for your email:
After starting a new email, tap the text field.


Tap the left-facing triangle that appears under the text field. 



Tap the font icon (an upper and lower-case letter a).


Tap Default Font.



You'll see a list of fonts, tap one to select it.


You'll see the name of the font you selected, and you can tap the text field to begin using your font choice. 


In my experience, I've encountered some difficulties with attempting to change the font in an email. Generally, it doesn't seem to like to change the font when there is already text in the mail. In this case, it seems to work best to select the text you want to change and then pick a font. This should change the selected text to the new font.
Also worth noting are the many other options for adjusting the font to your tastes in Mail's font menu. Explore the other settings here, and you can easily learn how to change the font size and other elements of the font style.
If you'd like to learn more about other fun app features, read about how to use FaceTime filters, and how to find unread text messages on your iPhone.