By

Donna Schill
Updated 12/18/2018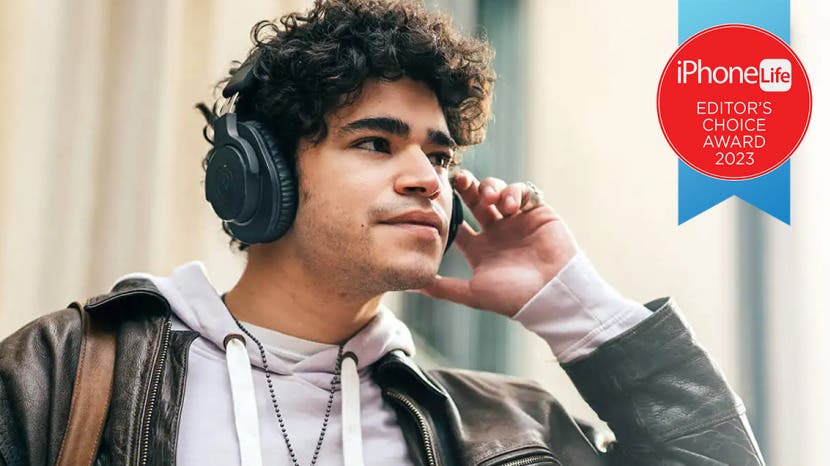 At iPhone Life we test and review hundreds of Apple accessories every year, and we especially love trying out the wide range of new headphones, headsets, and earbuds available for every type of activity. Here's the headphone section of our 2018 Buyer's Guide, where we've included something for everyone; from the best workout headphones, to noise-canceling earbuds, to the wireless Bluetooth headphones of your dreams. Read on to find our top picks from Sony, Libratone, Jabra, and more; you're sure to find something to fit your listening needs in our roundup. 
Related: Headphones, Headsets & Earbuds, Oh My!

The Sony MDR-1000Xs are the complete package. Not only do they have best in class sound quality and noise cancellation, but they're also beautifully designed for hours of comfortable wear and fold up neatly and stow in a protective case for easy travel.
Sony went the extra mile with its noise cancellation. Not only will you find sensors on the outside of the earpads like most headphones, but also on the inside, so that the noise cancellation can tailor to your individual head shape. If you travel frequently, these headphones are worth splurging on. If you're looking for amazing sound at a lower price point, check out the no-frills, wired alternative with the 1More Triple Driver Over-Ear Headphones ($249.99).
The sound quality of the Voyager 8200s are so good, you'll think you're listening to a turntable in the privacy of your bedroom instead of wandering a crowded office. Other selling points include a strong wireless connection, noise cancellation, and the ability to pair with two devices at once so you can seamlessly switch between your iPhone and laptop without having to reconnect to different devices. The playback control buttons on the ear cups are unintuitive, however; and while you can customize controls in the Plantronics app, it requires a little trial and error to adjust your headphone settings exactly how you want.
We have yet to find in-ear headphones with sound quality that can stand up to that of the Track+. This Scandinavian company emphasizes excellent design, and it shows in this product's features, including easy-to-adjust auto noise cancellation, tangle-proof wires that lay flat, and auto sleep mode so your headphones won't drain the battery or interfere with other Bluetooth connections when you're not using them. Libratone's app is worth downloading too—it allows you to customize your sound experience and hook up with another Libratone wearer so you can both jam out to music from the same audio source.
The Elite Sports are designed for the most serious (and sweatiest) of runners. The most rugged of Jabra's wireless earbuds, this pair of true wireless earbuds sounds great, fits snugly in your ears, and features heart rate monitoring as well as Hear Through technology, so you can adjust how much street noise you want to hear.
These headphones are a great option for weightlifters, allowing you to block out all surrounding noise and adjust the treble and bass to your liking. Pros include a lightweight build and great battery life; the one con is that even with the tips and fins, we found sharp movements like running to dislodge them occasionally.
The M-2s are extremely compact—even for true wireless buds! Earin has artfully crafted its sound experience—highs and middles are crystal clear, the bass is decent and doesn't overwhelm, and audio transparency is easily adjustable from Earin's app. The M-2s are great for urban life or the office. You can listen with one or both earbuds, which is a nice touch, but sadly there's no volume control on the M-2s themselves. A feature we really appreciate in such small and easy-to-misplace tech is the magnetic hold of the charging case, so the buds won't go flying if you yank open the case or accidentally drop it.
This headphone charging stand will significantly clear up the tech clutter on your desk and keep your headphones and earbuds safe, charged, and accessible. While this stand is perfect for a pair of over-ears, it also includes a clip-on earbud hook and even an extra USB port so you can charge another device all in one place.