By Hal Goldstein
For years, I've suspected my hearing was not what it should be. I decided to use this column as an excuse to get my ears checked and learn about Made-for-iPhone (MFi) Bluetooth hearing aids. I did some googling and discovered Dr. Jason Aird, an audiologist and technophile working in Southeast Iowa. On our first meeting, he found mild and moderate hearing loss in my left and right ears and gave me an overview of the benefits of using MFi hearing aids. 
By Hal Goldstein
Humans have passed down culture from generation to generation through spoken word. Reading, on the other hand, is a relatively recent human invention that requires the brain to convert symbols to words in order to decipher the meaning. Maybe it's not surprising then that I enjoy listening to a book more than reading it.
By Hal Goldstein
I watch the screen as a hip, young, agile audiophile dances his way through an Apple AirPod commercial. I can't help but think, as I see the young man on the screen, that I am probably not in Apple's target demographic. However, I bought Apple's hassle-free Bluetooth wireless earbuds anyway. Apple's promise of simplicity, portability, and technology had sold me. Here's my Apple AirPod review.
By Hal Goldstein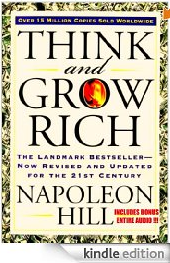 About 40 years ago, I read Napoleon Hill's timeless classic, Think and Grow Rich (Kindle version $ 0.99). Hill interviewed hundreds of turn of the century magnates such as Andrew Carnegie and Thomas Edison to discover what makes people successful. Hill's books, as well as other "success literature," had significant influence in my subsequent success as an entrepreneur and magazine publisher. Having a clear intention, committing to it, and persisting are fundamental themes in most success literature.
In my recent May/June 2013 iPhone Life magazine iView column, I wrote about a lecture on Steve Jobs and a course I taught on consciousness and entrepreneurship at Maharishi University of Management. After reading the column, Oscar Andermo reached out to me.
By Hal Goldstein
In iView—my inside, back-cover column in iPhone Life magazine—I discuss David Allen's "Getting Things Done" organizational and time management scheme in the July/August 2013 issue. In the article, I briefly summarize Allen's thinking and suggest iPhone, iPad, Mac, and PC software to best implement it. Since writing the article, I've settled on Evernote (free), and am quite pleased with it.
Here, I will post much of the article and will add more information about Evernote. If you would like to comment and add knowledge from your experience with the software, that would be great.
By Hal Goldstein
We just got word that Apple will buy Sprint. Doing so solves a lot of problems for both Apple and Sprint. It allows Apple and Jobs to gain further control to help create a great user experience. Read the interesting details of this special April 1 day announcement with comments from AT&T and Verizon.
By Hal Goldstein
If your enjoy the posts here at iPhoneLife.com, are interested in iOS news, and like the articles in iPhone Life magazine, you'll appreciate v.2 of the "iPhone Life magazine" free app!  The same Free App is optimized for the iPhone and the iPad viewing
By Hal Goldstein
If you are in the Miami or Bay area, check out these events and pick up a copy of iPhone LIfe magazine.
The first ever Apple Business Expo & iPad/iPhone Zone will take place in Miami Florida on Wednesday September 29, 2010 at the Hilton Downtown Miami Conference Center. This event is free with lunch included for all business owners that use Apple Mac's, iPhones, & iPads for their day to day business. Over 50 manufacturers & developers from all over the world will showcase their business solutions to the Apple industry. Door Prizes All Day – Free Gifts, Software, Printers & Gift Cards !
By Hal Goldstein
I actually got an iPhone 4, yesterday, a day early due to some lucky mail fluke. Today I tried FaceTime with blogger Todd Bernhard. Todd will probably write about it here and/or in our next issue. I also used the flash in the camera. I liked both features, although both have a ways to go. However, what I was most impressed with based on what I will get the most use of is the ebook reading experience.
By Hal Goldstein
It is likely that Apple will release iOS4 for the iPhone today, perhaps around 10 PST. iTunes will update you automatically on the date listed in Summary. To proactively update your iPhone, in iTunes click on your iPhone (under Devices on left column). Then in Summary screen click "Check for Update".
The feature I am most looking for is folders. That will allow me to place icons for all my iPhone Apps on the iPhone . The other feature I look forward to, multi-tasking, will evolve in its usefulness overtime, as developers conform to iOS4 API.
Pages