By

Hal Goldstein
Updated 08/22/2023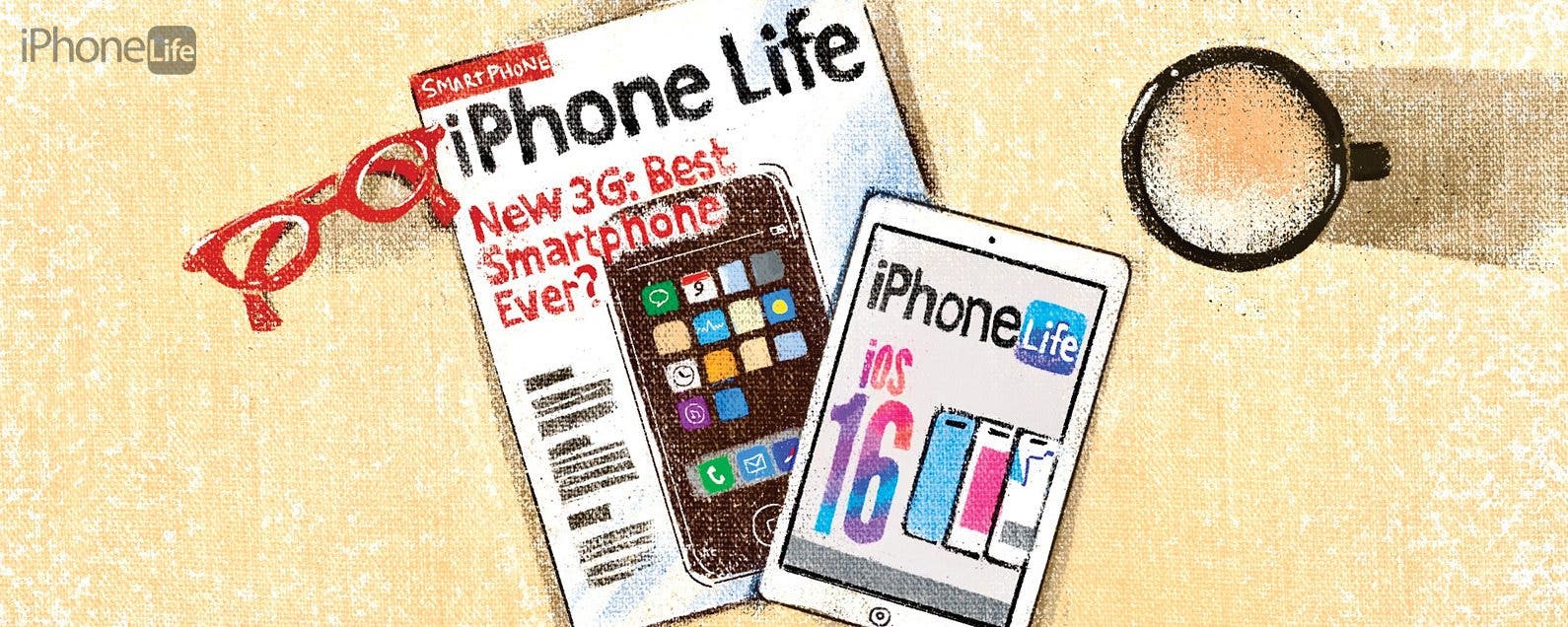 Around Thanksgiving, 1985, not knowing anything about printing, publishing, or running a business, my late wife Rita and I launched our company and first print publication: a 32-page newsletter about making the most of the Hewlett Packard 110 Portable PC. For 38 years, we've published print issues helping tech enthusiasts—first of HP, then Microsoft, and finally of Apple products—238 issues in all. With the summer 2023 issue of iPhone Life, the print streak ends.
Over those years, printing technology, mobile devices, the marketplace, media delivery systems, company personnel, and even company ownership have changed dramatically, yet our core mission and values remain the same. We help customers master their mobile computing devices by providing the most practical, understandable information available, like our free Tip of the Day newsletter.
In the '80s and '90s, we served HP users with our print publications. By 2007, when Steve Jobs introduced the iPhone, our publishing company was supporting customers of Microsoft-based Pocket PCs and smartphones. The following year, the economy collapsed, and Apple took over the smartphone market.

Discover your iPhone's hidden features
Get one daily tip each day (with screenshots and clear instructions) so you can master your iPhone in just one minute a day.
It looked like we would have to close the business and layoff our 15-person staff. But I had an idea. I wanted to continue producing support publications, but I would make it about the iPhone instead of Windows mobile devices. Instead of mailing Smartphone & Pocket PC to subscribers and to our large worldwide newsstand base, we shipped the inaugural issue of iPhone Life. It was a big success.
Given the fast pace of iPhone adoption, I decided to go all in. I made significant investment in editorial, marketing, and ad sales. After some unexpected negative industry trends, even though the business had value, I decided to let it go—I was out of energy. I brought three talented, twenty-something employees into my office, shocking them with my plans to shut down. In a remarkable negotiation based on good will from all sides, I handed them the business, while I remained a minority partner.
Together, they weathered a rapidly declining magazine industry and created a profit center based around our popular online education platform called iPhone Life Insider. (For more about the transition, listen to my interview in episodes 116 and 117 of the iPhone Life Podcast.)
While you're reading the last print issue of iPhone Life Magazine, our digital magazine is about to become even better. Magazine subscribers as well as iPhone Life Insider members (who have unlimited access to all of our digital issues) can look forward to a richer experience. In service of you, our customer, future issues will take full advantage of digital media, helping you get the most out of your iPhone.
I love how iPhone Life Insider has furthered what we began in 1985. Unlike a print magazine, Insider is not constrained by the limitations of words and graphics printed on paper. Insider editors make full use of video, audio, graphics, words, links to related content, and live classes to best help our customers master their iPhones. Our creative team of over 20 iPhone experts plans to integrate the rich digital media version of iPhone Life Magazine with our Insider program, sharing the best apps, great gear, and top tips. I can't wait for the next issue.
Illustration by Mikaila Maidment, mikailamaidment.com