By

Eric Pankoke
Wed, 10/30/2013
I've been a fan of Star Wars since before a vast majority of hardcore iOS players were born. And as much as I hate to admit it, I was sucked into the Angry Birds phenomenon just like so many other players. When the first Angry Birds Star Wars game was released, however, I was curious but also dumbfounded. Was Rovio that needy to expand the franchise—and for that matter, was LucasArts so desperate for some name recognition in the mobile world? I basically ignored the first installment; but when I saw they had released Angry Birds Star Wars II ($0.99), I decided it was time to see what the appeal was. In some ways I actually admire how they've melded together the two franchises. Overall though, I'm not finding the experience quite as entertaining as the original game that started it all. At least they were kind enough to include a playable Yoda character in the mix.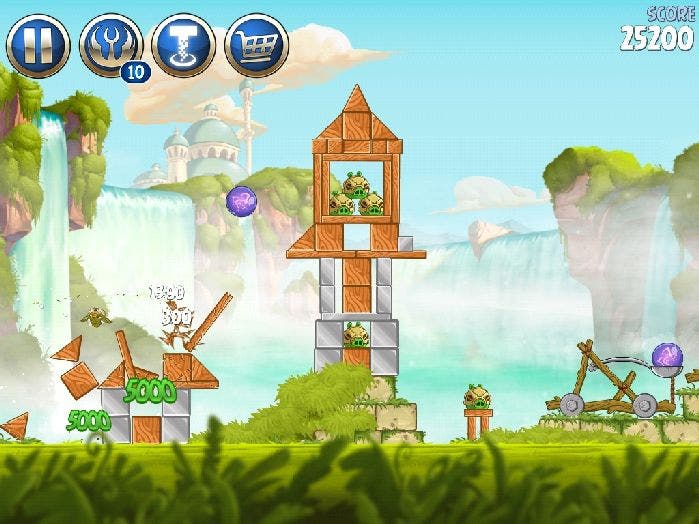 So let's talk about the best things first. The game looks great, which is pretty much what we've come to expect from an installment of Angry Birds. Of course it doesn't hurt that the Star Wars franchise has always had some of the best sci-fi character designs as well. Mashing the two distinctive styles together actually looks really good, and from what I remember of previous installments, the backgrounds seem to be a lot more detailed as well. The audio is a nice blend of typical Angry Birds fare and the sounds that made the Star Wars franchise come to life like light saber noises. The music, on the other hand, seems to take its cue from the Star Wars universe with just enough Angry Birds thrown in to make you say "yeah, that's an Angry Birds soundtrack."
Surprised I didn't start with the game play? There's nothing wrong with that aspect of the game, of course, but I have to say that for the most part it feels just like any other Angry Birds game. You launch your troops at the other side with the intention of destroying them and as much of their structures as you can in as few shots as possible. You get a certain number of troops for a given level, and you earn bonus points for each one you don't use. Of course, it is the total number of points that determines how many stars you earn at the end of the level, and you can't even finish it if you don't take out all of your opponents. There are a variety of environmental items to help or hinder you, the most notable enhancements being magnets that can alter your flight path and a water level that not only disrupts your flight path but causes debris from prior launches to float in front of you, making your next move more difficult to time.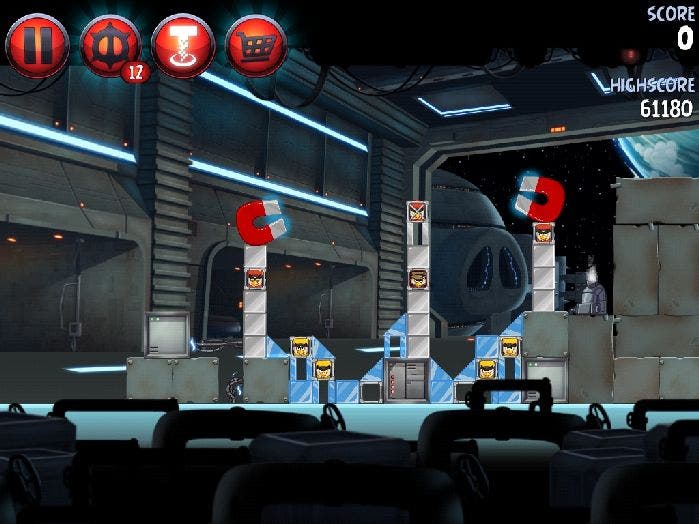 Then of course there are the characters themselves. In this game you actually get to play campaigns as both sides, so I'd wager this provides the largest playable cast of characters to date. At any point during play you can substitute the currently active character in the slingshot with a reserve special character, as long as you have one left in supply; and naturally, you can buy extra reserves with in-game currency that you earn, or via IAP, since you don't earn money in-game very quickly. I'll let you discover what each of your favorite Star Wars characters can do, but suffice it to say I'm happy that Yoda made it as a playable option.
The one stand-out feature of buying new characters in Angry Birds Star Wars II is the idea of telepods. These are physical toys with bar codes on them that you can buy online or at places like Wal-Mart. Place them on your camera at the right moment and they will be scanned in and available for play. It's a great concept, and I like the fact that once a character is scanned in for a level you can use it every time you retry the level, in a given sitting. The downside is that you have to scan the same character for every level you want to use it in; and if you leave a level and come back, you have to scan it again. This wouldn't be too big of a deal, but the mechanism is so finicky that it usually takes me a minute or more to scan my Yoda in each time (did I mention that I like Yoda?)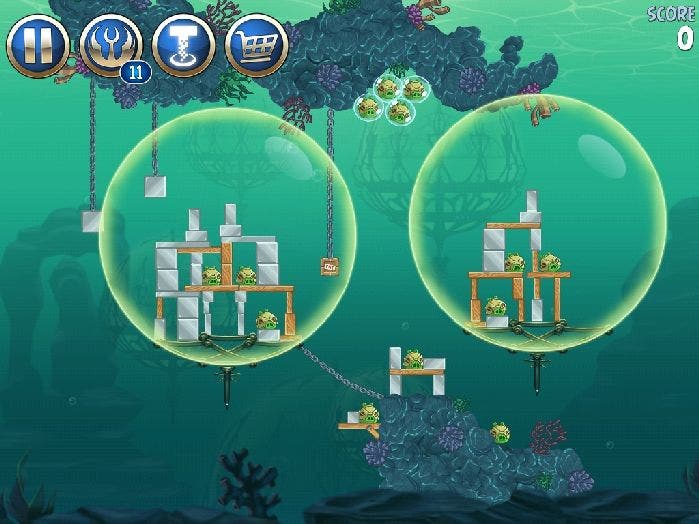 The game currently has two chapters of campaign levels, and you can play as both the Jedi and the Sith this time around (yes, you can join the Pork side). Each level set has a side mission as well, and every character in the game has a bonus level associated with them that is unlocked once you score enough points using them. If all this isn't quite enough for you, then you can also sit back and laugh at a bunch of Angry Birds cartoon shorts on the web that are accessible through one of the main menu items. Oh, and there are 67 achievements and 7 leaderboards to document all of your progress.
To sum it all up, this is Angry Birds with a coat of Star Wars. At this point you may be inclined to wonder why I needed a full review to come to that conclusion, but remember that one of the five people on this planet that aren't familiar with Angry Birds might be reading this review. There's certainly nothing wrong with the game, and I have enjoyed playing it, but it hasn't really rekindled my faded desire to delve deeper into the world of Angry Birds. Die hard fans of the entire Star Wars mythos will certainly appreciate it, and if you're actually new to the franchise this is a great place to start. In the end, though, it's really just another Angry Birds installment.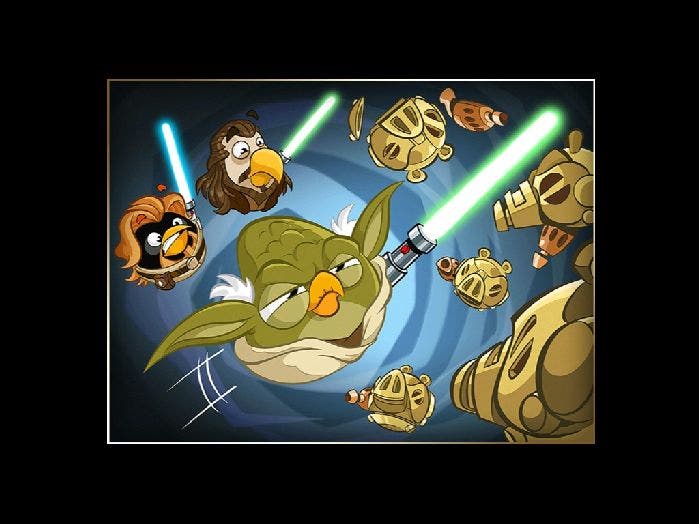 Overall Score: 3.5/5