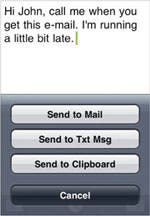 Choosing the Best Apps for 2009 is a difficult task for me. In nearly every category, I find several that stand out from the crowd. I finally decided to choose the ones that I use the most. Here they are:

Business
Dragon Dictation
Free; dragonmobileapps.com

This app easily converts speech to text, making it very handy when I want to create a quick note. Accuracy is about 80 percent; not perfect, but good enough to save a lot of transcribing time.


Discover your iPhone's hidden features
Get a daily tip (with screenshots and clear instructions) so you can master your iPhone in just one minute a day.
Games
Crazy Hamster, Fling, Hangman
$0.99 each, free "Lite" versions available;
game-lion.com; candycaneapps.com/fling; mobilityware.com

Crazy Hamster, Fling, and Hangman are my favorite games for 2009. I like Crazy Hamster because the sound effects are entertaining, it's fun trying to keep the hamster from falling in the traps, and the hamsters are darn cute! Fling makes me think, "How DO I get that last fluff ball off the board?" Hangman's a favorite because I love word games. It lets me choose easy words, hard words, or words about celebrities, countries and movies. I also enjoy the variety of backgrounds available. For some reason, I find it much more fun to save a turkey or a snowman from the gallows.

Lifestyle
GroceryIQ, AroundMe
Free; groceryiq.com; Free; tweakersoft.com/mobile

AroundMe lets me find any business I need. I can search for a specific business or business category (restaurant, bank, hospital, post office, etc.). It's easy to use and works with the Maps app to give me directions.

GroceryIQ is awesome now that it includes barcode scanning. I simply scan the
foods I normally purchase and save them. When I'm ready to shop, I select needed items
and move them to my shopping list, which is sorted by store and aisle. This makes it
easy to plan shopping trips. GroceryIQ keeps tabs of my bill and offers coupons that can
be printed out.
Productivity
Bento, Notebooks
$4.99; filemaker.com/products/bento/iphone.html; $5.99; 
alfonsschmid.com

Bento keeps track of all my books so I don't buy the same one twice! It allows me to create databases from predesigned templates or design one of my own.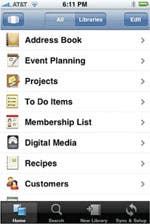 By using it with the desktop version of the program, it's easy to input and back up information.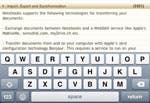 Notebooks allows me to conduct business on the road. I can create, save, and send documents in PDF, Word, and other formats right from my iPhone. I can also organize my documents by category and create folders within each category. Best of all, it's simple to use.
Reference
Bible, WordBook English Dictionary & Thesaurus
Free; youversion.com/mobile/iphone; $1.99; trancreativ.com

Bible lets me read many versions of the Christian scripture, including versions in foreign languages. It features several reading plans for reading the Bible in a year.

Wordbook is a dictionary and thesaurus all in one. It provides definitions, pronunciations, synonyms, and word origins, as well as links to other related words. It lets me add notes or e-mail information to others, as well as play word games to increase my vocabulary.

Social Networking
Facebook
Free; facebook.com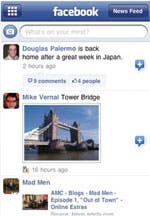 I use Facebook all the time, so this app is my top choice in the Social Networking category. It works just like the online version, only adjusted in size to fit the iPhone.
Weather
The Weather Channel Max
$3.99, free version available; weather.com/mobile/pda/
iphone

I live in Oklahoma, where the weather changes quickly. This app keeps me up to date on the current weather, so I know what to wear, when to travel, and when to hide in the tornado closet!

My top accessories for 2009
Morphie Juice Pack Air, Pogo Stylus
$79.95; mophie.com; $14.95; tenonedesign.com/stylus.php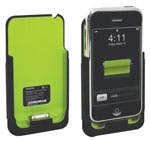 Mophie Juice Pack Air is my favorite accessory for 2009. It's a thin and attractive case with a built-in battery that more than doubles the amount of time I can use my iPhone between recharges. When the battery on my iPhone is used up, I simply flip the switch on the Mophie and keep going.
Pogo Stylus is my runner up. It's an ultra-light aluminum stylus with a soft tip that allows electrical charges to transfer from my hand to the screen.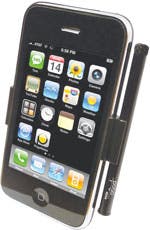 I use it to select icons, answer calls, write e-mail and text messages, play games, "draw" on the screen, and surf the Web. My only disappointment is that I have no way to attach it to my Mophie case.

The variety and extent of the apps available to iPhone and iPod touch users is vast, and it's difficult to pick just a few that are the best. Depending on your life and how you use your iPhone, your list could be quite different from mine. It's great that we have so many apps (and accessories) available for our iPhone or iPod touch.
Subtitle:
iPhone Life Staff's Favorite Apps