Should you buy the newest Apple Watch? We'll help you find the best Apple Watch for all your needs & budget!
By

Olena Kagui
Updated 03/06/2023
The Apple Watch is the most popular watch in the world! With so many different Apple Watch models to pick from, including three new ones that were announced this fall, it can be hard to make the right choice! I'll tell you all about the best Apple Watch based on your needs and budget. I'll also explain the differences between the most expensive and the cheapest Apple Watch. Keep reading to discover which watch is best for YOU.
Jump To:
The Quick New Apple Watch Differences Guide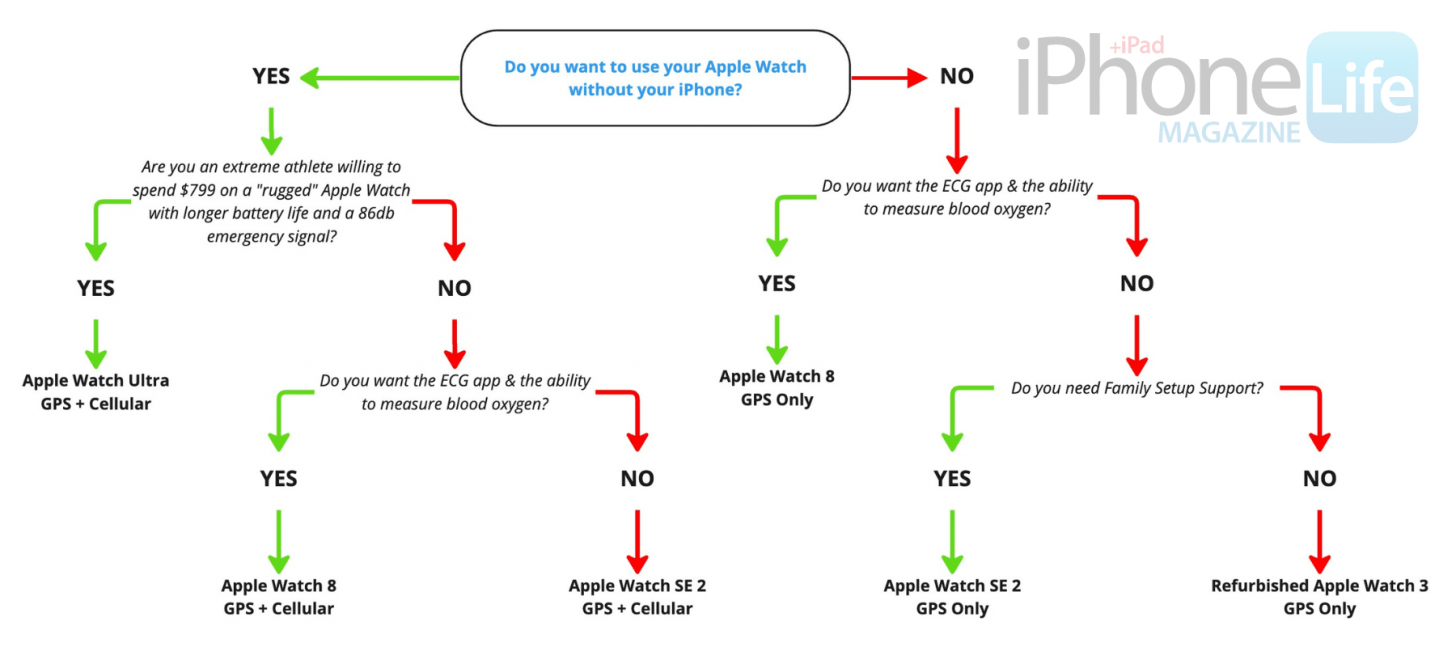 Although you can buy a used model of any Apple Watch on third-party websites like eBay or Facebook Marketplace, there are only three that Apple currently sells new:
Technically, you only have six options if you are buying a new Apple Watch directly from Apple. See my tree diagram above to help you decide quickly. However, I recommend that you keep reading or do more research before you make your purchase. If you are certain you want one of the new watches, skip down to learn more about the differences between Apple Watch Series SE 2, Series 8, and Series Ultra.
What Is the Newest Apple Watch Series?
The three latest Apple Watches released by Apple in October 2022 are the SE 2 (second generation), Series 8, and Ultra (which I happen to have)! Even though the Series 8 is considered to be the latest model, the Apple Watch SE 2 was launched at the same time. It is the cheapest and while it has fewer features than the other two, it also starts at an unbeatable price of $249 for the smaller 40mm size and a GPS-only watch with an Aluminum Case. This is cheaper than many of the refurbished older models on Apple's website.
The middle-range Series 8 starts at $399 but if you get the Series 8 in the larger 44mm size and opt for GPS + Cellular, you can expect to pay $529 for the Aluminum Case. It could cost you even more if you pick a more expensive Apple Watch band or case material.
Finally, there's the Apple Watch Ultra, the first "rugged" Apple Watch perfect for extreme athletes who need longer battery life, a tougher exterior, and never-seen-before features such as a built-in dive computer and an 86-decibel emergency siren that can be heard for miles if you are hurt.
Return to top
Apple Watch Differences & Model Comparison
There are some things to consider when getting an Apple Watch. Older models have to be bought used, and they don't all come with software support. This means that you cannot update certain Apple Watch models.
Used Apple Watch Models Compared
The following Apple Watch Series can only be bought used. They might work well, but they cannot be updated, and they run on an older watchOS.
Apple Watch Series 0
Although it came out as an Apple Watch Series 1, it was soon replaced by a better model with the same name. The original watch then became known as the Apple Watch Series 0, or the first-generation Apple Watch.
You can still buy this Apple Watch if you shop around on eBay or another marketplace. It can cost you as little as $35, and it has many features for a 2015 smartwatch. Keep in mind that it is not water-resistant and, therefore, cannot track swimming workouts. However, I don't recommend that you buy anything older than a Series 3 due to the lack of software support.
Return to top
Apple Watch Series 1
This is technically the second model of the Apple Watch. It can cost as much as $80, which makes it a questionable purchase since a new Series 3 is only twice the cost with many improvements. This model is significantly better than the first generation but pales in comparison to the newer Apple Watch models.
Return to top
Apple Watch Series 2
This is the first Apple Watch that can safely be worn swimming and can track your workouts in the water. However, you still can't update this watch beyond watchOS 6 (the most current operating system is watchOS 9). The average used Apple Watch Series 2 will set you back $100 but can occasionally be found cheaper.
Apple Watch Series 3
The Apple Watch Series 3 is your best option if you want a great Apple Watch but are on a budget. It is water-resistant, offers high and low heart rate notifications, irregular heart rhythm notifications, and many other excellent features.
Some downsides include the outdated display that's 30 percent smaller than the Series SE and Series 6. It also doesn't support Family Setup and isn't available with cellular data. It is still a great watch, but personally, I feel like the Apple Watch Series SE is more worth it.
Don't forget that you can always shop for refurbished Apple Watch Series 3 directly from Apple. These come with the option of GPS+Cellular and can save you some money. You can also find a used Apple Watch Series 3 for even less on eBay or other marketplaces.
Apple Watch Series 4
While you can still buy a Series 3 new and run it on the current watchOS, you can no longer buy an Apple Watch Series 4 from Apple. Why doesn't Apple sell Watch Series 4? It was discontinued. Maybe the reasoning was that it was just too similar to the Series 5? 
If you want to be unique and buy a used Series 4, you can expect to pay at least $180 for the GPS-only watch. This model does run the current watchOS 9, but there is a chance that software support will be discontinued once the new Apple Watch and watchOS come out next year.
Return to top
Apple Watch Series 5
Apple Watch Series 5 was also discontinued but can be bought refurbished on Apple or third-party websites. It is a great watch that I enjoyed having, and it runs on the current watchOS 9, but a used one costs almost as much as a new Series SE.
Apple Watch Series SE (1st Gen)
The Apple Watch Series SE has a sleek look and the larger display of the Apple Watch Series 6 without the steep price tag. It is available as a GPS+Cellular watch and has many great features, like support for Family Setup. 
The main difference between the Apple Watch Series SE and the Series 6 is that the SE doesn't have as many heart health features. You cannot measure your blood oxygen level or do ECGs. However, it is still a great fitness watch.
Apple Watch Series 6
The Apple Watch Series 6 looks the same as the more affordable SE (1st Gen), but it can measure your blood oxygen level and has an ECG app. The larger size drives the price up, as does the GPS+Cellular option.
The Series 6 is an excellent option for those who want to know more about how their heart health impacts their fitness. However, the price tag can be intimidating, especially since it isn't significantly different from the SE.
Apple Watch Series 7
The Apple Watch Series 7 was known for longer battery life than its predecessor and a larger display with a full QWERTY keyboard, which is available on the newer Series 8 and Ultra as well. Buying it refurbished is a great idea, but if you are looking for the best battery life, keep in mind that the Series Ultra can last over three days without charging and the 7 lasts an average of 18 hours. 
Related: 25 Best Apple Watch Complications by Third-Party Developers
The Difference between Apple Watches Series SE 2, Series 8 & Series Ultra
These are the only three models that you can currently buy new from Apple. The Apple Watch Ultra is only available with Cellular, making it extra pricey, but both the SE 2 and Series 8 can either be GPS-only or GPS+Cellular. You can refer to my tree diagram for a quick reference of the most significant differences. Here is some more information about the differences:
Apple Watch Series SE 2 ($249+)
My personal pick for the best budget Apple Watch is the Series SE (2nd Gen). It is the newest "budget" watch and it looks great while boasting a lot of the features Apple Watch wearers love. One of the biggest complaints is that it doesn't offer features such as ECG, despite being able to alert the wearer if they experience an irregular heart rhythm. However, it does have the new Crash Detection feature, which will alert your emergency contact and make an emergency SOS call unless you cancel the call because you don't need assistance.
Apple Watch Series 8 ($399+)
The Apple Watch Series 8 is probably the best option for anyone who wants the newest Apple Watch but doesn't need something as extreme as the Ultra. The Series 8 has Crash Detection, can measure your temperature to detect ovulation and other menstrual cycle data, and it has a new low-power mode that will save battery life without all the smart features completely off. You can read more about Apple Watch Series 8 (plus SE 2 and Ultra) here.
Apple Watch Series Ultra ($799+)
The Apple Watch Ultra was released in a dramatic video that explained the many ways it can save your life. Despite not being an extreme athlete, I got the watch, which is huge and heavy on my wrist, but it was hard to resist for many reasons. The most amazing feature of the Series Ultra is the battery life. I went from charging my Series 7 once a day to charging the Ultra once every three—sometimes four—days, which is incredible. I am also excited to try the Depth App that tells you how deep you are in the water and can replace costly diving gear.
There are several reasons you may not want the Series Ultra, such as the price tag. The Ultra only comes with Cellular (which costs an additional $5+ a month, depending on your provider if you wish to activate it) and is only available in silver titanium. Both of these features make the base price $799, which is more than I've ever spent on a watch. It is also only available in the larger size of 49mm! You can also check out our review of the Apple Watch Ultra here. To learn how to use your Apple Watch Ultra's Action Button, 86-decibel siren, night mode, and other cool features, sign up for our free Tip of the Day newsletter to learn more.
The bottom line is that there is no "best Apple Watch for you;" it depends on your lifestyle, needs, and budget. If you are debating between Fitbit vs. Apple Watch, read this. Also, keep in mind that there are different sizes. You can read more about the sizes and the Apple Watch bands that fit them here. Plus, don't forget to check out all the features of watchOS 9, which came out in October and takes your watch to the next level.