By

Amy Spitzfaden Both
Updated 01/24/2023
What to Know
Cost differences may determine if a GPS + Cellular or GPS-only model is right for you.
The cellular version allows you to use features such as phone, messages, music, and podcasts without your iPhone in range.
The Apple Watch cellular model might be good for families who aren't yet ready for a child to have their own phone.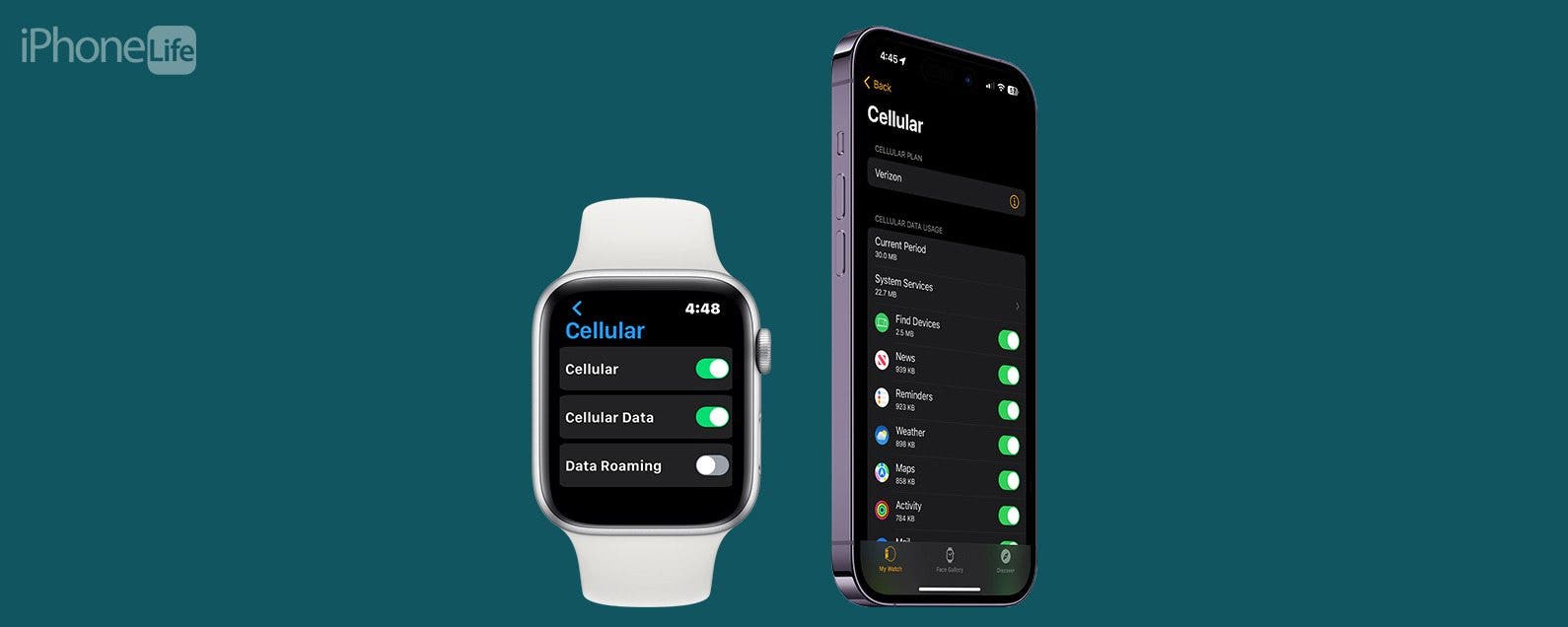 For those just entering the Apple Watch world, the question of whether to get an Apple Watch with GPS and cellular capabilities or with just the GPS can seem like a big one. In actuality, it comes down to two very basic questions: if you think you'll use the cellular features and if you can afford it. Let's take a look at Apple Watch GPS v.s. cellular and see who might be the right fit for each.
GPS vs. Cellular Apple Watch: Which to Buy?
When deciding whether to buy an Apple Watch with GPS + Cellular or an Apple Watch with only GPS there are a few things to consider: What does it cost? Do I need cellular on my Apple Watch? How will my Apple Watch function without it? Let's go through all these questions to help you decide if an Apple Watch with both GPS and cellular capabilities is for you.
What's the Difference?
The difference between an Apple Watch with GPS and cellular and just GPS is in the description: one has cellular capabilities and one does not. Cellular capabilities access your cellular network, allowing you to make calls and use data as you would on your iPhone. GPS only means your Watch will have location-based services available, such as Left Behind reminders, but you will not be able to make calls or use your data independent of your iPhone. If you're connected to your iPhone or Wi-Fi, you'll have more options, which we'll go over in the section below.

Discover your iPhone's hidden features
Get one daily tip each day (with screenshots and clear instructions) so you can master your iPhone in just one minute a day.
Another major difference between Apple Watch with cellular and with only GPS is the price. Cellular models cost more than GPS-only, and you'll have a monthly fee to add your Apple Watch to your phone plan. We'll go over the costs below, but even beyond the initial purchase, the costs of having cellular remain higher than if you opt to just get the GPS model.
Finally, it's important to note that there is no difference physically between the Apple Watch cellular vs. GPS only. The band options, casing, and screen are all identical, regardless of which model you choose. The only exception is the Apple Watch Ultra is only available in GPS + Cellular, so you will not be able to buy it at all in GPS only.
Can You Use an Apple Watch Without Cellular?
Yes, you can use your Apple Watch without cellular capabilities, but in a more limited way. Every Apple Watch model except for the Apple Watch Ultra is available as GPS only, and if you opt for the Apple Watch Ultra, you do not actually need to add it to your plan and activate its cellular capabilities. However, without cellular capabilities, you will need to be within range of your phone (about 30 feet) to make calls, use your data, etc., or be connected to Wi-Fi. I personally have no issue with this with my GPS-only Apple Watch Series 8. My phone is almost always within range, but I enjoy not having to take it out to check messages, notifications, and more. Tracking steps is a lot easier, too, without having to make sure I have my iPhone positioned so it can accurately read the movements of my body.
However, if you want to use your Watch for emergency calls independent of your iPhone or a Wi-Fi connection, you'll need cellular. If you like to leave your phone at home but still be connected to your service, cellular is the way to go.
How Much Does Apple Watch Cellular Cost?
Every Apple Watch costs more if it includes cellular capabilities, with the exception of the Apple Watch Ultra, which only has one price, as all models include cellular capabilities. After you make your purchase, you'll have to pay monthly to add an Apple Watch to your phone plan. Most providers charge around $10/month, which isn't outrageous, but if you're trying to cut costs, this can add up.
How Much Data Does Apple Watch Cellular Use?
Your Apple Watch will not inherently use up data. It will only use as much data as you let it, though, with anything, you can end up using a lot more than you anticipate if you aren't careful with permissions, as updates and refreshing can eat up data very quickly. Cellular features also use more battery life, which is something to consider when deciding what your typical Apple Watch usage might look like and what you're hoping to get out of it.
Who Should Buy the Apple Watch GPS + Cellular?
In my experience, needing cellular on my Apple Watch hasn't fallen within my typical usage. My phone is almost always within range, and while it can be fun to take calls on my watch instead of scrambling for my phone, I wouldn't need to use it to make or take calls alone. However, if you're looking for something to truly replace your phone at times, you'll want to get the cellular model.
One group that might want to consider Apple Watch with cellular capabilities is parents who are introducing their children to device ownership. The monthly price for a cellular Apple Watch tends to be much lower than a whole extra phone line, and it can be an option that minimizes screen time and internet access. Family setup allows parents to control a lot of access for their children and add more than one Apple Watch to the parent's phone.
Which version do you have? Do you ever wish you had the other? Let me know if the comments!