The App Privacy section on an app's product page will show you what data apps may collect on you.
By

Elisabeth Garry
Updated 07/07/2021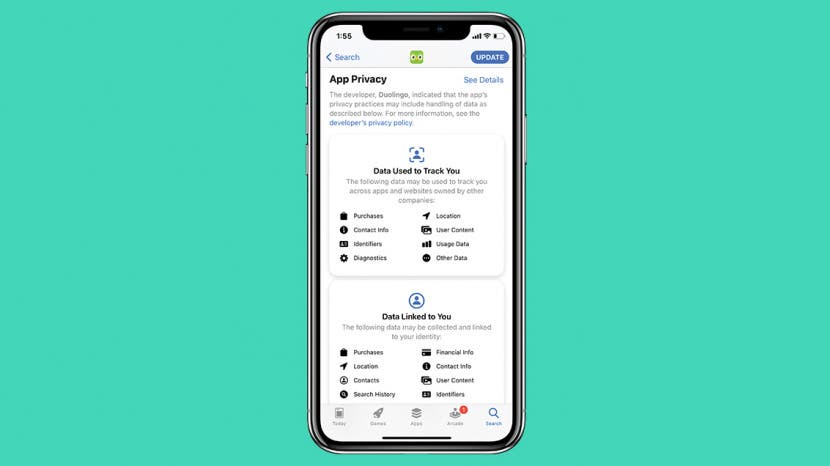 If you're concerned about the data apps are collecting on you, iOS 14.5's privacy updates include a mandate that every app in the App Store must detail the data the app collects from you and how it's being used. The App Privacy section can be found on the app's product page in the App Store. Let's go over how to find it.
Related: How to Find Hidden or Missing Apps on Your iPhone
Important: The App Privacy section goes hand-in-hand with the new App Tracking Transparency feature. While App Tracking Transparency lets you make an informed decision about whether or not you'll allow an app to track you across other apps and websites, the App Privacy section shows you what data you're agreeing to let the app collect if you opt in. Keep in mind that even if you opt out of App Tracking, the app will still collect the data listed under Data Linked to You. To learn more about your Apple devices and their privacy settings, sign up for our free Tip of the Day newsletter.
Here's how to see what data apps collect from you:
Open the App Store.


 
Tap Search.


 
Type in the name of the app for which you'd like to view the privacy and data-collection details.


 
Tap on the app name or app icon (not Get or Update) to go to the product page. 


 
Scroll down to the App Privacy section.
Here you will find sections for Data Used to Track You as well as Data Linked to You.


Having access to these lists should help you better understand what data is collected from you. If you're interested in learning more, there's usually a link at the top of each of these pages that will take you to that app developer's privacy policy.