By

Olena Kagui
Updated 03/27/2023
Voice-to-text apps are useful because they allow you to take notes, translate real-time conversations, and even send a quick email. Dictation software enables you to transcribe audio into text which has many practical uses in today's society. There is a lot of free transcription software out there that is perfect for every talk-to-text need.
Related: Why Can't I Lock Notes on My iPhone?
1. Dragon Anywhere: Dictate Now ($14.99/month or $149.99/year)
Dragon Anywhere, sometimes referred to as "Dragon speak" or "Dragon dictation," is one of the most popular audio-to-text converters in the world. It is incredibly accurate and has some impressive features. You can try them out yourself in the free one-week trial. To learn more about taking notes on iPhone, sign up for our free Tip of the Day newsletter.

Discover your iPhone's hidden features
Get one daily tip each day (with screenshots and clear instructions) so you can master your iPhone in just one minute a day.
For example, you can use voice commands to fix any mistakes that you made while speaking. Saying "correct that" will highlight the last thing you said and give you a list of alternative phrases. You can tap on whatever is most appropriate. Of course, you can also tap the keyboard to fix anything and to add punctuation.  
Dragon's software stands out because it understands that some people need to use unusual words in their dictation. The Custom Words feature allows you to show the app the spelling and pronunciation of terms that you may frequently use that are not standard. This can be used for names, slang, and even curse words. Fun fact, Dragon Anywhere keeps dictation clean by converting profane words into more appropriate lingo with similar spelling.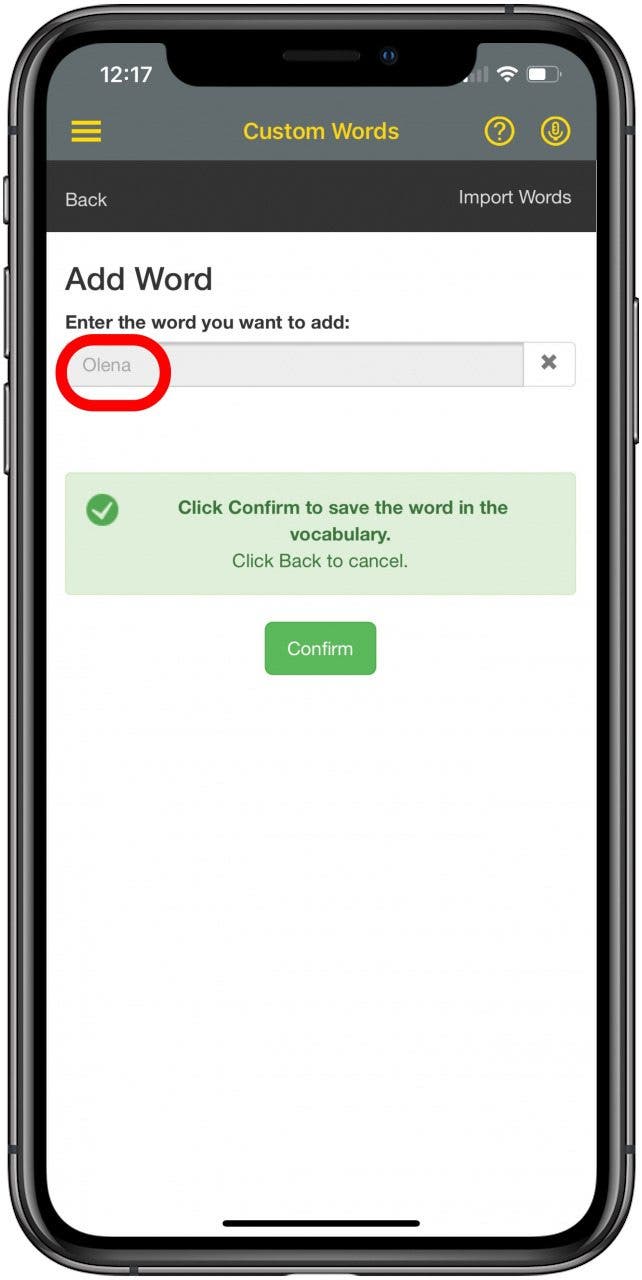 2. Notes App (Free)
Apple's Notes app comes pre-installed on every iOS and macOS device. Despite its simplicity, it has many great functions, including the ability to scan old photos. You can also use it to take notes by voice. Just tap the microphone at the bottom right of your iPhone. Just make sure that voice typing is enabled by toggling Enable Dictation on in your iPhone Keyboard settings. 
Notes is a free app, and the voice-to-text functions are bare bones. It uses the same built-in diction function that Siri uses to not be as accurate as a designated transcription app. However, it has its perks, including easy sharing across all your devices. A note you take on your iPhone can be accessed immediately on your MacBook and vice versa.
Unlike some other apps, Notes won't censor you if you happen to slip up and use an explicative. So make sure to review your notes before submitting them, especially in a professional or educational setting. If you make any mistakes, you'll have to go in and fix them manually. Although the dictation feature is basic, it is perfect to use in an emergency since it's already installed on your device.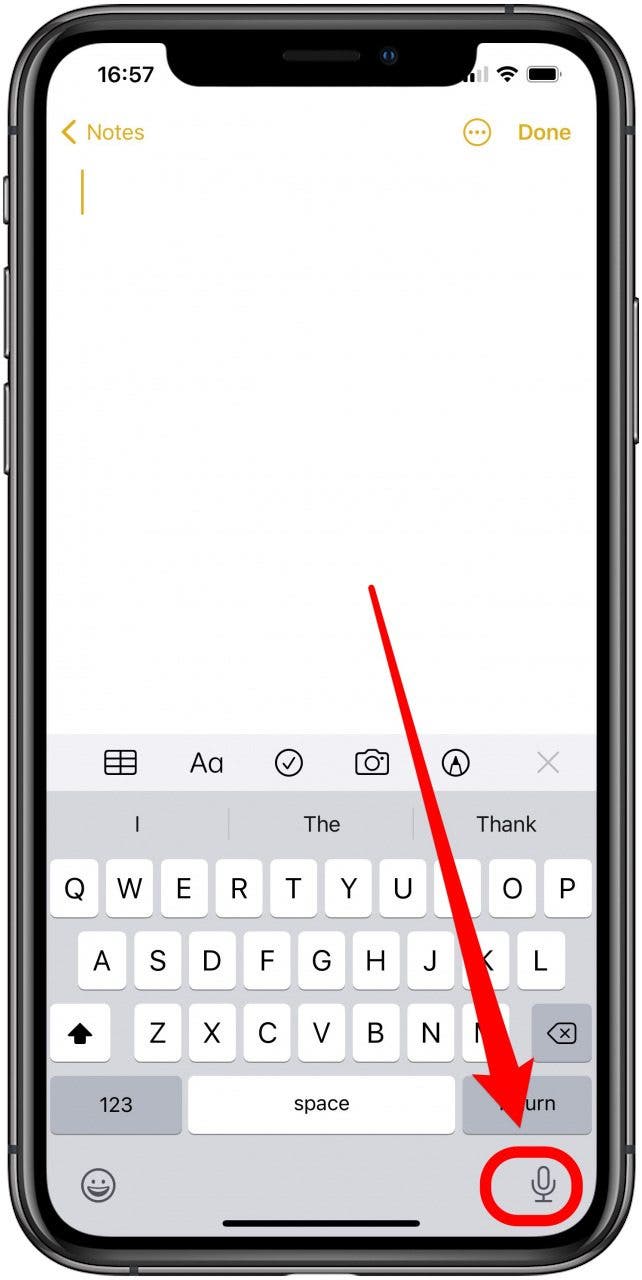 3. Otter (Free Basic or $8.33/Month)
Otter markets itself as an AI for everyday conversations. The app has a free basic plan that includes 600 minutes of recordings, where each is a maximum of 40 minutes long. The Pro plan can do 6,000 minutes, where each is a maximum of 4 hours long for just $8.33/month. There is also a Business plan with even more functions. 
What makes Otter different from other voice-to-text apps is that it is extremely sensitive to sound. While I was doing a test recording, someone called their dog outside, and Otter recorded it. This has both pros and cons depending on what you want to transcribe. 
Otter records the audio as well as creating a transcript of written notes. It organizes every recording chronologically and automatically summarizes the keywords in each recording. If you forget to name a note, you can find it by searching a keyword. You can even listen to individual words by tapping on the text in every note. That way, if something doesn't make sense, you can listen to it again to see whether the transcription is correct.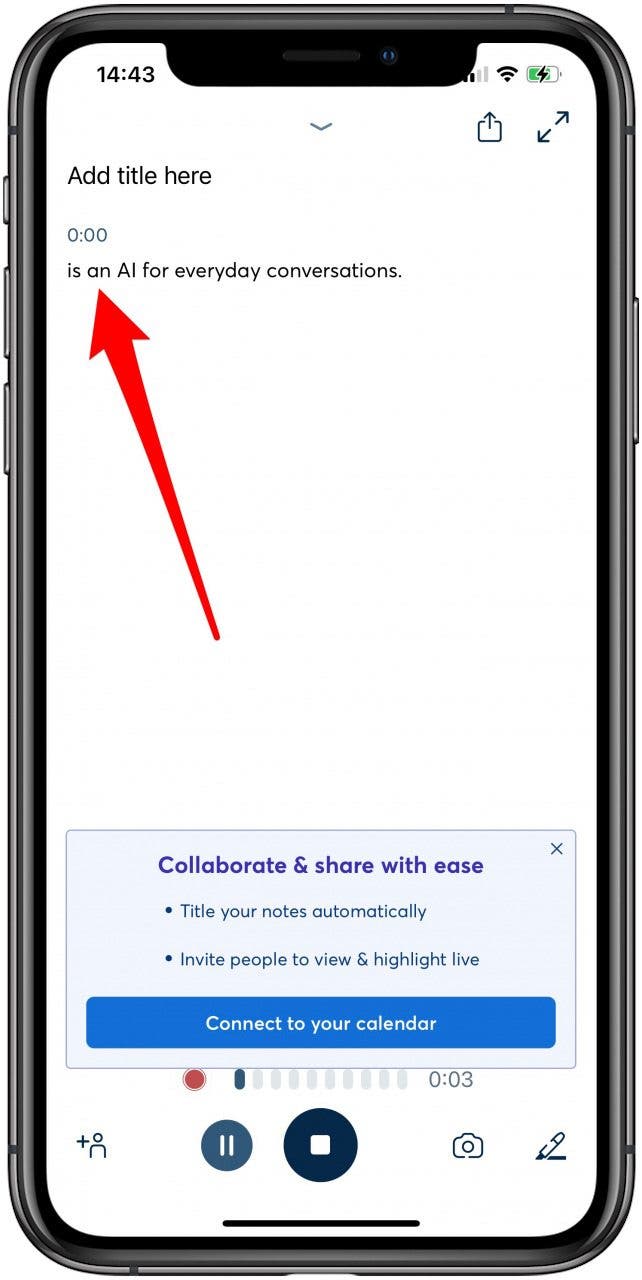 4. Evernote (Free Basic or $69.99/Year)
Evernote is a popular note taking and document sharing app commonly used at schools and businesses. It has a free basic plan that allows for 60 MB of new uploads per month, syncing across two devices, and even searching for text within images. Plus, it lets you take notes with your voice by using your iPhone's built-in dictation function.
When signing up for Evernote, you will be prompted to sign up for the Premium plan. Although there are many perks to doing so, such as 10 GB of new uploads per month and unlimited device sync, it is possible to use the free version by tapping the small x at the top-right of your screen. However, you can also do a free trial. Depending on the subscription you want once the trial is over, you will either get one week or two weeks to try it out.
Taking voice-to-text notes in Evernote is similar to the Notes app. They both use the built-in dictation on your iPhone that you can enable in your Keyboard Settings. What makes Evernote a little more practical than the Notes app is that it has more features and can be synced to Android devices. This makes it possible to share notes more universally.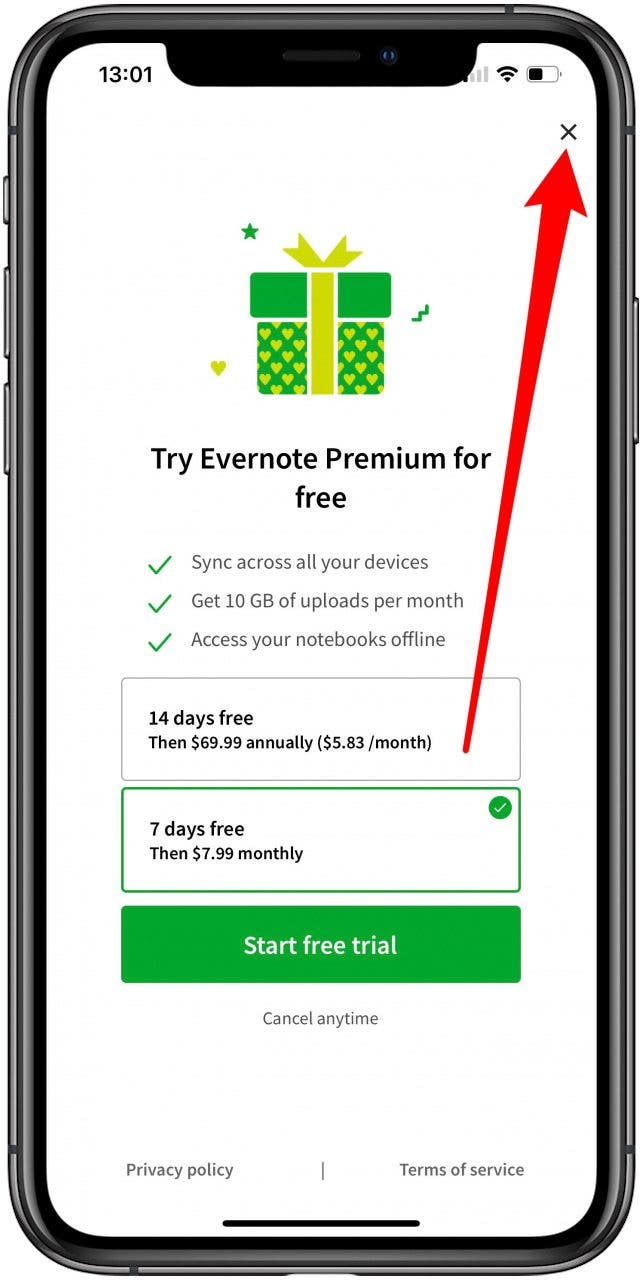 5. Dictation - Speech to Text ($4.49/Month or $12.99/Year)
Dictation - Speech to Text has a clunky-looking layout but is surprisingly functional. It is straightforward, requiring just a tap to the microphone button to begin dictating. It is as accurate as your iPhone's built-in dictation function, if not better. It is intuitive to use and makes it easy to save and share your notes with other apps. 
One of the best features is the ability to change languages in just a few taps! This is practical in a multilingual setting, and you don't even have to worry about changing your device's keyboard. There are 40 languages to chose from, and you can have up to three on the main screen so that you can switch between them with ease. 
Dictation offers a free trial that doesn't require signing up with your credit card. The trial lets you dictate up to 73 words indefinitely. If you are interested in upgrading, several options are available depending on whether you want to use the app on just iOS or macOS as well. For $4.49 per month or $12.99 per year, you can use it on iOS. For $6.99 a month or $17.49 per year, you can use it on both iOS and macOS.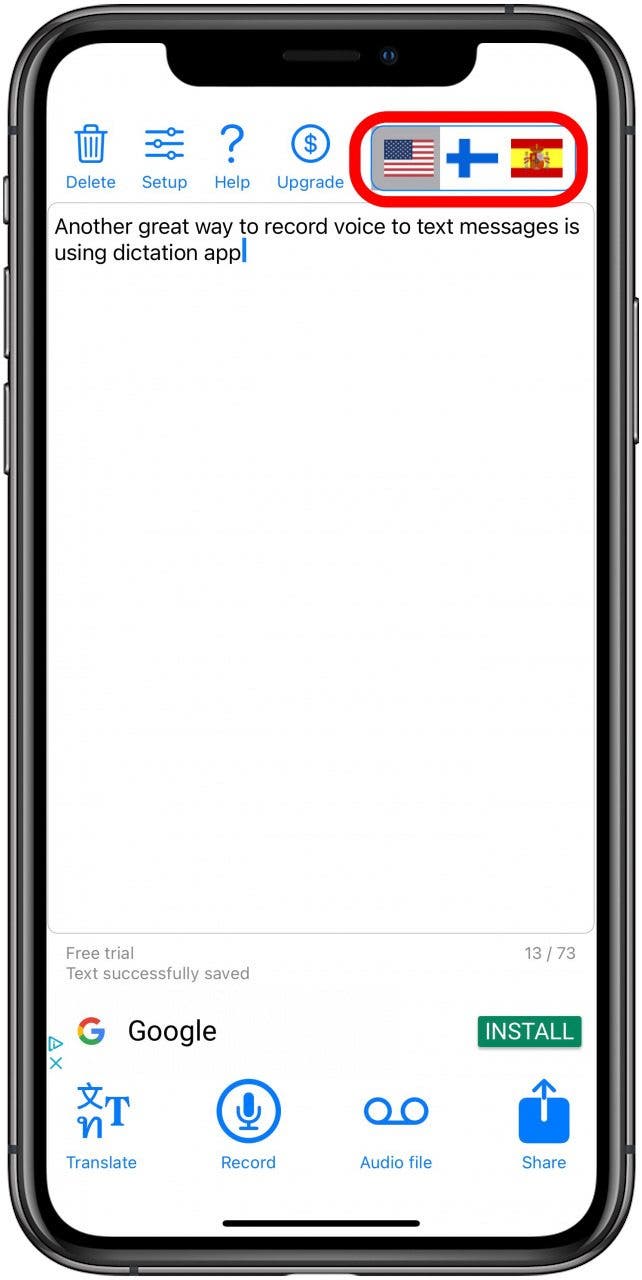 There is a wide variety of voice-to-text apps to chose from. While free transcription software is available, it may be worth investing in something more professional, depending on your needs. Dictation software has many practical uses, such as saving us time in our busy lives while allowing us to take notes on the go. Next, learn what to do if Dictation is not working in iOS 16.