Your private note options are limited. Find out why your notes aren't locking and how to lock a note on your iPhone when traditional options fail.
By

Amy Spitzfaden–Both
Updated 03/27/2023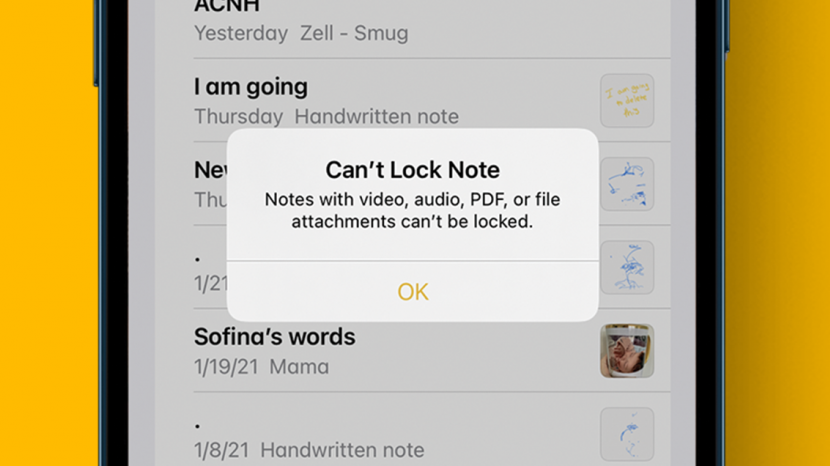 Knowing how to lock notes on the iPhone is a handy feature that lets you easily protect your private notes. But unfortunately, there are limitations to the notes you can lock in the Notes app, which may result in frustrating failed attempts. Here's why your notes aren't locking on your iPhone and what to do instead.
Jump To:
Why Aren't My Notes Locking?
Before getting started, you might want to review how to lock a note on your iPhone. There are several reasons you may not be able to lock a note in the iPhone notes app, such as not having a passcode set up or certain content types that can't be locked, which are listed below. If your iPhone notes disappeared and reappered, it may just be an update glitch!
How to Enable Passwords for Your Notes
If you're having trouble locking notes, check to make sure passwords are enabled in your Notes settings. 
Open your Settings app.


 
Tap Notes.


 
Tap Password.


 
If you haven't already set a password, enter one, verify it, and set a password hint.


 
Toggle Face ID on if you want that option to unlock your notes.


 
Tap Done.


Related: iPhone Notes Disappeared? Your Guide to Troubleshooting the iPhone Notes App
Which Notes Can't Be Locked?
While you can use your Notes app to lock notes that contain photos, you can't currently lock notes with the following types of content:
Video
Audio
PDF or file attachments.
If you are trying to lock a note with any of these, that's your problem. If you don't need the incompatible data in the note, delete it and lock your note without it. However, if you want to lock those files, there are some other options. For more ways to keep your content private, check out our Free Tip of the Day.
Other Ways to Lock Your Content
Since the locking options in Notes are imperfect, you might want to look elsewhere for locking private content on the iPhone. Two strong options are:
Add photos and videos to the Hidden folder in your Photos app. Your Photos app has a built-in hidden folder that lets you add photos and videos you want to keep out of your main camera roll. It's useful if you want to keep people from seeing certain things while flicking too far left or right, but it doesn't have a lock, so someone could easily open it if they have access to your camera roll.
Use a third-party app to lock your content. Sometimes you need to go outside of what Apple has to offer. There are a lot of third-party apps that promise security, but many of them cost money so it can be hard to know what to trust. Luckily, we have some suggestions of best apps to hide photos and videos on your iPhone. You're sure to find something to suit your needs, so rest easy!