Can you lock photos on iPhone? We'll go over how to create a secret photo album, how to password protect photos on iPhone, and the best apps to hide photos.
By

Conner Carey
Updated 08/04/2022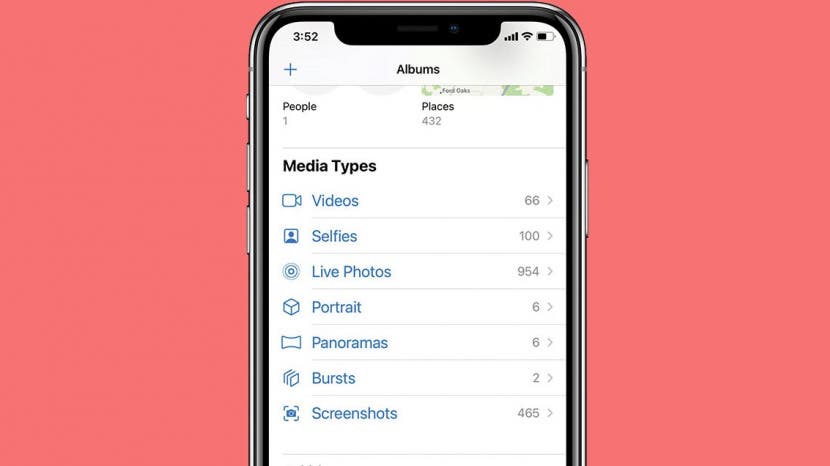 So you want to know how to hide photos and videos on your iPhone? Well, the iPhone allows you to hide photos, but Apple doesn't offer a properly private album or a way to lock a photo album. Still, there are several different ways to hide images on your iPhone, depending on the level of privacy you need. We'll go over them all in this article.
Related: How to Hide Apps on the iPhone (& How to Find Them Later On) 
Jump To:
What You Need to Know about Hidden Photos on Your iPhone
Apple offers a "hidden" album option for pictures, which will keep them from showing in your widgets or the automated For You slideshows. However, hiding pictures on your iPhone within the Photos app has some big loopholes that make it easy for someone to find the photos you mean to keep private. This is why we'll not only go over how to hide photos with the built-in private photo album but also how to lock photos away on the iPhone so that they are hidden behind a passcode. We consider this the way to really, truly hide photos on your iPhone. For even more security, we'll also go over the best apps to hide photos, so you can hide photos and videos in a locked, secret photo album on your iPhone.
By default, hidden photos and videos on the iPhone are simply put in the Hidden album, which isn't private or password protected. Those hidden photos won't show up in your widgets or Photo Library, but anyone who looks through your photos will still be able to find the supposedly hidden private photo folder on your iPhone. If that's okay with you, the first part of our article will show you how to hide photos on the iPhone. But if you really want those pictures locked, we recommend using the second part, which will show you a way to really, truly hide photos on the iPhone from prying eyes using the Notes app to make a private picture folder on your iPhone. In the final part of this article, we'll cover some of the best apps to hide photos, if you'd prefer to use a third-party app dedicated to keeping your photos and videos private.
For an extra layer of security, you might want to know how to add a watermark to a photo on an iPhone.
Keep in mind that only devices that are running iOS 10 or later are able to lock pictures with the Notes app. Here's how to hide photos on your iPhone by creating a locked photo album or using a private photo vault type app.
How to Hide Photos & Videos on the iPhone in a Private Album
For operating systems through iOS 10, hiding a photo on your iPhone means the photo is hidden from Years, Collections, and Moments. However, it's still visible in All Photos. Starting with iOS 11 and continuing in iOS 15, hidden photos are removed from All Photos and also Widgets. You view hidden albums by opening the Hidden album, which means the security on your Hidden private photos album is next to nothing (aside from the passcode to unlock your device in the first place.) But if that's okay with you, here's how to hide photos on the iPhone in a private photo album.
Open the Photos app on your iPhone.


 
Find the photo or video you want to hide.


 
Tap the Share icon in the lower-left corner.


 
For photos, scroll down and select Hide from the action menu. To hide a video on iPhone, select Hide Video.


 
Confirm Hide Photo.


 
To view your hidden photos and videos, tap on the Albums tab in the Photos app.


 
Find the album called Hidden and tap on it (it will be down at the bottom of your screen, under Utilities.)


That's it! If all you need to do is remove your images from showing up in the Home screen widgets, this will do the trick.
How to Lock Pictures on the iPhone Using the Notes App 
There are a couple of steps to really, truly hiding a photo on the iPhone. (Note that you can't currently lock Notes containing videos, so if you want to know how to hide and lock videos on your iPhone, you'll need to skip down to the section on apps that hide photos.)
To Hide a Picture on Your iPhone:
Locate the photo in the Photos app.


 
Tap the Share icon.


 
Select the Notes icon. If you don't see it, tap the more icon, and then tap the Notes app.


 
From here, you can add text if you'd like. If a new note doesn't have a name, Notes automatically sets the first few words of the note as the name, so this text could be the name of your new note.


 
(Optional) Tap the Save To field if you want to put the photo into an existing note or into an existing folder. Choose On My iPhone if you want to keep your photos out of the cloud (note that choosing this option means if you lose the phone, you won't be able to retrieve the photos).


 
This will let you choose whether to hide your photo in an existing note or folder, or to save to All iCloud. If you don't choose any of these, it will just save to the root directory in the Notes app. You can skip this and it will make a new note with the photo, but if you want to put lots of photos behind the same password, you can put them all into the same note.
When you're done, tap the Save option in the top right corner.


 
To hide more photos in this note, repeat steps 1-7, selecting the note you created to hide the first photo when you save the next photo to a note. This will add the second photo to the same note.
Once you've added all the images you want to lock to the note, open the Notes app and navigate to the one you've created. There, tap the More icon.


 
Tap Lock Note.


 
Enter your password to lock this note and tap OK.


 
Now, copies of these photos are safely locked away in a note, but the originals are still visible in your Photos app. You'll need to return to the photos in the Photos app and select them.


 
Now tap the Delete icon.


 
Then, navigate to the Albums tab.


 
Scroll down, and under Utilities, select Recently Deleted.


 
Select the pictures, then tap Delete. This is similar to emptying the trash can on your Mac. 


 
To confirm, tap Delete [#] Photos.
When you open Notes up, the photo will be safely locked within Notes. If you decide to save the photo back to the Photos app, simply unlock the note, tap the Share icon, and select Save. This is a bit of a workaround, but if you're trying to really, truly make a private picture folder on iPhone using built-in Apple apps, this solution is the way to go.
Best Apps to Hide Photos & Videos on the iPhone
Locking photos on iPhone using the Notes app is convenient because it doesn't require any additional apps. But you can't make a locked photo album in Notes if you want to lock notes containing videos in the Notes app. And then there are those who want to make a secret photo album on iPhone that only they know about. Some people looking to lock pictures on the iPhone don't even want anyone to know that they have private photos on their phones. In that case, the solution is using apps that hide pictures on your iPhone and sometimes even hide themselves.
Secret Photo Vault (Free, premium begins at $3.99/month)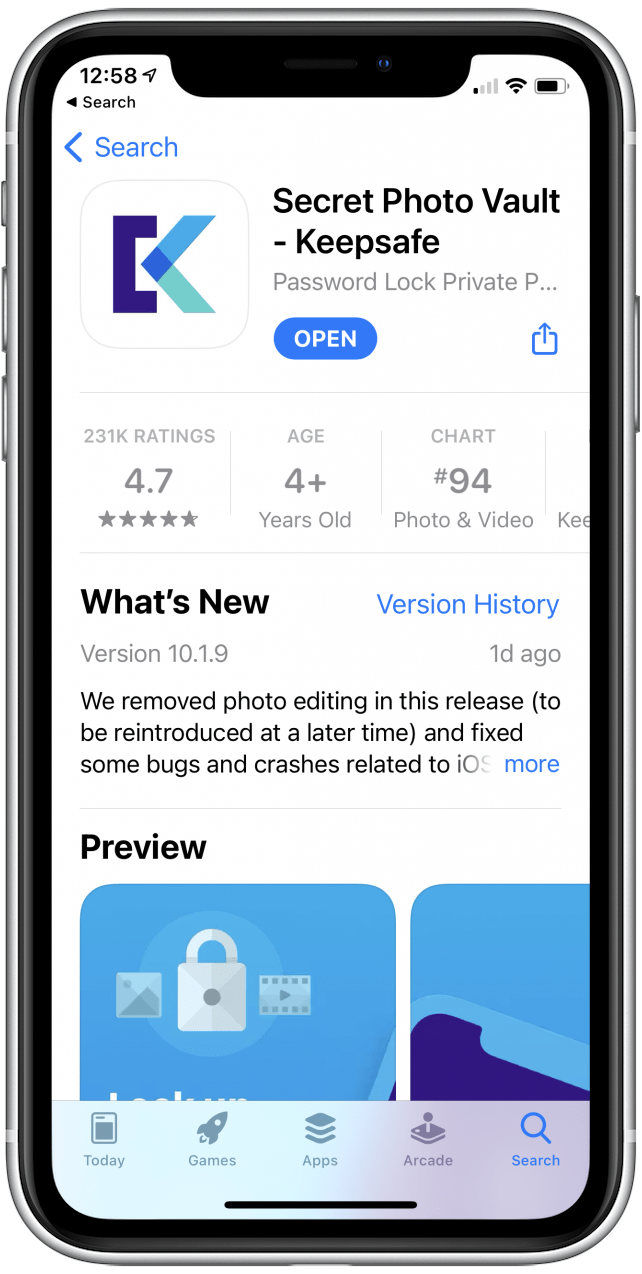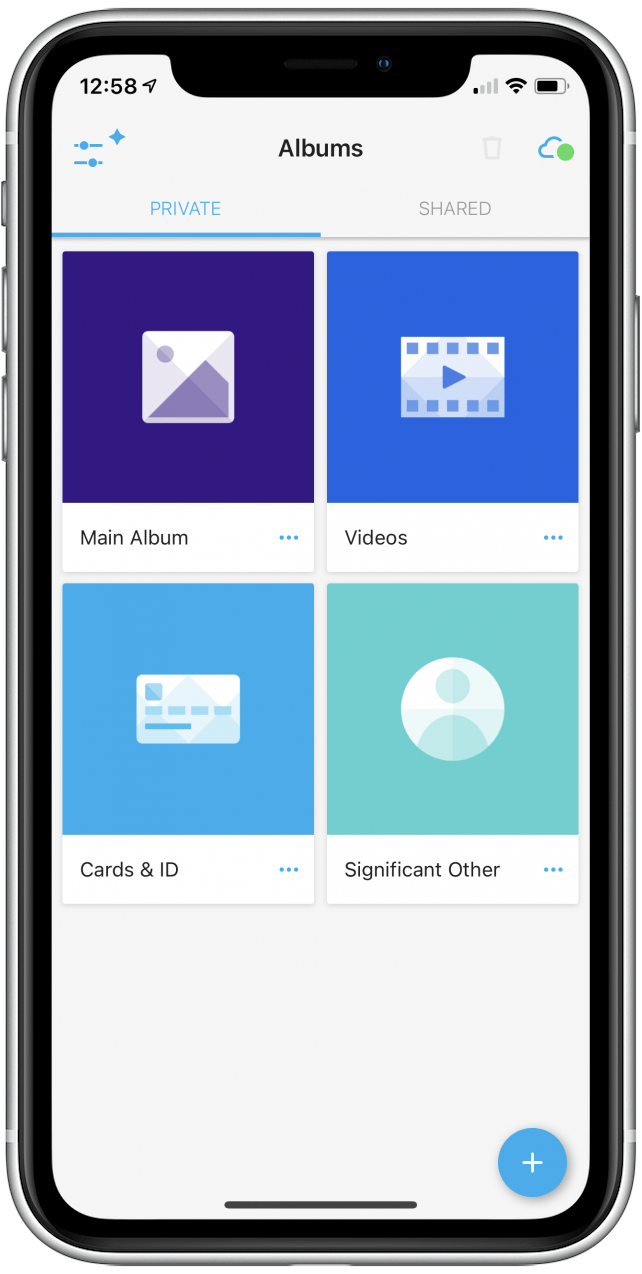 Highly rated, the Secret Photo Vault has a clean and secure interface for keeping your photos and videos safe. The app lets you create custom albums, full-screen slideshows, and integrates the camera so that you can take private photos directly from the app. You can test Secret Photo Vault with a free 30-day trial.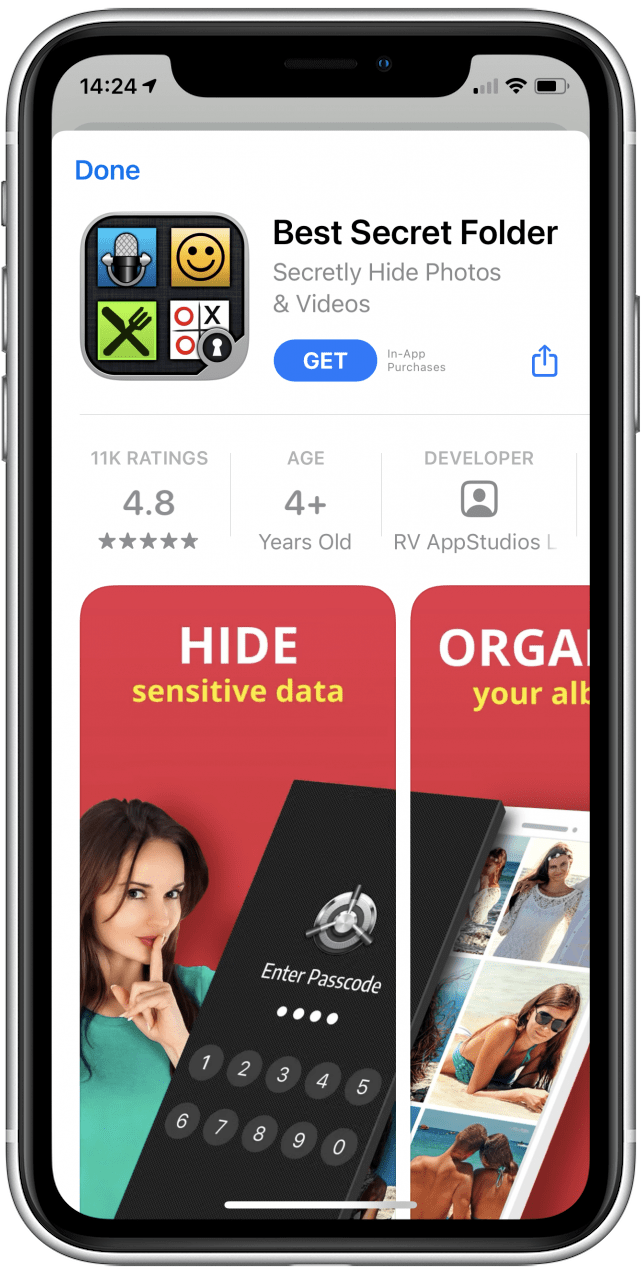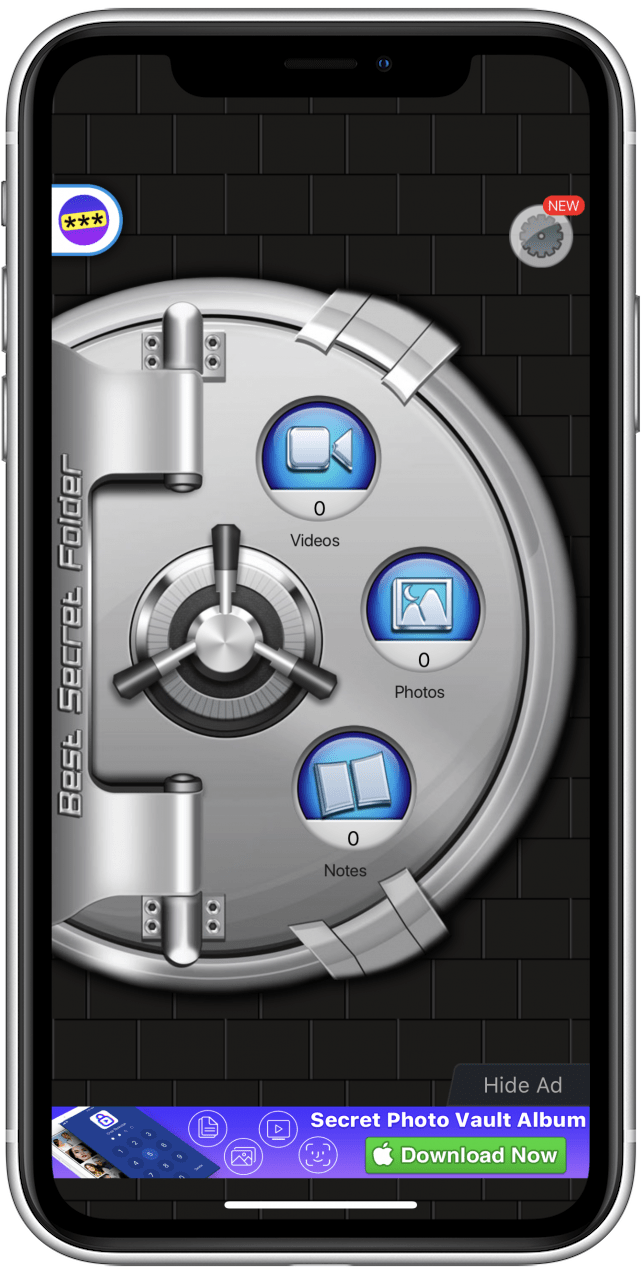 This free app lets you make locked photo albums of private photos and videos on your iPhone. The app will even let you know if someone tries to log in to the password-protected app and snaps a photo of the offender.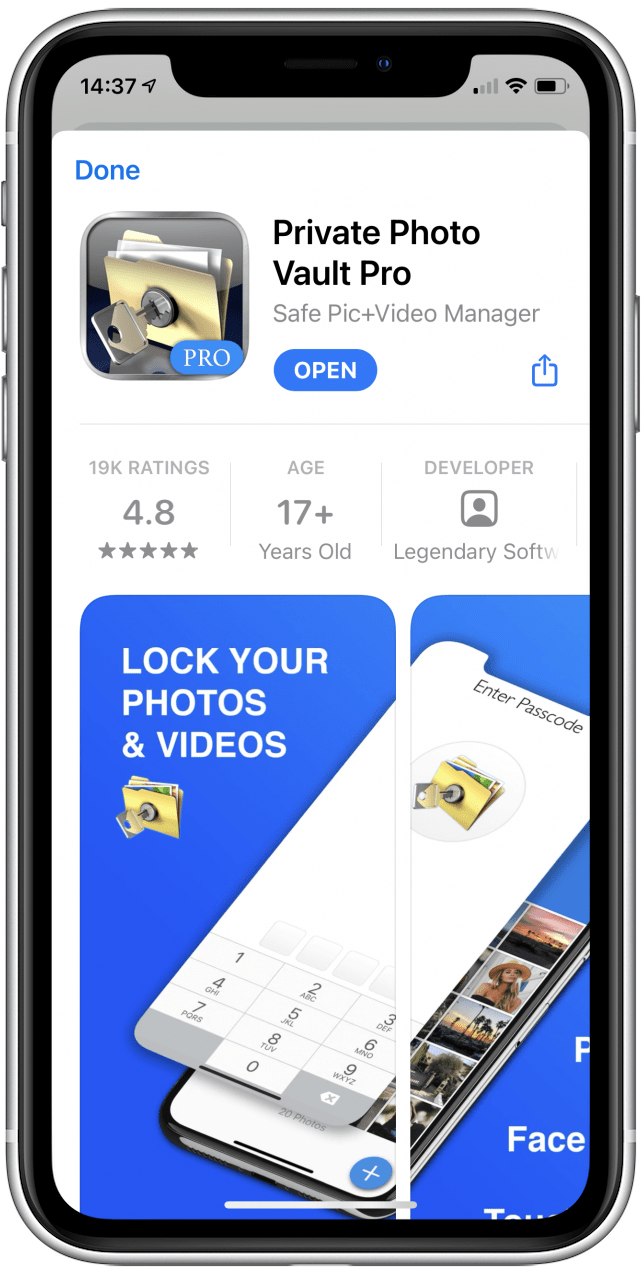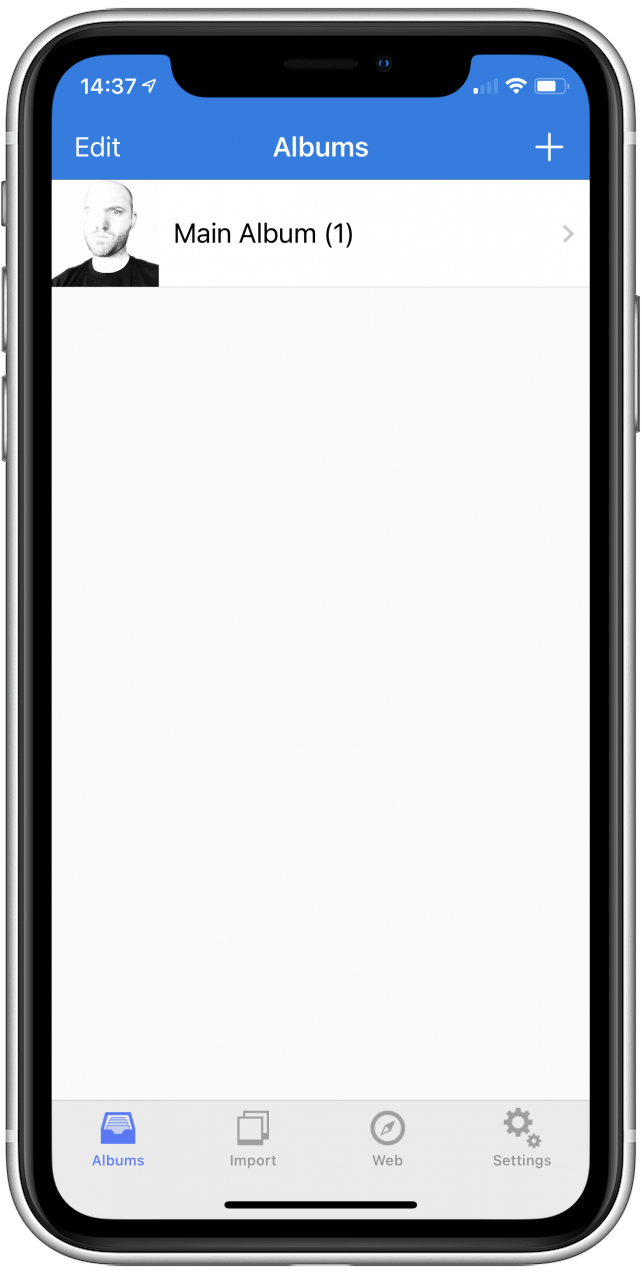 This app lets you not only password protect the app, but also create locked photo albums with their own passwords. While you can't take photos or videos directly in the app, importing and exporting to and from the Photos app is easy. This app also will take a photo of anyone trying to break into the app.
Did you know that you can hide apps as well as photos? Check out this article on how to find hidden or missing apps on your iPhone. Want to learn other cool stuff about your iPhone's Photo and Camera App? Read through this article about how to take a time-lapse photo!