By

Conner Carey
Updated 11/10/2022
So you want to know how to lock and hide photos on your iPhone. Well, the iPhone allows you to hide photos, but only in iOS 16 can you properly lock albums. In this article, we'll show you to lock and hide photos in the Hidden album right in your Photos app.
Jump To:
What You Need to Know about Hidden Photos on Your iPhone
Apple offers a "hidden" album option for pictures, which will keep them from showing in your widgets or the automated For You slideshows. In iOS 16, your Hidden album is also finally locked behind your passcode or Face ID, so before you begin, make sure you have updated to iOS 16.
By default, hidden photos and videos on the iPhone are put in the Hidden album. In iOS 15, this album isn't private or password protected, while in iOS 16, it is locked by default. We'll also cover some of the best apps to hide photos if you'd prefer to use a third-party app dedicated to keeping your photos and videos private.
For an extra layer of security, you might want to know how to add a watermark to a photo on an iPhone.
Here's how to hide photos on your iPhone by creating a locked photo album or using a private photo vault-type app.
The iOS 16 system update has brought a lot of changes and new features to the iPhone, both big and small. One of them is a pretty significant change to how hiding photos works, making it much more secure by default. Now, the Hidden album in the Photos app is locked, requiring you to use a passcode, Face ID, or Touch ID to access it. It will use the same passcode as the one set to unlock your phone, however, and you cannot put a separate password on the Hidden album. If you need to know how to put a password on hidden photos, consider a third-party app. In addition, the Hidden album can be set to not appear at all.
Here's how to hide pictures in the iOS 16 Photos app:
Start by opening the Photos app and navigating to the album or area of your photos timeline with the photo you want to hide.


When you've found the photo you want to hide, give it a tap to open it.



With the photo open, tap the icon that looks like three dots in a circle in the upper right corner.


This will open a menu of various things you can do with the photo. Tap the open that says Hide.



A small confirmation window will open at the bottom of the screen with some information about what hiding a photo means. After reading, tap Hide Photo to confirm.


The photo will disappear from your normal photos collection, but you can still find it in the Hidden album. Go to your albums list by closing any open photo and tapping the Albums tab icon at the bottom of the screen. Here, scroll all the way down to the bottom to find the group of albums under the heading Utilities. One of these will be the Hidden album. Tap it.



In iOS 16, the Hidden album is locked by default. If you use Face ID, the Hidden album will attempt to unlock automatically when you try to open it; otherwise, you can tap View Album to unlock it.


Once unlocked, you can work with the photos there in the same way you would any others. This is also where you can unhide your photos if you like, through the same menu you used to hide them.
How to Remove the Hidden Album from Your Albums List
If simply locking your photos in a Hidden album isn't enough security for you, you can also remove the Hidden album from the list of photo albums in the Photos app.
If you want to hide your photos further, you can remove the Hidden album from the Albums list. To do this, first open the Settings app.


In Settings, scroll down to find and tap the Photos option.



In the Photos settings, you'll find an option with a toggle switch called Show Hidden Album. By default, this toggle will be on (green) but if you don't want the Hidden album to even appear in the Albums list, you can toggle it off (gray) by tapping it. In the future, to view, delete, or unhide these photos, you'll first have to return to his menu and turn this option back on.


Now you know how to hide your photos from prying eyes in iOS 16. If you need to hide multiple photos at once, instead of opening an individual photo, you can use the select option to pick all the photos you want to hide at once, then use the more icon (it looks like an ellipsis in a circle) in the lower right corner to find the Hide button.
Related: How to Hide Apps on the iPhone (& How to Find Them Later On) 
While iOS 16's Hidden album is now much more secure than in the past, there still might be ways around its defenses. For instance, if you use a passcode to unlock your phone, friends and family might know that password. If you don't trust the Hidden album to truly hide photos and videos on your iPhone, you can look into third-party apps to lock photos behind additional levels of security. Some people looking to lock pictures on the iPhone don't even want anyone to know that they have private photos on their phones. In that case, the solution is using apps that hide pictures on your iPhone and sometimes even hide themselves.
Secret Photo Vault (Free, premium begins at $3.99/month)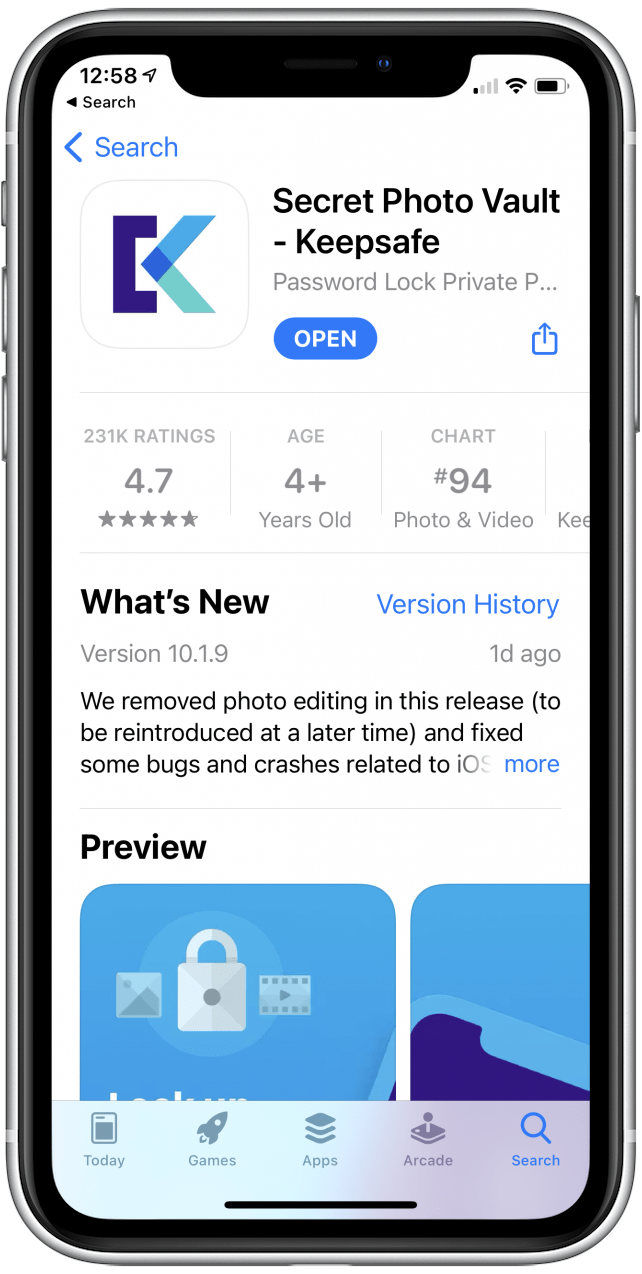 Highly rated, the Secret Photo Vault has a clean and secure interface for keeping your photos and videos safe. The app lets you create custom albums and full-screen slideshows, and integrates the camera so that you can take private photos directly from the app. You can test Secret Photo Vault with a free 30-day trial.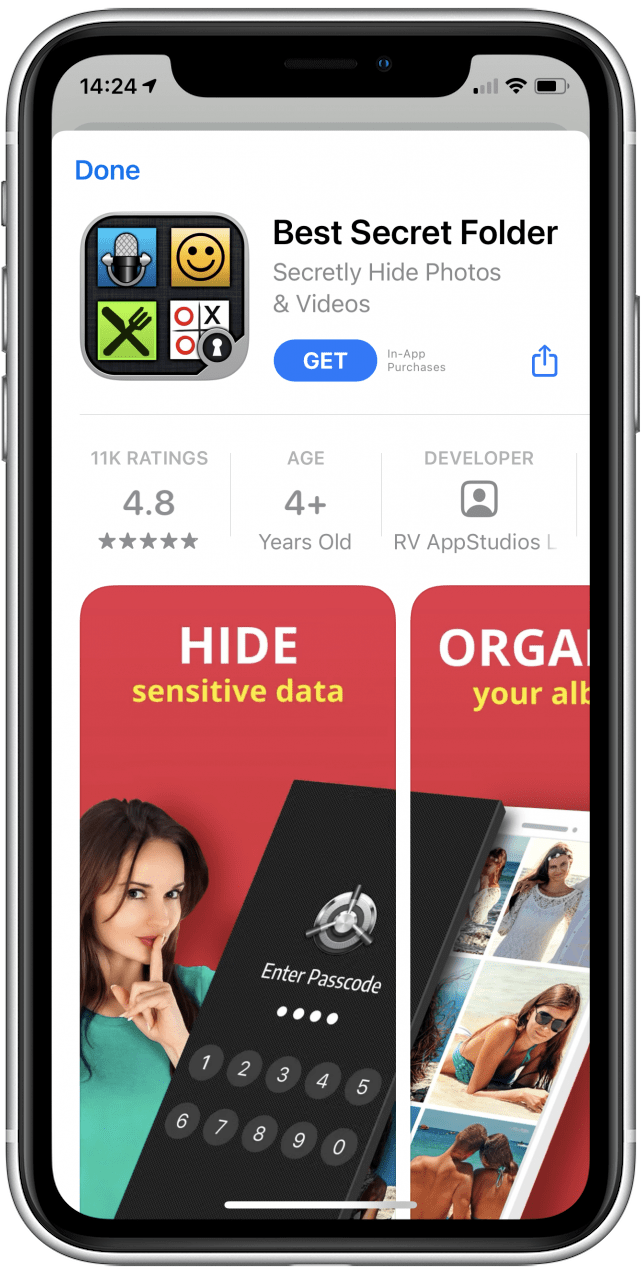 This free app lets you make locked photo albums of private photos and videos on your iPhone. The app will even let you know if someone tries to log in to the password-protected app and snaps a photo of the offender.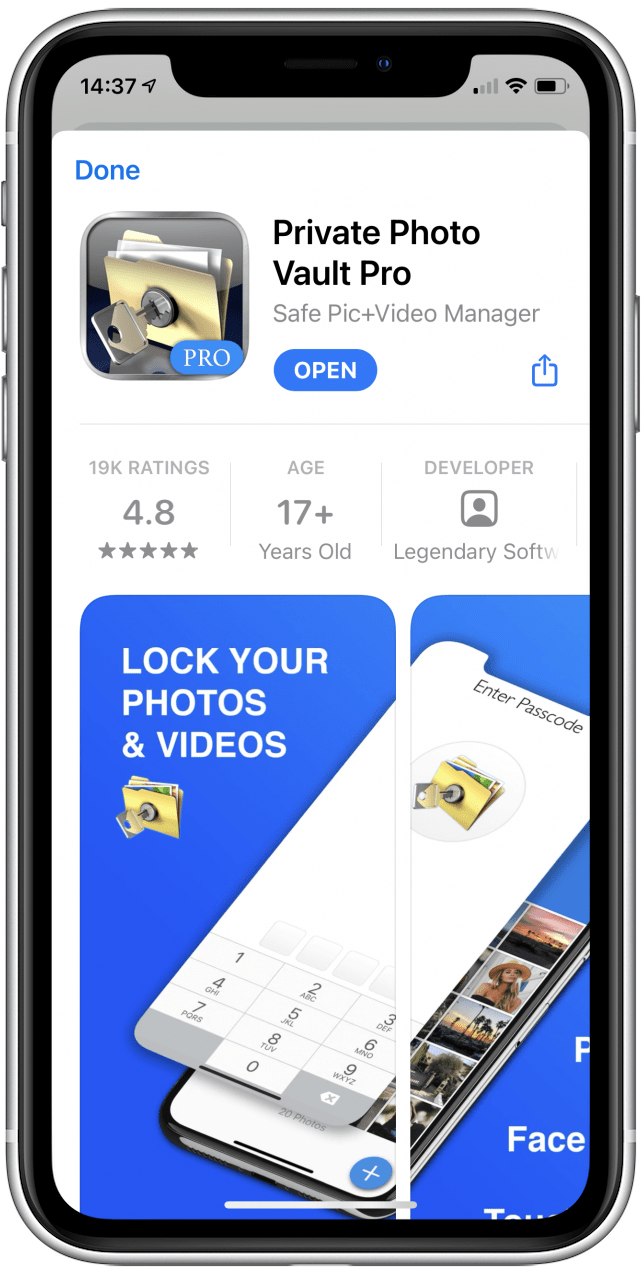 This app lets you not only password protect the app, but also create locked photo albums with their own passwords. While you can't take photos or videos directly in the app, importing and exporting to and from the Photos app is easy. This app also will take a photo of anyone trying to break into the app.
Did you know that you can hide apps as well as photos? Check out this article on how to find hidden or missing apps on your iPhone. Want to learn other cool stuff about your iPhone's Photo and Camera App? Read through this article about how to take a time-lapse photo!