By

iPhone Life Team
Tue, 10/03/2017

From Face ID to an OLED edge-to-edge display to wireless charging, the new iPhone 8, iPhone 8 Plus, and iPhone X have a lot of new and exciting features. It's hard to know which iPhone to choose! Our CEO and publisher David Averbach and our senior web editor Sarah Kingsbury debate the merits of the new iPhones in hopes of swaying your decision. Whose side will you take?
Overall Value
Sarah: The iPhone X is the best device, and it's worth it. Having the biggest screen of any iPhone in a smaller phone is significant. And the quality of the Super Retina OLED display is out of this world. With Face ID you don't even have to fuss with trying to get Touch ID to work, it just unlocks because it sees your face.
David: To me, that's actually an argument against the iPhone X, because we know Touch ID works well. We know the Home button works well. I'm worried about having to relearn a user interface that does not have a Home button.
Sarah: You're going to have to learn how to use the new interface sooner or later. These improvements are most likely coming to all the phones, eventually.
David: Yeah, but maybe I should wait until I don't have to pay so much for the privilege of learning it.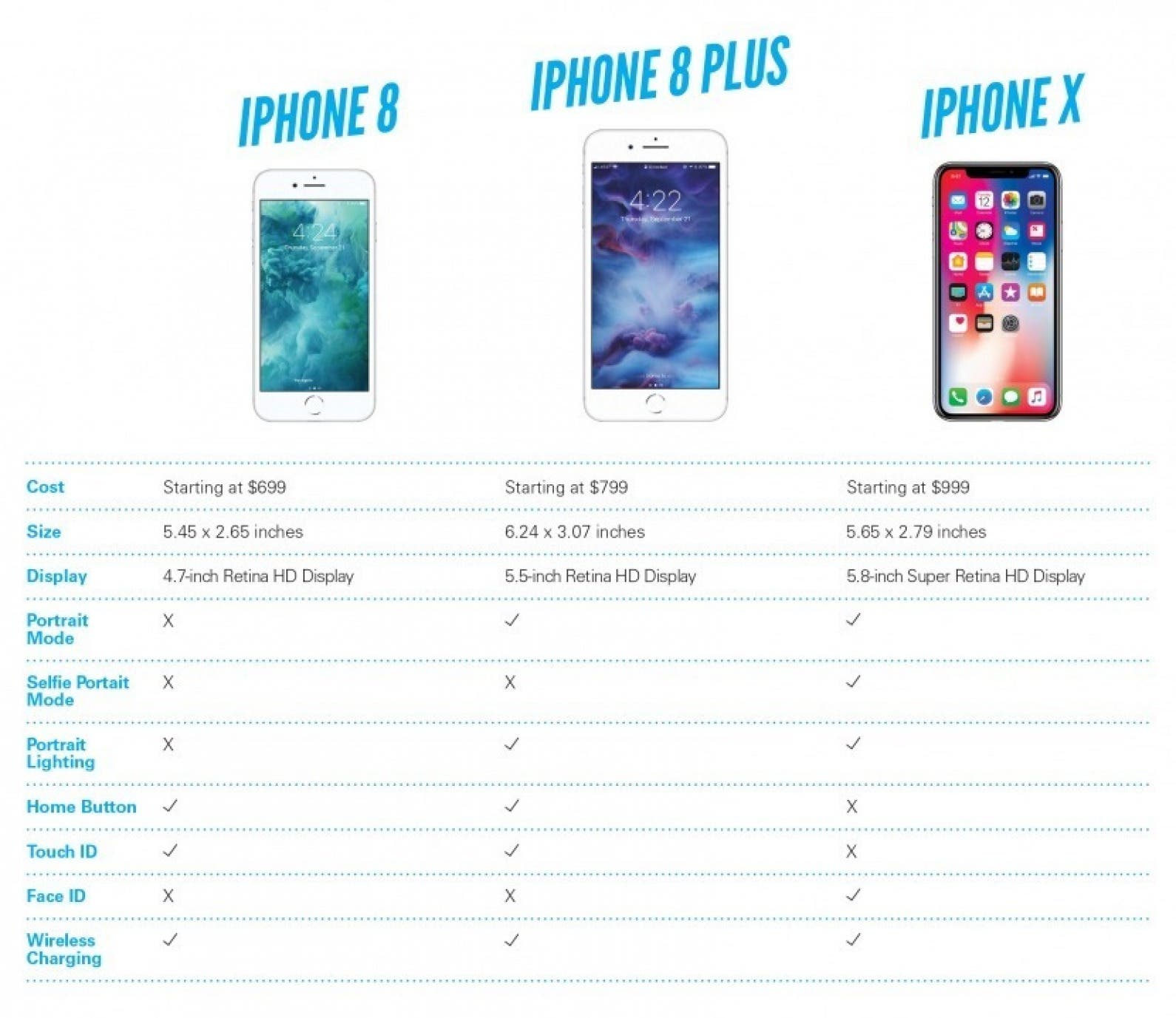 Wireless Charging
Sarah: I hear a lot from our readers that this is a feature they really want. It's not a factor when deciding whether to buy one of the 8 models or the iPhone X, though, because they all have it.
David: It is really an exciting feature. When you're in your car, you don't have to fuss with the cable. If everything eventually goes to wireless charging, you can charge all your devices on the same charging pad.
The Cost
David: It is cool to have an edge-to-edge display. But having a reliable phone that is cheaper, has a Home button, and has a familiar user interface—there are advantages to that.
Sarah: You're not saving as much money as you think, because if you want Portrait Mode, you have to get the more expensive 8 Plus anyway. And the Plus doesn't have the edgeto-edge OLED display. If you care about the quality of photos you take, then you might as well just go for it.
Durability
David: If you are concerned about durability, I think there is a case to be made for buying the 7 Plus, which is cheaper than the 8 Plus and has the metal back.
Sarah: But if you're not just going to stick to the 7 or 7 Plus, go with the X, because protective cases add bulk and at least you'll have the smaller phone and it won't end up being as huge.
Final Arguments
Sarah: Really, I think the screen is what makes the iPhone X worth buying. The iPhone X display is bigger, and the quality is so much better while the size of the phone is smaller.
David: As far as arguing that you don't need the X, the main reason is money. The X is the better phone, but the main advantage of the X is a nice screen. If you don't particularly care about having the latest and greatest display, it's a lot of money to spend.