Easily turn off Live Photos temporarily or until you're ready to use it again.
By

Emma Chase
Updated 01/12/2023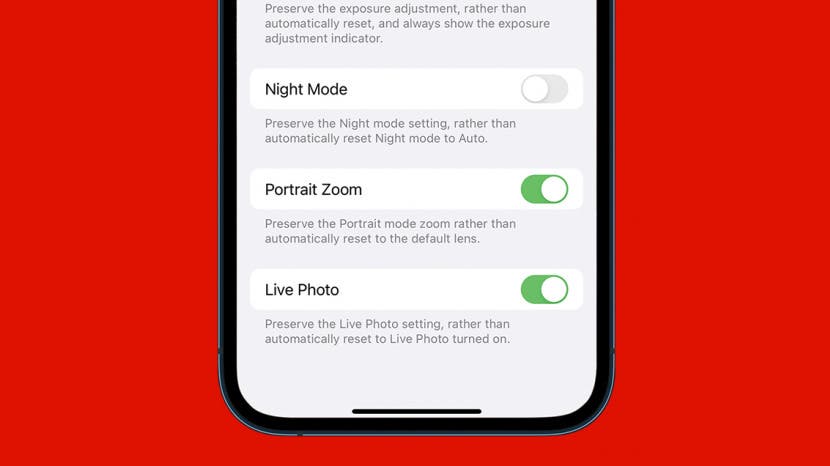 * This post is part of iPhone Life's Tip of the Day newsletter. Sign Up. *
Live Photos are a hybrid between a still image and a short video that work on iPhone 6S and newer. These unique moving pictures capture three seconds of video with a key photo in the middle, but there may be times when a traditional photo is better.  In this article, you'll learn how to turn off Live Photos temporarily or long term.
Related: Live Photos: The Complete Guide to the iPhone's Moving Pictures
Why You'll Love This Tip
Save storage space on your phone when you turn off Live Photos.
Avoid sharing more than you intend to in the seconds before or after a photo.
Ensure that your picture can be easily viewed when you send it to someone, even if they don't have an iPhone.
How to Turn Off Live Photo for One Photo
Live Photo is automatically activated on your iPhone, but you can turn off Live Photos for a few images or turn it off entirely in just a few easy steps. Alternatively, you can keep your Live Photo off and use it on occasion by tapping the same target icon in the camera app.  
Open the Camera app.


Tap on the Chevron symbol.



Tap on the Live Photo icon to pull up the menu.


In the menu, enabling Live Auto turns the icon white. On iPhone 11 and newer, this means that your camera will determine when to take a Live Photo based on the amount of movement in the shot. Keep in mind that not all iPhone models will have the Live Auto option.



Tapping On turns the icon yellow, and when this option is selected, your camera will always take Live Photos.


Tap Off to disable Live Photo.



Once you've disabled live photo, the icon will appear with a line through it.


 
How to Disable Live Photo for All Photos
To disable Live Photo for all photos you take, follow the steps below. Before you begin, make sure that you've done the steps in the previous section to turn Live Photo off for one picture.
To turn off Live Photos permanently, first open the Settings app.


Scroll down and tap Camera.


 

Tap Preserve Settings.


 
Tap the toggle to enable preserving your Live Photo settings. The toggle will be green after you do this. This will preserve the setting you last used in the Camera app.


 
You may need to turn Live Photo off manually in your Camera app one last time, but after that, your settings should be preserved in the Camera app. While the Live Photo feature is useful and fun, there are still times when a still photo works better. You have the best of both worlds when you learn to turn off Live Photo.