By

Tamlin Day
Mon, 05/06/2019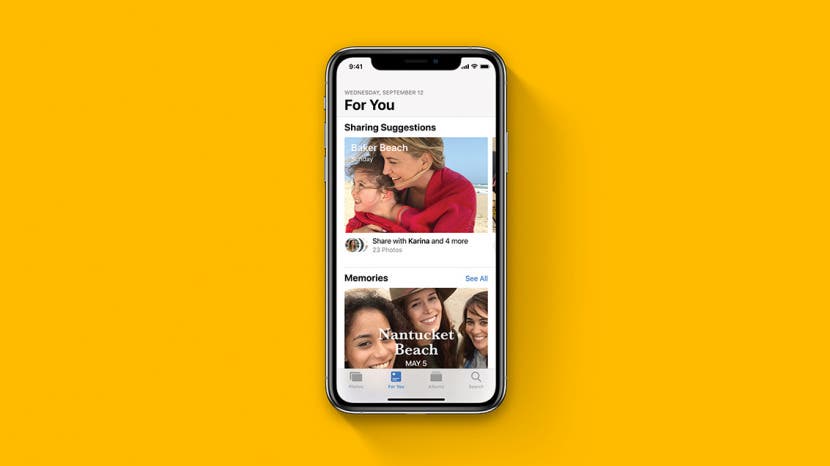 The Apple Photos app is great for collecting, organizing, storing, and sharing your photos, but you wouldn't know that at first glance. If you're wondering how to access your iPhone gallery, how to create and edit Memories, how to add or remove people, or are interested in creating photo albums using the Photos app, then you've come to the right place. If you're looking for the best photo app for managing your important memories, don't discount the Apple Photos app quite yet. Read on to learn all about how to organize and manage your photos using the iPhone or iPad.
What is the Apple Photos App
The Apple Photos app comes preinstalled on your iPhone or iPad, and it's the main hub for managing your photos and videos. Within the Apple Photos app, you can access your stored photos, create photo albums, delete unwanted photos, and organize your photos by unique categories such as People or Memories. The Photos app isn't the only way to access your photos, but it's the quickest way to get organized while you're on the go.
When you open the Photos app, you'll see tabbed categories such as Photos, For You, Album, and Search. You'll also see some premade albums such as days of the week, months, calendar years, and locations. The further you dig into your picture gallery, the more complex the system becomes, and it can be easy to get lost. And that's just the Photos tab! The For You tab adds even more layers, such as Featured Photos, Memories, and Shared Album Activity. Finally, there's the Albums tab, which generates folders from your iPhone's storage as well as apps like Instagram and Snapchat.
Photo Organization & Management for the iPhone
Now that you know what Apple intended for the Photos app let's dive into how to master the app on your iPhone or iPad. You can use the Photos app to create and manage albums, organize and edit Memories, and adjust the People tags to organize your photos by contacts.
How to Create & Manage Albums in the Photo App
Under your Albums tab, you'll see premade albums such as Favorites, People and Places. Depending on what apps you have installed, and your permissions for each app, you might also see albums for apps like Instagram or Snapchat. From here, you can edit or delete existing albums as well as create new albums.
Go to the Albums tab.
Tap the + icon on the top left of your screen.
Enter your album's name and tap save.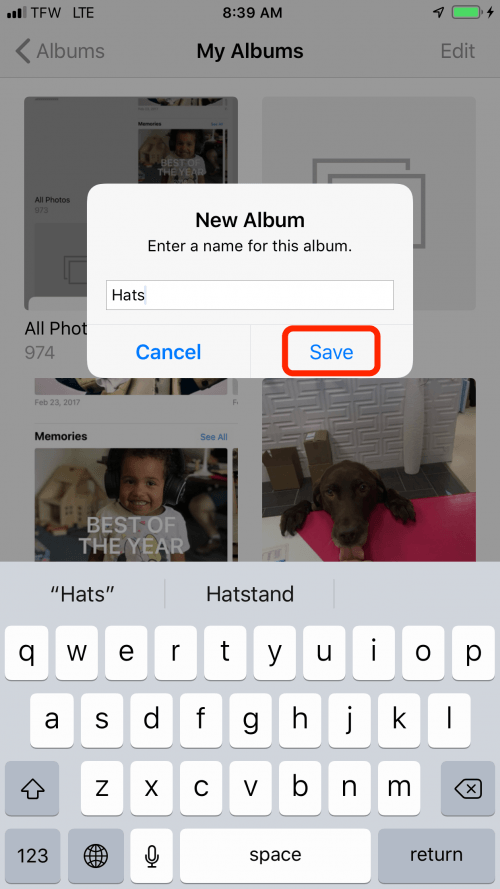 From here, you can select photos and videos to add to your album.
When you finish, tap Done.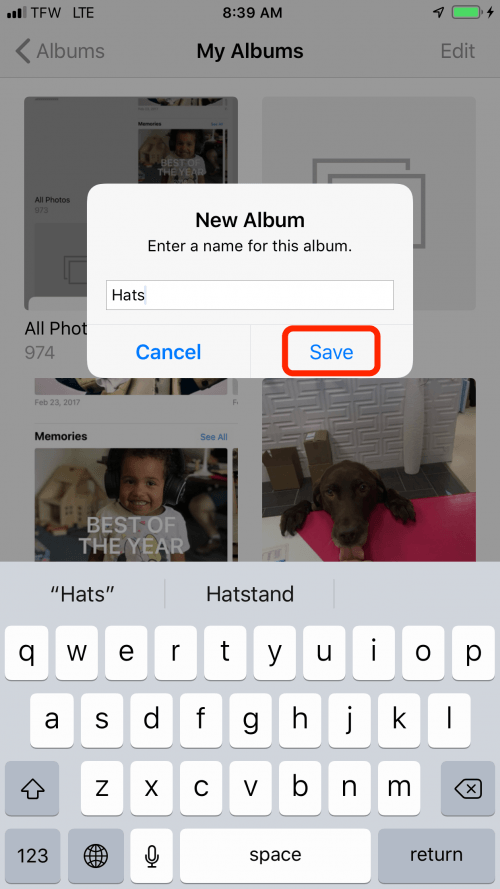 Select an album.
Tap Select.
Tap Add to add new photos or images.
When you finish, tap Done.
Select an album.
Tap Select.
Select the individual photos or videos you want to remove.
If you want to remove everything, tap Select All.
When you finish, tap the trash can icon.
Tap Remove from Album to remove photos or videos only from the album.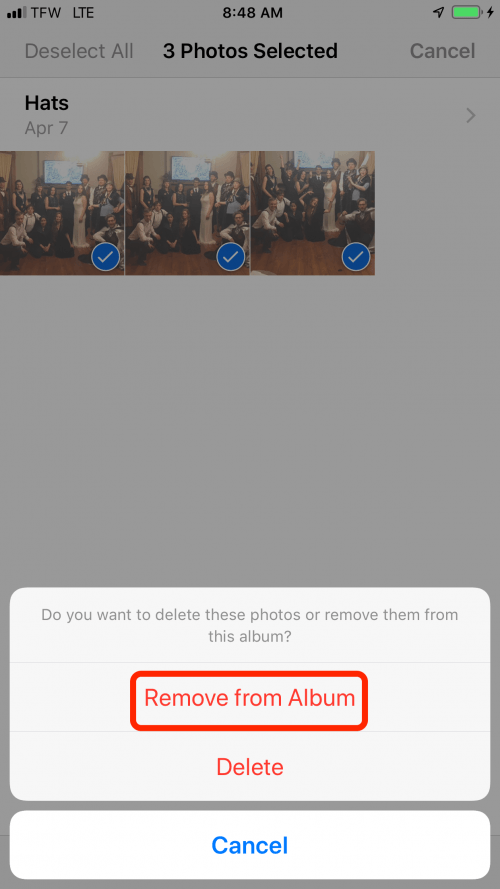 To delete photos or videos from your phone as well as your album, tap Delete.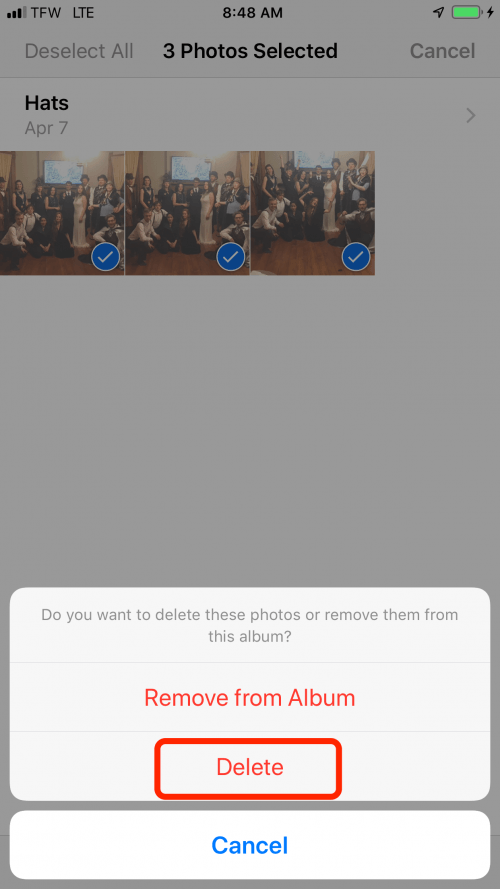 Select the album you want to share.
Tap the right facing arrow beside your album's title.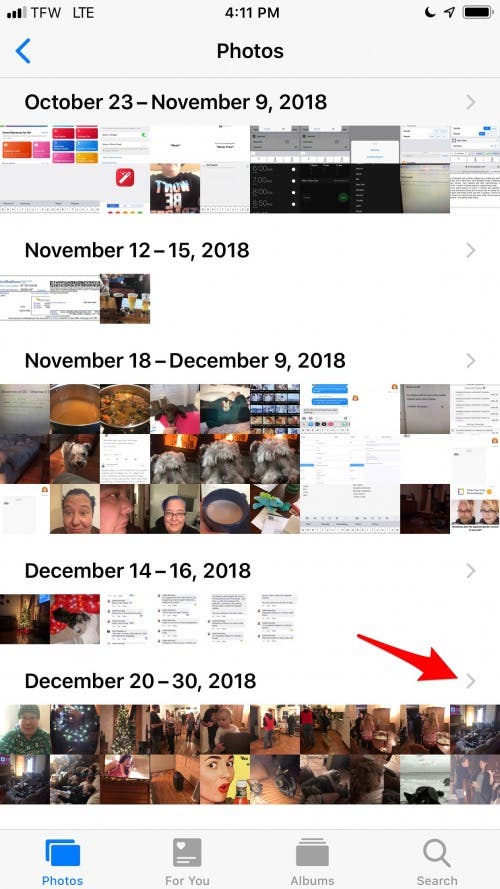 Tap the three white dots on the top right.
To select individual photos, tap Select. This action selects all the photos in that album. Tap any photos or videos you don't want to share to deselect them.
From here, you can add people with whom you want to share the album. Select from the list below or scroll down and Tap Add People to include people not listed. Enter the names of saved contacts you want to share with and tap Add when you're finished. If you want to remove someone from your list, tap the blue checkmark by their name.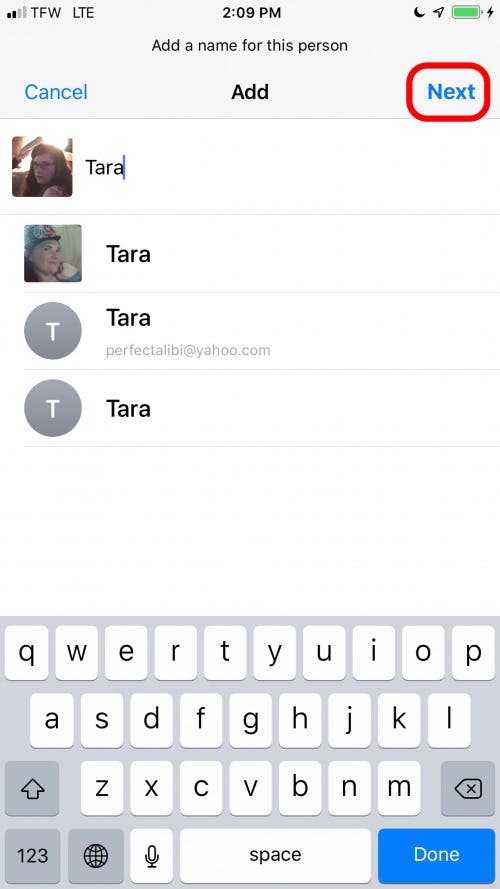 Once you've compiled your list of friends, tap Share in Messages.
​​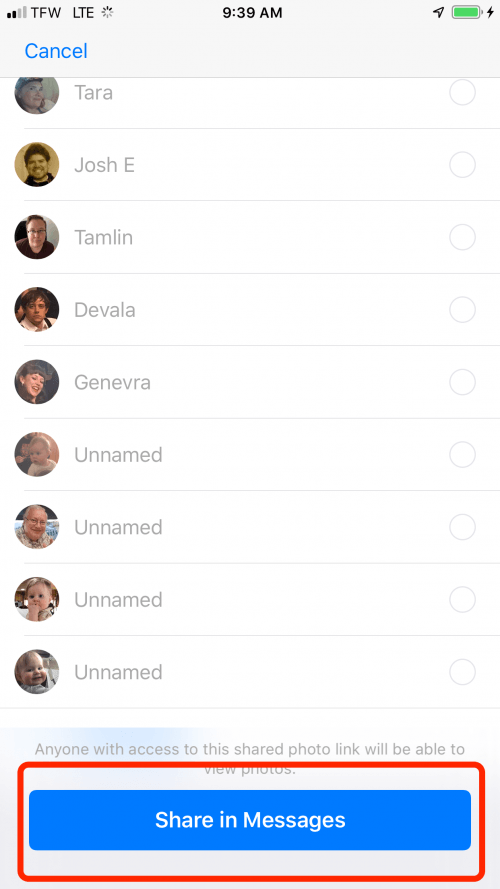 This action opens your Messages app. From here, you can include a text message with the album.
When you finish, tap the arrow icon to send your message containing the album.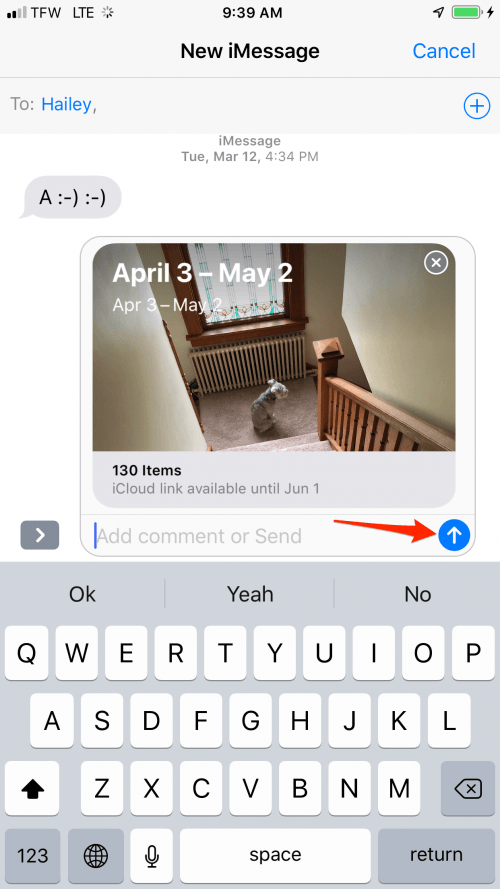 First, go to Settings.
Scroll down to Photos and tap.
Scroll down to Shared Albums and toggle the feature to green.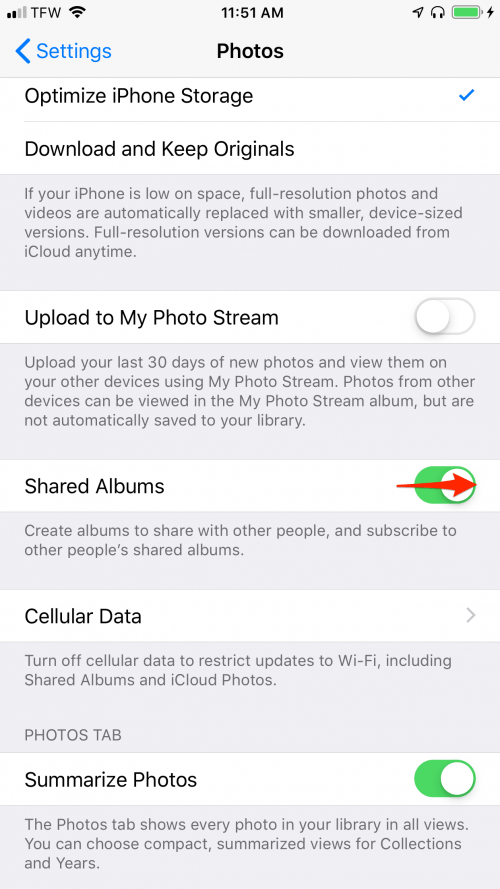 Next, open your Photos app.
Go to your Albums tab.
Tap the + icon in the top left.
Tap New Shared Album.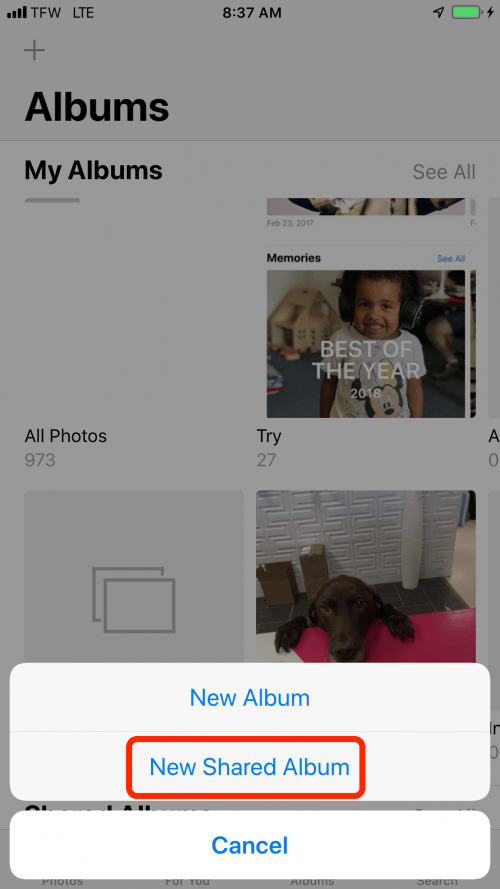 Enter the name of your album.
Tap Next.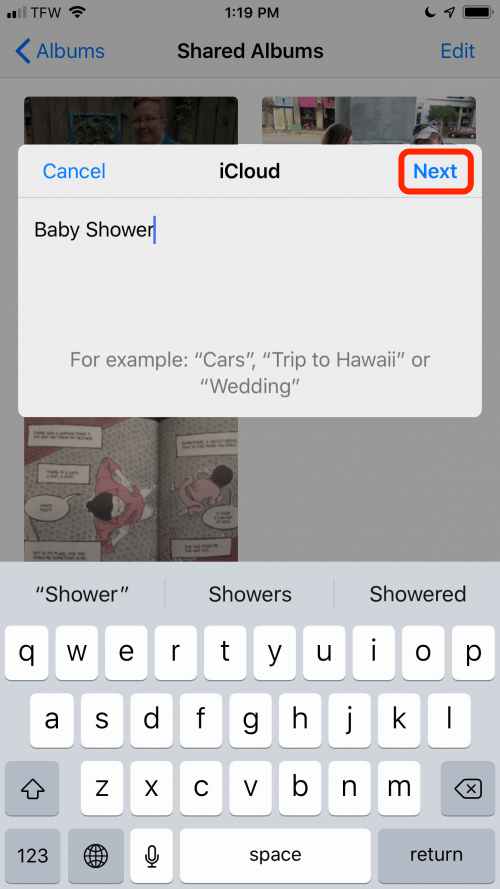 Enter the names of contacts with whome you want to share the album.
Tap Create.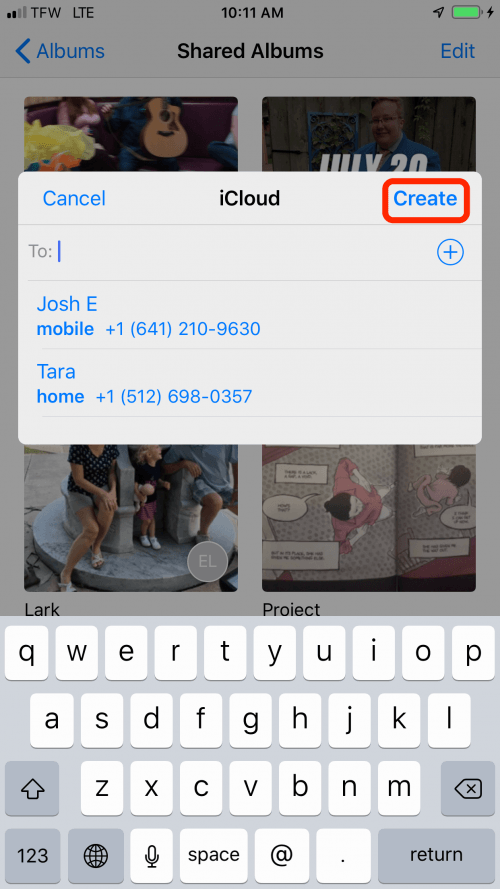 Now you and the friends you invited can add photos and videos to the Shared Album.
To add content to the shared album, go to your Albums tab and under Shared Albums, select the album you just created.
Tap the + icon in the top left.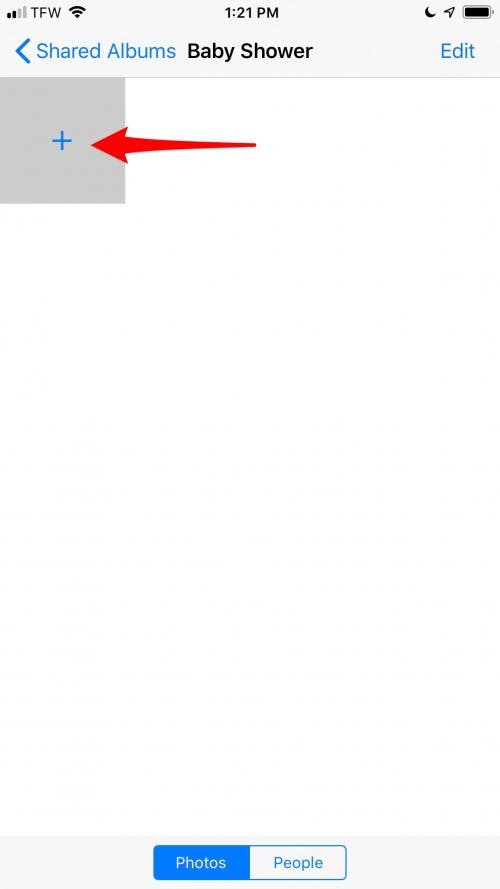 Select the photos and videos you want to add to the album.
Tap Done.
Wait for your album to process.
You can enter a description if you like.
Tap Post.
How to Find, Organize & Edit Your Memories
Navigate to the Photo tab in your Photos app.
Go to the date range you want to use and tap the gray arrow to the right.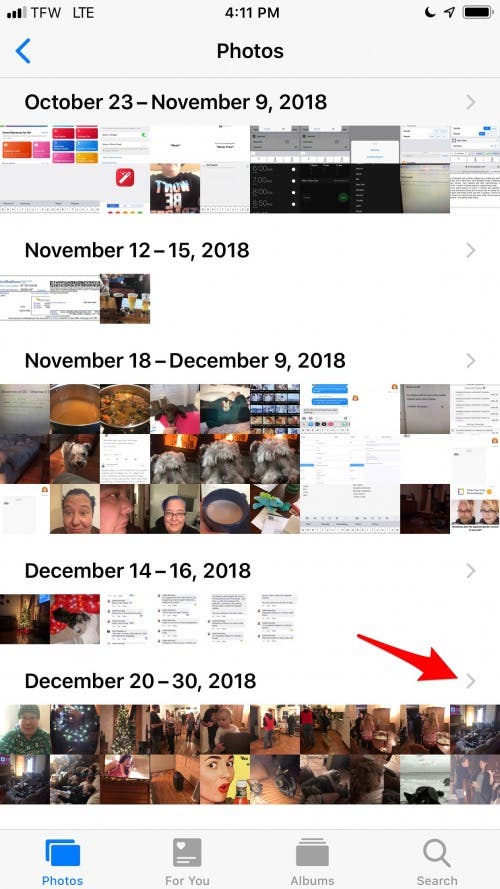 You will see an autogenerated Memory at the top of the album for the date range you selected. Tap the white ellipsis at the top.
Navigate to the For You tab in the Photos app.
Scroll up or down to find the Memories section.
Tap See All.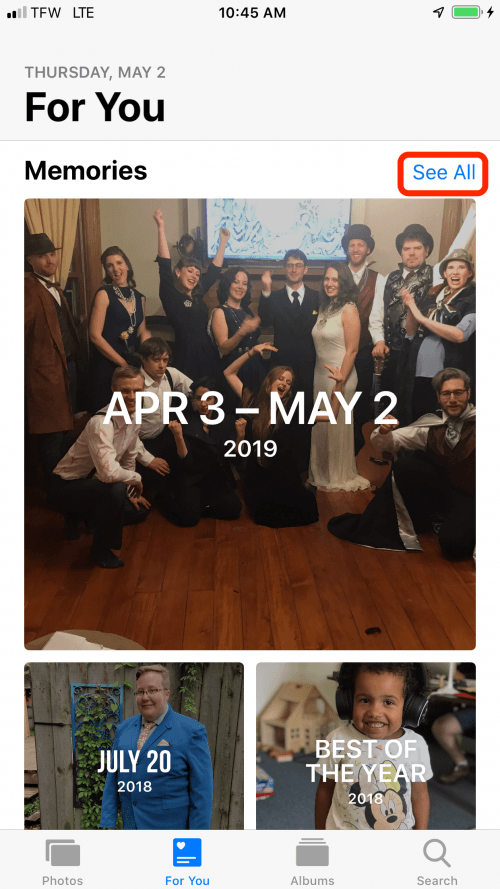 Select the Memory you want to edit.
Under the Memory, you'll see a selection of photos. Tap Show More to begin the selection process.
Tap Select.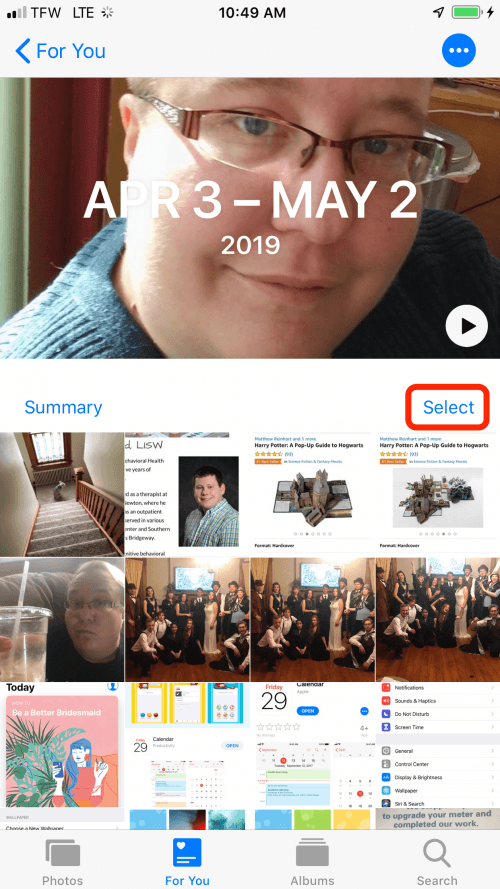 Now, select any photos or videos you don't want to include in your Memory.
Tap the Trash icon.
Tap Delete [number] Photos. You will see a message that says "These photos will be deleted from iCloud Photos on all your devices." Don't panic! Your photos are only being deleted from that Memory, but not from your photo album. Go ahead and confirm.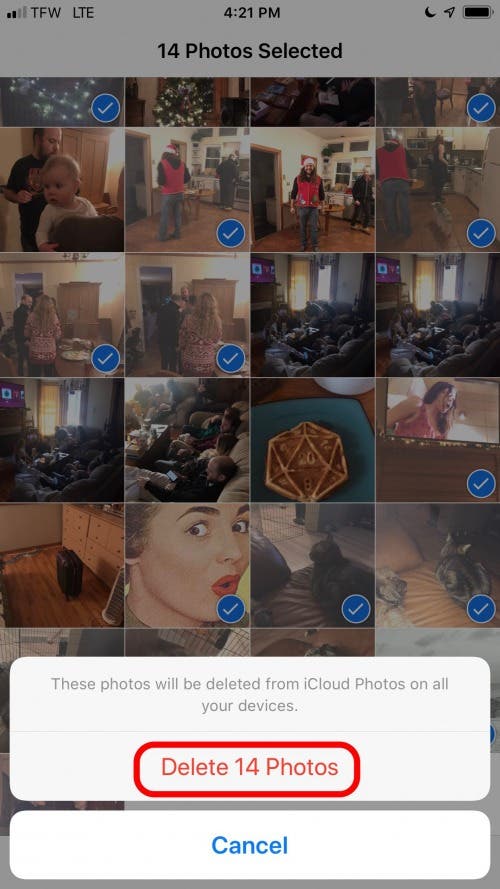 Now, you can change the play speed, order, and music of your Memory. To make edits to the Memory, scroll up and tap the play icon.
Tap the screen again to bring up the editing interface. Tap Edit in the top right corner.
From here, you can adjust your Title, Title Image, Music, and change the duration your images appear on the screen.
When you finish, tap Done.
How to Add, Remove, Change, or Hide People
Before we delve into the how-to portion of this topic, it's important to state where the Photos app falls short in this department. Sometimes, your iPhone can't recognize that a person is a person. Meaning, depending on the angle, lighting, or how blurry someone is, there might be a person in a photo that you simply cannot tag. Unfortunately, there's no workaround for this problem. Hopefully, as Apple improves its facial recognition algorithm, this problem will be solved. In the meantime, here's how you can add, remove, change, or hide People inside the Photos app on your iPhone.
Go to your Photos tab.
Find a photograph of the person you want to add and tap that photograph.
Swipe up on the photograph until you see the People thumbnails. Tap the thumbnail of the person you want to add.
Enter the person's name and tap Next.
Tap Done.
Go to the Albums tab.
Scroll down to People & Places
Tap People.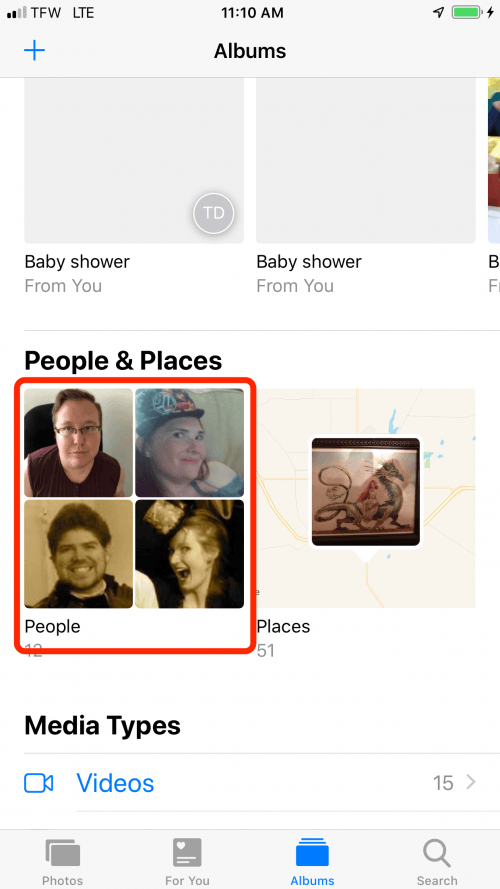 Find the thumbnail of the person you want to reƒmove and tap that thumbnail.
When you finish selecting people to remove, tap Remove on the bottom left of your screen.
Tap Remove from People Album.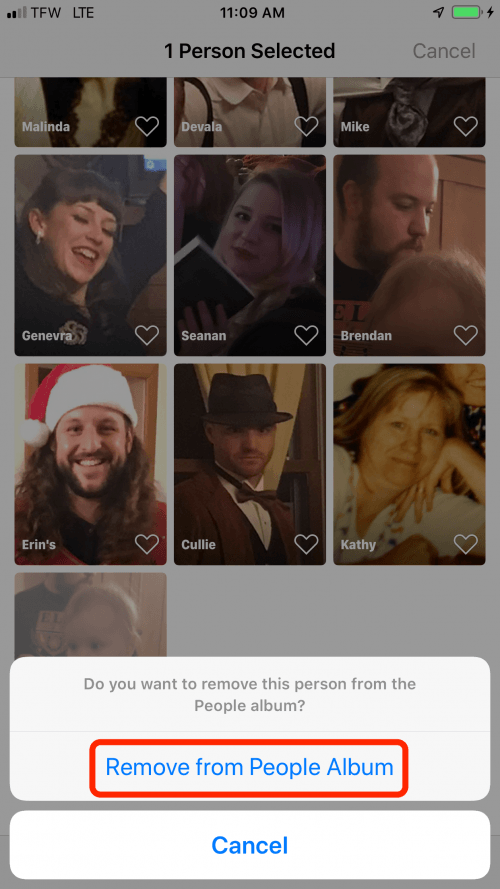 Go to the Photos tab.
Select the photography you want to tag.
Swipe up until you see the People section.
Tap the thumbnail of the person you want to tag.
Tap Confirm Additional Photos.
Select photos that include the person you want to tag and tap Done.
As you go through the process of organizing your photos, you might start to wonder "How can I optimize my storage?" All of your photos can be saved to iCloud, and with storage optimization enabled, Apple's algorithms will remove duplicates as well as compress your images to a manageable size. Still, as you snap photos, you will inevitably reach a point where you will be prompted to purchase additional storage. Before you purchase additional storage, however, you're going to want to activate this hidden feature that will take your photo organizing skills to the next level.
When My Photo Stream is enabled, your most recent photos will be uploaded to your photo stream for 30 days, allowing you to upload, edit, and manage those photos on any device. To enable My Photo Stream, and to optimize your iCloud storage, follow these steps:
Go to Settings.
Scroll down to Photos and tap to open the settings menu for the Photos app.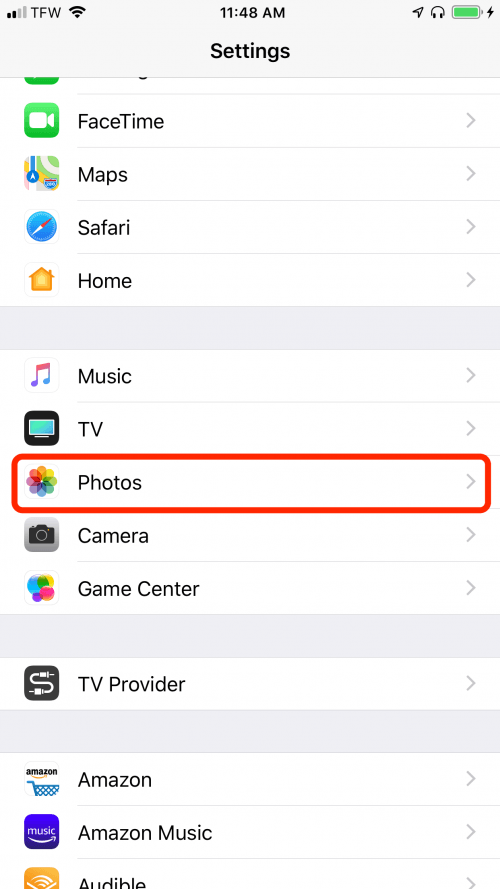 To enable My Photo Stream, toggle iCloud Photos to the right.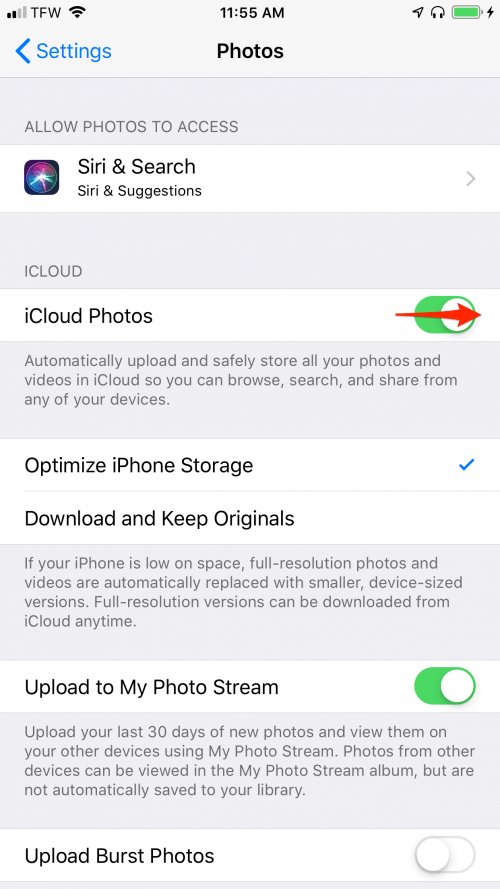 For iCloud optimization, make sure there is a blue check mark beside Optimized iPhone Storage instead of Download and Keep Originals.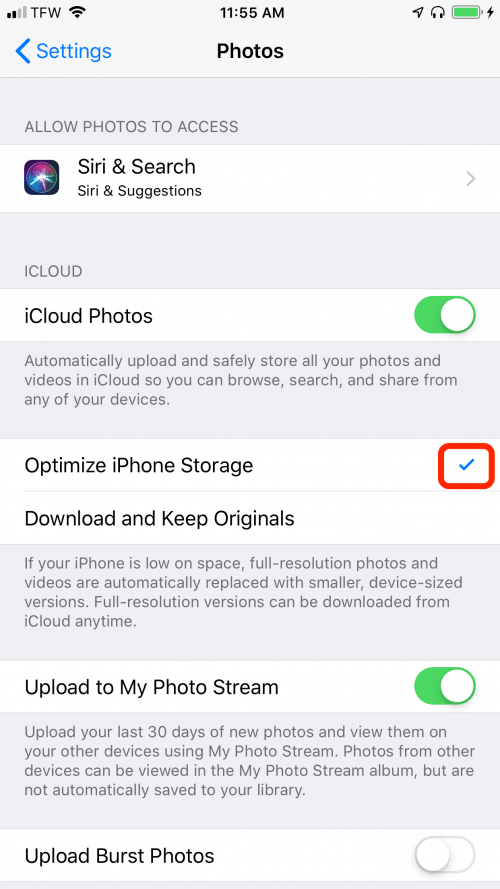 You can also toggle Upload Burst Photos to add any Burst Photos that you've favorited to your Photo Stream.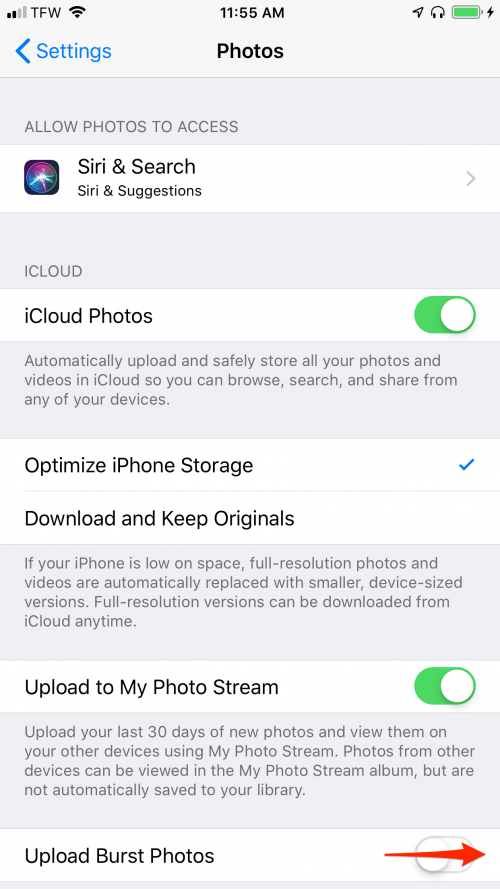 As you go through the process of tagging photos, creating memories, and organizing your albums, you should know that when you do so, you are not making duplicate photos. When you take a picture, that image is saved once. If you follow any of the steps in the previous sections, such as moving a photo to an album, you are not actually moving that photo. Instead, the Photos app has added a tag to the original photo so that photo appears twice. The data, however, is only stored once. Why does the Photos app have duplicate images? Once a photo is tagged with a person, a place, a date, as a memory, etc., the original photo is updated with those tags. These tags prevent your photos from taking up more storage than is necessary on either iCloud or your iPhone's storage.
All of the data, such as tags, is stored locally in your iPhones Secure Enclave, meaning that none of your data is being shared with Apple or any third-party. iCloud simply references your local storage, looks up the tags you've added, and shows you those tags on your device.
Now that you're ready to get organized, feel free to share your favorite organization methods in the comments below.