By

Rheanne Taylor
Updated 04/12/2021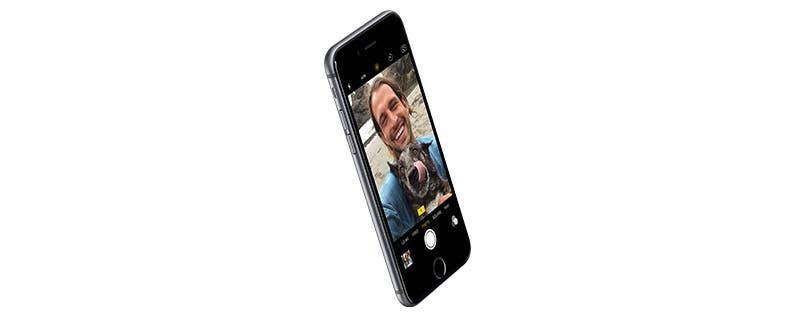 This collection of tips covers the basics of using your iPhone's Camera and Photos app. Here, you'll learn how to print images from your iPhone using AirPrint, view a slideshow of your favorite photos directly on your Apple TV, and improve your photography by taking advantage of key camera features such as Manual Exposure and Auto-Focus Lock.

15 Photography Tips to Help You Master Your iPhone's Camera  
We've gone over how to use lighting to improve your iPhone photography, as well as how to turn on the ProRaw feature on your iPhone 12 Pro and iPhone 12 Pro Max. For more great iPhone photography tutorials, check out our free Tip of the Day! Remember if you take too many, you can still learn how to delete all photos from your iPhone.

Discover your iPhone's hidden features
Get a daily tip (with screenshots and clear instructions) so you can master your iPhone in just one minute a day.
Controlling exposure manually in your images is simple. Just tap your desired focal point and a vertical line with a sun will appear alongside your focus box. Swipe the sun up to lighten your image or down to darken it. If you want to quickly revert back to the automatic settings, just tap on the screen and it will refocus and automatically expose the image once again.
Thanks to the self-timer icon located prominently at the top of your screen in the Camera app, it's easy to capture self-portraits or join in on group pictures. Simply tap the self-timer icon in the Camera app and then choose between a 3-second timer or a 10-second one. Tap the shutter release and wait for the countdown to finish (your iPhone camera's flash will blink as the timer counts down).  
3) Mastering Autofocus and Auto-Exposure Lock
AE/AF Lock lets you lock customized camera's settings in order to maintain your chosen exposure and sharpness. To set AE/AF Lock, all you have to do is touch and hold your preferred area of focus until the focus square flashes. The AE/AF Lock icon will then appear at the top of your screen. Turn off AE/AF Lock by tapping elsewhere on the screen.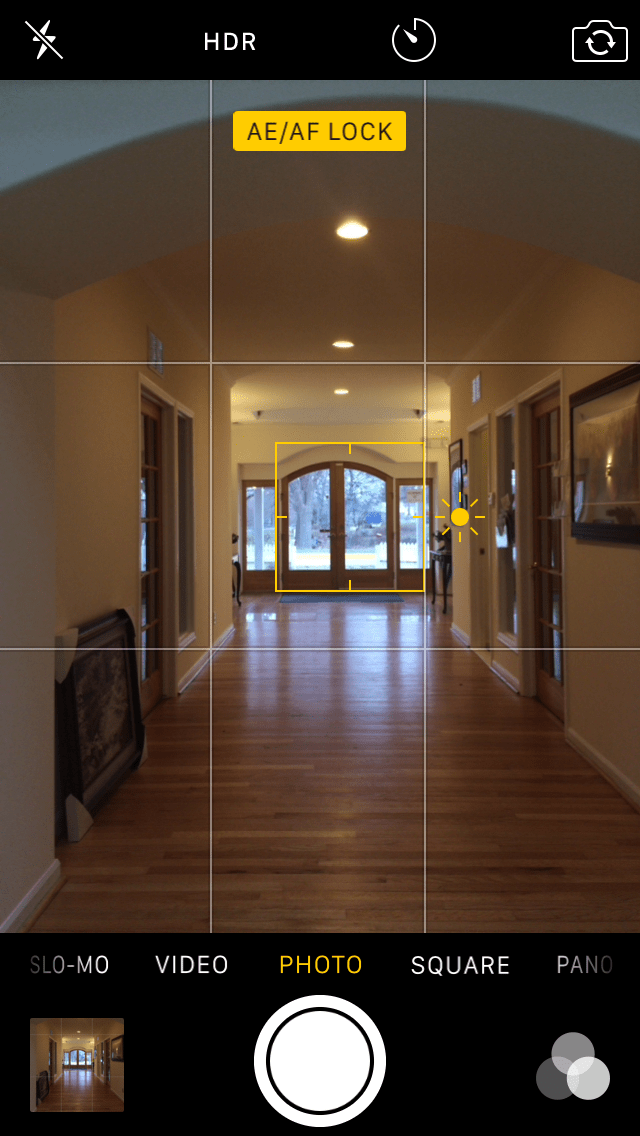 4) Utilizing Your iPhone's Cropping Tool
To crop images, tap Edit in the top right corner of the image you're viewing in the Photos app. Select the crop/rotate icon at the bottom and drag the cropping handles at the corners of your photo. Once you adjust your image as desired, just tap and hold your picture and move it around until you decide which parts you want in your cropped area. If you have a particular ratio you'd like to adhere to, there's also an aspect ratio tool in the lower right corner that gives you a variety of options. To undo changes, tap Reset.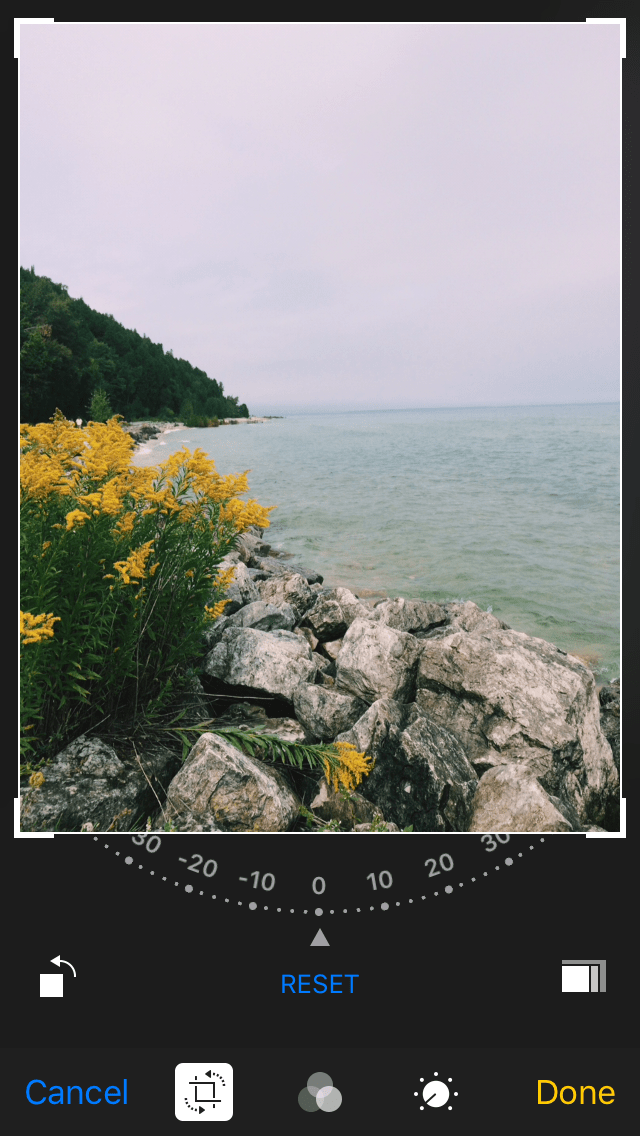 5) Favorite Photos for Easy Viewing
Marking your images as Favorites is an easy way to automatically save them in one convenient album. To add an image to Favorites, pull it up and tap the heart-shaped symbol located at the bottom of the photo. Now when you go to Albums, you'll notice one titled Favorites filled with all the shots you've selected. You can remove images from your Favorites album by opening the image and tapping the heart again.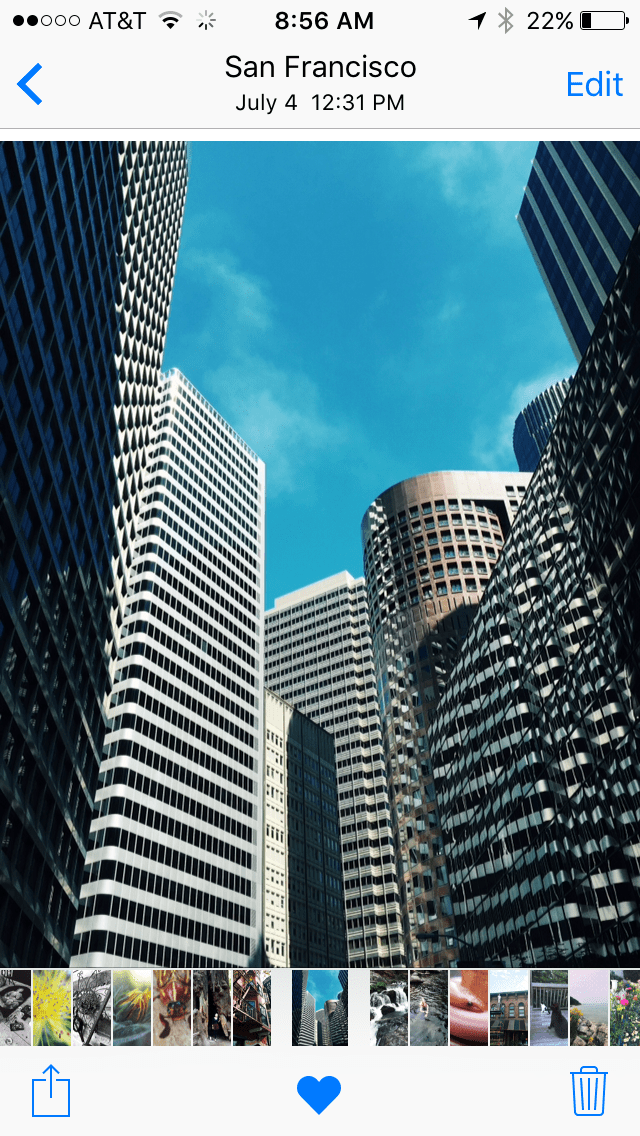 6) Permanently Delete Photos to Save Space
When you delete photos, they go into the Recently Deleted folder, which stores rejected photos and videos on your device for 30 days after you delete them. In order to actually free up space on your device, go to the Recently Deleted folder and tap Select in the top right corner. Tap Delete All.

7) Compare Edited Images to the Original
Ever wish you could compare the photo you're in the process of editing to the original image? While you're still in the process of editing your photo, simply press and hold your finger on the edited image. This should revert the image (momentarily) back to your unedited photo, which will be labeled "Original" at the top to differentiate the two. 
8) Drag-Select Multiple Images
Not only can you select multiple photos, but you can drag your finger over multiple photos to highlight them for sharing or deletion.To do this, open your Photos app and enter an Album. Tap Select. Hold your finger over a photo and drag across and down the screen to select multiple photos. Then share or delete your selection.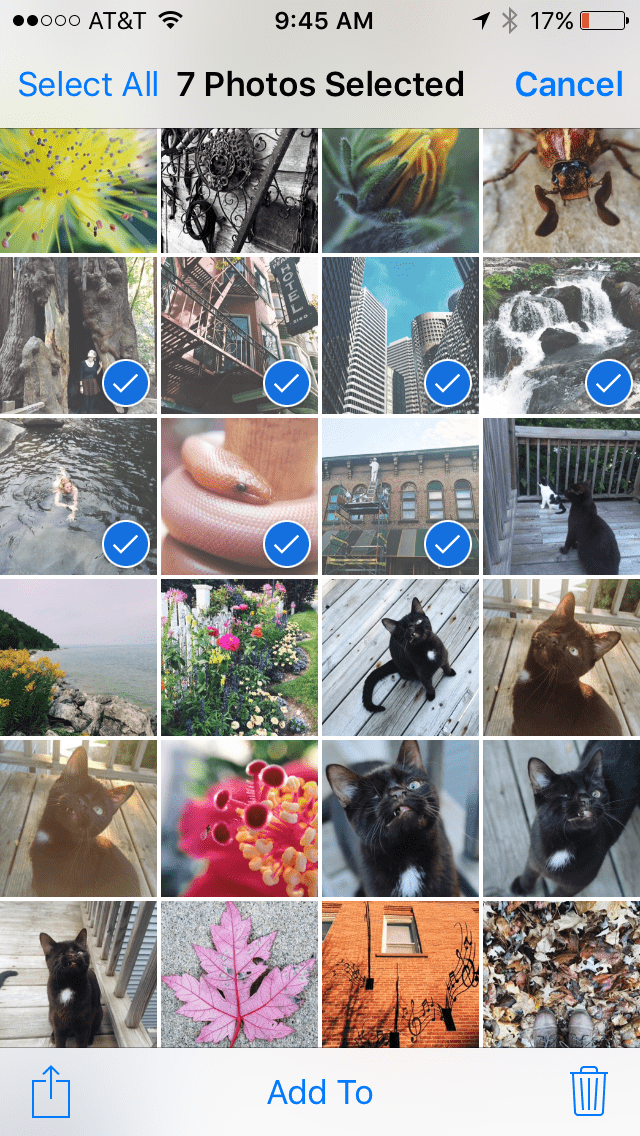 9) Print Photos from Your iPhone Using AirPrint

If you have an AirPrint printer (most major printer manufacturers have AirPrint installed in their latest models), it's simple to print photos directly from your iPhone. First open the photo you want to print in the Photos app and then tap the rectangular Share icon on the bottom left. Tap on the Print icon on the bottom of the screen. Choose how many copies you want of each photo, select your AirPrint Printer, and then tap Print.

10) View Your Photos By Location
To view photos by location, first make sure you've turned on Location Services located in Settings > Privacy > Location Services. Scroll down to Camera and select the option to allow location access while using the app. Now, go to the Photos tab of the Photos app. Here your images are organized by time and place under Years, Collections, and Moments. Tap a Year to see the Collections within; tap a Collection to see the Moments within. You can also view photo locations as thumbnails on a map by simply tapping on the location name above the selection of images.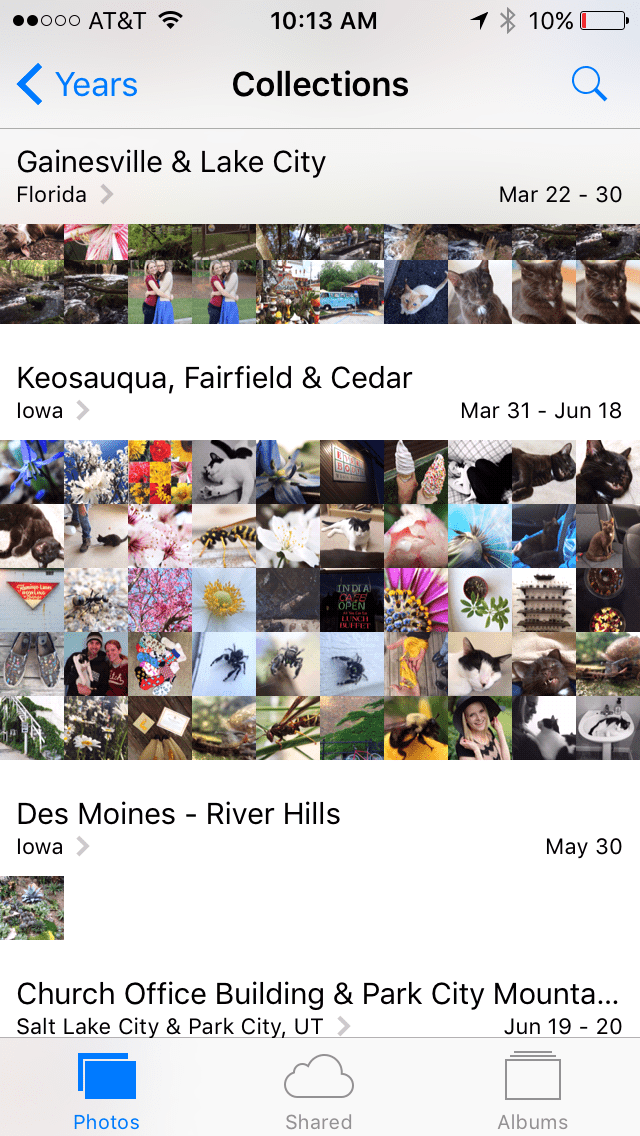 11) Swipe Down to Return to Album View
Although you can use the navigation arrow to return back to an album after viewing a single photo, you can also swipe your finger down too. Simply open up a photo with an album and then from the opened photo, swipe down with one finger. You'll easily go back to viewing the album.

12) Quickly Send Photos in Messages
Assuming your recipient is a fellow iPhone user and you both have iMessage turned on, you can instantly send them photos and videos directly from the Messages app. To do this, open the Messages app and then tap and hold down on the camera icon to the left of your text box. Slide your finger up to Photo to automatically snap your picture and have it sent to your recipient.
13) View a Slideshow of Your Images
Did you know you can visit any album in Photos and display a slideshow of your images? You can even use AirPlay to view your slideshow on your Apple TV. To use the Slideshow feature, open Photos, select the photo you want to begin your slideshow with, and then tap the Share button. Select Slideshow. The slideshow will immediately begin to play. If you'd like to change the presentation style, music accompaniment, or speed, tap Options.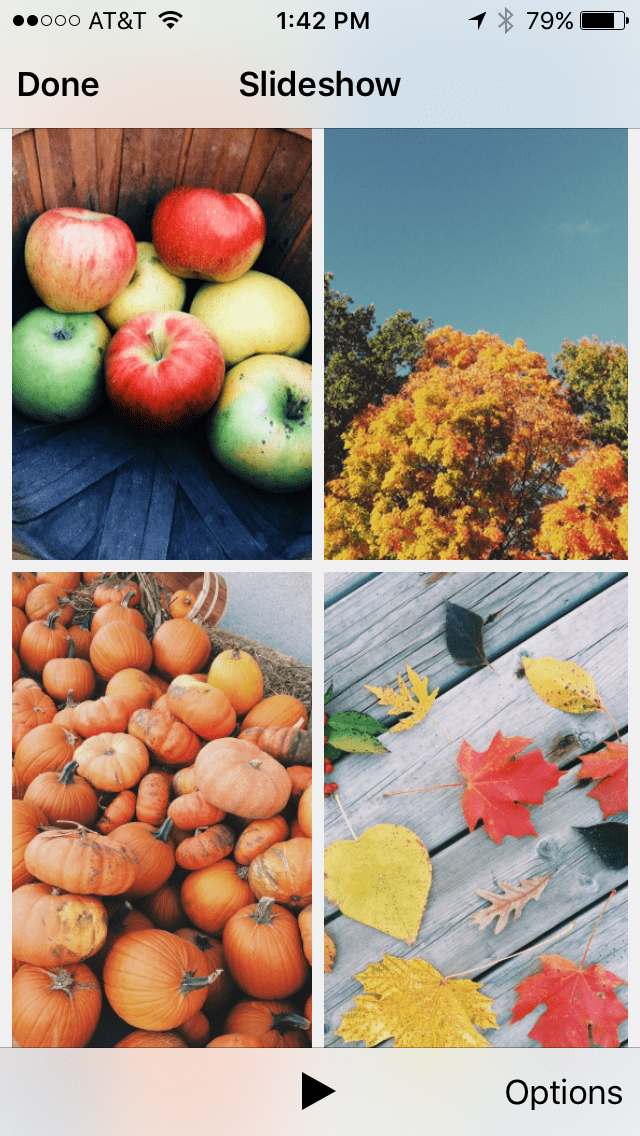 14) Delete the Live Photo Version of a Photo
If you have an iPhone 6s or 6s Plus, you can take Live Photos. If you ever want to delete the Live Photo version of a photo (while still keeping the still version) simply select the photo you want and tap Edit. Tap the Live Photo icon in the top left and select Done.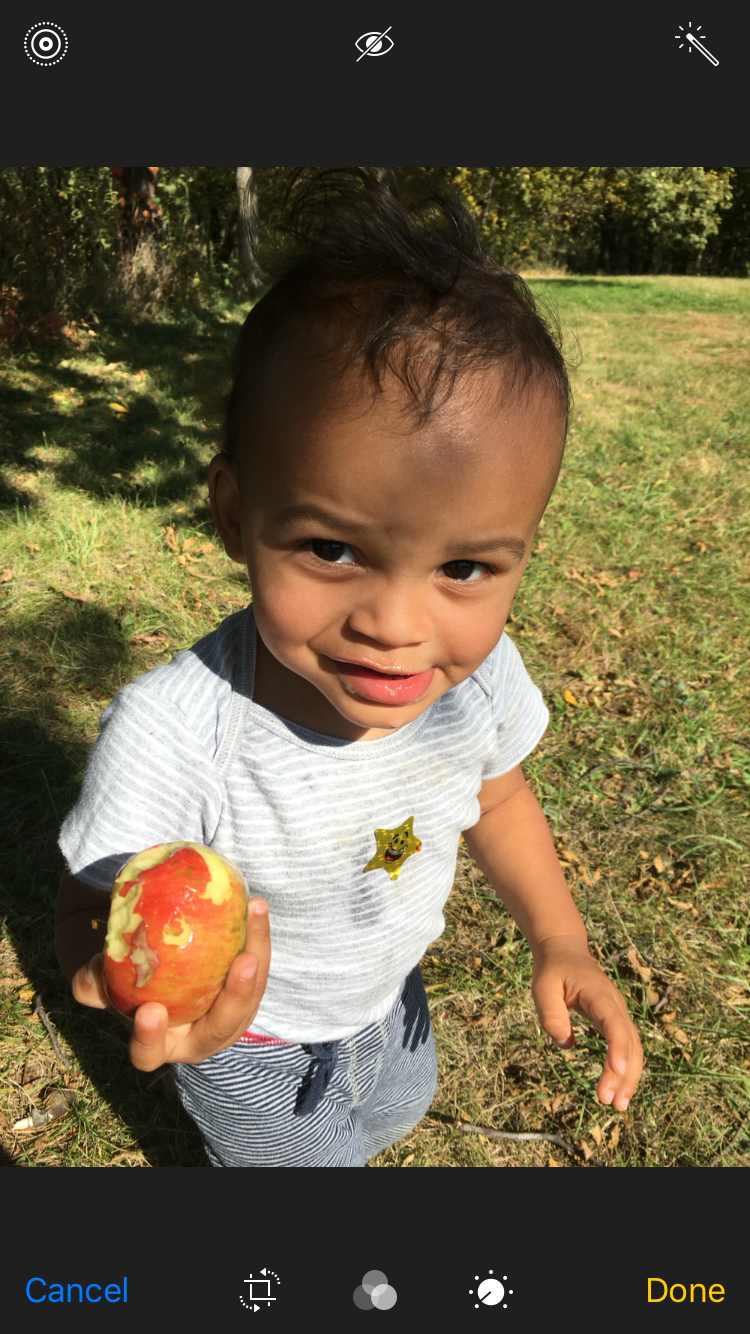 15) Revert an Edited Photo Back to the Original
If you find you've accidentally overedited an otherwise great image in the Photos app and then saved it, or cropped it down only to regret your decision later—no worries! You can revert those changes by opening the photo and tapping Edit at the top right corner. Then just tap Revert.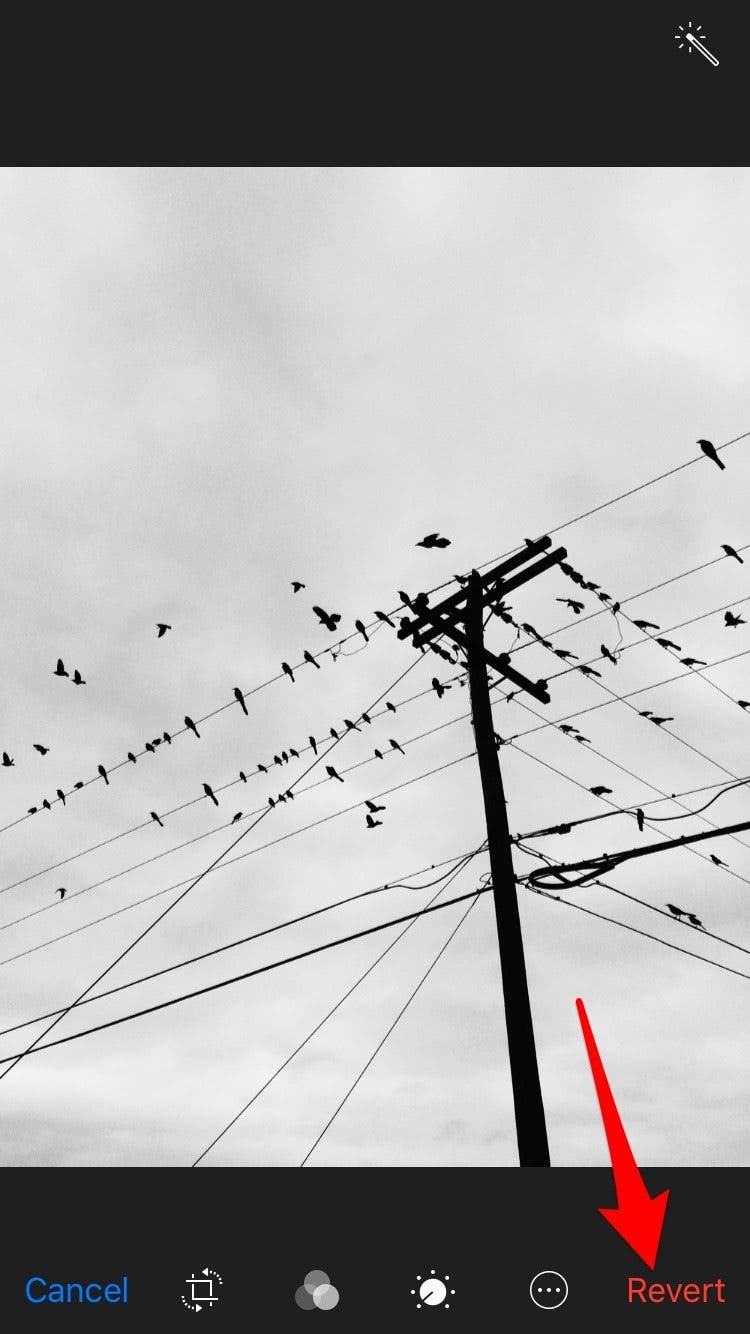 Pro tip: if you want to capture the perfect shot quickly, learn how to take a picture on your iPhone using Siri!