By

admin
Updated 12/09/2012
WARNING: This review is graphics heavy!

Note: Due to security concerns for my iPad and iPhone I decided not to include device information screenshots for them. However, you can access any iOS device information by clicking on the Devices button next to the iTunes Store/Library button on the right upper side.
Yes, there is a new icon! :) It does look better than the previous version.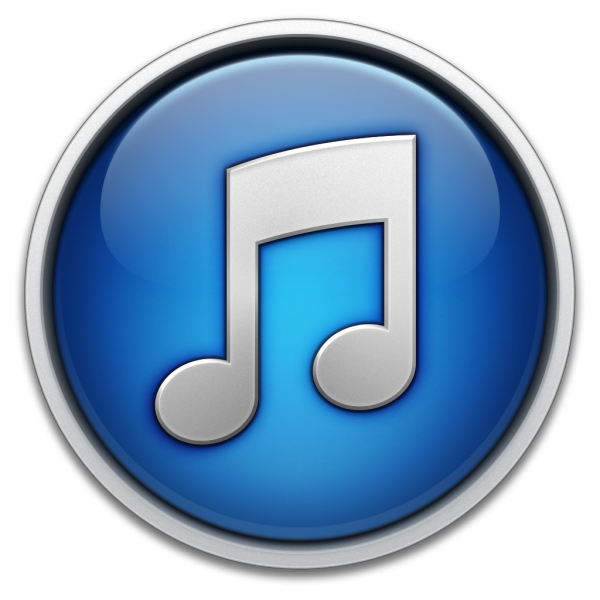 iTunes 11 was released earlier today. Visually, it looks so much beter than any previous version. Speed-wise, everything just feels so much faster and smoother. Also, iCloud integration is much better now, especially with Music, Movies, and TV Shows (open the Sidebar to see the iCloud icon beside each of them).
Here is the Music section.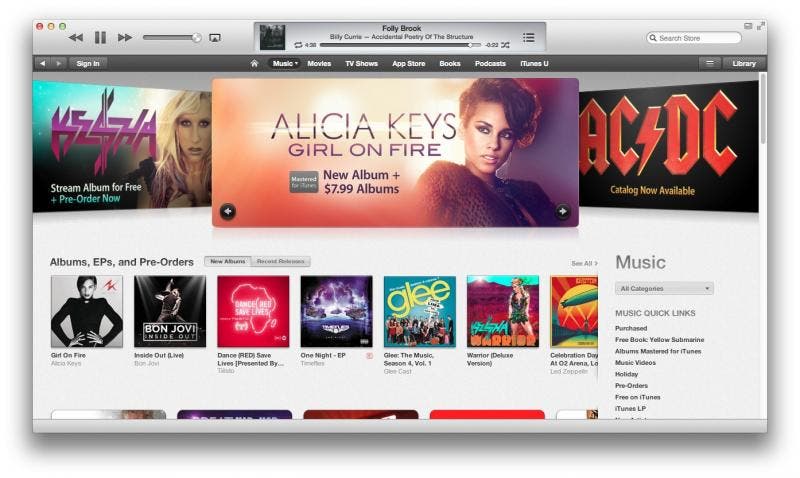 Searching for an artist (e.g. Parralox) in the iTunes Store is easy as you can see here.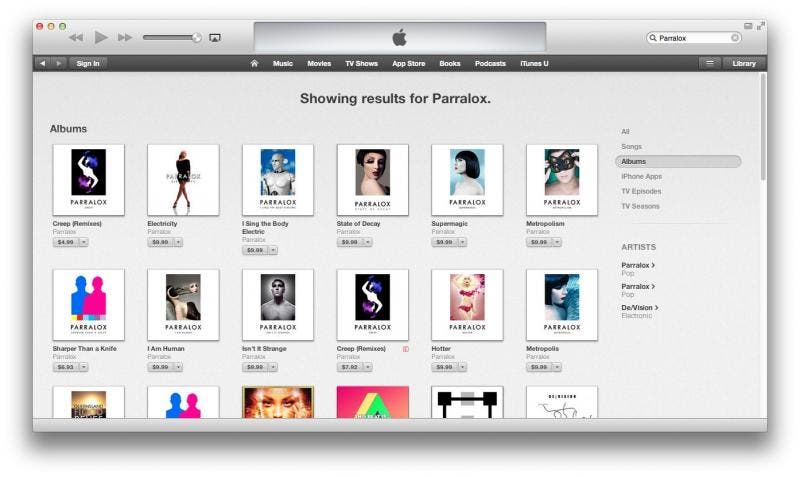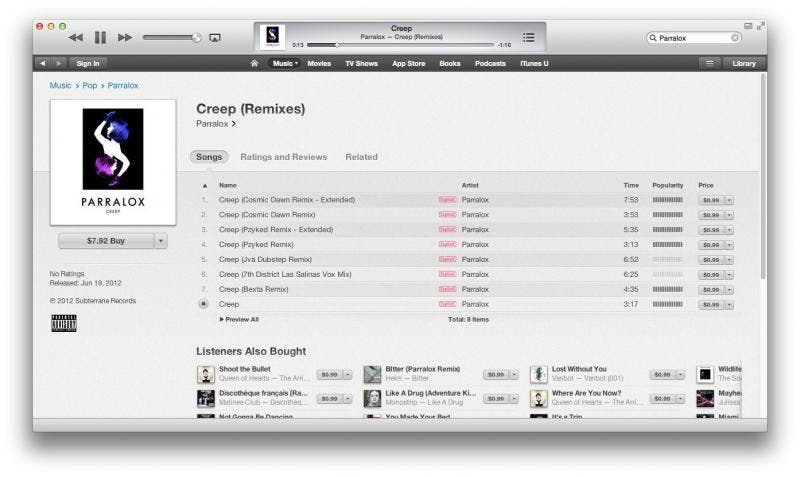 Here is the Movies section. Decisions...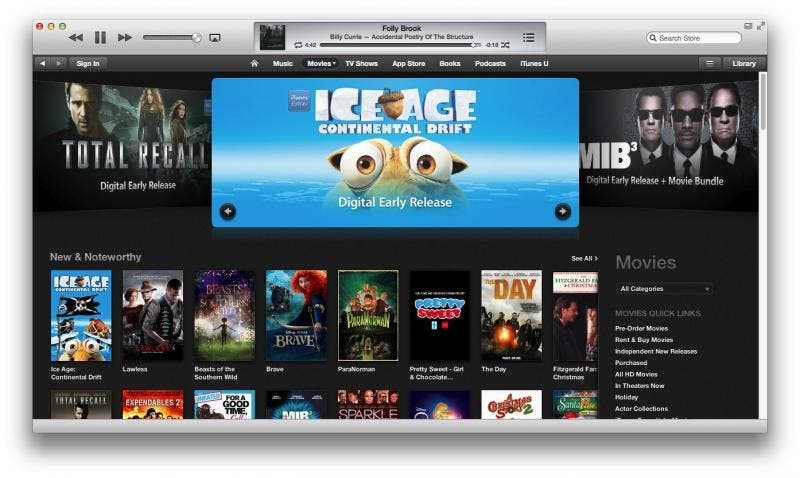 Here is the TV Shows section. More decisions... :)
Here is the App Store section. This is where you will spend most of your time if you have any iOS device.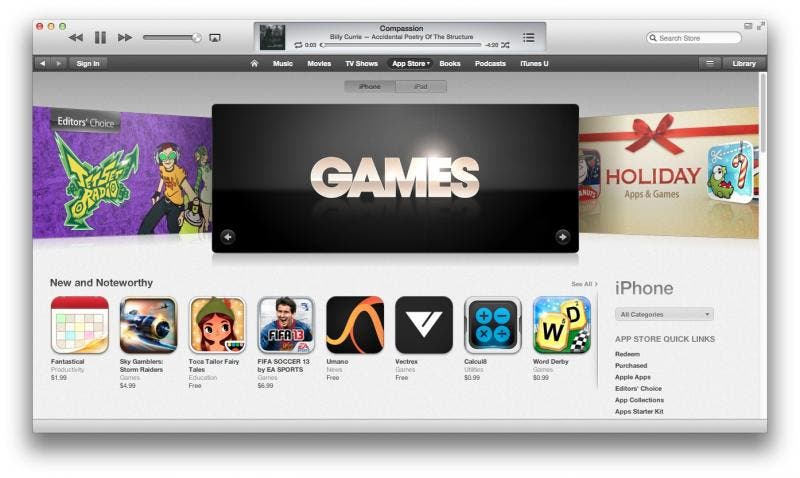 Here is the Books section. Time to curl up with a good book on the iPad.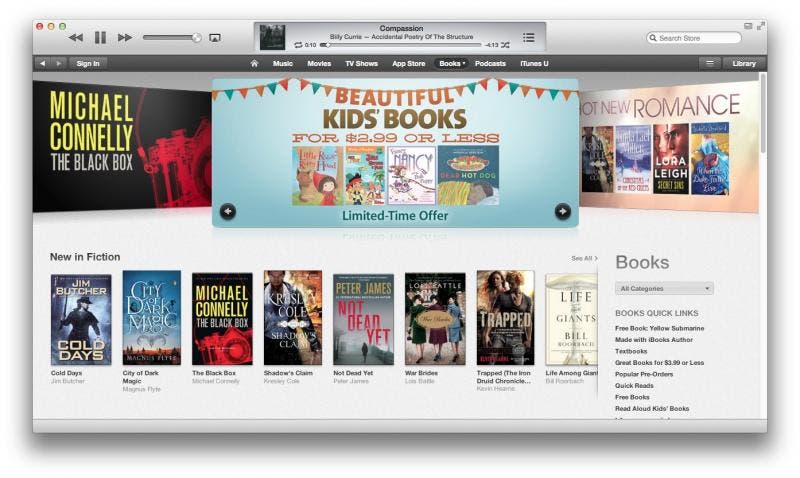 Here is the Podcasts section.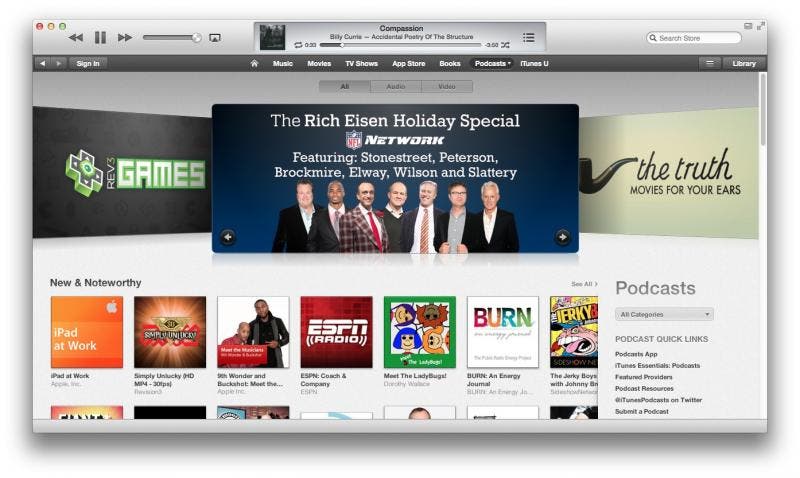 Here is the iTunes U section. Learn something new today.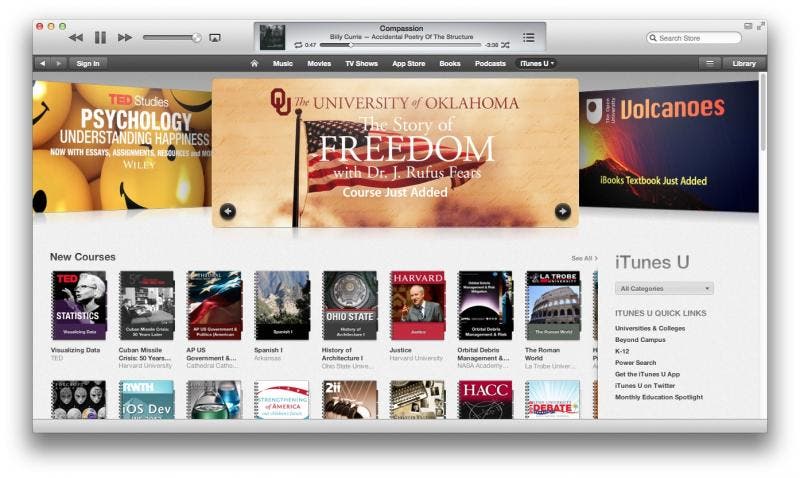 As you can see from the various screenshots, iTunes 11 does have a clean and consistent look throughout the iTunes Store.

Moving on to my favorite part of iTunes - Music.

Here is the Songs section.
Here is the Albums section.
When you click on an album in the Albums section you get this very nice result. The colors depend upon the album cover, as you can see from my examples. A visual treat! :)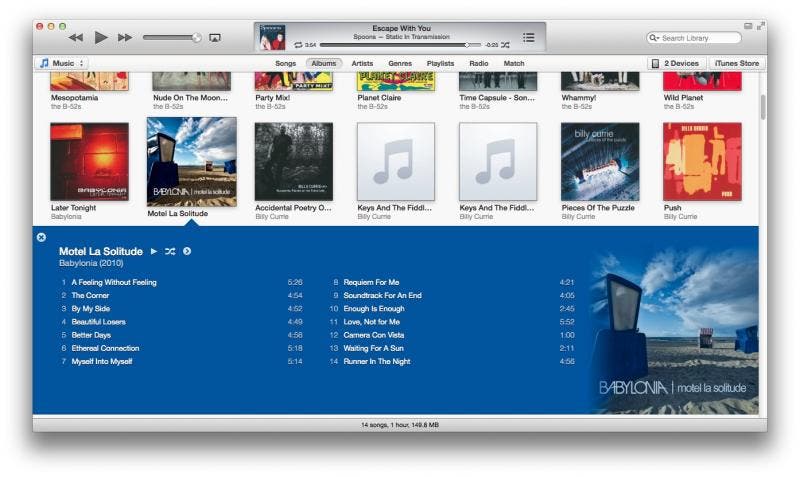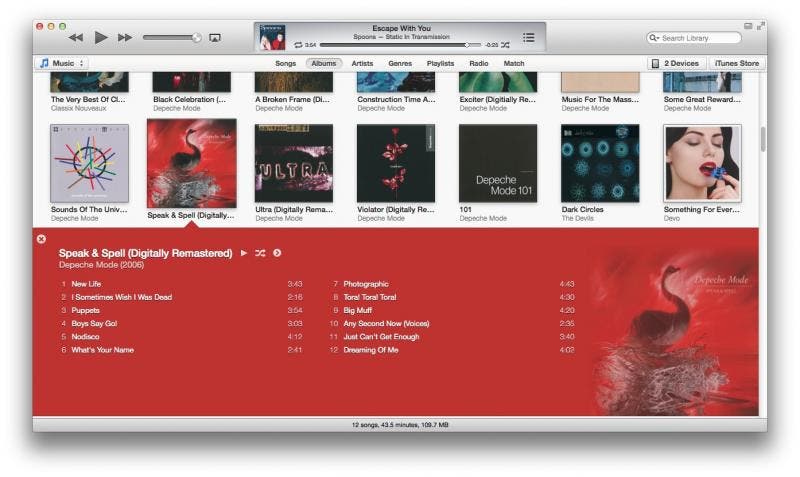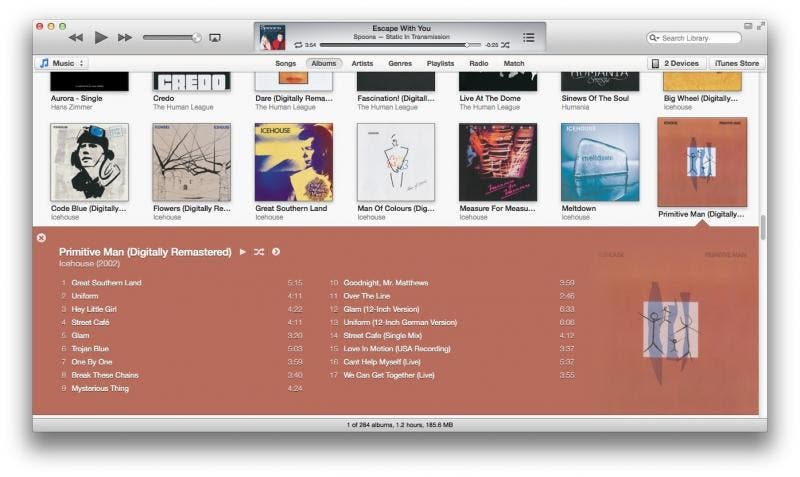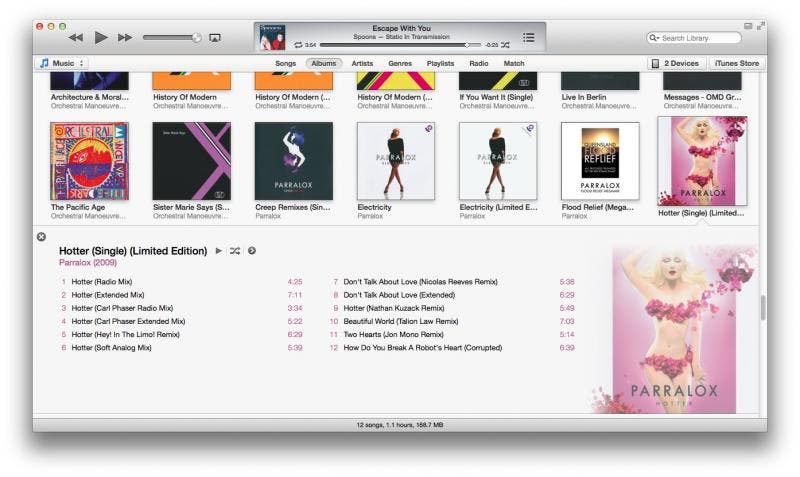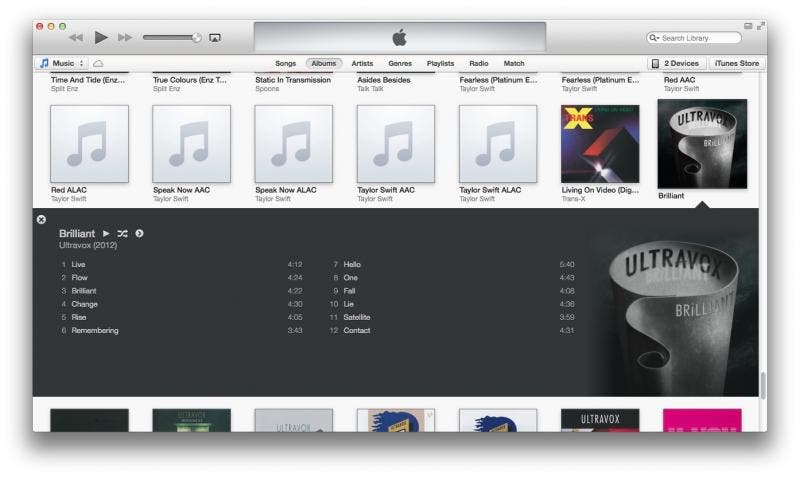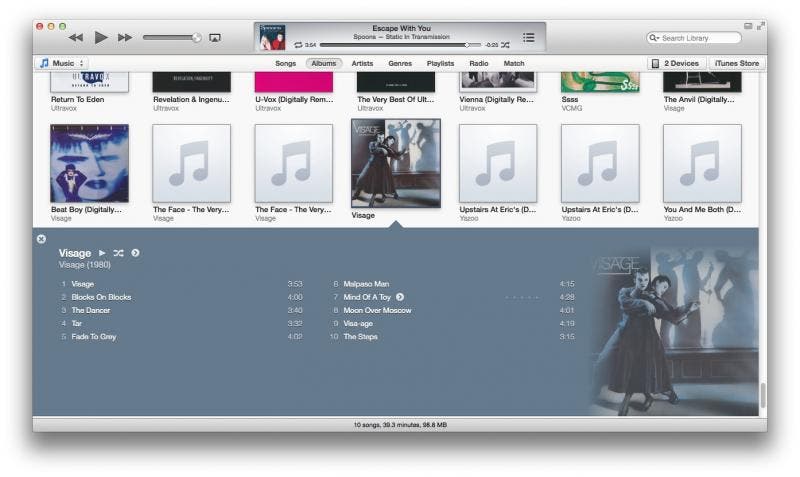 Here is the Artists section. You can view all of the artists in your iTunes collection or by individual artist. I think being able to see all of your music so easily is the best feature of iTunes 11. Now, it should not be too difficult to find an artist/album/song that you want to hear, especially if you have very large a very large collection of music.
Here is the Genres section. I'm still wondering who uses this section.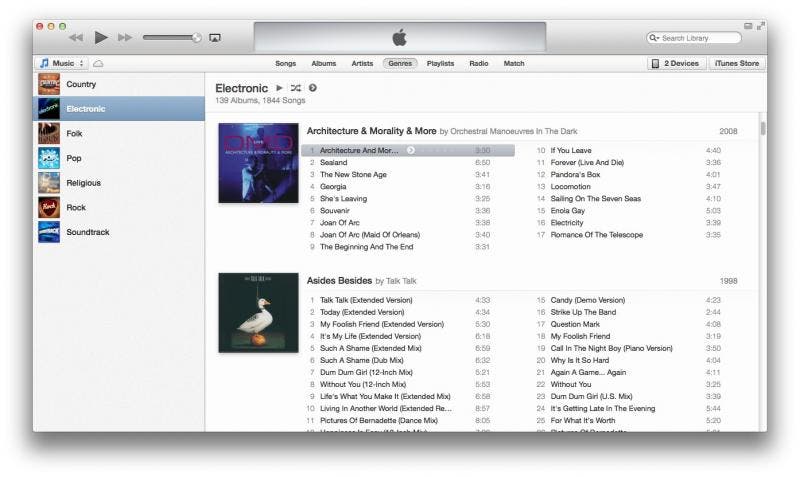 Here is the Playlists section. I have not made any playlists yet. :)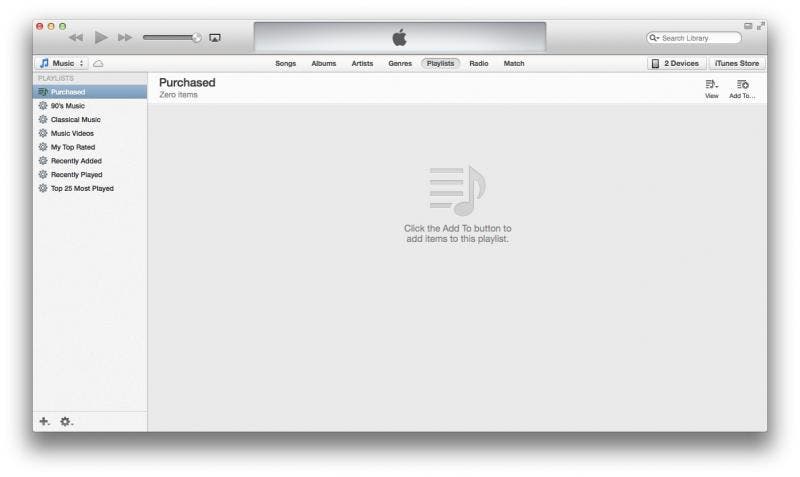 Here is the Radio section. I like to find 80s music stations from around the world. My personal favorite is Absolute Radio 80s. :)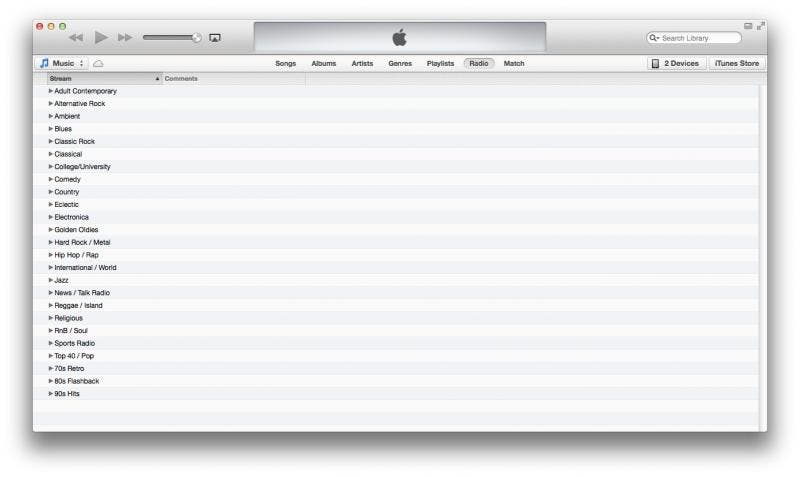 Here is the iTunes Match section.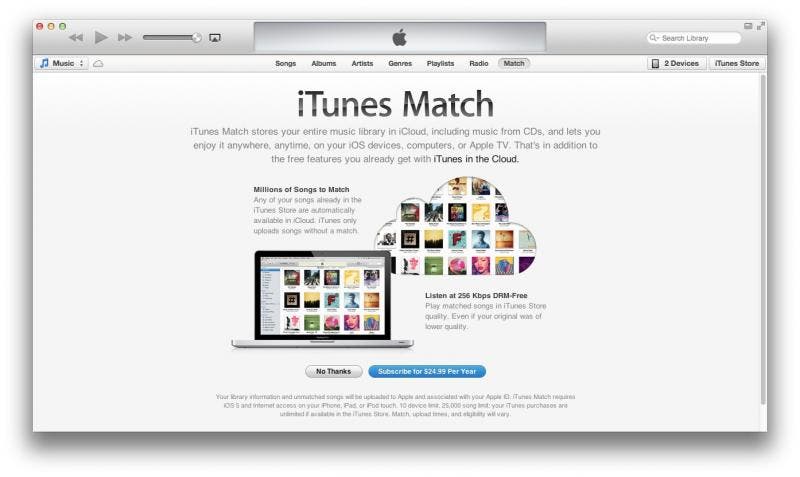 When you insert an audio CD (e.g. No Doubt - Push And Shove) this screen appears.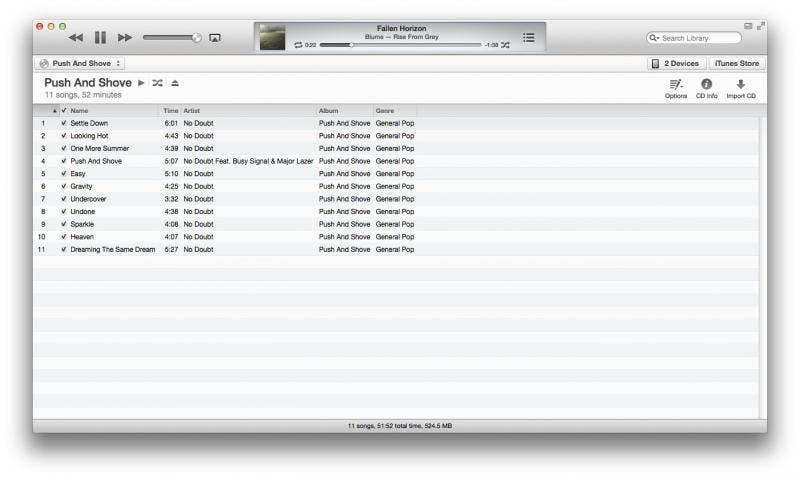 From here you can click on Options, CD Info, or Import CD.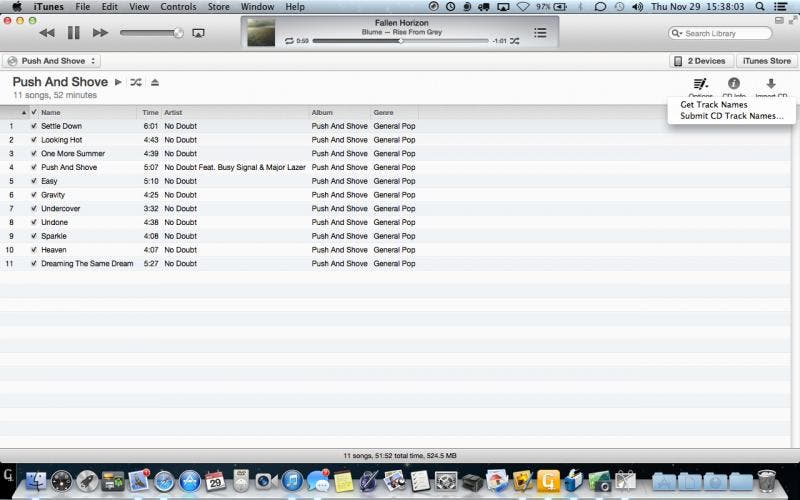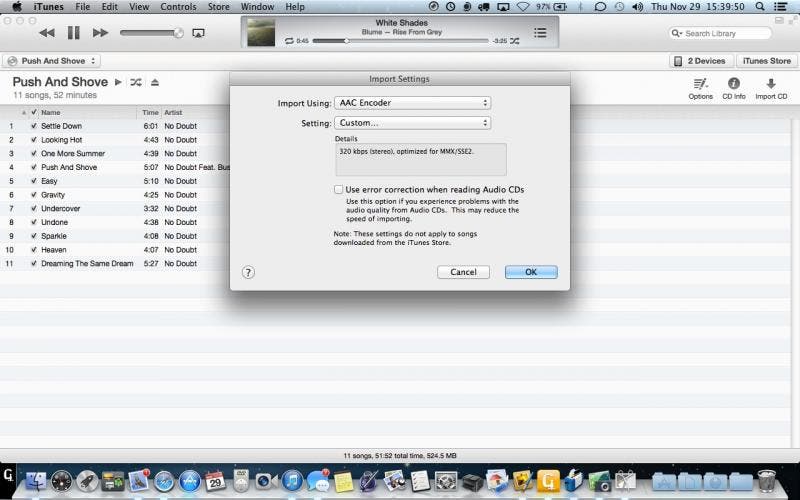 Using AirPlay is so easy now.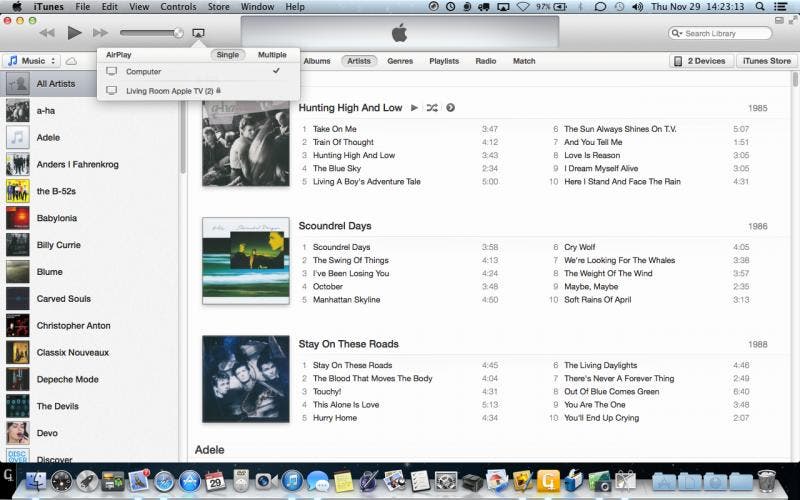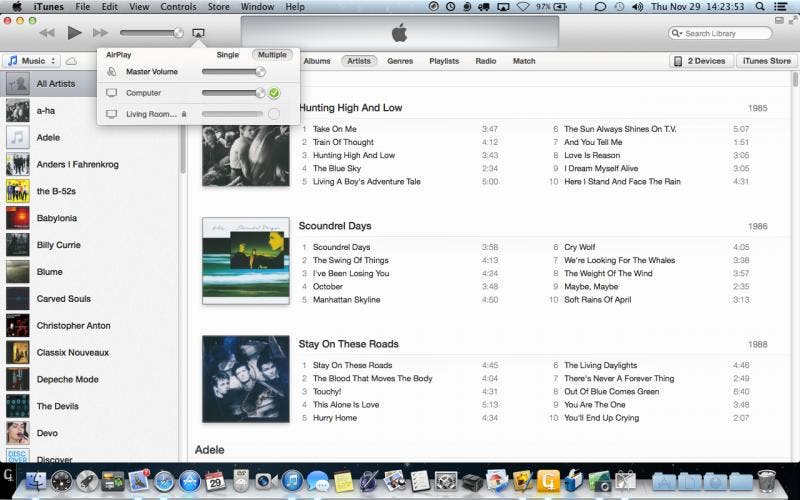 Devices are also so much easier to find and access now. Just click on any device you see in your list. You will then see all the iOS device-specific stuff like the information about the device, backups, and options. From there you can add/delete Apps, Music, Movies, TV Shows, Books, and Photos from your iOS device.
The Equalizer is the same as in previous versions.

You can view music that is coming up with Up Next. You can reorder the songs by dragging to where you want to place them. With this feature Mac applications such as CoverSutra, Cover Stream, etc. are rendered almost useless now. It's a shame, because I love CoverSutra a lot. I guess I could still use it to display the album cover on my Desktop.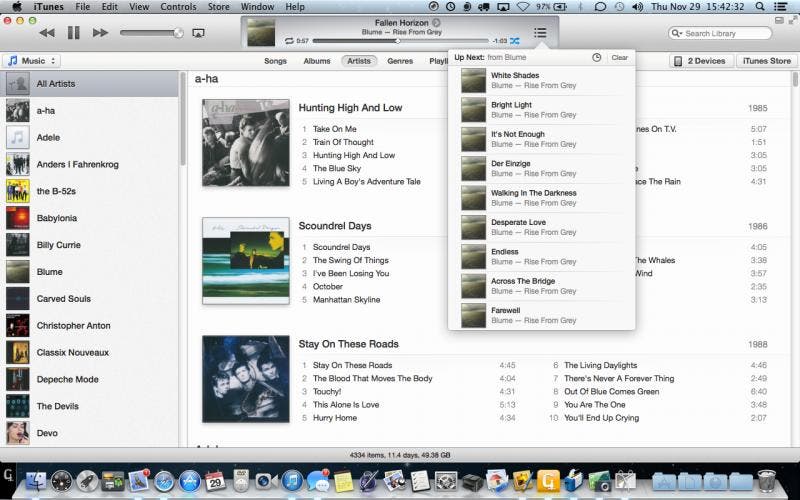 Clicking on the Music popup menu (upper left) you can go to Apps. As you can see, you can view by All, iPhone/iPod touch, iPad, iPod Games, List. How can you tell that I like Angry Birds? :)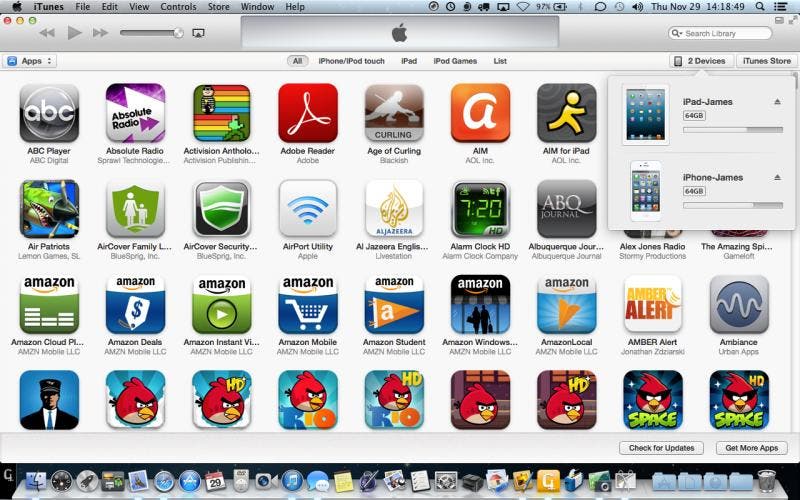 Finally, we get to the new MiniPlayer. I love the new MiniPlayer! It is so much better than previous versions. It's much more informative and simple to go back to a full-sized window (see the little rectangle under the x). To get back to the MiniPlayer just click the rectangle you see by the Full Screen arrows (top right of maximized iTunes window).

When you click on the Up Next (left of Search Music) list you will see this list dropping from the MiniPlayer. As the songs play you will see them disappear from the list. As I mentioned earlier, you can drag a song where you want it to be in your Up Next list.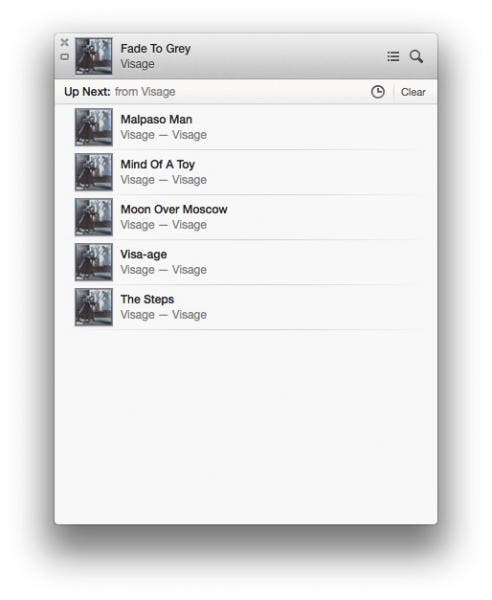 Hovering over the MiniPlayer with your mouse you will see all the controls. From here you can add songs, go to the next song, etc. and use AirPlay. If you select Go To (artist, album, song) the full-sized iTunes window opens up.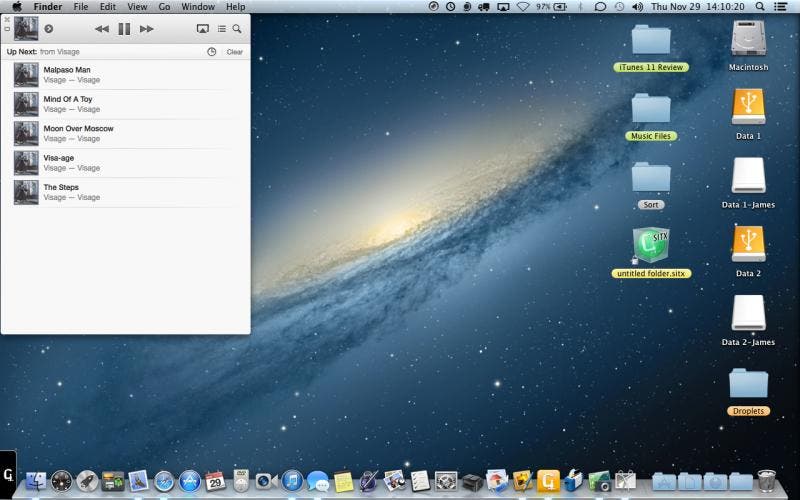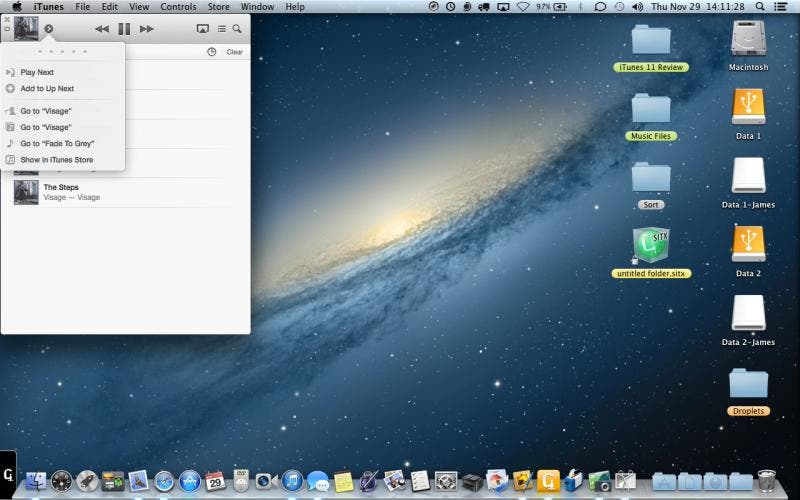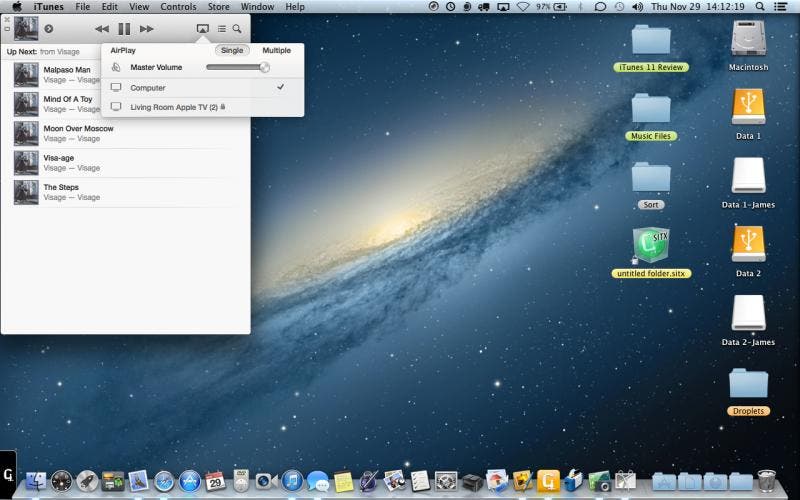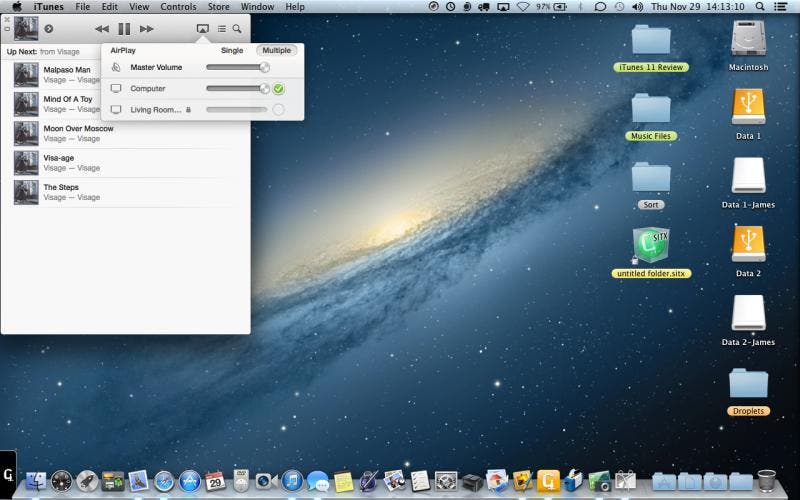 If you click on the Previously Played (clock) you can see what you have already listened to. To clear this list just click on Clear.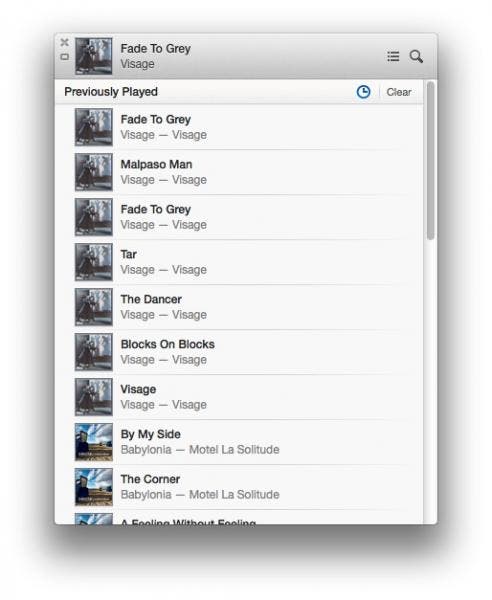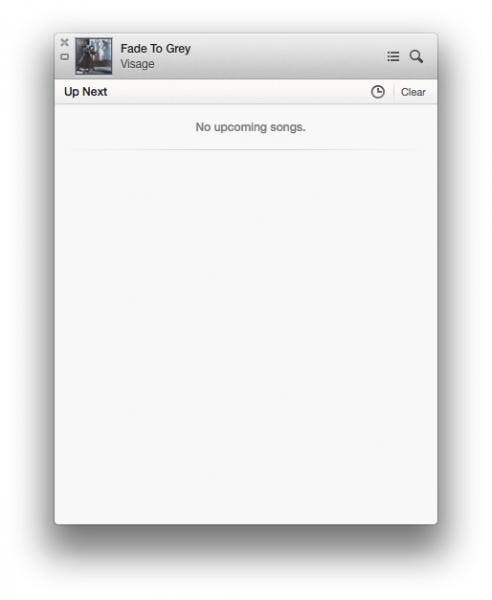 In summary, I think iTunes 11 is the fastest and most visually-appealing version Apple has ever released. There are a couple of serious bugs I found once I first started it up (see previous blog posting from this morning), but I am quite sure Apple will fix this quickly with an update. This new version of iTunes is impressive. It is so much easier now to find a specific song that I want to listen to. Thank you, Eddy Cue. :)
EDIT: After writing this review last night I noticed a couple of things in iTunes 11. Cover Flow is definitely gone. To get back the sidebar (turned off by default) you just go to the View menu and choose Show Sidebar. Likewise for Show Status Bar.
I recommend iTunes 11 to anyone that meets the following requirements:
Intel

OS X 10.6.8 or later (good news for Snow Leopard users!)

Safari 4.0.3 or later
Overall Score: 9/10   Note: I'm taking one off for the rendering issues and the non-inclusion of Previous and Next buttons when right-clicking to Get Info in Artists view.
iTunes 11 was reviewed on a mid-2012 MacBook Pro (13")  running OS X 10.8.2.