By

Anonymous
Thu, 04/29/2010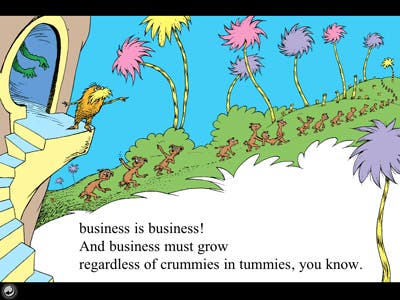 The Lorax contains adorable Dr. Seuss graphics and fun sound effects; however, in my mind, its purpose appears to be more propaganda than entertainment. The message: Big Business will destroy our land and kill our creatures unless you do something about it.
Big Business is producing Thneed by chopping down Truffalo trees. It cares not that its forcing Bar-ba-loots to leave their homeland (sound effects include growling stomachs as they march off). All Big Business cares about is money
–
get rich quick. The customers who buy the Thneed are portrayed as stupid.
I agree that there are businesses that are damaging the environment and need to be fined. However, in this story, it appears that all companies are that way. There is no mention about the good that many large companies do: provide jobs and create products that make our lives better. There is also no mention that not all companies are ruining our environment. This makes me think that this is more agenda than entertainment.
If you are interested in convincing your children that business is bad, then this is the book for you. Otherwise, you might go back to the original Dr. Seuss books which were all about entertainment, not propaganda.
NOTE: This is my opinion
–
not the opinion of iPhone Life magazine.
Addendum: Yes, I stand corrected that this is an original book written by Dr. Seuss; however, I continue to stand by my opinion that the book, whether in book form or app form, is more propaganda than entertainment.