By

Adam Harvey
Tue, 10/25/2011
As you may have gathered from my last post about apps, I don't get a lot of sleep. As a result,  I'm quite the coffee addict. In fact, I like coffee almost as much as I like my iPhone! (What?  Who said that?  Can you believe this guy?) If it weren't for coffee, I'd probably go into a deep sleep for like, ten years.
But I don't have time to do that, iPhone Life-ers.
I gotta move, and I gotta shake! 
So since it's a topic that's so near and dear to my existence, I thought I'd share with you a few of the coolest coffee apps that I've come across during my constant quest for a caffeine buzz. Now if I can stop shaking long enough to type this out, we'll be good…
Coffee Buzz has been around for a couple of years now, but it's still a great app! It sort of reminds me of Foursquare since you can follow your friends; see what they're drinking and where they're drinking it. But what I like the most is that when I'm on the road, it will lead me to the coffee. It shows me the nearest coffee locations and how far away they are. I'm directionally challenged, so I appreciate the fact that it gives me a map so I can find my way to the java. It even has the option to call ahead with just one touch so that my fresh, steaming hot cup of get-up -and -go is waiting for me when I get-up-and-get there. It even updates my Twitter location for me!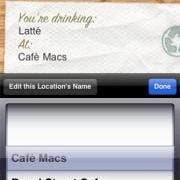 It would be downright irresponsible of me to write this post without mentioning Barista! If you're anything like me, your love of gadgetry is not limited to just your iPhone or your iPad. I'm kind of fond of my espresso machine at home. It's like one big toy that's fun to play with AND it gives me coffee. What I like about this app is that I can rock it out like the pros do with step-by-step instructions on how to do everything from storing beans to creating latte art to impress the wife.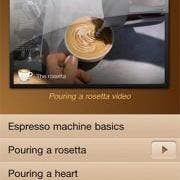 But if you want to really party serious with some coffee art, this is the app for you!  It shows you three main types of coffee art techniques: free pouring, etching and fudge art. Plus, it has actual movies and instructions on how to make more than 15 different types of coffees. My wife is incredibly impressed with my skill at making her a cup with "Fish in Pond" on top! It's not as easy as it looks, but with some practice, you'll be a coffee artist in no time!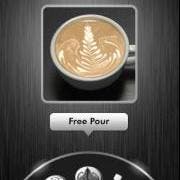 And just so I can have the full professional effect, I have Coffee Talk, a dictionary of coffee house terms, to get me up to speed on the lingo used by real baristas. I find this app extremely helpful because I like to shout out my wife's coffee order in the morning: "skinny moo, half caff, extra foam!" and then I slide it down the counter at her. It sucks when she doesn't catch it, so I feel like I have to shout to be sure she's fully awake before I do my slick sliding move. The only thing that could have made this app more fun is to have Mike Myers do his Linda Richman voice to read the definitions. Oh well, maybe in the next version…
Now if you'll excuse me, I need to get some coffee. I've stopped shaking and we can't have that!