By

Todd Bernhard
Wed, 05/12/2010
Keynote on the iPad might encourage you to take your show on the road and present without a traditional computer.  In preparation for a talk I'm giving at the local Apple Users Group, I have been experimenting with Keynote and the M1 Micro Projector Plus from AAXA ($299 to $339 at www.aaxatech.com).
The results are mixed, due in large part to restrictions on the iPad version of Keynote.  Ideally, a presenter would be able to see the same screen or even a presenter's version complete with speaker notes, on the iPad.  But this is not the case with the iPad version of Keynote.  The user only sees back and forward arrows with a few instructions.  You can draw using a laser pointer function, but you have to look at the projected image to see what you are drawing.  I am hopeful that Apple will enhance Keynote to make presenting more attractive, but for now, I will continue to present using my MacBook Pro.  I will possibly use the Keynote Remote app to control the presentation, as long as both devices can connect via WiFi.
As far as the projector, it did an able job.  I also own a Mitsubishi Pocket Projector PK20, which is the same form factor, but does not offer the power of the AAXA M1 Micro Projector.  For example, the Mitsubishi offers 25 lumens whereas the AAXA delivers 66 lumens!  This is like night-and-day, literally!  Instead of requiring an absolutely dark room, you can present in somewhat dim rooms.  This is still not a projector for bright rooms, but the focus is on portability for presentations on-the-go.  For example, I sometimes project family-friendly movies on our garage door during the summer.  Our neighbors bring lawn chairs, popcorn, etc., and we enjoy each other's company.  This projector could mean starting the show up to an hour earlier in the evening and that's a big difference when it comes to kids and bedtime!
AAXA offers a short cable for $20 that plugs directly into the iPhone or iPad.  This might be preferable to buying Apple's VGA cable for $29, although VGA input is supported on the Plus version.  One of the downsides to Apple's VGA cable is there is no way to power the iPad while connected.  AAXA's cable has a mini USB port that allows you to power your iPhone or iPad while displaying on the projector. You might still want the VGA option for higher quality presentations, as the AAXA projector's screen resolution is 800x600, but their iPod cable only delivers 640x480. I did notice some flickering when displaying certain Keynote images.  I would not expect Steve Jobs to use it on his next product unveiling, but the portability makes the Micro Projector nice for on-the-go presentations.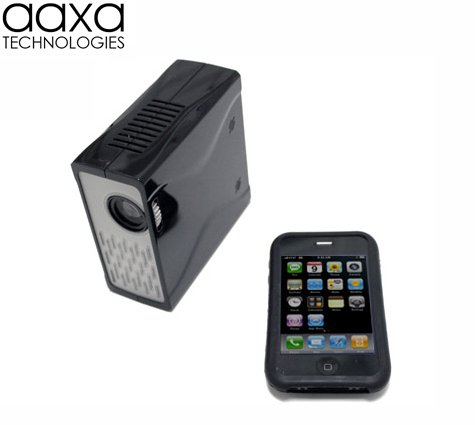 The AAXA also has a speaker and it can get quite loud, which helps because the built-in fan is indeed noticeable.  An infrared remote control is included.  The device runs off AC power, but a USB port can be used to power the projector using an external battery (sold separately, for $79 and offers 1.5 hours).  AAXA also offers a $10 software program that lets you project from your Windows PC over USB, which is interesting.  You can also play specific media such as MP3, AVI, and JPG files from an SD card using the built-in reader.
You might want to play games and run other apps on a large screen but unfortunately not all iPhone apps support video out, so check first.  In addition to Keynote, built-in apps like YouTube, Videos, and Photos (for slideshows) can generate video to be displayed on the projector.  More apps are expected to do so, as Apple has unveiled the frameworks to do just that.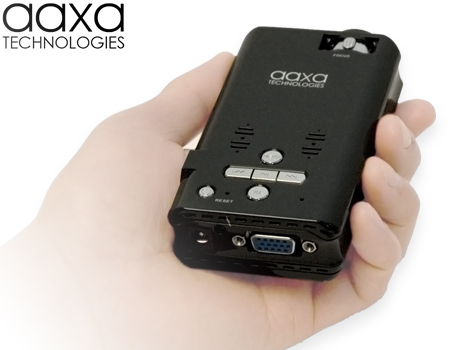 At just under a pound, the Micro Projector is small, but if you're looking for true portability, AAXA makes a Pico Projector about the size of deck of cards.  Of course, there are tradeoffs in brightness compared to the Micro Projector.  The Pico P1 offers 12 lumens for $219 and the Pico P2 delivers 33 lumens for $319).  The Pico models also include a built-in 45-minute battery and weigh just 180 to 260 grams.  Considering the Pico 2 offers better brightness than my Mitsubishi and is palm-sized, we have come a long way.  Now if Apple can enhance Keynote, we can have a truly portable presentation solution!