By

Mike Riley
Mon, 04/14/2014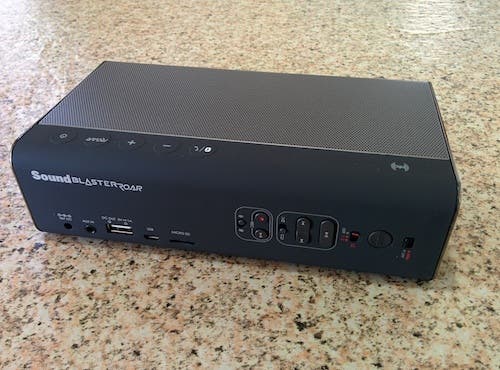 Creative, a company well known for their Sound Blaster PC audio cards, is making a bigger splash these days in the wireless speaker market. I favorably reviewed their Sound Blaster Axx 200 a few months ago, and Creative has also released a speaker with an emphasis on the discerning mobile audiophile. Read on to learn how the Sound Blaster ROAR SR20 compares in the very crowded market of Bluetooth stereo wireless speakers.
With the number of wireless speaker choices on the market, manufacturers like Creative need to differentiate themselves with the features contained in their products. Creative has certainly accomplished this objective with the ROAR SR20. It is packed with dozens of features, many of which are unique to the Sound Blaster wireless speaker line.
Just like the Axx 200, the ROAR SR20 features NFC device pairing, speakerphone teleconferencing, and voice recording functionality. It also has a rechargeable battery, but doesn't use the odd docking port like the Axx 200. Instead, it uses the more acceptable MicroUSB port for power and battery charging. There's also a siren option to gain the attention of a crowd, along with an MP3 playback feature which, like the Axx 200, is hard to use without a display to show what songs you are navigating to. The ROAR SR20 can also connect to a PC or Mac and serve as the computer's sound card and audio speaker. And the rechargeable battery can also serve as a battery backup and recharge station for iPhones, iPads, and other mobile devices. The ROAR SR20 can also be connected to two Bluetooth devices simultaneously, providing effortless audio signal and broadcast sharing.
However, unlike the Axx 200, there's no karaoke or voice changer support (that novelty on the Axx 200 was a big hit at festive gatherings). Instead, the ROAR SR20 has a bedtime mode that gradually reduces the volume to facilitate falling asleep. There's also the questionably odd addition of a "Life-Saver Mode" that plays random tones at random intervals, perhaps in an attempt to keep a driver awake at night. Personally, I would have rather swapped this for the more entertaining voice changer feature, but that's just the way it is.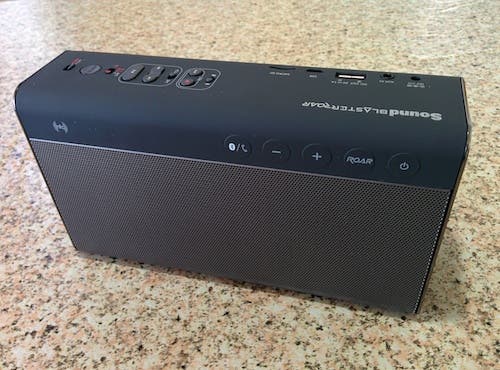 Perhaps the most notable feature is the Roar's loud, high-fidelity sound. As its namesake implies, pressing the ROAR button on top of the speaker produces some seriously big sound from the little black box. In addition to five distinct drivers, this audio boost magic is accomplished via two amplifiers, one dedicated to lows and mid-ranges, the dedicated exclusively to high frequencies. The collective power of these assembled components easily fills out sound even within a crowded, chatty room.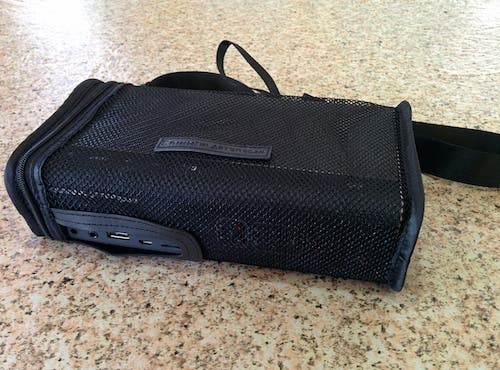 While not as loud as IK Multimedia's iLoud and not as social as Creative's Sound Blaster Axx 200, the Sound Blaster ROAR SR20 is an elegant, awesome sounding Bluetooth wireless speaker at a fair price. Its sleek black box can be carried in an equally attractive sling (sold separately), which makes it a perfect complement for a sound-filled gathering, or for a person on the go who prefers to relax to their favorite tunes without plastic and metal anchored ino their ear canals.
Product: Sound Blaster ROAR SR20
Manufacturer: Creative
Price: $199
Rating: 4 out of 5 stars