By

Mike Riley
Wed, 11/23/2011
As the number of cases available for the iPad continues to expand, manufacturers are continually challenged with finding creative designs that differentiate their products from the competition. Some case manufacturers focus on durability, others on aesthetics and still others on specific use cases. OtterBox, a company known for its nearly indestructible gadget containers, has chosen a sturdy holder and sling approach for The Latch. Does it work as intended? Read on to find out.
The first thing that struck me about the Latch was its size. It was much smaller than I expected. But after strapping it to the back of my iPad, I appreciated how it formed so closely to the tablet. This is especially true given how the Latch affixes itself via four elastic bands that strap around each corner of the iPad. I had some trepidation about the iPad slipping out of these bonds and crashing to the ground, but after seeing how firmly the straps are held in place, my confidence in the product was reinforced.
The Latch can be used in any number of ways, with the most frequent being a more trustworthy way to hold the iPad with one hand. Slipping the Latch's rear strap over the back of your hand provides you with a durable flat surface, like a painter's palette, from which to operate the iPad. Such needs are becoming increasingly popular in retail stores, sales calls and companies that use electronic forms on the iPad. I certainly felt much more confident about holding the iPad with OtterBox's assistance versus keeping a grip on a bare iPad with its slick rear surface.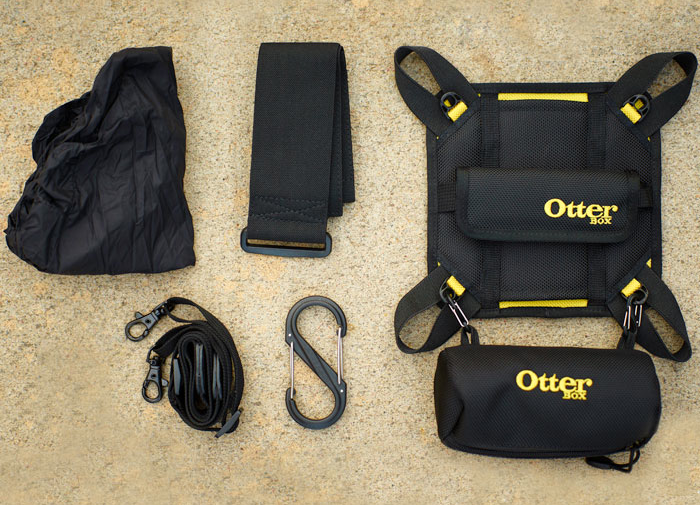 The other popular configuration for the Latch is via its shoulder strap mode. A small satchel that can be clipped onto (and easily removed from) the Latch's main body contains a shoulder strap, a leg strap that can double as a car headrest strap, a hook and a vinyl elastic bag that can be used to cover and protect the front of the iPad when not in use. Like the hand strap mode, I was initially hesitant about implicitly trusting the reliability of the corner straps to keep my iPad from slipping out (especially when the iPad bumped against my side as it swung back and forth while I walked), but OtterBox must have designed these straps with those same thoughts in mind because it did its job and never gave me a cause for slippage concern.
By the way, one other benefit that the elastic corner strap design accommodates is the variety of iPad cases it can slip over (including OtterBox's own line of iPad enclosures). While it may be a little tight for bulkier cases, thinner cover cases work just fine. And while the OtterBox was designed mainly for the iPad, it can also be used on other large display devices like the 10-inch Android tablets as well.
Its list price of $49.95 is a bit steep compared to the amount of fabric and size of the Latch, but at the time of this review, OtterBox has cut that price in half for now. Additionally, they are including a free Latch with the purchase of their other iPad cases such as their
Defender
and
Reflex
series.
In summary, The Latch works as advertised. While its bulk and field-gear operations look may be a turn-off for some, those looking for a sturdy, trustworthy hand and shoulder-strapping iPad holder won't be disappointed.
Price: $49.95
Rating: 4/5 stars