Like traditional radio, Internet radio is free. But unlike traditional radio, you need a live Internet connection to access it. That's not a problem for most desktop computers, but until recently it had been a problem for mobile computers, handhelds, and smartphones. The turning point was the proliferation of broadband cellular networks and Wi-Fi hotspots, making it much easier to connect to the Internet wherever you are, wirelessly, and at data connection speeds that make music streaming practical.
Nowadays, many smartphones come with both broadband cellular and Wi-Fi capability, but the iPhone trumps everything. Not only because of its broadband cellular capability, but because of the variety of third-party applications available that support Internet radio on the iPhone. Some of these applications have a narrow focus such as a specific radio station, music style, foreign language, or a simple station finder guide. This article focuses on apps with a broader focus, and reviews free Internet radio applications that let you access a multitude of stations and music types. I plan to spend some time reviewing paid radio apps in the future.
To test these applications I intentionally avoided using Wi-Fi since all of these radio applications would no doubt work well sitting in one spot with a high-speed data source. Instead, I opted to test them over the cellular network in an area with strong 3G data capability, while driving to and from work over a 20 mile stretch of freeway. The audio signal was played over the car's audio system via a stereo patch cable that connected my iPhone 3G (2.2 firmware) to the audio system.
iHeart Radio: Version 2.1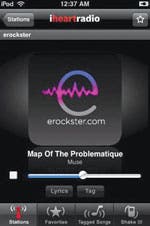 iHeart Radio comes directly from Clear Channel Broadcasting, Inc. so it is no surprise that many Clear Channel stations are present here and broadcast in near-real time. However, you must endure the same commercials you would hear over any Clear Channel radio station. Application load times were fairly quick over 3G and buffering times were acceptable and at times very fast. All stations are broadcast in Apple's AAC format and the overall audio quality was good. It did vary depending on which station you were listening to. The interface was very simple to use; the primary controls consisted of a play/pause button and volume control. There are no options for quality or customized settings. One built-in option uses the iPhone's accelerometer, letting you shake your iPhone to discover a new station. It works, but I found it a bit gimmicky. After ending a phone call, the radio started right away and resumed playing automatically.
Deezer: Version 2.0.1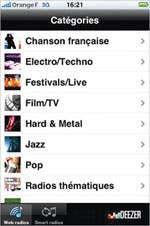 Deezer is a very straightforward 
Internet radio app with a no-frills 
listening experience. The latest version now requires a user account to run the program, which can be done over the iPhone. When you launch Deezer, you pick a genre and sub-category, and it plays music. An option exists that allows you to choose a specific artist. Unfortunately, the positive aspects of Deezer end here. Deezer suffers from long buffering times over 3G, frequent error messages, a lack of any customization of content, and very poor audio quality. The program does re-launch after a phone call ends. However, the music does not resume until you press a "continue" button and drill back through the menus for your station.


Flycast Mobile: Version 1.5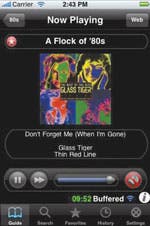 Flycast Mobile Broadcast Network is a Swiss Army Knife of Internet radio apps, allowing you to access music, talk radio, sports, weather, and traffic. It's the only radio app that will keep playing music while you're browsing the Internet or performing other tasks on the iPhone. Flycast streams live from some well known Internet radio stations such as 977 The Music, SKY, AccuRadio, and more. You can even store content using its StreamAhead feature, so you can 
access it when you're not connected to the Web. This feature also lets you pause live radio and jump on late to a live radio show without missing the beginning. Another feature that I found useful is the ability to choose your expected signal strength before streaming the music or other shows. So, for example, if you know that you will be in an area not serviced by Wi-Fi or 3G, you can pre-select a slower network speed and the app adjusts for playback performance.
The main interface is easy to move through, allowing you to select your favorite station or create your own content. Flycast start-up times were reasonable and audio quality was very good. Flycast pauses music when you receive a call and resumes playing it when you hang up. In fact, the music starts playing even before the application fully restarted on the screen. Buffering issues were intermittent while I was driving. In addition, Flycast seems to draw a tremendous amount of battery power and made the iPhone very warm to the touch after running it for several minutes. This issue occurred even with the default battery conservation mode on.
Stitcher Radio: Version 1.3.3777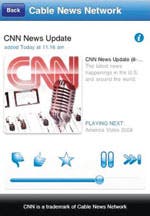 Stitcher Radio is the only application here that does not cater to music. Designed to be used specifically for news and entertainment, Stitcher includes content from CNN, NPR, AP, and the BBC. The app lets you access news for professional sports, celebrities and the entertainment industry, Wall Street and financial news, and the list keeps growing. Want to listen to talk shows that discuss Macintosh computers or video games? Stitcher has you covered. In fact, just about every topic imaginable exists and they even have a Spanish station list.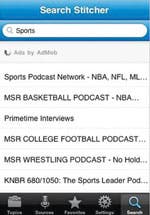 The interface is somewhat clunky and confusing at times. After launch, you are presented with a topic list. After selecting a topic the radio immediately starts playing content. From there you can select another show from the list or search for specific shows. Stitcher gets its name from being able to "stitch" together your preferred content. To get there, you may have to press the forward button to jump through stuff you don't like, but you have the option to give it either a thumbs up if you like it or a thumbs down if you don't. You can even jump to another show by hitting the fast forward button. With your account in place, Stitcher keeps track of your favorite stuff and begins building a list of what you like and delivers it to you. Overall, performance was good and load time was fairly quick over 3G although I did get some network error messages. Audio quality is low, but it's acceptable for listening to voice broadcasts. After ending a phone call, Stitcher often failed to resume and had to be restarted. After restart, it did not resume playing the show I was listening to and I had to start it from the very beginning, and there's no way to skip forward through the content.
OurStage Radio: Version 1.0.1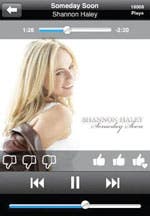 OurStage Radio caters to unknown artists from every genre imaginable. You can select genres via easy-to-use slider switches and then press the "Recommend Some Tunes" button for some suggestions. You also have the ability to save favorites and create playlists.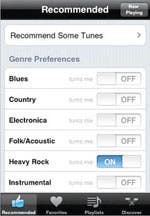 The Discover tab on the main screen lets you browse artists from a specific genre. OurStage is a community of music lovers where music fans rate the music they listen to. As an artist's rating goes up, their music gets included on the recommended list. The highest rated bands get to compete in a monthly battle of the bands and listeners decide who is best. OurStage gives voice to new artists and tons of new music are available through the site.
I was pleasantly surprised how well the application worked. Load times and buffering were consistently good as well. OurStage was the only radio app that did not pause to buffer while driving and the audio quality was superb. After pausing for an incoming call, the app restarts automatically at the beginning of the song you were listening to. However, you have to press the play button to start the song.
Destined for greater things
The future of radio will be interactive and customizable—something very much like what we see with Internet radio. Broadcast, satellite, and Internet radio services will tie together, providing quality audio and customizable content. Internet radio isn't ready to replace your car radio or iPod just yet, but it seems destined for greater things as our wireless capabilities mature.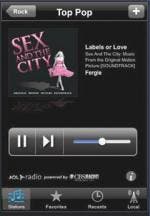 AOL Radio was one of the original Internet radio apps offered at the launch of the App Store. AOL Radio leverages the iPhone's "Core Location" framework to detect a user's location and automatically display broadcast radio stations nearest to the user.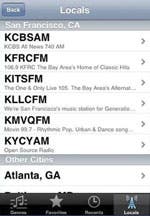 It's the only Internet radio app that does this, but I find this feature annoying because every time I launch the app, it shows me the same two country stations, both of which are not really near to where I live and commute. Still, the app is easy to use, offers every music type as well as live talk radio and news and always resumed on the station where I left it. AOL Radio's interface is similar to the iPod menu structure, making it easy for new users to find radio stations, add them to your favorites menu, check the recent station list to see where you last left off, and more. You can use AOL Radio without creating an online account. Audio quality was good and buffering times were very fast. The program pauses when you receive a phone call and launches again when the call ends. When the call ends, you must navigate to the station to start the music again.
Probably the most popular free radio application on the App Store, Pandora allows you to create personalized radio stations based on your favorite musical group or genre.
Creating a custom radio for your favorite musical group is easy to do, but I noticed that Pandora does play songs by other groups as well but bases its choices on your music groups' style. The controls allow you to skip to the next song, pause music, or give the song a virtual thumbs-up or thumbs-down, which helps build your music preference profile over time. A convenient pop-up menu allows you to bookmark the song or artist currently playing, buy the song in iTunes, or share your favorite station with a friend via e-mail. Many songs contain bios of the actual group playing. Audio quality was very good over 3G with only 2 pauses to buffer music playback. Pandora does have an option to improve 3G audio quality, although its disclaimer states that skips and hesitations will increase if activated. I did not test this feature since performance was good overall with acceptable load times. However, the radio did not always resume after a phone call.
Last FM works very similar to Pandora Radio by allowing you to create a custom radio station based on the music style of your favorite band. When you start the app you are given the option of creating your own custom library or going with Last FM's recommendations. To create a custom library you have to sign up for a free account on their Web site. Your account allows Last FM to track your song listening habits (a process called "scrobbling") and deliver the content you prefer.
Last FM is a highly customizable application and may be overwhelming to a new user who just wants to listen to some music. However, the service provides this kind of customization for the expressed purpose of giving you a pleasurable listening experience based on what you love to hear. The audio quality was superb, by far one of the best tested amongst these Internet radio apps. I was impressed at just how clear the music sounded even at high volumes. As with other apps Last FM pauses when you receive a phone call. Unfortunately, the music does not start back up automatically.