By

Erin MacPherson
Tue, 04/20/2021
The long-awaited new iMac comes with a whole host of features never before seen in a Mac. Apple claims users of the new iMac will love the new processing, Retina display, as well as long-overdue camera and audio upgrades. What remains to be seen is whether such a large device will support high-powered use running off the same chip from Apple's much smaller 2020 M1 MacBook models.
Jump To:
iMac Colors, Prices & Availability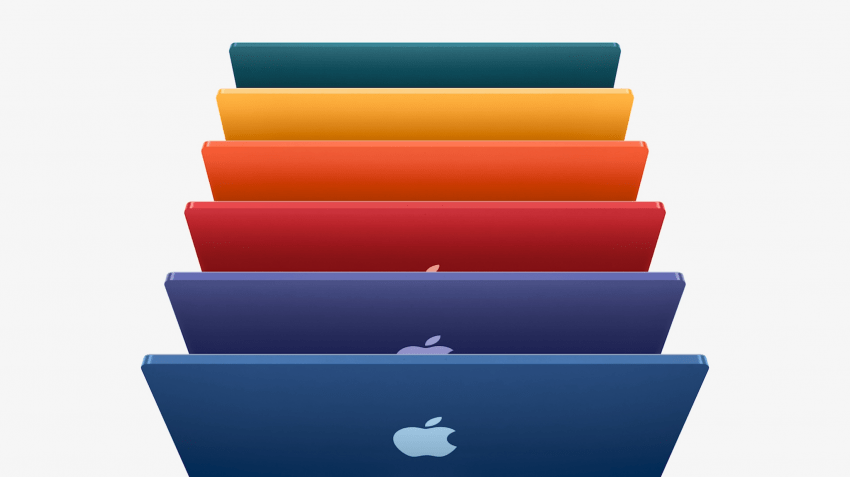 Pricing
7-core GPU starts at $1,299 ($1,249 for education)
8-core GPU starts at $1,499 ($1,399 for education)
Availability
Pre-order on April 30
In stores and online in the second half of May
Colors
7-core: pink, green, blue, and silver
8-core: pink, orange, yellow, green, blue, purple, and silver

Discover your iPhone's hidden features
Get one daily tip each day (with screenshots and clear instructions) so you can master your iPhone in just one minute a day.
2021 iMac Tech Specs
Both Models:
M1 Apple silicon chip
4.5K Retina display
11.3 million pixel, 24-inch display
500 nits brightness
1080p FaceTime HD camera
Six-speaker sound system
Three-mic array with directional beamforming
Bluetooth 5.0
Wi-Fi (of course)
What is directional beamforming? Don't worry, you're not alone in asking this question. Directional beamforming capabilities mean the new iMac employs a much more sophisticated microphone setup than the previous generation. Beamforming enhances audio quality by tuning in to sounds from specific directions, which PathPartner says can help reduce background noise and interference.
Also, what is a nit? Well, nits are the standard metric by which luminance—brightness—is measured. Basically, they tell you how bright a screen is capable of being in order to offset things like environmental lighting and issues with contrast. Digital Trends says that a measure of 200–300 nits is fairly standard, above that is good, and 500 or more is "extremely good."
Related: Everything Apple Announced at the April 20 Spring Loaded Event
7-Core GPU Model:
8-core CPU, 7-core GPU
8 GB unified memory, can upgrade to 16 GB
256 GB solid state storage, can upgrade to 512 GB or 1 TB
Two Thunderbolt ports
Magic Keyboard (no Touch ID) included
Magic Mouse included
8-Core GPU Model:
8-core CPU, 8-core GPU
8 GB unified memory, can upgrade to 16 GB
256 GB solid state storage, can upgrade to 512 GB, 1 TB, or 2 TB
Two Thunderbolt (USB 4) ports
Two USB 3 ports
Gigabit Ethernet
Magic Keyboard with Touch ID included
Magic Mouse included
MacOS Big Sur
As was the case with the 2020 MacBook line, the new M1 iMac will come with macOS Big Sur pre-installed. Designed for use with the M1 chip, this Mac operating system has already proven its worth to previously hesitant users, and does provide a strikingly smooth level of performance when used on a Mac with the M1 on board. I've found that everyday tasks actually do take much less time, wake from sleep is almost instantaneous, and that even handling numerous active tasks at a time leaves the system seemingly unfazed. And because the M1 chip and macOS Big Sur are designed to work so fluidly together, power use is drastically lower, leaving my MacBook's battery life intact much longer. Hopefully these benefits will translate to the desktop M1 iMac as well.
That said, the system has its limits. While many apps, such as Photoshop, Microsoft Office, DaVinci Resolve, and others are already available in Big Sur-compatible versions, many apps are not quite there yet, which could mean some slight performance lags for those applications.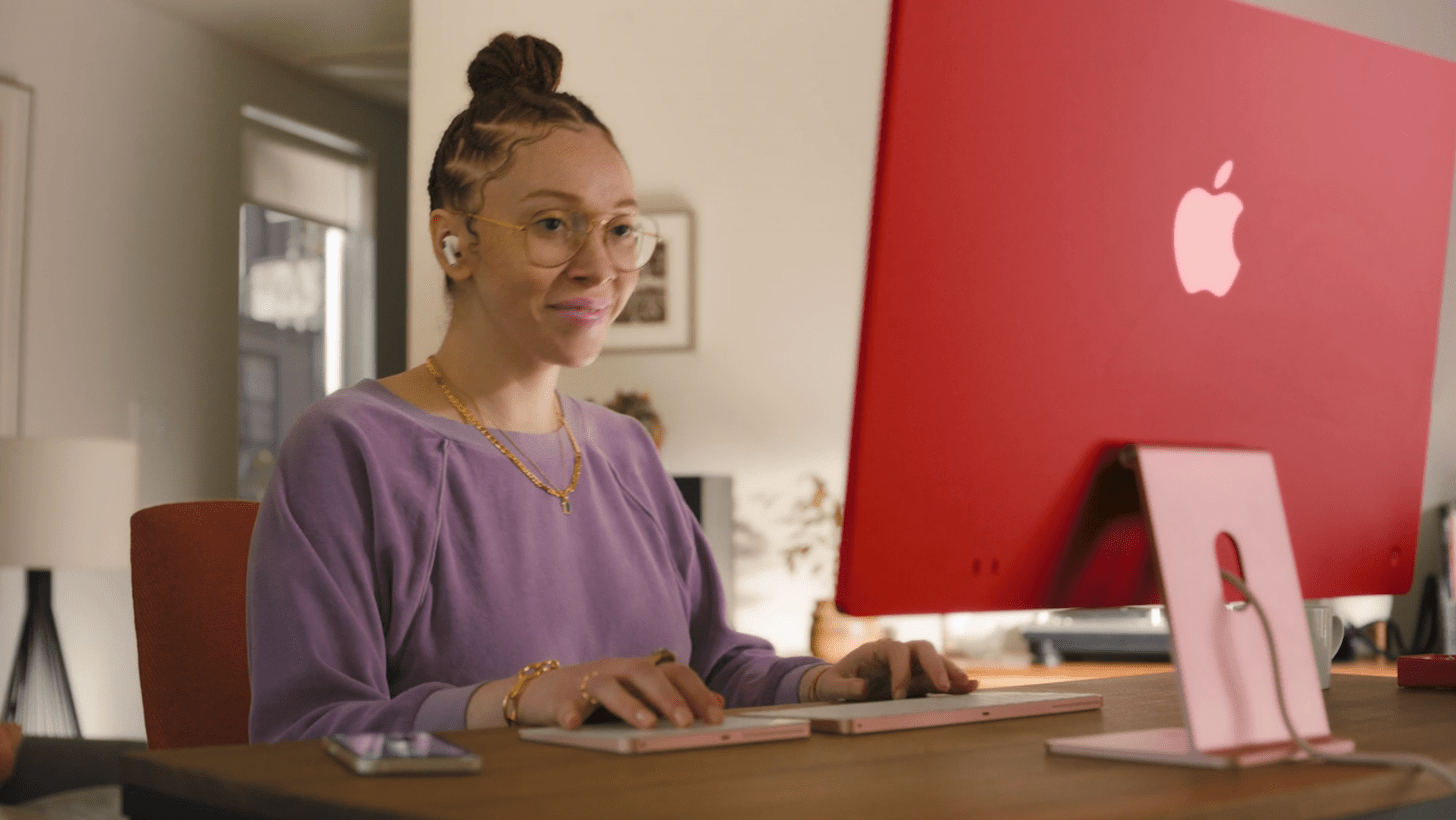 Design, Display & Processors
The slim 11.5-millimeter screen profile of the M1 iMac is much thinner than that of its recent counterparts, and the bright colors are expected to be a welcome nod to the bubble-esque G3 behemoths we saw in the late 90s. Talk about nostalgia, huh? Coupled with the 24-inch 4.5K Retina display, this computer promises to be quite a looker, and very easy to fit on a cluttered desk.
Because the M1 system-on-chip architecture combines its central processing unit (CPU), graphics processing unit (GPU) and other elements all onto one chip, devices running on the M1 will not have to devote as much physical space to processing components, and are free to slim down or use that space for other features. M1 chips also require far less cooling, so design real estate for internal fans can be minimized as well. In the case of the new iMac, this means only two small fans and much less noise. In fact, Apple claims that machine noise will be reduced by 50 percent as compared to previous models. In a world where working from home may very well become the new norm, quieter workspaces will be welcome, so we certainly hope this claim holds true.
For those looking to use the new iMac for creative endeavors, Apple insists that the GPU capabilities of the 7- and 8-core GPU models are expected to feel up to twice as fast as those of previous models, and processing at up to 85 percent-faster speeds will make photo and video editing, even up to 8K footage, a breeze. With what the tech giant calls the fastest integrated graphics in a personal computer, hopes are high, but not unfounded. Apple's October 2020 testing for these claims involved use of the existing M1 MacBook Pro (preproduction) systems and compared results to the GPUs of existing commercially available computers at the time. Reviews by industry professionals, like those associated with No Film School, seem to support the idea that these capabilities aren't out of reach.
The Retina display has been a source of pride for Apple for quite some time, so it's no surprise that the new iMac features one in 4.5K. True Tone technology will automatically adjust the warmth or coolness of the on-screen color temperature to make the user's viewing experience feel more natural, and that combined with 500 nits of brightness should mean that images and other visuals on screen will look brilliant and exceptionally vivid, much like the display on a 2020 M1 MacBook Pro, but on a much bigger screen.
Camera, Mics & Speakers
Apple seems to be catering more and more to the work-from-home crowd, and we expect that the 1080p FaceTime HD camera was another effort in that direction. FaceTime calls with family, Zoom work meetings, and other video tasks could finally see the image clarity that iMac users have been hoping for, thanks to the improved camera's integration with the image signal processor and Neural Engine built in to the M1 chip.
A new camera is exciting, but only when paired with improved audio quality, right? Based on our experiences with sound quality in the 2020 M1 MacBooks, it's reasonable to expect that long-time iMac users will hear a marked difference in audio input and output clarity, courtesy of the new three-mic array and six-speaker sound system.
The built-in microphones are designed to capture your voice at optimal angles, which reduces feedback and interference both from inside the machine itself, and from environmental noise (which I can personally attest to, after having worked from home on my M1 MacBook Air for months with my eight-year-old son singing and giggling in the background). The six-speaker sound system consists of two pairs or force-canceling woofers (you hear these as low bass, but with reduced unwanted vibrations) and two tweeters (these produce the higher-frequency sounds necessary to balance out the low bass of the woofers). Apple describes this array as "a massive sound stage with strong, articulate bass and crystal-clear mids and highs," so they're certainly amping up expectations. Like I said before, though, it wouldn't be surprising to find that after-use reviews of these new iMacs corroborate these claims, as was the case with the sound systems in the M1 MacBooks.
Accessories
Last but certainly not least, Apple trotted out a whole lineup of color-matched iMac accessories. Both iMac models will be accompanied by a color-matched power cable and connector, and each model also comes with a Magic Mouse.
If you purchase the $200 more expensive 8-core GPU model of the new iMac, you'll also receive a Magic Keyboard with Touch ID, but can opt to upgrade to a Magic Keyboard with Touch ID and Numeric Keypad if you choose to, and for an additional fee. 
Users who buy a 7-core M1 iMac will also receive a Magic Keyboard, but can choose to purchase a Magic Keyboard with Touch ID or a Magic Keyboard with Touch ID and Numeric Keypad if they'd like to. 
Color-coordinated wireless Magic Trackpads are also available, and compatible with either model.
Touch ID is a first for iMacs, and should make life easier with secure passcode and password entry, profile switching, and purchases made using Apple Pay.
Who Should Buy a New iMac?
If you're an Apple-loyal lover of a desktop experience, the M1 iMac will probably prove to be worth the six-year wait for noteworthy improvements to the 2017 model (because let's face it, the 2019 and 2020 iterations were less than impressive).
If you're a normal desktop PC user but are interested in delving into the expensive but colorful world of Apple, it's probably worth a look and some extensive comparison based on your needs as a user.
If you're a professional user and need a high-performance computer for processing things that don't involve graphics, this may not be for you.
All in all, not much was claimed about the new iMac's capabilities that hasn't at least been partially corroborated by user experiences with the 2020 M1 MacBooks. That said, the iMac is a much larger machine. A larger computer running on the same chip as a smaller computer is likely to not perform quite as well as its smaller counterpart, so I wouldn't be surprised if certain claims set the bar a touch high.