By

Sarah Kingsbury
Tue, 04/20/2021
Tim Cook kicked off today's virtual Apple event with a nod to Earth Day by giving a rundown of Apple's progress toward its goal of being entirely carbon neutral by 2030. While previous virtual announcements felt stilted and unevenly paced, today's event went in the opposite direction, with the camera swooping around the Apple campus, colorful graphics darting across the screen, and Tim Cook cosplaying Tom Cruise in Mission Impossible. Overall it was a packed hour with lots of exciting product announcements. Here's our rundown of everything Cook and team introduced today, including M1 iMacs, the surprise addition of the M1 chip to the iPad Pro, a new Apple TV 4K with redesigned Siri remote, the long-awaited AirTag Bluetooth tracker, subscription tiers in Apple Podcasts, an Apple Card for the whole family, and a purple iPhone 12.
Colorful New iMacs Get M1 Chips, 4.5K Retina Display & Matching Accessories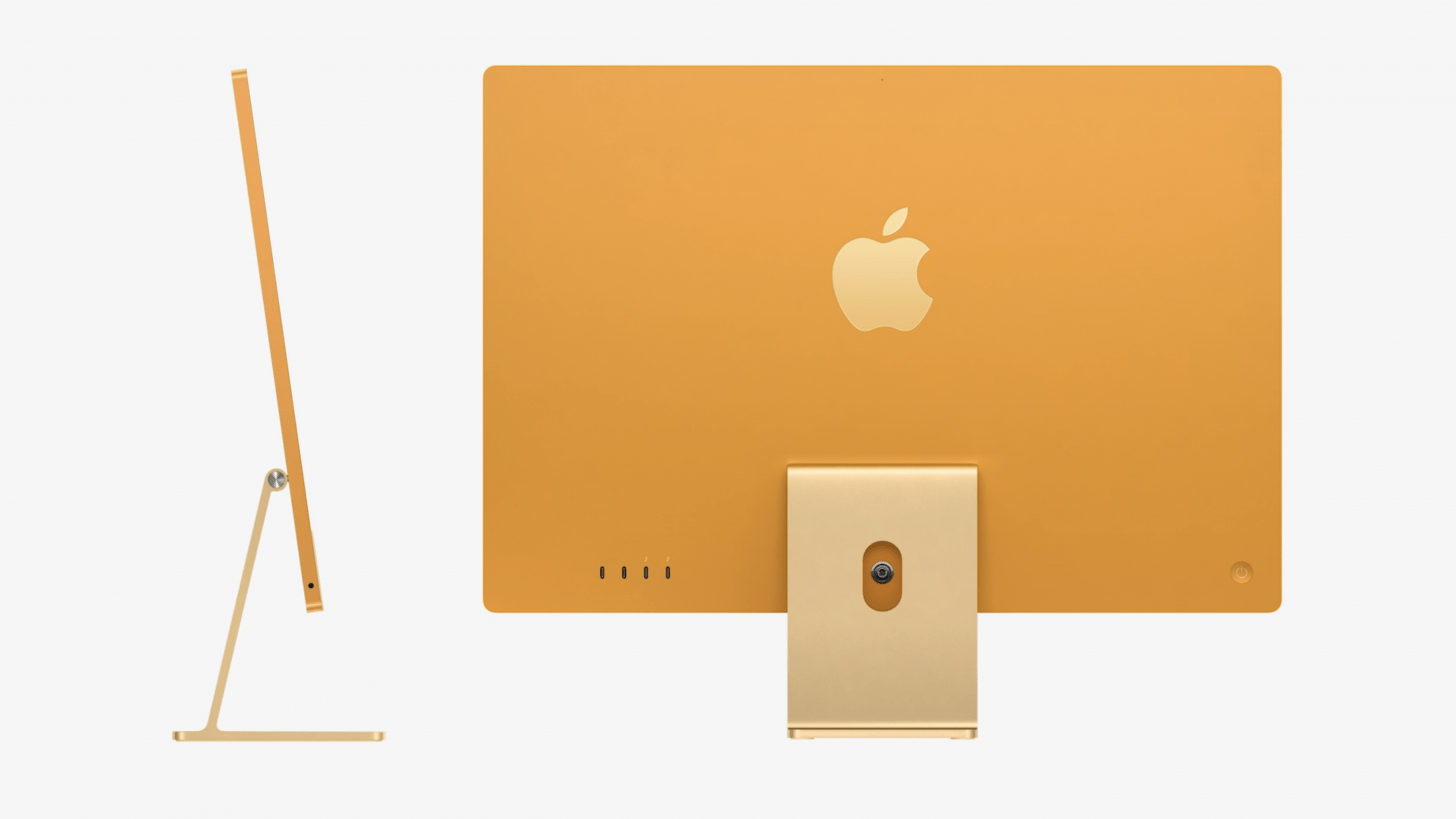 The long-awaited new iMac will feature an ultra-slim 24-inch display, studio-quality mics, the high-performance M1 chip, camera upgrades, and even Touch ID for the first time ever. Aside from the fairly unexciting 2019 iMac models (which weren't even included in an Apple announcement at the time) and their subsequent "refresh" in 2020, iMac users have been waiting for a noteworthy update to this fan-favorite desktop computer since 2017. Along with the new M1 iMac, which comes in seven colors (pink, orange, yellow, green, blue, purple, and silver), Apple also debuted a line of color-matched accessories, including a Magic Mouse, Magic Trackpad, and wireless Magic Keyboard, a version of which will also feature a numeric keypad.
Thanks to the M1 chip, Apple says users of the new iMac will see up to 85 percent faster processing speeds, and graphics performance up to twice as fast as those of previous models. However, we wonder what drawbacks users may expect from such a large device running on the same chip that powers Apple's much smaller 2020 M1 MacBook models. So, will the six-year wait be worth it? From what we can tell, the processing, camera, and other upgrades should be enough to thrill long-time iMac users, and maybe even entice Apple-loyal customers looking for a solid desktop solution. Whether these benefits will be enough to sway PC desktop users in Apple's direction is less certain.

Discover your iPhone's hidden features
Get a daily tip (with screenshots and clear instructions) so you can master your iPhone in just one minute a day.
Pricing
7-core GPU starts at $1,299 ($1,249 for education)
8-core GPU starts at $1,499 ($1,399 for education)
Availability
Pre-order April 30
Available in stores and online in the second half of May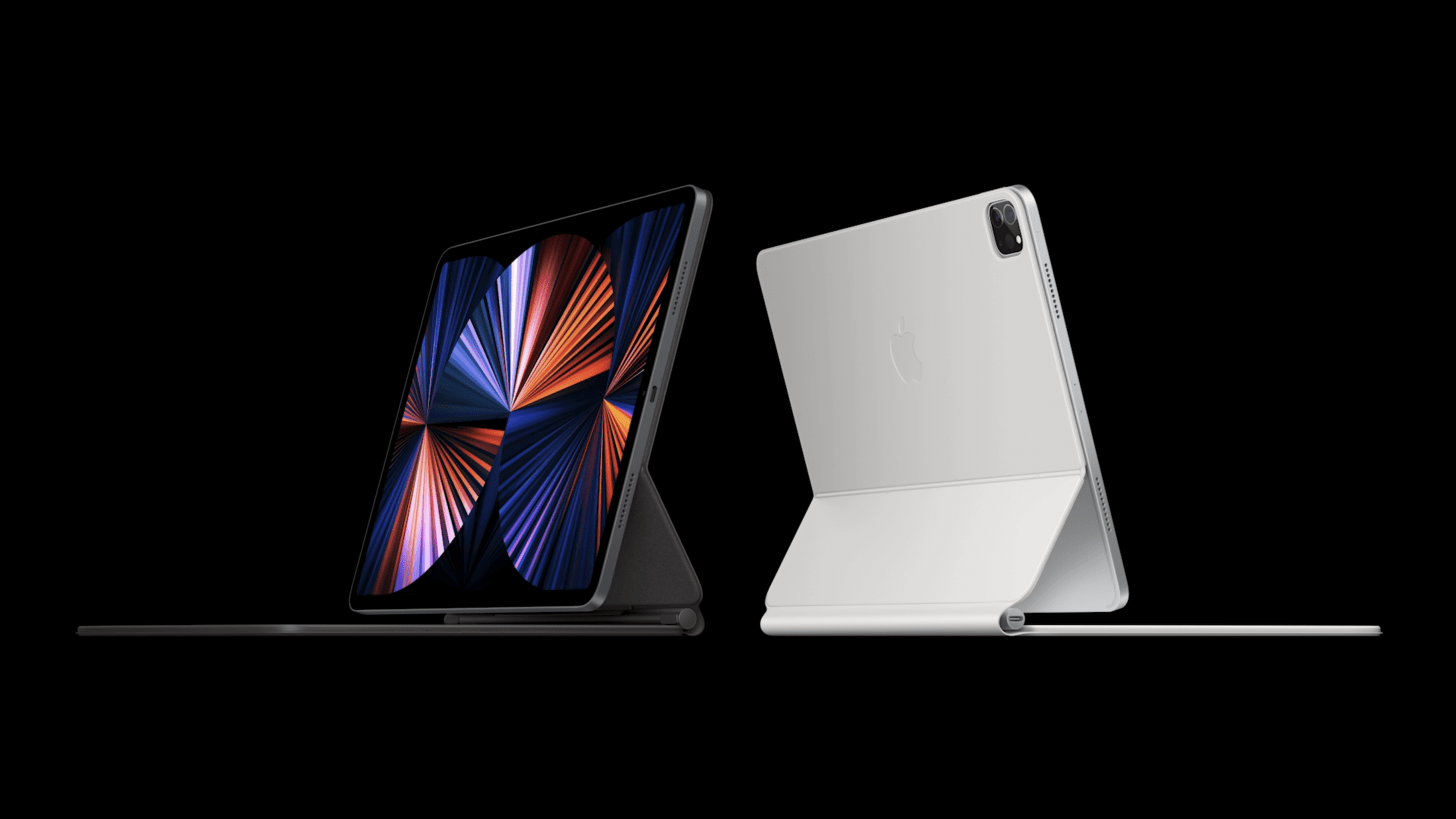 One of the biggest announcements was the 2021 iPad Pro, which comes with Apple's new M1 chip. The introduction of the M1 chip to the iPad line means great leaps forward in terms of performance—up to 50 percent faster CPU and 40 percent GPU compared with its predecessor—but perhaps more exciting is what this could mean for the new iPadOS coming later this year, and beyond. The iPad Pro has never been able to seriously compete with a laptop for multitasking capabilities, but this change might be drastic enough that it can finally start.
Last year's iPad Pro refresh was fairly modest, so Apple was sure to pack in lots of other eye-catching features to the 2021 model. These include a Liquid Retina XDR display, which means higher contrast, better brightness, and improved power efficiency due to its mini-LEDs. Other features include a new Thunderbolt port, 5G capabilities for the cellular model, and a new Ultra Wide camera that supports a feature called Center Stage that keeps you in the center of the video as you move about, perfect for those times you want to video chat while cooking dinner. The price is comparable to a full-on computer, so it's perhaps not ideal for a casual iPad user looking to stay within a budget. While we feel confident in the performance leap promised, as of now even the iPad Pro can't replace a laptop. The M1 chip is certainly making room for this possibility, but for now, let's call an iPad an iPad.
Pricing
11-inch iPad Pro (W-Fi): From $799
11-inch iPad Pro (Wi-Fi + Cellular) From $999
12.9-inch iPad Pro (Wi-Fi) From $1,099
12.9-inch iPad Pro (Wi-Fi + Cellular) From $999
Availability
Pre-order April 30
Available in stores and online in the second half of May
Colors
A Refreshed Apple TV 4K with a Redesigned Remote
The next generation of Apple TV 4K is here. It features an A12 Bionic chip, high frame rate HDR support, color balance technology, and a much-needed Siri remote redesign. The A12 chip is not the most powerful chip that Apple could have selected (the iPhone 12 uses an A14 chip, which some speculated might appear in the new Apple TV as well), but that hasn't stopped Apple TV 4K from serving up some impressive improvements over its predecessor. Now, videos shot on the iPhone 12 Pro can be displayed on your TV in high frame rate HDR via AirPlay. One thing we're excited to try is the new color balancing feature. Yep, that's right, True Tone is coming to Apple TV. Using the iPhone's light sensors,  Apple TV will compare your TV's color balance to industry-standard specifications and adjust its video output accordingly.
Perhaps the biggest win for this generation of Apple TV, though, is in its new remote, which features physical buttons like mute and power, and is touch-enabled, with a circular gesture wheel that lets you scroll to find your spot in your favorite movies and shows. We were hoping the new remote would feature a built-in AirTag, since remote controls are continually getting lost, but overall the remote looks to be a great upgrade. Plus, the remote can also be purchased separately, so you can use it even with your older model Apple TV.
Availability
Pre-order April 30
Available in stores and online in the second half of May
Pricing:
$179 for 32 GB
$199 64 GB
Siri remote available separately for $59
Apple Card for the Whole Family
Apple Card Family gives spouses, partners, and other close family members or friends the ability to co-own an Apple credit card. Children aged 13 and up can participate too and learn the basics of financial literacy, including building credit, budgeting, and sensible spending while their parents manage their spending.
With Apple Card Family, Apple is reinventing how people with shared finances manage their money in a way that benefits everyone involved. While most banks allow up to five users to share cards and accounts, only the primary cardholders accrue any benefits to their credit score. Apple Card Family offers more than just communal access to credit. Not only is spending merged, but there is a unique opportunity for co-owners to grow a credit history together. Children aged 18 and up can also participate in credit recording, giving them the opportunity to build a strong credit history, while those 13 and up can learn about healthy spending. There is an optional spending limit that can be customized for every user.
AirTag Bluetooth Trackers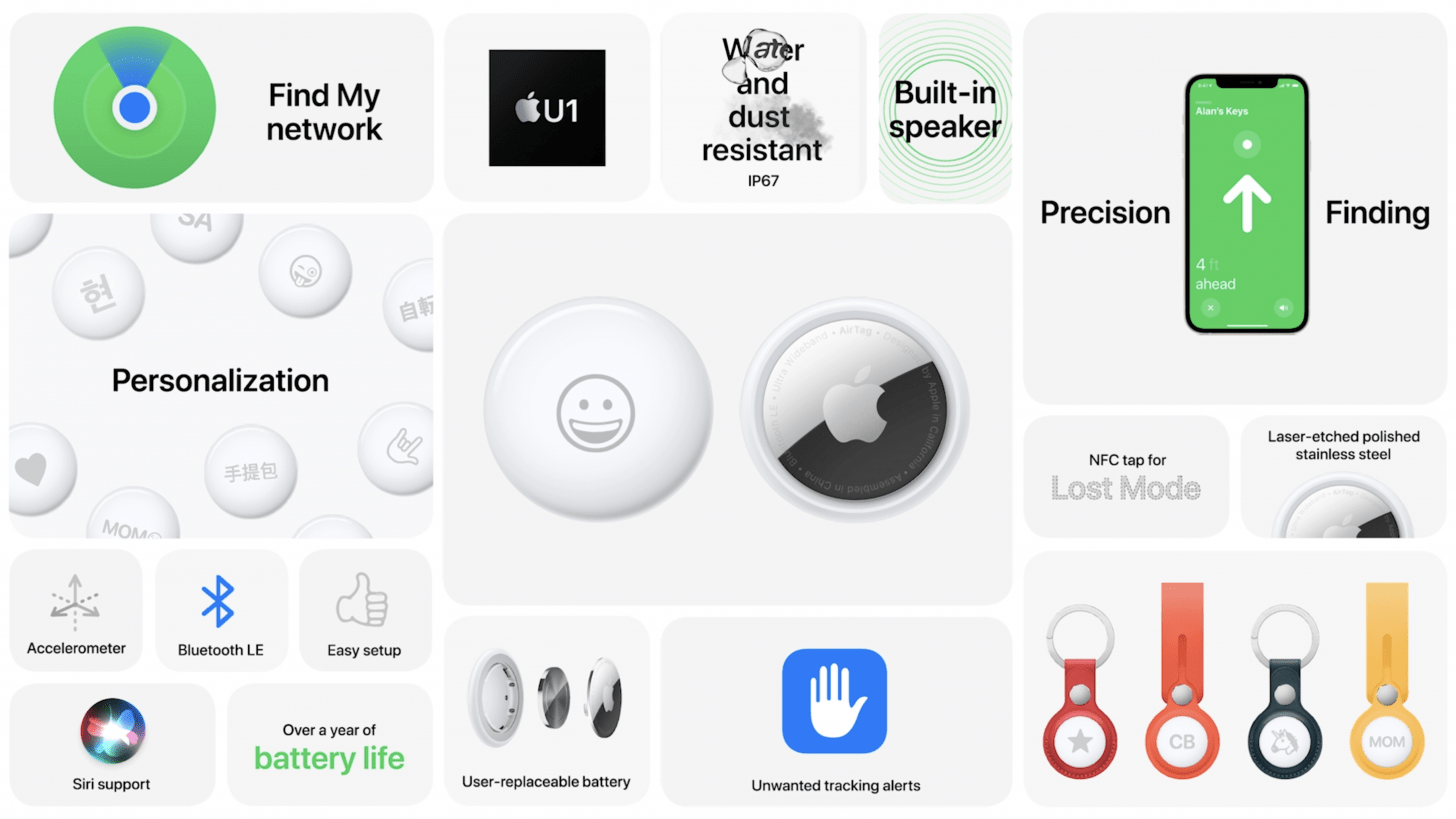 The long-awaited Apple AirTags are small puck-like tracking devices that allow users to attach them to valuables to help locate lost items. The question is: how do they stack up against other keychain finders, such as Tile? Apple AirTags come with some standout features, such as Precision Finding and security settings.
Precision Finding operates through the Apple U1 chip and fuses various inputs to pinpoint the exact location of you and your missing object. This means the Find My app will be able to offer accurate directions to guide you to your missing object, with instructions that tell you whether your lost object is 20 feet to your left or three feet to your right. At the same time, security features such as rotating signal identifiers and end-to-end encryption help to ensure the privacy of location data and the safety of its users.The powerful Apple U1 chip in the AirTags fuses various inputs to pinpoint exact location, which means the Find My app will be able to tell you whether your lost object is 20 feet to your left or three feet to your right. 
That said, AirTags lack some of the versatility of competitors. The AirTags come in only in one size, and do not offer a sticker option. To attach your AirTag to an object, you also need to purchase an AirTag key ring holder, which starts at $29—the price of the AirTag itself. While Apple AirTags have offered useful finding features, it may not be enough to set them apart from other tracking devices in the market.
Pricing
$29 for one AirTag, and $99 for a pack of four.
Availability
Pre-order April 23 
Available in-stores and online April 30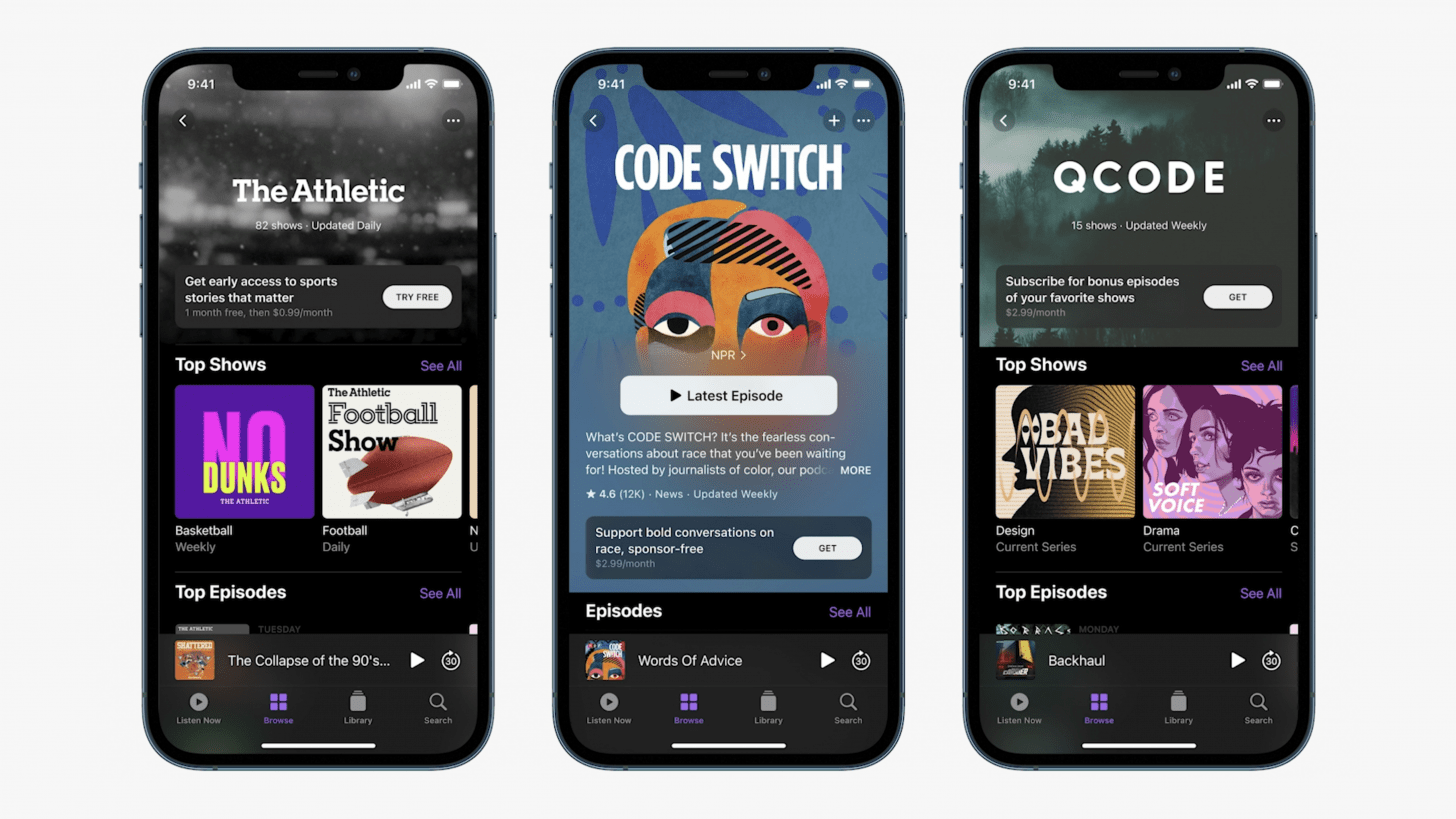 Apple popularized podcasting almost single-handedly back in 2005 when it added podcasts to iTunes. In the years since, podcasts have become a staple: free audio on almost any topic. Now, along with long overdue changes to the Podcasts app, Apple is attempting to create an entirely new marketplace out of podcasts with Apple Podcasts subscriptions. This will empower podcasters to monetize directly from their audiences, while podcast listeners might gain access to ad-free listening or other premium content. Further updates starting with iOS 14.5 promise long-overdue improvements to the venerable Podcasts app.
Pricing
To Listeners: Variable. Each podcaster may set a price for a premium tier
To Podcasters: A $19.99/year subscription lets podcasters monetize their podcast.
Availability:
Premium podcast tiers launch in May of 2021
Additional updates will arrive with iOS 14.5
The iPhone 12 Is Pretty in Purple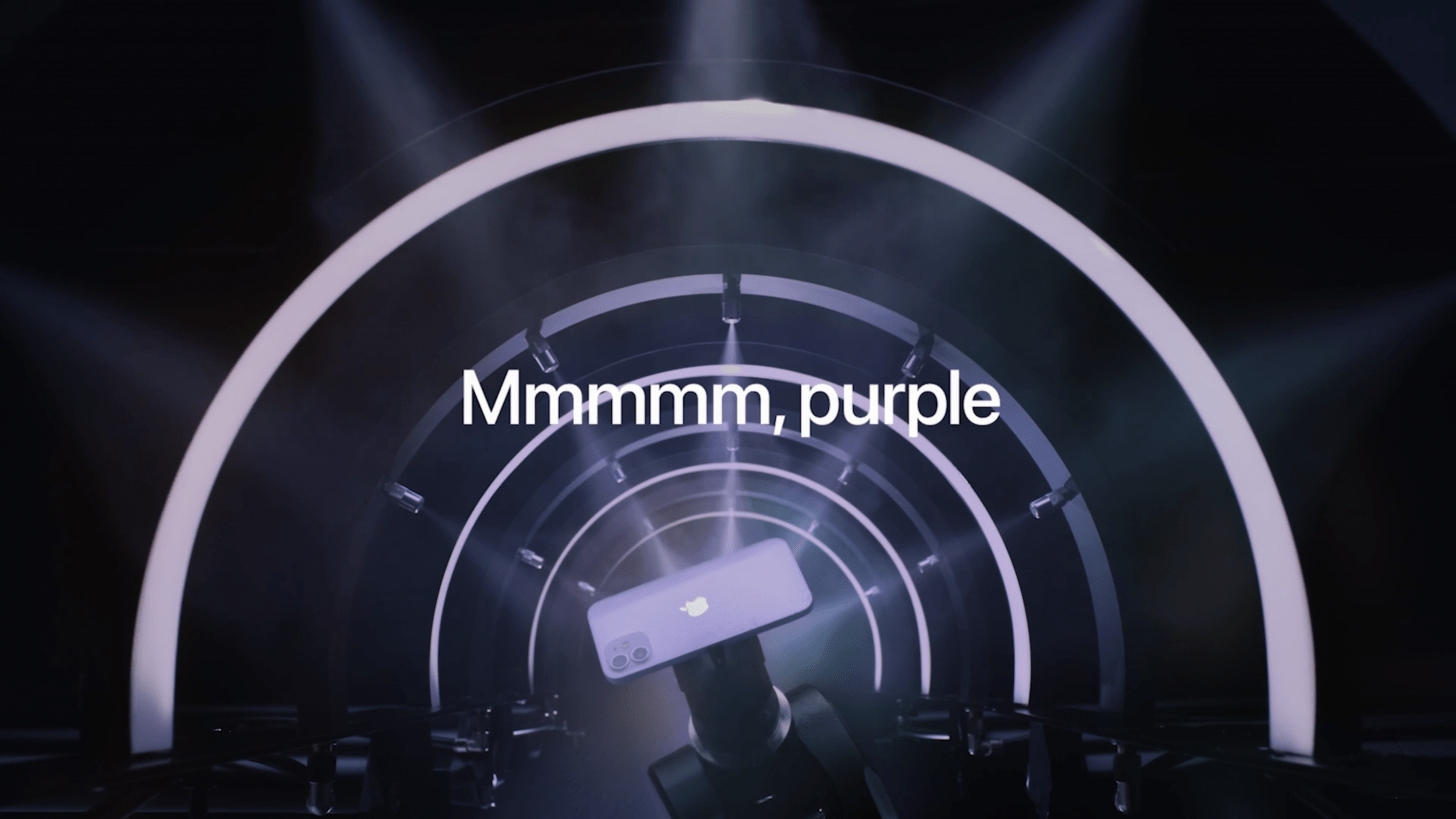 The iPhone 12 and iPhone 12 mini are now available in purple! But is it a great idea to get the new lavender iPhone 12, even one that matches your new iMac, when the iPhone 13 announcement is a mere five or six months away? Wouldn't a purple case on you current phone suffice for those buyers passionate about the new violet hue? Despite the drawbacks, many will find the simple beauty and novelty of Apple's latest eye-catching iPhones worth the price. We'll be watching sales of the purple iPhone in the coming months to see which wins the day, logic or whimsy.
Availability: 
Pre-order April 23 
Available in-stores and online April 30.  
Pricing 
iPhone 12: From $799
iPhone 12 mini: From $699