By

Cullen Thomas
Tue, 04/20/2021
Apple Podcasts will soon offer paid subscription options, letting podcasters earn income in a new and accessible way. The tech giant announced that it will be updating the Podcasts app starting in May 2021 in 170 countries. The update will add the ability for podcasters to create a premium tier of content seperate from their normal free podcast. At the same time, listeners will be able to sign up to pay their favorite podcasters monthly. This will empower podcasters to monetize directly from their audiences, while listeners might gain ad-free versions of shows, extra episodes, early access, and bonus content. Further updates starting with iOS 14.5 promise long-overdue improvements to the Podcasts app, which has languished behind some of its competitors in both features and ease-of-use.
Related: Everything Apple Announced at the April 20 Spring Loaded Event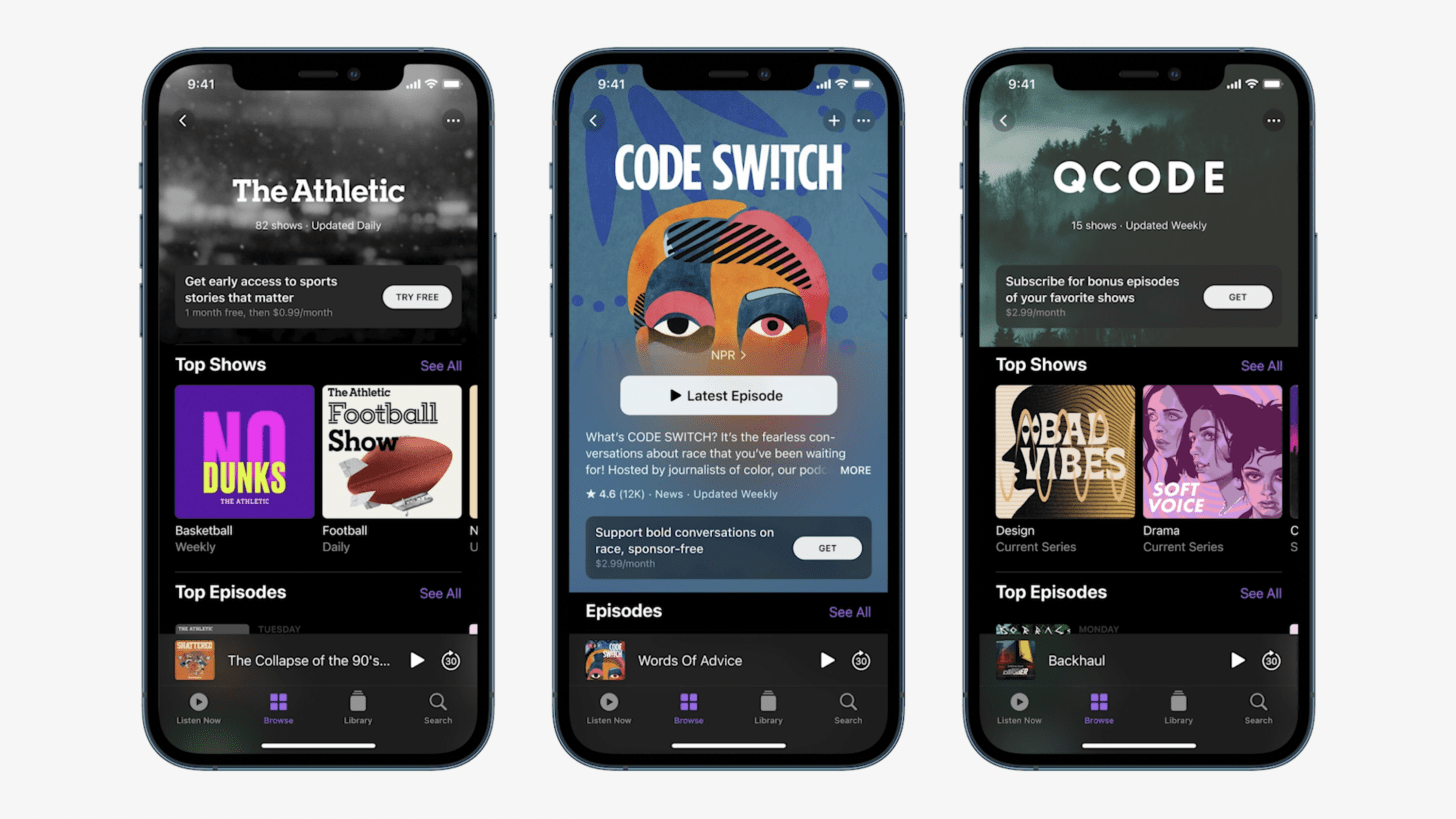 Apple Joins the Podcast Subscription Game
Listener-supported podcasting is not new. Luminary, Podhero, Spotify, and others offer services whereby a user can pay a single fee to the company to gain access to their library of podcasts. Apple Podcasts, with its massive user base, moves this idea into the mainstream, but with a twist: Apple Podcasts subscriptions are per podcast, with prices set by the content creator. This is not a single subscription to a Podcasts Plus-type service like some commentators expected. Instead, you only pay for the ones you want, and podcast creators can choose whether they want to offer a premium service at all.

Discover your iPhone's hidden features
Get one daily tip each day (with screenshots and clear instructions) so you can master your iPhone in just one minute a day.
While these individual podcast subscriptions won't come with an Apple One account, you will be able to share the shows you pay for with family via Family Sharing. The subscription is to the creator, but Apple stands to make some profit, of course: creators who wish to monetize their podcasts this way will have to pay a $19.99 per year subscription to Apple. This will give creators access to a new website, Apple Podcasts for Creators, that will provide education and tools to help make their podcast a success, such as metrics and dashboards.
Updates to the Podcasts App
Further updates to the Podcasts app, starting with iOS 14.5, will bring long-expected improvements to an app that has languished behind some of its competitors in both features and ease of use. Updates to the app's layout will make it easier to discover new podcasts, including 'discover channels' that offer suggestions, 'free channels' presumably useful to distinguish from the paid ones, and an improved search function. Personally, I think it's well past time Apple added this feature: the new Podcasts app will (finally) automatically play serialized shows from the beginning (so each episode adds to an ongoing narrative) and episodic shows from the latest episode (so you get up-to-date news and weather).
These much-needed changes to the app may well bring it back in line with other modern podcast software, an important step if Apple hopes to make the most of its new premium services. But, will paying for a podcast you currently get for free really bring extra value to consumers? As an avid podcast listener, I'm skeptical. If there is a podcaster I enjoy and want to help out, they have probably already set up the option to support them on Twitch, Patreon, or something like Buymeacoffee.com. Apple's platform may make monetization easier, depending on how many people actually use the Podcasts app, which might give more power to great creators to make more great content. But, it might also just be one more cricket in the chorus of ways the internet asks for my money and one more thing that used to be free.
Updated Podcasts App & Apple Podcasts Subscriptions 
Pricing:
For listeners: Variable. Each podcaster may set a price for a premium tier.
For podcasters: A $19.99/year subscription lets podcasters monetize their podcast. As reported by The Verge, Apple will take 30 percent of the podcaster's revenue for the first year of a given subscriber's subscription, and 15 percent each year after that. 
Availability:
Premium podcast tiers launch in May of 2021.
Additional updates will arrive with iOS 14.5 (the date is not yet announced).