By

Amy Spitzfaden Both
Tue, 04/20/2021
One of the biggest announcements from Apple's Spring Loaded event today was the 2021 iPad Pro and its new partner, the M1 Chip. You may remember Apple's new in-house processor from the 2020 Mac line, but the fact that the same processor that powers all the latest Apple computers is now in the iPad Pro is huge, and could mean big things for the iPad. In addition to serious improvements in processing speed, we're also looking at the best graphics card in any tablet currently on the market, even outside of the Apple family. The 2021 iPad Pro also has exciting new camera features, 5G capabilities, and a Liquid Retina XDR display which means bright, crisp, and smooth images, but priced at comparable levels to actual computers, is this tablet heavyweight worth it? Let's take a look.
Jump To:
M1 iPad Pro Price & Availability
Price
11-inch iPad Pro (W-Fi): From $799
11-inch iPad Pro (Wi-Fi + Cellular) From $999
12.9-inch iPad Pro (Wi-Fi) From $1,099
12.9-inch iPad Pro (Wi-Fi + Cellular) From $999
iPad Pro Availability
Pre-order April 30
Available in the second half of May
iPad Pro Colors
Related: Apple Announces New Apple TV 4K
A Closer Look at the 2021 iPad Pro
Last year's iPad Pro refresh was fairly modest, so Apple was sure to really pack the high-powered features into the 2021 model. The iPad Pro includes:

Discover your iPhone's hidden features
Get one daily tip each day (with screenshots and clear instructions) so you can master your iPhone in just one minute a day.
Apple M1 chip
12.9-inch Liquid Retina XDR Display or 11-inch Liquid Retina Display
5G capabilities for cellular models
Pro cameras, including a LiDAR Scanner and an Ultra Wide front camera
Thunderbolt port
Apple Pencil and Magic Keyboard integration
What does all this mean? In short: it's fast and it looks good. Let's get into some of the details.
The iPad Pro Is Now Faster than Ever
Apple loves to highlight the leaps and bounds it's made over previous models, but these can be misleading both in comparison with other technology out there in the market, and when it's been several years since a refresh. This time, however, the claims not only hold up when put in context, but arguably become even more impressive. Apple claims we're going to see up to a 50 percent performance jump in processing speed over last year's iPad Pro, and up to a 40 percent speed increase for graphics. When comparing the graphics performance to that of other tablets on the market, this is probably the best graphics card in a tablet by a lot. The Microsoft Surface up until now has beaten even the iPad Pro in terms of speed, but if Apple's claims are true, the iPad Pro could very well pull ahead.
The new Thunderbolt port is another area where we're seeing a big speed increase. Compared with USB-C, Thunderbolt lets you transfer data twice as fast, and expands your capabilities for external monitors and docks. Best of all, Thunderbolt ports can still take USB-C cables, so you won't have to get an entirely new set of connectors if you're eyeing this upgrade.
Lastly, the cellular version has 5G capabilities, so even your data connection will see a speed boost.
Liquid Retina XDR
If you're opting for the 11-inch version, you'll enjoy the same Liquid Retina display as the previous generation of iPad Pros. It's nice technology, but there's no advancement this year. However, if you spring for the 12.9-inch display, prepare to enter the world of Liquid Retina XDR (XDR stands for extreme dynamic range). Apple has utilized mini-LED technology to create a display with higher contrast, better brightness, and more power efficiency than before. Apple claims each LED is 100 times smaller than the ones used in the regular Liquid Retina displays, creating room for more precision and nuance, and brightness that can be adjusted by zone. Apple says it is shooting for the screen to reflect what we see in real life, and each advancement like this really does bring us closer.
Cameras Keep You Center Stage
Besides the M1 chip, one of the most exciting features of the 2021 iPad Pro is its new Ultra Wide camera and a feature that comes with it called Center Stage. Ultra Wide cameras (the same as what you'll find in the iPhone 12 series) take in a lot more than what they are showing you on the screen, and thus have the ability to behave as though they're panning, even though they're really just displaying a fragment of what they're already seeing. Because of this, Center Stage is able to keep you in the center of your camera display, even as you move about. Say you're cooking dinner and want to video chat with a friend while you do so. Instead of having to prop your iPad just so and then apologize to your friend every time you walk out of frame, you'll stay in the center of the image and the display will adjust around you. It can even adjust for other people entering the frame, leading to even more natural-feeling video chats.
For Gamers & Creators
An interesting feature for the worlds of gaming and film creation are the new AR capabilities that open up with the mix of LiDAR scanners (added to the iPad Pro last year) and iPhone 12-level cameras, working with the power of an M1 chip. Creators are likely eyeing these developments with quite some interest, and it will be interesting to see what comes out of iPad Pro users over the next few years.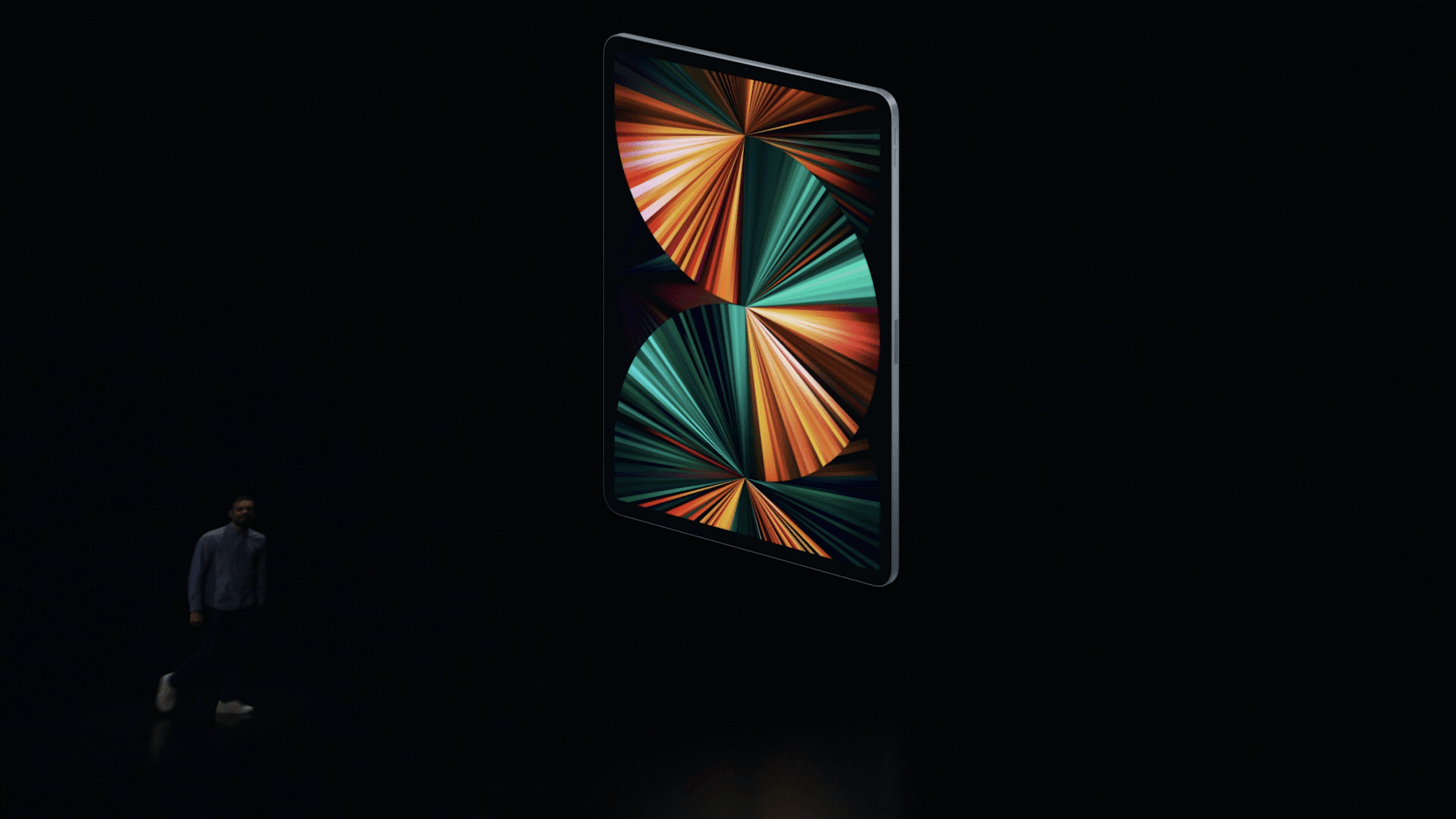 A World of Possibility
The advancements in the 2021 iPad Pro firmly position it as the best iPad available, which has not always been the case. There have been times that the iPad Air was actually better in many ways, so the need for the Pro was questionable. The M1 chip boosts the iPad Pro's performance unquestionably ahead of its kin, making it an easy choice if you're just looking for the best. Better yet, the M1 chip brings great possibility new features and capabilities with the release of the new iPadOS later this year.
Can the iPad Pro Replace a Laptop?
These advancements are exciting. There's no denying that. But have we finally reached a point where working professionals can ditch their laptops for an iPad Pro? Though the price point says otherwise, our answer is currently still no. While there are features that are pulling up fast to laptop, or even desktop capabilities (the M1 iPad Pro graphics are comparable to entry-level desktop graphics), we have so far not seen evidence that the iPad Pro's multitasking capabilities are what you need for it to be your entire work station. The iPad Pro line is marketed toward professionals, that much is true, but currently it seems best suited to be a part of a professional's technological setup, rather than the whole thing. However, the M1 chip could change this. So while we are making room for the possibility that we could see true laptop-level iPads in the near future, for now, let's just call an iPad an iPad.