By

Elisabeth Garry
Updated 07/12/2021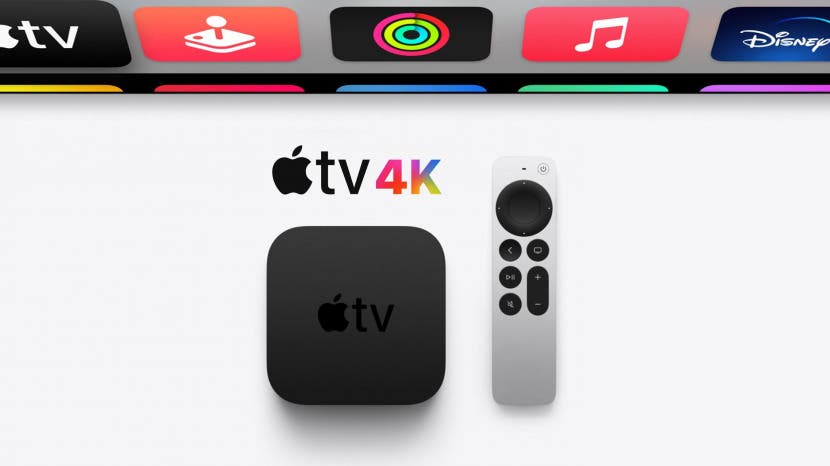 Today at its Spring Loaded event, Apple announced the Apple TV 4K 2021, among a bevy of other new products and services. The new Apple TV features an A12 Bionic chip, high frame rate HDR support, color balance technology, and a much-needed redesigned Siri remote. Sports fans and iPhone videographers in particular should be excited about this new installment in the Apple TV line, as well as anyone who has ever wanted to throw their Apple TV Siri remote across the room. Let's take a closer look at these new features before you decide whether you're in or out.
Related: Everything Apple Announced at the April 20 Spring Loaded Event
Jump To:
Prices & Availability
Pricing
Apple TV 4K 32 GB: $179
Apple TV 4K 64 GB: $199
Apple TV Siri Remote: $59
Availability
Pre-order April 30
Available in the second half of May
The New Chip
The new Apple TV 4K will be powered by the A12 Bionic chip, an upgrade over the A8 chip used in the previous iteration. Some had speculated Apple might upgrade the chip even more, to the A14 chip currently used in the iPhone 12, but in any case, the streaming box will be getting a boost in performance and processing power. It will need it for the other new features it boasts.

Discover your iPhone's hidden features
Get one daily tip each day (with screenshots and clear instructions) so you can master your iPhone in just one minute a day.
High Frame Rate HDR
A big new change for the Apple TV 4K 2021 is that it now supports high frame rate HDR with Dolby Vision. This is sure to be a big hit with sports fans. When you're watching a daytime drama, you might not need it, but when you want to catch every little movement of a play, those 60 frames per second (fps) will be much appreciated.
If you have an iPhone 12 Pro, you're in for an even bigger treat. With high frame rate HDR support and AirPlay, you can now display videos shot on the iPhone 12 Pro on your TV in 60 fps Dolby Vision. This new feature is sure to add an extra bang for the buck for iPhone videographers. To brush up on your iPhone video-taking skills before you get your new Apple TV 4K, sign up for our Tip of the Day newsletter.
Color Balancing Technology
I don't know about you, but I have always dreaded adjusting the settings on my TV. The new Apple TV 4K seeks to take the guesswork out of this particular task. Using the iPhone's light sensors, your Apple TV will compare your TV's color balance to industry-standard specifications and adjust its video output accordingly. All you need to do is hold your iPhone (with Face ID and iOS 14.5 or later) up to your TV screen with Apple TV 4K turned on and follow the directions that pop up on your iPhone screen.
Redesigned Apple TV Siri Remote
Though it may not be as flashy as high frame rate HDR and iPhone-enabled color balancing, for many of us, the redesigned Apple TV Siri Remote is the most exciting aspect of the new Apple TV 4K. Apple listened to its critics when it came to the Siri Remote. The new remote is bigger, a big improvement that will make it easier to use, and the Siri button has been moved to the side of the remote, so it's in the same place that you're used to on your iPhone. The remote is touch-enabled, and it also features a power button and a mute button, both of which are much-needed additions. Not only that, but it also includes a circular gesture wheel that lets you scroll to find your spot in movies and shows.
One thing the new Apple TV Siri Remote doesn't include is a built-in AirTag. With the official AirTag announcement also coming today, we got our hopes up that the new Siri remote would come with this feature, making it easier to find this oft-misplaced accessory. We were disappointed on this point, but on every other count, the new Siri Remote looks to be a big improvement. Even if you don't want to spring for the new Apple TV 4K, you can still buy the new Siri remote for your old Apple TV, and it's a strong enough improvement that many of us will probably do just that. It isn't just the hardware that's getting an upgrade. Check out tvOS 15 and learn how to install the public beta!