By

Guest Author
Tue, 05/09/2017

When Apple introduced iCloud in the summer of 2011, it was groundbreaking in recognizing the need for a hassle-free method of updating information and content across devices. A lot has happened to iCloud since that introduction. Today, with 800 million worldwide users and growing, Apple's iCloud is THE GLUE that binds all our Apple devices and all our information together. So to stay in tune with these changing times, it's essential that we familiarize ourselves with iCloud and its key features. To give iCloud its due, iPhonelife is partnering up with our friends at AppleToolBox to explore and discuss some of the common questions that iFolks have around using iCloud. We'll also give you a sneak peak into some of the planned features in iOS 10.3.
Related: Buying A New iPhone? Your Guide to a Seamless Transition
Apple's iCloud is so much more than just a secure space to store your files. Need directions? Just plan a route using Apple Maps on your office's or home's Mac and get those directions on your iPhone or even your Apple Watch when driving with the help of iCloud integration. Want an easy way to open your garage door? Just set-up some home automation using Apple's Homekit app and use iCloud to give your entire family access and control. Using iCloud, everyone in the family can open the garage door with a simple press of their iPhones!
Master your iPhone in one minute a day:
Sign up to iPhone Life's Tip of the Day Newsletter and we'll send you a tip each day to save time and get the most out of your iPhone or iPad.
As new Apple devices find their way into our households, iCloud increasingly plays a significant role in making sure that the information on all our devices and computers stays synced. The beauty of iCloud is that when we access and update information on one Apple device, all our other devices are automatically updated too. Every device has the latest version period. No more copy and paste!
And for those without a Mac or even an iDevice, iCloud is for you too! Just log in to iCloud.com from any web browser to share and create documents via the internet.
Is iCloud Expensive?
To start with, Apple provides 5 GB of free storage when you sign up for an iCloud account. For many people, this amount of storage meets their need of backing up the most important data on their iDevices. But others should consider purchasing additional iCloud storage, especially folks that enjoy taking and saving a lot of pictures and videos.
In September 2016, Apple upgraded its iCloud storage plans. Now you can easily get 50 GB, 200 GB, 1 TB, or even 2 TB of iCloud storage space to backup all your iDevices and even your Mac's Desktop and Documents.
Our experience shows that the 50 GB for USD $.99 a month is a great option especially if you take a lot of photos and videos on your iDevice. And for those that frequently get the "you are out of iCloud storage" message," this $1 per month plan saves a lot of time in clearing out your device's caches and app clutter. Plus, having this extra storage means no more worries when a new iOS update comes around. It's easy to move things to iCloud to make some space.
So if you find that the 5 GB isn't meeting the demands of your iDevices and Macs, we suggest that you upgrade to the USD $0.99 a month 50 GB plan. See if 50 GB meets your needs. If not, try the next level up until your storage needs are met.
For more information on how you upgrade your free 5 GB iCloud account to a larger plan, read How to Change Your iCloud Storage Plan.
Can I Make Do with Dropbox or Google Drive?
This question is one of the most common things that we hear from our readers. Dropbox and Google Drive are two of the most popular cloud solutions available. We love both for their simplicity, ease of use, and cross-platform compatibility.  
But let's be clear, Dropbox (or Google Drive) is not a replacement for your iCloud needs.
iCloud is the only cloud platform that makes seamless backups and restores for your iPhone, Apple Watch, iPad, or iPod Touch. iCloud is the hassle free way to set-up a new iPhone (or another iDevice) with all your old data. Plus, iCloud integrates with all the Apple apps that come with your iDevice, like Mail, Calendar, Contacts, iMessage, Safari, etc.
And for Mac owners using macOS Sierra, it's easy to add your Desktop and Documents folders to iCloud Drive. Using iCloud Drive means all your documents are updated automatically through iCloud.com, your iDevices, your Mac, and even your Windows computer. You might just discover that you don't need Dropbox or Google Drive anymore with iCloud Drive for macOS.
For those without Macs or macOS Sierra, Dropbox and Google Drive are great places to store PDFs, Microsoft Office (or similar) Documents and so forth. But for your iPhone and other iDevices, stick with iCloud for all your regular backups and for storing all your photos, notes, reminders, and more.
iCloud and WhatsApp Integration
WhatApp is a hugely popular messaging platform for many iPhone users. This third-party messaging app integrates very well with iCloud. After a quick set up, you can easily store all your WhatsApp photos, videos, and chat threads directly into your iCloud!
Setting up iCloud as the back up location for your WhatsApp account is easy. On your iPhone, just tap Settings on the far right bottom corner of the WhatsApp app and then choose Chats > Chat Backup. Select Back Up Now or set up auto back up and set your schedule.
It's as simple as that! Another example of the iCloud power!
5 Essential iCloud Tips Every iPhone Owner Should Know
1. Back Up and Restore your iPhone using iCloud
If you only have time to master one iCloud skill, this is it! At a bare minimum, we all should know how to back up and restore our iDevice using iCloud. For those needing a walkthrough, Jim Karpen provides an excellent step-by-step guide on how to set-up an iCloud backup for your iPhone (and other iDevices.)
iCloud also has an option to automatically back up your iDevice information daily. Unfortunately, several users complain that these automatic backups don't work as intended.
Please remember that for your iPhone to back up automatically, it must be switched on, plugged into power, and connected to Wi-Fi. All three must be present for iCloud to perform an automatic backup.
Our recommendation is to leave your iPhone (or another iDevice) on and charging at bedtime so that the automatic backup happens without any issues.
2. Get a Handle on iCloud Photo Library
iCloud Photo Library is likely the most used part of the iCloud ecosystem. And yet, for many people, it's the most confusing part of iCloud. To clear things up, let's walk you through some of the options in iCloud Photo Library.
First, turn on iCloud Photo Library. There are two ways to get this feature turned on. First, Tap on Settings > Photos and Camera and enable your iCloud Photo Library here. Alternatively, open Settings > iCloud > Photos and toggle iCloud Photo Library on.
Your iCloud Photo Library uploads and stores all your pictures and videos in iCloud so that you can access them using any of your Apple devices and computers.
If your iDevice is low on storage, iCloud offers some options to help streamline your device's photo storage. Once iCloud Photo Library is enabled, you're offered two choices for your images: A) Optimize iPhone Storage or B) Download and Keep Originals.
We recommend choosing Optimize iPhone Storage to maximize space on your iDevice. This option keeps all your original and full-resolution photos and videos on the iCloud. At the same time, smaller, more compressed versions are saved onto your iDevice, thereby consuming less storage on your iPhone. As long as you have sufficient space available in your iCloud account, you can store as many full-resolution photos and videos as you want.
The My Photo Stream is another feature that many iFolks use. My Photo Stream is really a vehicle for sharing your photos versus storing photos. This is the main difference between iCloud Photo Library and My Photo Stream.
Once enabled, My Photo Stream uploads all your recent photos for viewing and importing to your devices and computers. When using My Photo Stream, you manually save each photo to your iDevice or computer by selecting the photos and choosing Share > Save Image. The main advantage of My Photo Stream is that the photos you upload don't count against your iCloud storage.
However, My Photo Stream is not a robust option as it stores a maximum of 1000 photos on iCloud for a total of 30 days after upload. Also, My Photo Stream only saves Photos and does not currently support any video.
For peace of mind, we highly encourage you to enable iCloud Photo Library so that you store all your precious memories securely. Apple Toolbox's comprehensive guide on backing up iPhone photos using iCloud goes into more detail on how to do this.
For iCloud Photo Library and My Photo Stream to work, it's critical that you set up the same Settings for Photos on all your iDevices and computers for this to work flawlessly. If you have iCloud Photo Library enabled on your iPhone, make sure that your iPad and your Mac have it toggled ON as well.
I have accidentally deleted a photo from my iPhone. Please Help!
Irrespective of whether you have iCloud Photo Sharing enabled on your iPhone, Apple provides you an option to recover your photos quickly.
Take a deep breath and tap on your Photos App. Next, tap on Albums at the bottom. Scroll down and locate the "Recently Deleted" folder. Here, you find those deleted photos.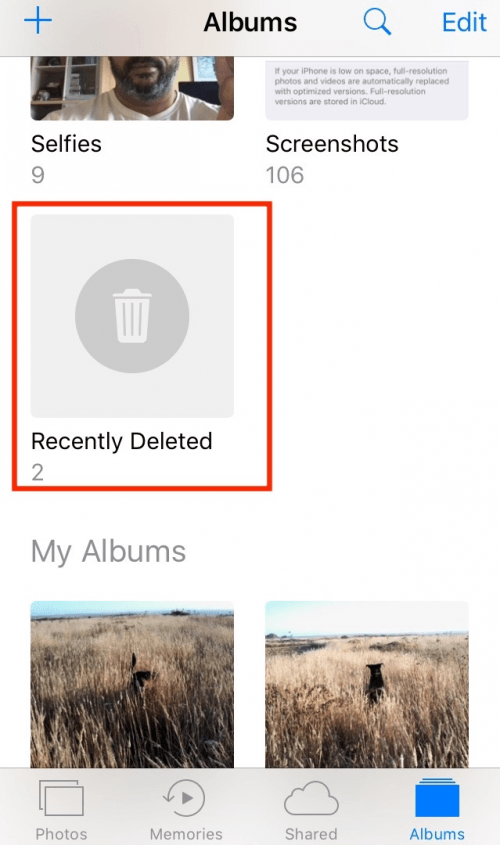 Press the upper-right Select button and choose the photos you didn't want to delete. Once selected, press the lower right Recover button. They are recoverable for up to 30 days following original deletion. Each photo lists how many days remain before it is completely deleted. Once a photo no longer shows up in the "Recently Deleted" folder, it is no longer recoverable.
3. Apple is for Family Sharing
iCloud makes sharing between family members effortless. iCloud Family Sharing permits up to six people to share music, photos, apps, iBooks, and more with each other without sharing each others' Apple ID accounts. Even set up a family calendar on iCloud that keeps tabs of everyone and syncs across all the iDevices in your household. So keep track of soccer practice, swimming and dance lessons, even family vacations, and days off school or work for the entire family!
If you have younger kids (under 18), you (or the family organizer) can set up an 'Ask to Buy' option when you add their account into family sharing. This option ensures that every time your child tries to buy something (including in-app purchases), the family organizer gets a notification and can decide to approve or decline.
One fabulous benefit of Family Sharing is the Sharing Your Location feature. For families with children or aging parents, this feature is a resource and potential worry-saver. When someone joins a family, they're asked to agree or disagree to share their location with the shared family members. If agreed, locations are displayed on family members' iDevices in Find My Friends, Find My iPhone, and iMessage apps. So locating any child (or adult) who doesn't check-in is easy!
This feature is simple to set-up and so go ahead and start a family sharing account on iCloud with just a few clicks. Just be mindful of two rules: you can only be a part of one family, no multiple family sharing accounts allowed. And each member, even children, needs a unique Apple ID.
We think setting up a Family Shared Account makes a great family activity on a Saturday. And remember to take the time to explore and discover all that Family Sharing offers each member, young to old. iPhone Life has an easy step-by-step article that helps you set up family sharing on iCloud for all your loved ones.
4. Track Your Misplaced iPhone Quickly Using iCloud
Find My iPhone is an app from Apple that you use on your iPhone, iDevice, or on your Mac to locate a lost device or computer.
If you set up family sharing, this feature also helps you track every device signed in with a family member's Apple ID so that you can locate that misplaced device.
The "Erase iPhone" feature comes in very handy if you realize that your iPhone was stolen or if you cannot find it.  You use the "Erase iPhone" option to delete all of your personal data from that stolen or lost iPhone.
Enabling "Find My iPhone" is an iCloud feature that we highly recommend that you turn on. If you have not done this for your Apple devices, we suggest that you set up this feature now.  
The next time you panic after discovering you lost your iPhone somewhere over the past few hours, you'll be glad you turned this feature on!
5. What is iCloud.com? Should I care?
iCloud.com is Apple's iCloud website that you can access from any computer (PC or Mac) to check your iCloud account and its contents. iCloud.com is especially useful for times when you do not have your mobile device handy. It's also the site to go to in times when you cannot locate your iDevice.
Say you are on a trip and you have misplaced your iPhone, just use the Find My iPhone feature on icloud.com from any PC (or even someone else's mobile phone or tablet) to track down your iPhone.
iCloud.com also lets you access your emails, photos, and other documents that you have stored on your iCloud. And iCloud.com also allows you to recover (some) deleted documents.
When and How to use iCloud.com
There is a lot more to iCloud functionality! In this article, we shared five essential iCloud features that all Apple users should know and use. But there's so much more that iCloud can do for you. All you need to do is try it out and discover the personal ways iCloud can make your iLife better.
iCloud: What's New in 2017
Apple introduced some exciting changes to its iCloud offerings late last year and early this year. Apple users that interact with the Health App and Apple Watch owners who save their health data will be happy to know that you can now safely and securely backup your health data directly into iCloud.
iCloud is now able to store encrypted health data. All your private health information is encrypted as it moves between your devices and iCloud. And it's encrypted when stored in iCloud. Only you can unlock this encryption via your passcode.
This type of cloud backup was not possible in previous versions. The only option was to use an encrypted iTunes backup to save all your health data. But no more!
iOS 10.3 also includes some exciting changes for Apple users. iOS 10.3 brings an understanding to your iCloud usage. When accessing your iDevice's Settings for iCloud, a simple eye-pleasing graph showcases your iCloud storage use. Tap on Settings > Your Apple ID Profile at the very Top and then tap on iCloud to see your personalized iCloud storage chart.
This graph shows your current iCloud usage, including how much space photos, documents, email, and backups are using. If you are nearing the maximum of your iCloud storage, just tap on the chart and choose "Change Storage Plan" on the next screen.
Outside of this iCloud update, we love the new Apple ID Profile section in iOS 10.3.
This profile menu provides a quick snapshot to your contact information, security settings, payment information, iTunes & App Store info, and Family Sharing status. And it includes a list of all of the Apple devices associated with your Apple ID. Tapping on any of these options opens up menus for further information. Everything connected to your Apple ID is now in one place!
Conclusion
We think it's clear that Apple is working hard to make iCloud more accessible and user-friendly.  As Apple rolls out new devices and new versions of iOS, macOS, and watchOS, iCloud becomes more and more the keystone in Apple's device ecosystem.
We hope that you enjoyed the detailed round-up guide on iCloud. And share your thoughts, questions, or tips with our readers and us in the comments section below.