Learn how to send long videos on your iPhone by compressing files, using AirDrop, and taking advantage of third-party apps.
By

Olena Kagui
Updated 05/20/2021
Sending big video files online can be tricky, especially when you get the dreaded message, "size limit reached cannot send video." Learn to send large files through the mail app of your choice. I will teach you how to AirDrop videos, compress videos on your iPhone, and even how to send larger than 25 MB files in Gmail.
Related to: Photos Not Uploading to iCloud? 6 Ways to Fix iCloud Photo Syncing Issues
Jump To:
How to AirDrop Large Files
AirDrop is a fantastic feature available on iPhones, iPads, and Macs that allows Apple devices to send and receive files via Bluetooth. While there is no limit to the size of file that you can send using AirDrop, but sometimes a larger file may fail to send or take a long time.
Find the file that you want to send. Tap the video. I will be using a 9 GB video as an example. 


 
Tap the share button.


 
Select AirDrop from the share sheet.


 
Tap the device that you want to share to. You may need to accept the file on the receiving device, depending on your security settings.


Pro Tip: You can only AirDrop to and from Apple devices. If it isn't working, check out these AirDrop troubleshooting tips.
You will need to make sure that your AirDrop is enabled on the device that you are sending the file from and receiving the file on. Read this to learn how to turn on AirDrop. Also, take a look at this article about customizing your iPhone share sheet. To learn more about taking selfies with an iPhone, sign up for our free Tip of the Day newsletter.
Sharing Videos through iCloud
You can share videos and other larger files via iCloud. Videos are straightforward to share as long as you have your iPhone or iPad photo library set up to automatically backup to iCloud.
Download Automatically Backed-Up Videos
To download a video from iCloud from your computer:
Sign in to iCloud using your Apple ID.


 
Click on Photos.


 
Under Media Types, select Videos.


 
Click on the video you want to download.


 
Click the Download button.


Pro Tip: You can find other types of files in the iCloud Drive folder. You can do this on Windows computers as well as Macs.
How to Send iCloud Files as Email Attachments
Your iPhone and iPad come with a pre-installed Files app, which can help you access files and videos. All files that are saved in the Files app are backed up in iCloud Drive. These can be downloaded but also sent via email as long as they are under 302MB in size.
Open the Mail app.


 
Tap Compose.


 
Tap inside the body of the email.


 
Tap the caret next to the predicted text.


 
Select the document icon.


 
Find the file you want to send and tap it. It can take a few moments for it to appear in the email body.


 
Once you add a contact you can tap send. 


To email photos and videos, you will need to tap on the gallery icon. To get to videos, you will need to tap on Album and then videos. These step-by-step instructions on how to attach a file on the iPhone Mail app.
Using Mail Drop on iPhone & iPad
Mail Drop allows you to send files that are larger than 302 MB and smaller than 5 GB in size. If you try to attach a file within that size range, you will get a pop-up menu asking if you want to Use Mail Drop or to Try Sending Attachment. If you select Use Mail Drop, the file will be delivered using iCloud and will be available for download for 30 days.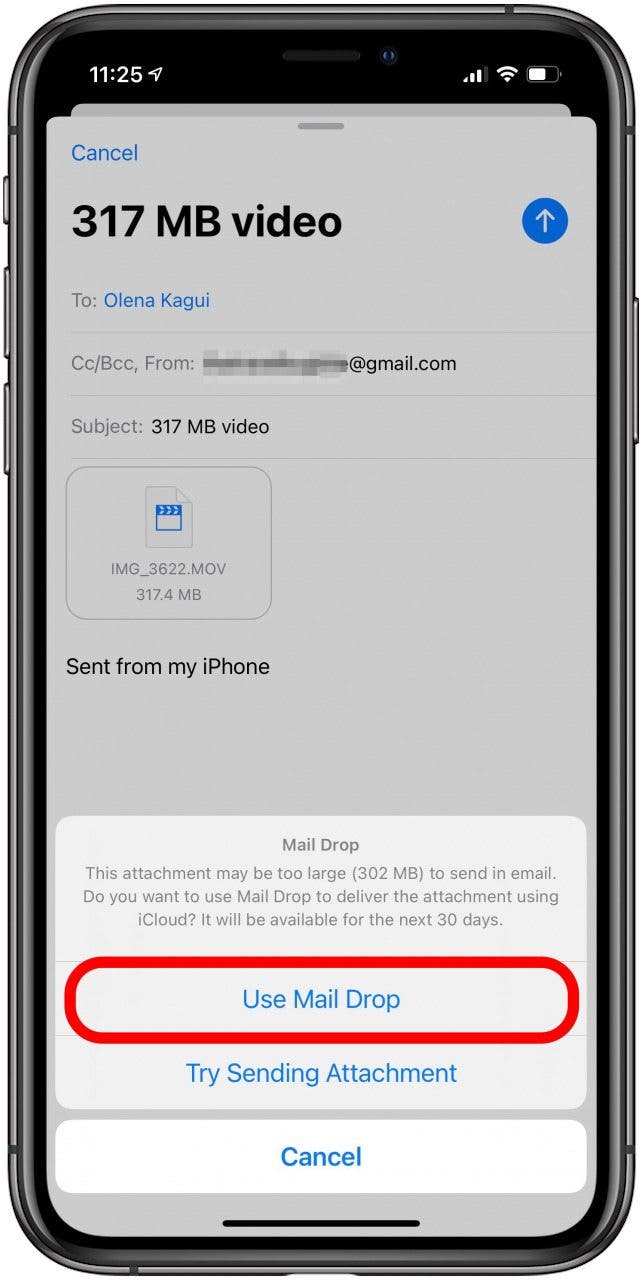 How to Email an iCloud Link
A quick way to share files via iCloud is by emailing the link to the specific file you want to download on another device.
Open the file you want to share.


 
Tap share.


 
Tap Copy iCloud Link. If your file hasn't been uploaded to iCloud yet, this may take a moment.


 
Paste the link in a new email, text message, or social media messanger.


 
To download the file, you will need to open the link on the device you are sharing to.


 
Log in to iCloud with your Apple ID, tap the video, and download the file.


If you were wondering how to send movies to iCloud, you can follow the steps above to do this. Make sure that you have enough space on your iCloud. You can always change your iCloud storage plan or check out these tips to free up space on your device.
Compress Files on iPhone
For faster sharing or to send files larger than 302 MB, you can compress them in the Files app.
Open Files app.


 
Find the file you want to compress.


 
Tap and hold the file until a menu appears. Then tap Compress.


Photos and videos are generally not stored in your Files app, but you can save them there:
Open the video you want to save to Files.


 
Tap share.


 
Select Save to Files.


Using Third-Party Apps to Share Larger Files
You may be wondering, "Where can I upload large video files for free?" There are several options to consider. Learn how to send large video files from iPhone using links generated by OneDrive, DropBox, and Google Drive:
OneDrive
OneDrive is great because it offers up to 100 GB of free storage. You just need to sign up for Bing Rewards. The paid per-user plans cost 5 TB for $5 per month or unlimited for $10.
To share a larger file on OneDrive, you can upload files to the Drive and then use their website on another device to download it. Or you can also generate and send a OneDrive link via email, which is just like sending the iCloud link.
DropBox
While DropBox has a paid service where you can store up to 5 TB and share the account with three people for $12.5 per month, The company offers unlimited storage for $20 per month.
The free version only offers 2 GB of space, but you can take advantage of thespecial promotion that offers 25 GB of free storage. This is only offered to new accounts, so you may consider opening a new one with a different email address if you already have an existing one.
You can upload files to DropBox and use the website to download them on another device, or you can send a link.
Google Drive
How many MB can send in Gmail? Just 25 MB; that's a lot less than the iPhone Mail app. So, how big of an email can you send? If you use Google Drive, you can send links to larger files via Gmail. You can get up to 15 GB of Google Drive storage for free, potentially more if you own a Google phone or a Chromebook.
You can also pay for more storage. 100 GB costs $1.99 per month, 200GB costs $2.99 per month, 2TB costs $9.99 per month, and 10TB costs $99.99 per month. If you have already used all 15 GB of storage, you can always consider opening a new account to get more.
Just like with iCloud, OneDrive, and DropBox, you can use Google Drive to download files directly on the device that you want to share a larger file to, or you can send a link to the file via email. Using this method lets you send full quality videos.
Now you know how to send a large video through email! You also know how to AirDrop videos and take advantage of free third-party apps! All these methods can also be applied to large PDFs and other file formats. Now that you know how to transfer huge files over the internet consider trying out some RAW iPhone photography!