By

Conner Carey
Updated 01/17/2023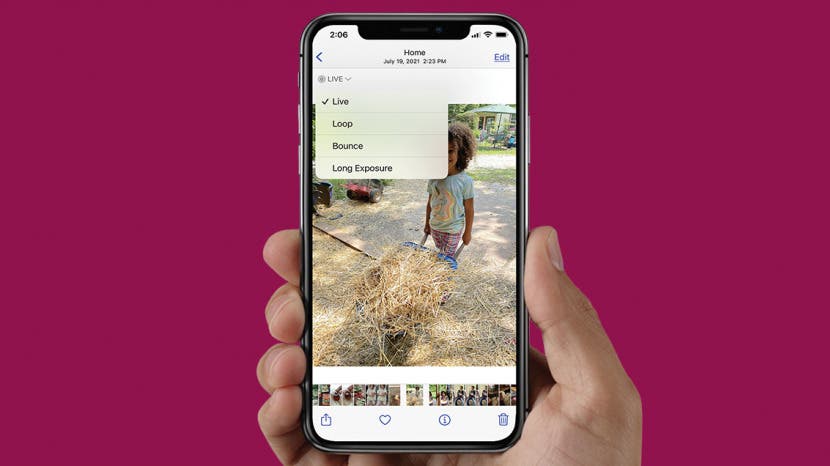 * This post is part of iPhone Life's Tip of the Day newsletter. Sign Up. *
I'm no photographer, but Apple's long exposure feature for iPhone allows me to make any Live Photo look almost as good as a real long-exposure picture. Here's how to use the Long-Exposure iPhone feature with a Live Photo on iPhone.
Related: How to Make a GIF from a Live Photo on Your iPhone with Lively or the Photos App
Why You'll Love This Tip
See your Live Photos in a new way.
Get motion-filled, dreamy photo effects.
How to Use the Live Photo Feature for Long-Exposure Photography
A Live Photo is a short iPhone moving picture. Your iPhone captures the audio and video 1.5 seconds before and after you tap the shutter button to snap a photo. You can do all kinds of things with a Live Photo, even share Live Photos to Facebook! When Apple added the Live Photos features, they included the ability to turn a Live Photo into a long-exposure photo, mimicking the effect of a long-duration shutter speed in a traditional camera. Long-exposure photos are often used when the photographer wants to see motion blurs or light trails, or to capture low-light scenes. Surely you've seen those beautiful photos with stars forming circles in the sky or a river with water that looks like smoke—those are photos that used long-exposure photography.
For more great tutorials on how to edit photos on iPhone, check out our free Tip of the Day. 
Open the Camera app and take a Live Photo that would work well with the Long-Exposure Effect. For your first time, try taking a Live Photo of running water or another moving subject.


 
To use an existing Live Photo, open the Photos app.


 

Tap Live Photos under Media Types.


 
Tap a Live Photo.


 

Tap the caret next to Live.


 
Scroll to the right and tap Long Exposure.


To learn what happens when you select Loop, read this article!
Now your Live Photo has a Long-Exposure Effect! With the Long-Exposure Effect, your Live Photo will turn into a still photo. This is because the Effect uses the multiple shots that comprise a Live Photo to create the Long-Exposure Effect.
If you decide you don't want to use the Long-Exposure Effect, simply tap the caret again and tap Live to turn the photo back into a Live Photo. I hope you have lots of fun experimenting with this great feature!