Continuous loop videos, also known as boomerang videos, are really fun! I'll teach you how to make a video loop on iPhone with and without an app.
By

Olena Kagui
Mon, 05/02/2022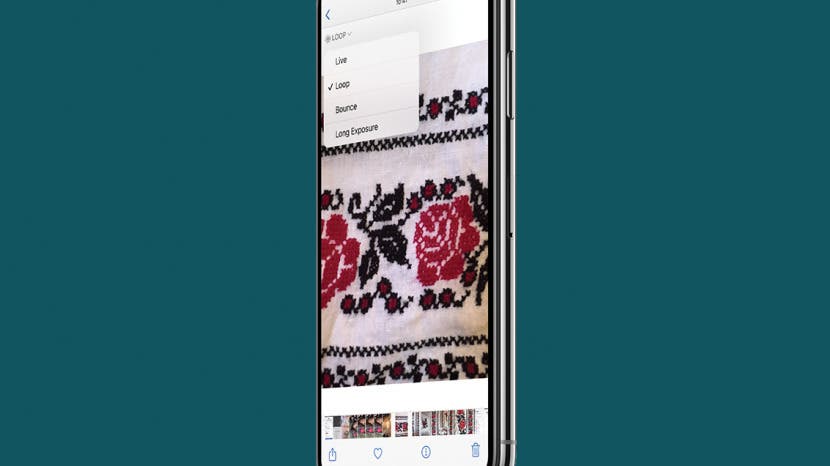 Looping videos refers to making a video to replay indefinitely. I will teach you how to turn a video into a boomerang using free third-party apps. Plus, I'll remind you how to loop a Live Photo to turn it into a short loop video. Let's get started!
Jump To:
How to Loop Video on iPhone
There are many third-party apps that can loop a video. I'll show you how to do it with Boomerang Maker - Loop Video (free). 
Open the App Store.


Search for Boomerang Maker - Loop Video.


Tap GET, double-click the Home button, and open the app.


 
The first time you use it, you'll have to give the app permission to access your Photos app. You can tap Select Photos… to only provide it with access to specific content. If you do this, you'll have to keep giving it access every time you want to make a new loop video. I prefer to tap Allow Access to All Photos.


Select a video you wish to loop.


If you wish to only loop a specific section of the video, drag the blue bars to adjust or shorten the video by dragging the blue bars.


You can also change the ratio by tapping the arrows pointing in.


Tap Next when you are ready to create the loop.


You now have a looping video that goes in a forward-reverse direction. You can change the direction or remove the watermark if you upgrade to a paid version of the app.


Swipe right or left to show more editing options like slow down or speed up the video or change the number of repetitions.


Tap Save when you are done.


You can save it as a video or a GIF. Since your iPhone isn't equipped to play loop videos, the video will not play continuously in your Photos app if you save it as a video.


I'll select GIF and tap Save to Photos.


You can swipe left next to Save to Photos you can share it via another app or post it to your social media page.


The video or GIF will appear in your Photos app. If you save it as a GIF, you will see it loop continuously, and there won't be a watermark.


The paid features of the app can be enabled for $1.99/month, $14/99/year or a $24.99 one-time fee.


Now you know how to make a video loop or video looper, as some people call them! Don't forget to sign up for our free Tip of the Day newsletter to learn more iPhone tricks.
How to Loop a Video on iPhone without an App 
Unfortunately, there is no way to loop a video without a third-party app. There are inconvenient workarounds like inserting the video into the Pages app where you would set it to repeat and then record the screen. However, the video would require further editing and would not have sound. 
Plus, if you wanted to make a 10-hour loop video, for example, you'd need to screen record for 10 full hours without using your phone, and that would take an incredible amount of storage, and you'd need to have the phone plugged in and not use it in the entire time. 
The only way to loop videos without an app effectively is to take a Live Photo and turn it into a loop in the Photos app. You may be wondering how to make a video a Live Photo, which, unfortunately, isn't possible. You can only save a Live Photo as a video but not vice versa. Using the app I mentioned above is a much better solution!
You now know how to make a video, a boomerang, boomerang looper, or whatever you call this fun video format. We hope that more loop video iPhone features are coming up in future iPhone software updates. Until then, you know how to loop videos on your iPhone in several ways!