Want to know how to make GIFs from Live Photos? We'll show you how to share videos and GIFs made from your Live Photos.
By

Conner Carey
Updated 10/17/2022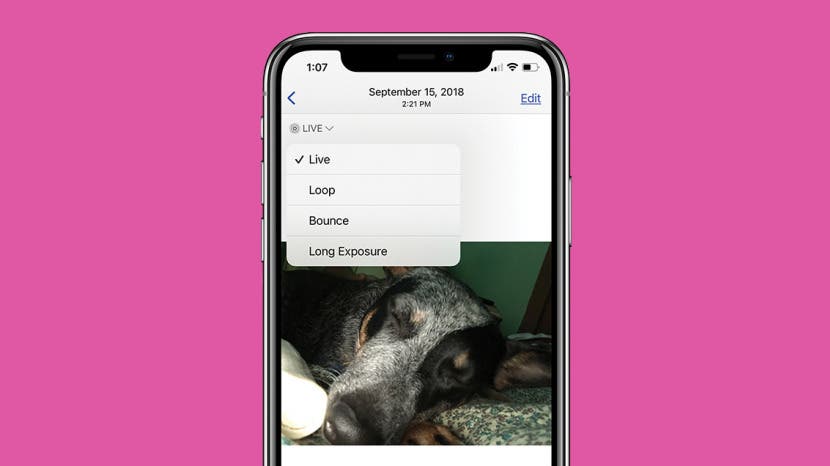 Can you make a GIF out of a Live Photo? Yes, you can turn a Live Photo into a GIF, either Bounce or Loop, with an official Shortcut, or just share it as an .MOV file directly from the Photos app. We'll show you how to do both in this short guide.
Related: Live Photos: The Complete Guide to the iPhone's Moving Pictures
How to Make a GIF or Video from a Live Photo on an iPhone
Want to learn how to make a Live Photo into a video directly from the Apple Photos app on your iPhone or iPad? It's quick, easy, and for most of your Live Photo sharing purposes, it's all you really need. If you need to turn your Live Photo into a literal GIF file, this is also easy to do by adding an official Shortcut, and we'll explain this next. For more on Live Photos, check out our in-depth guide and photo-sharing tutorials. When you're done, be sure to sign up for our free Tip of the Day newsletter.
Open the Photos app.


Tap the Albums tab, then scroll down and tap Live Photos under Media Types.



This will show a grid of all the Live Photos in your library. Tap the one you want to share to open it.
Tap the Live Photo icon.



You'll see Live Photo with a check by it, then Loop, Bounce, and Long Exposure.
Tap on Loop or Bounce to select the animation style you prefer.



Tap the Share icon to share your Live Photo however you'd like.


How to Convert a Live Photo or Video to a GIF File with a Shortcut
For the most part, if you want to share a fun Live Photo with friends or family, sharing it directly from the Photos app is really all you need.  It will share the Live Photo as a short .MOV video file, however, so if you want to create an actual GIF file, follow the steps below.
First off, open up the Shortcuts app.


The Shortcuts app can do all kinds of things, and while you can create customized shortcuts yourself, there are also many official, premade shortcuts you can find in the Gallery tab.



At the top of the Gallery tab, tap into the Search field and type in GIF.


You should see a shortcut appear named simply Make a GIF appear from the search. Tap it.



This screen will give you a little more information on the shortcut. This one is pretty simple, so there isn't much to see.  Just tap the Add Shortcut button.


Now, whenever you want to turn a Live Photo into a GIF, all you have to do is tap the Make a GIF shortcut in the Shortcuts app.



When you do, it will open a window to let you select the Live Photo you want. The easiest way to do so is to tap Albums at the top.


Next, scroll down and tap the Live Photos option under Media Types. This will open a grid view of all your live photos. Just tap the one you want to convert!



After you tap the Live Photo it will play it in a small window over the Shortcuts app. If it's the right one, just tap the Done button. You'll find the new GIF-format version of the Live Photo in your Photos app.


If you don't feel like making your own, check out this article on how to save GIFs on your iPhone. Also, if you enjoyed this tip, you might also want to learn how to scan photos on iPhone or how to add emojis to photos!