By

Ashleigh Page
Updated 02/02/2023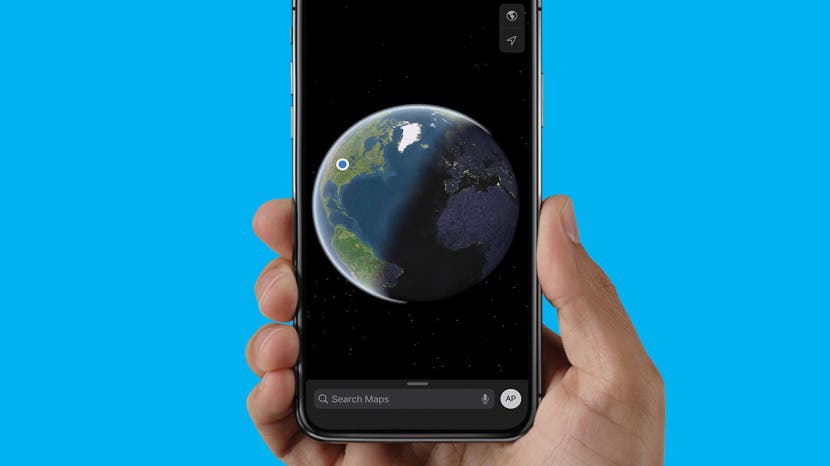 * This post is part of iPhone Life's Tip of the Day newsletter. Sign Up. *
Flat earth, no more! In older versions of Apple Maps, zooming out showed you a flat display of the world. But with the recent updates to Apple Maps in iOS 15, you can now zoom out to access an interactive, highly detailed, three-dimensional globe! We'll show you how to use this fun new feature on your iPad and iPhone.
Related: How to Find Hidden or Missing Apps on Your iPhone

Discover your iPhone's hidden features
Get one daily tip each day (with screenshots and clear instructions) so you can master your iPhone in just one minute a day.
Why You'll Love This Tip
Learn geography and explore distant places within the Maps app.
See details like borders, roads, landmarks, capitals, and more by spinning the interactive globe on your iPhone.
Use Satellite and other view settings to see the world in a whole new way.
Important: Since this Maps feature is new to iOS 15 and iPadOS 15, if you have an earlier software version you will need to update to iOS 15 or iPadOS 15 before using this tip.
How to Find the Interactive Globe in Maps (iOS 15)
Follow the steps below to learn how to access, switch views, and explore the world with the 3-D globe on your iPhone or iPad. For more fun tips on mastering the new features available in iOS 15 and iPadOS 15, check out our free Tip of the Day newsletter! Here's how to use the globe in Maps on iPhone or iPad:
Open the Maps app. 


 
Pinch your fingers together on the map to zoom out until you see the globe view.


 

Spin the globe by swiping left or right.


 
Zoom in on a specific area of the map to view more detail. To do this, reverse-pinch the screen by moving your thumb and forefnger apart.


 

To change your map view, tap the folded-map icon in the upper-right corner. This icon will look a little different depending on your current map view setting.


 
Choose from the various options, such as Satellite view, by tapping on your view of choice.


 

If you want to leave your current view and return to the standard globe view, tap Explore. 


 
Tap the arrow icon to orient the map to your current location. 


 

You can also type the name of a specific country, city, or landmark in the Search Maps field to zoom in on that location. 


That's all there is to it! Now you can play with the Maps app interactive globe to your heart's content. What's the coolest location you looked up when using this tip? Tell us in the comments!