Here's how to shorten a video in the Photos app on a Mac by cutting or trimming.
By

Leanne Hays
Updated 02/16/2022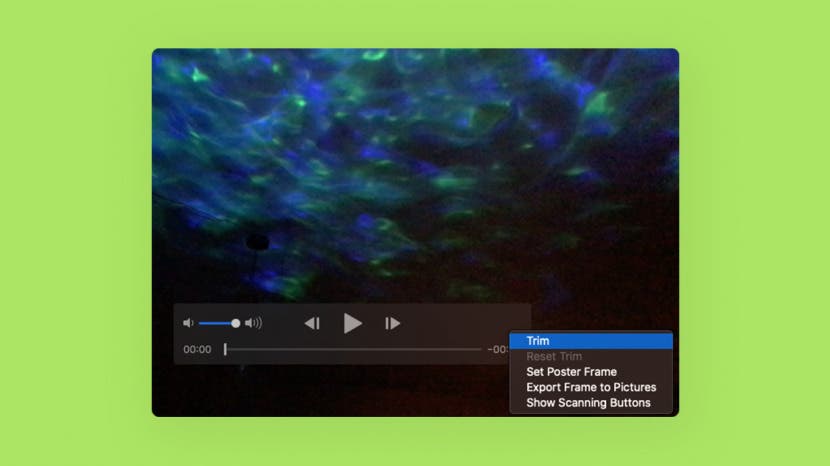 I take tons of videos of my kids and pets, but I edit my videos down to the highlights for friends and family. If you'd like to know how to shorten videos on your Mac, here's how. We'll also go over how to reverse the changes and go back to the original video. 
Related: How to Tilt & Rotate Photos on Mac
How to Trim a Video on Mac
Here's how to shorten or trim videos on a Mac. While you edit photos and videos on a Mac, if you regret cutting your video and want to reverse the changes, we'll also show you how to undo a trim. To learn more about managing your videos, check out our free Tip of the Day newsletter.
***Note*** This is a different process than when we taught you how to crop videos on a Mac. 
Open the Photos app, scroll down to Media Types under Albums, and click Videos. 


 
Double click on the video you want to trim, hover over it, click the gear icon, and click Trim. 


 
Drag the ends of the yellow frame to trim the beginning or end of the video, or both. 


 
Click Trim to save your edits, or Cancel to remove them. 


How to Revert a Trim on Mac
Open the Photos app, then open the video you trimmed, hover over the video, and click the gear icon again. 
Click Reset Trim. 


Now your video will be returned to its original state. If you liked this tutorial, you may also want to learn how to tilt and rotate photos on a Mac, in case they're not straight. Happy video editing!