By

Leanne Hays
Updated 06/14/2023
What to Know 
You can do a reverse image search on Google Lens for iPhone using any browser. 
Reverse image search to find an image's original source, learn its copyright status, and track copyright violations.
Doing a free reverse image search can also protect you from catfish or online scammers pretending to be someone else.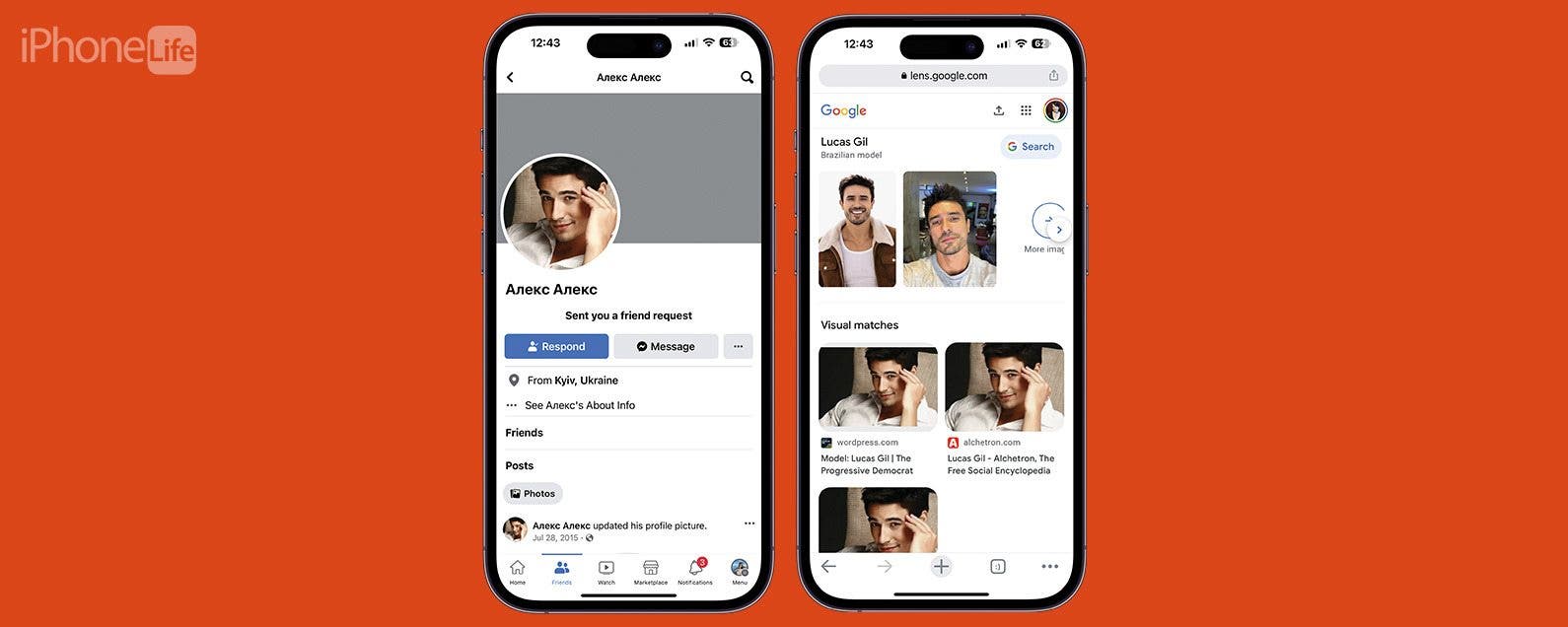 There are many reasons why someone may want to perform a reverse image search on iPhone. You can discover a lot about an image when you do this, including the original source, other websites using it, and the license agreement that can tell if you can use the image for private or commercial use.
Jump To:
Before you begin, make sure you know how to save or copy an image on your iPhone.
How to Do a Google Reverse Image Search on iPhone
Although Safari is the default browser on iPhones, many users enjoy using Chrome to do their web browsing. If Chrome is your preferred app, here's how to do a reverse image search with Google Lens on iPhone. For this example, I will check the Facebook profile image of a sketchy friend request to see if they are a catfish or not.
Now you know how to do a free reverse photo lookup using Google Chrome! You can also do the same thing using other browsers, but the 3rd and 4th steps may look a little different based on which browser you use. For more tips like this, such as how to photo search by location on your iPhone, sign up for our free Tip of the Day newsletter.
How to Google Reverse Image Search Using Safari
You can do a Google reverse image search with Safari in much the same way as in Chrome. If you are using Safari to reverse image search, open images.google.com in Safari. Then:
Your phone may automatically transfer you to Google Lens. If it doesn't, skip to step 5. The first time you do this, you will have to allow access to your photos. To do this, tap Allow access and follow the on-screen directions.


Tap the image to select it.


Here you will see anything that GoogleLens identifies, in this case, the breed of my dog. Tap the search icon.


Here you can see other websites that publish it or tap More Sizes.


Tap Request Desktop Website.


You'll get this familiar view from the section above, and you can follow the same steps to perform a reverse image search.


FAQ
Can you reverse image search on iPhone Safari? Absolutely! Though Google reverse image search is the most popular way to find the source of an image, you don't have to use Google Chrome to use Google Lens to reverse image search. See this article's section on how to reverse image search in Safari.
How do I reverse image search in Camera Roll? You can use Google Lens to reverse image search a photo straight from your Camera Roll. See an example of how to select an image straight from your Camera Roll below.
Can you reverse image search a screenshot? Absolutely! Google Lens even offers a dedicated screenshots section for you to choose from, so you can use a screenshot to reverse search any image you find on your iPhone. See an example below.


There you have it. Now you know how to search by image and how to reverse image search! Now you can spiff up your social media presence or blog knowing that you have done your due diligence and are using these images legally. Plus, you have a way of catching those pesky catfish, which you can then report to Google or the social media platform you are using so that they don't trick anyone. If you enjoyed this tutorial, you might want to check out how to delete frequently visited sites on the iPhone Safari app next!