For a smooth Apple Watch resale or trade-in, erase your Apple Watch and remove it from your iCloud Account.
By

Olena Kagui
Tue, 03/30/2021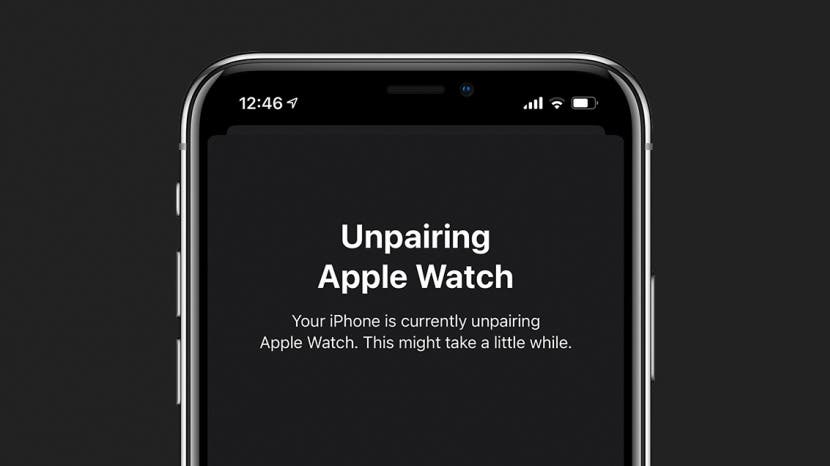 Upgrading to a new Apple Watch is exciting, but it requires some thought to avoid losing your activity streaks and keep your data safe. Are you asking yourself, "what should I do before I sell my Apple Watch?" Important steps include learning how to unpair an Apple Watch from your iPhone and reset the Apple Watch. Discover everything you need to know about selling your watch, including removing the Apple Watch Activation Lock.
Related to: Which Series or Model is My Apple Watch?
There is no actual option to factory reset your Apple Watch. You can get the same results by unpairing. It is best to unpair your Apple Watch when you already have your new watch. This way, you can automatically sync all your latest data to avoid gaps in your health information and fitness streaks.
How to Unpair Your Apple Watch from Your iPhone
Bring your iPhone and Apple Watch near each other and turn on both devices.
Open the Watch App on your iPhone.


 
Tap All Watches.


 
Under My Watches, identify the watch you want to sell and tap the information icon.


 
Tap Unpair Apple Watch.


 
Confirm that you want to unpair. If you have a cellular watch, you will be asked if you want to keep or remove your plan.


 
Enter your iCloud password and tap Unpair. If you don't remember your password, learn how to reset a forgotten iCloud password.


 
Your Apple Watch will take a few minutes to reset. Once it's done, your watch will prompt you to pair it to an iPhone.


Now you know how to hard reset your Apple Watch by unpairing it. To learn more about using the Apple Watch, sign up for our free Tip of the Day newsletter.
Pro Tip: If you can't tell in the Watch App which watch is the one you are selling, you can tap the info button and select Find My Apple Watch. If you tap Play Sound, your watch will make ding for easy identification.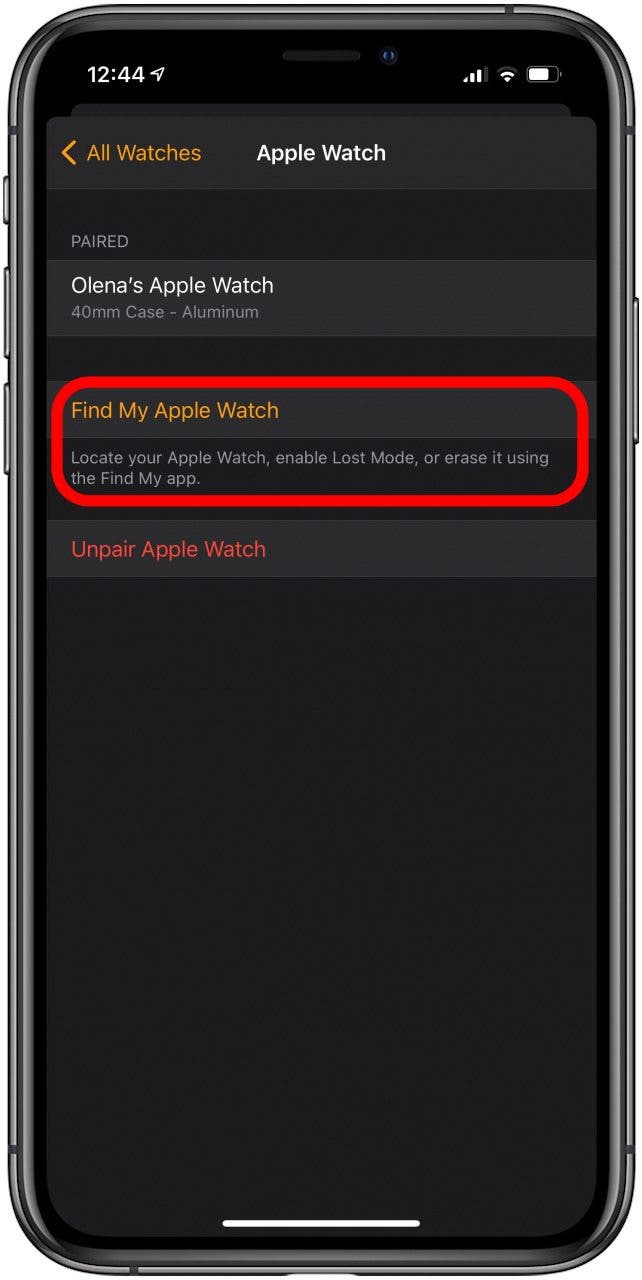 When you unpair your Apple Watch, it erases the data on it. However, if you don't have your iPhone, you can also erase the data using just the Apple Watch:
Launch Settings on your Apple Watch.


 
Tap General.


 
Scroll down and tap Reset.


 
Tap Erase All Content and Settings.


 
Confirm that you want to Erase All.


Erasing your Apple Watch does not remove the Activation Lock. You can do this via iCloud if you don't have access to your iPhone or Apple Watch.
Even if you have already erased your Apple Watch and unpaired it from your iPhone, you still need to remove it from your iCloud Account.
This is how to disconnect your Apple Watch from iCloud:
Go to iCloud.com. You can do this from the browser of any device, including someone else's iPhone.
Tap Find iPhone.


 
Sign in to your iCloud Account. You may need to do a two-factor authentication using one of your devices.


 
Tap on the Apple Watch you want to remove. If you've already erased or unpaired it, it will appear Offline.


 
Tap Erase Watch if you haven't already erased it. You may need to enter your iCloud password again. You will be asked for a phone number and to confirm a message on your Apple Watch in case it is found. Keep tapping next.


 
Tap Remove from Account.


 
Confirm that you want to remove it.


Your Apple Watch is almost ready to be handed over to its new owner! If you don't have a buyer yet, read about where you can sell it and how much you can sell your Apple Watch for.
As with any used item you plan to sell, it is a good idea to clean your Apple Watch. 
Make sure your Apple Watch is off and removed from its charger.
Remove the Apple Watch band.
Wipe your Apple Watch clean with a damp nonabrasive, lint-free cloth.
Dry your entire Apple Watch with a nonabrasive, lint-free cloth.
According to Apple Support, a lightly dampened cloth can be used if necessary. If you have a water-resistant Apple Watch model, you can also hold it under warm freshwater for up to 15 seconds. 
You should not use any soaps, bleach, or cleaning products on your watch. However, you may use a 70 percent isopropyl alcohol wipe or Clorox Disinfecting Wipes to wipe your Apple Watch to disinfect it gently.
If you are selling your watch with a band, use these tips to clean your Apple Watch band. There are different safe methods depending on the band's material.
Now that your Apple Watch is ready to sell, you should know what to expect. This includes figuring out where to sell your Apple Watch and how much you can sell the Apple Watch for.
One of the easiest ways to get money for your Apple Watch is to trade it in directly with Apple. For an Apple Watch Series 5, you can get up to $190, while the Series 1 will only get up to $35. The only downside is that you can only use the money toward a purchase on the Apple website.
Other websites that accept trade-ins are Best Buy, which generally has slightly higher trade-in rates than Apple. The Apple Watch Series 1 can get you up to $40. Buy Back World, Decluttr, and MaxBack are also great options.
It is a good idea to see if any of the websites sell whatever product you want to buy next. That way, you can use the value of your Apple Watch to get you a discount on your next purchase! While this limits your options, it is easy and risk-free to trade-in your Apple Watch using these reliable companies. 
Selling your Apple Watch yourself can be more time-consuming and complicated. However, it can also get you the most cash. Another perk is that you get the money directly and can spend it or save it however you want.
Great options for selling second-hand electronics, in general, are eBay, Craigslist, and even Facebook Marketplace. It can help to search these sites for the same model to gauge a reasonable sales price. I just sold my Apple Watch Series 5 (GSP, 40mm) for $225 on Facebook within three days of listing it. 
Keep shipping costs in mind; you can use this USPS calculator to regularly calculate the costs of sending it. However, you may consider a more secure shipping method for your Apple Watch, such as FedEx or UPS. 
Make any terms and conditions clear so that there is no confusion if the buyer wants to return the Apple Watch. Also, if there are any imperfections or software issues, you should be honest about them.
Before you sell your Apple Watch, it is essential to know how to factory reset your Apple Watch. But there's more! It is also crucial to deactivate your Activation Lock so that whoever buys your Apple Watch can pair it to their iPhone. Don't forget to clean the watch and band thoroughly but safely before wishing your Apple Watch a fond farewell.