By

Olena Kagui
Updated 02/01/2023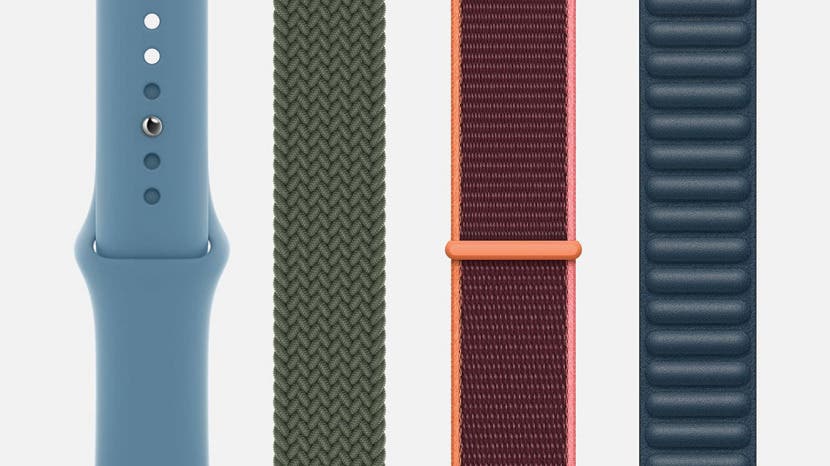 The Apple Watch is the ultimate accessory. It functions as a personal assistant, a fitness tracker, and it acts as an extension of your iPhone. On top of that, it can be customized to your heart's content. Apple Watch faces, complications, covers, and watch bands are great ways to personalize. However, it is important to know how to keep all those different bands clean!
Related: Apple Watch Goes Far Out with Ultra, Stays Grounded with the SE & Series 8
The official instructions on cleaning Apple Watch bands are using a nonabrasive, lint-free cloth. This is true for cleaning any Apple device, including a MacBook and an iPhone, as well as other accessories like clear phone cases. They recommend only using fresh water if necessary and suggest only dampening the cloth lightly. According to them, mild hypoallergenic hand soap can only be used on the sport band and solo loop.  

Discover your iPhone's hidden features
Get one daily tip each day (with screenshots and clear instructions) so you can master your iPhone in just one minute a day.
The sport band, sport loop, and solo loop can be dried using a clean nonabrasive, lint-free cloth. However, the nylon, braided, leather, Milanese, and stainless steel bands should be air-dried. Depending on how wet it gets, the nylon and braided bands can take hours to dry. 
You should always wait for the bands to dry before re-attaching them to your Apple Watch. Some people find that the safe ways to clean Apple Watch bands are not enough. Cleaning them using other methods can be more effective; however, it can permanently damage the bands. To learn more about the Apple Watch, sign up for our free Tip of the Day newsletter.
One of the most popular Apple Watch bands is the sport band. These are made of fluoroelastomer, which is flexible and resistant to various chemicals, including chlorine. It is safe to use in the pool and ocean. However, it needs to be cleaned after swimming with your Apple Watch, sweaty exercises, and regularly if worn frequently.
These bands are among the easiest to clean. While Apple does not recommend it, people have successfully soaked the bands in warm soapy water. However, in case of stains, you can use Clorox and a clean nonabrasive cloth.
If you're wondering how to clean a white Apple Watch band and make it look new, there is a non-Apple-approved trick. Use a Magic Eraser to scrub down the band after washing it. Do keep in mind that if you damage the band this way, Apple will not refund or replace it. 
The Apple Watch Sport Loops, including the Nike bands, are made out of woven nylon. While many Apple Watch wearers use them for swimming, it is not recommended as the woven nylon isn't water resistant. Because it is not considered water resistant, Apple recommends not to use a lot of water when washing it. 
Although it isn't recommended, many people choose to soak woven nylon bands in warm water and scrub them with a soft-bristled toothbrush to get dirt out of all the grooves. The band's texture makes it easy for it to get grimy over time, especially if you wear it during your Apple Workouts.
While air-drying is the safest way to dry the Apple Watch Sport Loop, it can take hours. Some people have found managed to use a lower heat setting on a hairdryer, but this can be risky. If you hold the band in your hand while drying it, you can tell if the heat is too high. The heat can potentially deform the band and prevent it from re-attaching to the watch.
The Braided Loop is made out of polyester yarn braided around silicone thread. The textured design makes it all too easy for dirt to get lodged in the band. Unlike woven nylon, this material is water-resistant. Soaking it in water isn't as risky, although Apple still warns against doing this. Use a soft-bristled toothbrush to scrub the band gently. 
Just like the Sport Loop, it can take a long time for the Braided Loop to air-dry. Some people have successfully dried them using a low-heat setting on a hairdryer. However, this can cause damage and could change the size of the band irreparably.
Nothing dulls the shine of a beautiful stainless steel band like the oils in our skin. The wrist may not seem like a sweaty part of the body, but a regularly worn watch cannot avoid accumulating dirt. The stainless steel band is one of the more challenging bands to clean without damage. 
Apple recommends just using a nonabrasive lint-free cloth to wipe the band. However, some find that this isn't enough. At the risk of damaging the band, you can consider other methods. Stainless steel watches have been popular for years, so there are many tested cleaning tips.
One effective way involves mixing one part water and one part vinegar in a bowl. Dip a piece of cotton or a soft clean cloth into the mixture and rub it across the band. It is crucial to make sure the band dries thoroughly afterward as it could potentially rust. 
To improve shine and help remove scratches, consider using a high-quality metal polish intended for jewelry and accessories. It may be possible to place the band in an ultrasonic cleaner, but it is important to do your research on what solvent is safe for stainless steel.
Leather is another seemingly tricky material to watch, but keep in mind that many traditional watches have similar bands. Unlike other materials, leather requires general maintenance; otherwise, it will lose its soft texture and quality shine.
When you wear a leather Apple Watch band regularly, it can get damaged and dirty over time. Using a cloth and soapy water is one simple way to clean the leather. However, you need to be careful not to cause any water damage. It is also essential to let the leather air-dry overnight.
If you wear the leather band continuously, consider cleaning your band every one or two weeks. You can also condition the straps with high-quality leather lotion. Make sure to follow the instructions based on the type of leather you have.
There are many third-party Apple Watch bands out there made from a variety of materials. Silicone, vegan leather, beads, and other options can be bought on Etsy, Amazon, and other websites. The universal way to clean all these is by using Apple's method of wiping them with a clean nonabrasive, lint-free cloth. Inexpensive bands will often use lower quality materials, so you have to be extra careful not to damage them.
A clean Apple Watch band looks great and is safer to wear. An accumulation of grime is not just unsightly, but it can cause a buildup of bacteria. If your Apple Watch band smells bad, that is a sign that it needs to be cleaned. When deciding how to clean your Apple Watch band, please consider using Apple's official instructions. If you use other methods, you could risk damaging your band. Check out the most popular Apple Watch bands and shop with confidence now that you know how to keep them clean!