By

Daniel Rasmus
Wed, 08/31/2016
Our homes are about to become much more visible, to us, and potentially to others. The so-called Internet of Things includes in its arsenal of technologies network enabled cameras. Networked cameras themselves aren't that new, but today's sophisticated, app-controlled cameras bring a wealth of new features that go well beyond monitoring a door for unauthorized entry. With today's cameras you can play with your pet, broadcast 360-degree video or control home automation hubs that turn on lights based on movement or sound.
And at the moment, most of these cameras require an app to make them work. Vendors rely on apps to set-up devices, monitor them, create scripts, record snapshots and implement many other features.
During a recent power outage I decided that I wasn't getting up to see which lights were on. Every light in my home is connected to some home automation system. I sat in bed with my iPad and looked at each of the cameras, which recovered pretty quickly once the power came on. I could see all the lights from one camera or another. If the light was on, I went to the Insteon, Staples, iDevices, Ilumi, or WeMo app to turn them off.
The cameras also help monitor the dog when we are out, one trained on his bed, the other at the back door where he waits to greet us. And yes, the cameras can be a little socially awkward.  I have played creepy dinner guest by taking control of Piper, which sits near the dinner table, from the road during dinner. The bi-directional audio gives me away, but my wife and kids are never sure how long I have been lurking (not long!)
As internet-enabled, these cameras also show the beginnings of social media integration with livestreams from ALLie and social media sharing via the iFamCare Helmut. Of course, they also work perfectly well for surveying an office setting or storage unit, but all of the items reviewed here are much more active than passive cameras, which means they are overkill for basic local recording services. If you buy one of these cameras be prepared for a little learning curve to not only figure them out, but to figure out exactly what you have purchased, and how to leverage the features.
The post covers a range of cameras from basic, non-mobile app-enabled cameras, to systems filled with sensors and compute power that act as stand-alone home security systems.
It would take up too much space to critique each camera's app user interface, but suffice it to say there are no standards. Each camera has its own unique app, extentions, and integrations. The more complex the device, the steeper the learning curve.
Piper (Starting at $149.99)
Piper is as much intelligent monitoring device as camera. It's really kind of a robot head without a body. It can hear, see, sound an alarm, sense light and humidity, communicate through its microphone and speakers, detect motion, and send alerts about weather conditions. Basic mode streams video to the iOS app. That app also provides access to the various sensors so that if the Piper senses motion, for instance, in away mode, it can set off its siren and send you a text message. The device can be set to home mode, where it becomes, perhaps, a baby or pet monitor. Rules can be written about what to do; for instance, when movement is detected or if the temperature increases above a certain level, it can contact you via text or e-mail. Piper also connects to a variety of Z-Wave-based home automation tools.
For best effect, the Piper requires a prominent position facing the main entry point of the home (or whatever door or space you want it to monitor). I leave mine on a counter, out of the way until we are out, and then positioning it on the edge of the counter overlooking the front and back entrances of the house.
Video comes in via a single wide-angle lens. Unlike, for instance, the Helmet, which actually moves, Piper only supports panning through the fixed image.
Piper is well-made and easy to configure. It is bigger than most other devices, but it does so many things that the size feels justified. Owners of large homes may want more than one if Piper is a central part of a security plan. For small home or apartments, one Piper may be all the security system you need.
The latest version includes night vision and a 3.4 megapixel camera.
Unique feature: All-in-one security system, including motion detection and alarm.
Pros: Very easily set-up. Puts a lot of power in a single device.
Cons: Requires a dedicated space. Home automation options limited.
Bottom line: Piper is best when it is intrusive, meaning it can't really do its job if it isn't out in the open. My wife keeps putting mine behind the napkin bin when guests come over, which means it must be moved prior to being armed when we aren't home.
ALLie hails from a security company; but this isn't a security camera, it's really become a broadcast camera for personal use, or even for professional use. If you want to stream a lecture or a business meeting over YouTube, the ALLie offers perhaps the easiest approach, and the only standalone one. A couple of clicks and the stream is live. Go ahead, create your own online Big Brother (or not, please). Of course, it also streams through the app, so if you are showing a home, or just want to watch your own, it does that very well, as well. ALLie added a couple of pieces to the box recently that permit the ALLie to mount on a standard tripod (when it first shipped, it did so with security fixture mounts). When working, this is a really nice way to share with people. I do find the camera becomes unavailable more often than I like when testing, but a reboot of the camera or the app quickly fixes connectivity and connection issues.
Unique feature: Real time YouTube 360-degree streaming.
Pros: 360-degree view of environment.
Cons: Software was still under development when the camera arrived and has undergone several revisions since first installation, as has the company's pricing and business model. 
Bottomline: If you have need for standalone YouTube streaming, with the added twist of viewing broadcasts with 360 video, this is an ideal companion.
This cute camera looks like some variety of a Star Wars stormtrooper helmet, which is where it derives its influence. Like its predecessor, the iBaby, this camera rotates on its perch, turning 360 degrees with a tilt of 70 degrees. Supports 1080p and recording to local SD card. But unlike a passive monitor, this camera has game—a built-in laser so you can not only monitor your pets from afar, you can play with them too.
The Helmet is also the most social, with the ability to share steams with friends and family, as well as the ability to share video via social media. You get peace of mind as a monitor, but if you catch the kids or the pets doing something fun while you are away, why not share.
Unique feature:  Laser pointer for playing with pets.
Pros: Swivels to see anything within its area of view.
Cons: Can be sensitive to Wi-Fi issues, sometimes needs to be reset after drops or power outages.
Bottomline: Looks fun, includes fun features. It is fun, especially if you capture video of your pets playing with the laser.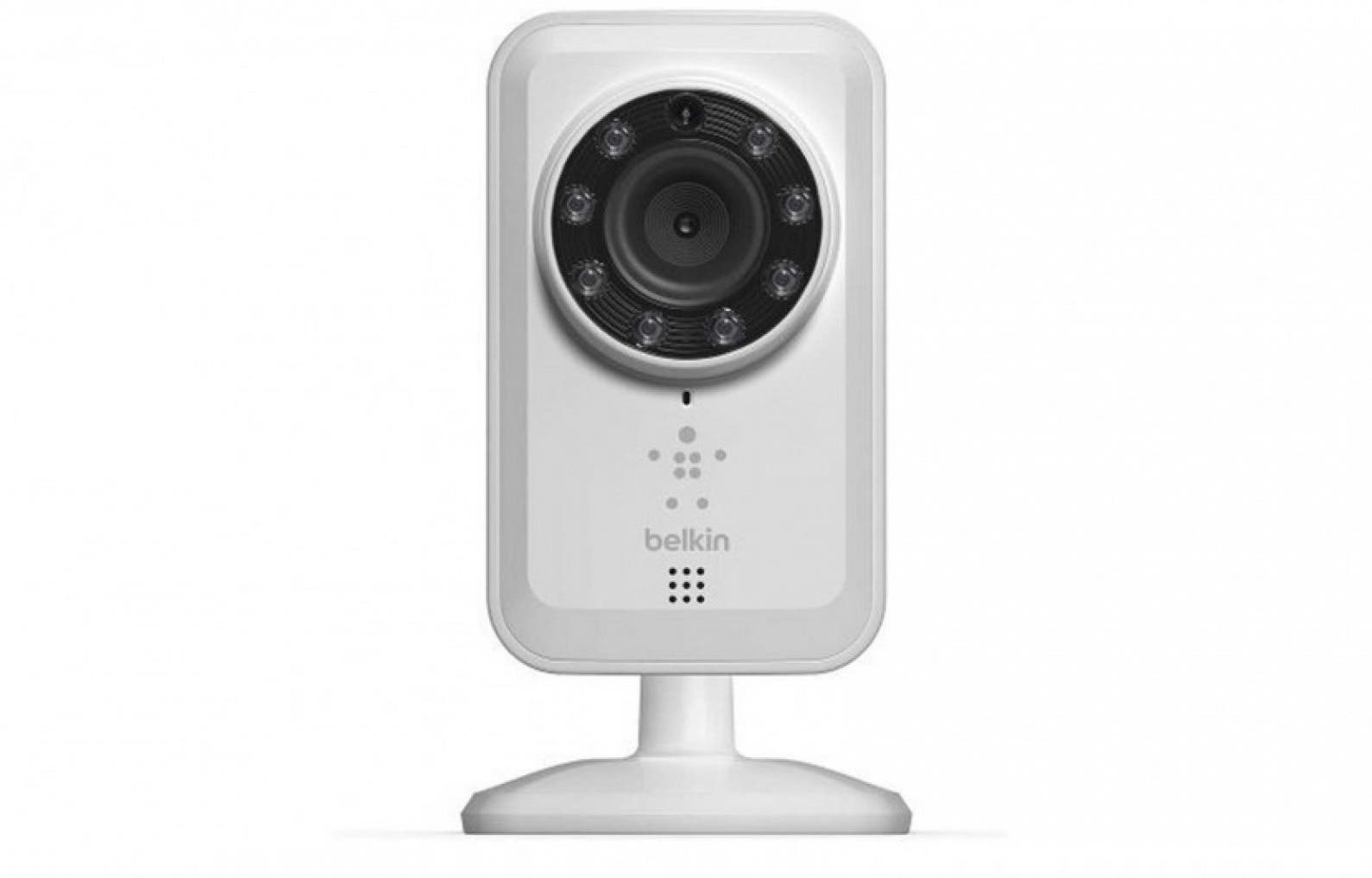 The Belkin NetCam Wi-Fi Camera with Night Vision stands watch over my front porch. It's fixed gaze isn't as versatile as its newer competitors but it serves a purpose. Anywhere I go I can see the weather and any visitors that might be waiting (or packages). Motion detection connects to email alerts. Like all WemMo-ready hardware, this NetCam can be used to trigger If-This-Then-That (IFTTT ) recipes on the net. So for instance, if someone approaches the camera, it can fire off an email you and turn on the automated sprinkler aimed at the area.
Unique feature: WeMo and IFTTT integration.
Pros: Easy to set up. Works with Belkin's WeMo system.
Cons: Fixed position. 
Bottomline: Good basic camera for a WeMo-equipped home.