By

Conner Carey
Updated 01/12/2023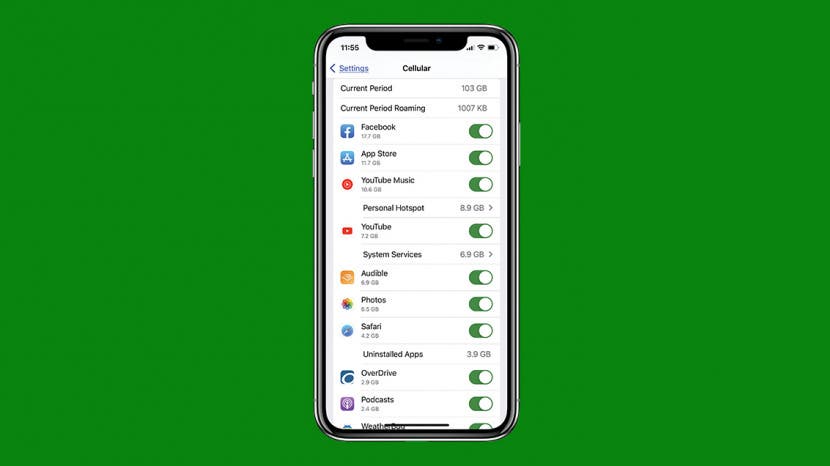 Are you seeing No Service or Searching on your iPhone or iPad? If so, you're probably asking, "how do I fix my cellular data?" Whether you have Verizon, US Cellular, T-Mobile, AT&T, or another cellular service, we're here to help fix your data connection on iPhone.
Related: How to Use Cellular Data for Automatic App Downloads on Your iPhone
Why Is My Data Not Working on iPhone?
Why is your iPhone cellular data not working, and how do you get your cellular data to work again? Here are seven ways to fix cellular data problems on iPhone. If you have an iPhone not connecting to Wi-Fi problem, that's a separate issue. For more great iPhone troubleshooting articles, check out our free Tip of the Day.  

Discover your iPhone's hidden features
Get a daily tip (with screenshots and clear instructions) so you can master your iPhone in just one minute a day.
Jump To:
This sounds silly, but it's the most basic, first thing to check. I once spent the morning running errands and wondering, "why is my LTE not working?!" Around lunchtime, I finally realized that I had forgotten to pay my phone bill. Problem solved! 
Also, check with your cellular service provider to make sure your iPhone is enrolled in the correct data plan. You may have just used up your data for the month!
If your iPhone isn't connected to Wi-Fi and you have Airplane mode turned on, you won't be able to use your iPhone's data connection. To make sure Airplane mode is off:
Open your iPhone's Control Center.
If the Airplane icon is orange and you see an airplane icon at the top of the screen, Airplane mode is on.


 

Tap the Airplane mode icon to turn it off; it will turn gray.
If you're outside of your cellular coverage area, it's a given you'll have no data connection. To check your cellular coverage area on iPhone, look at the icons in the Status bar at the top of your screen.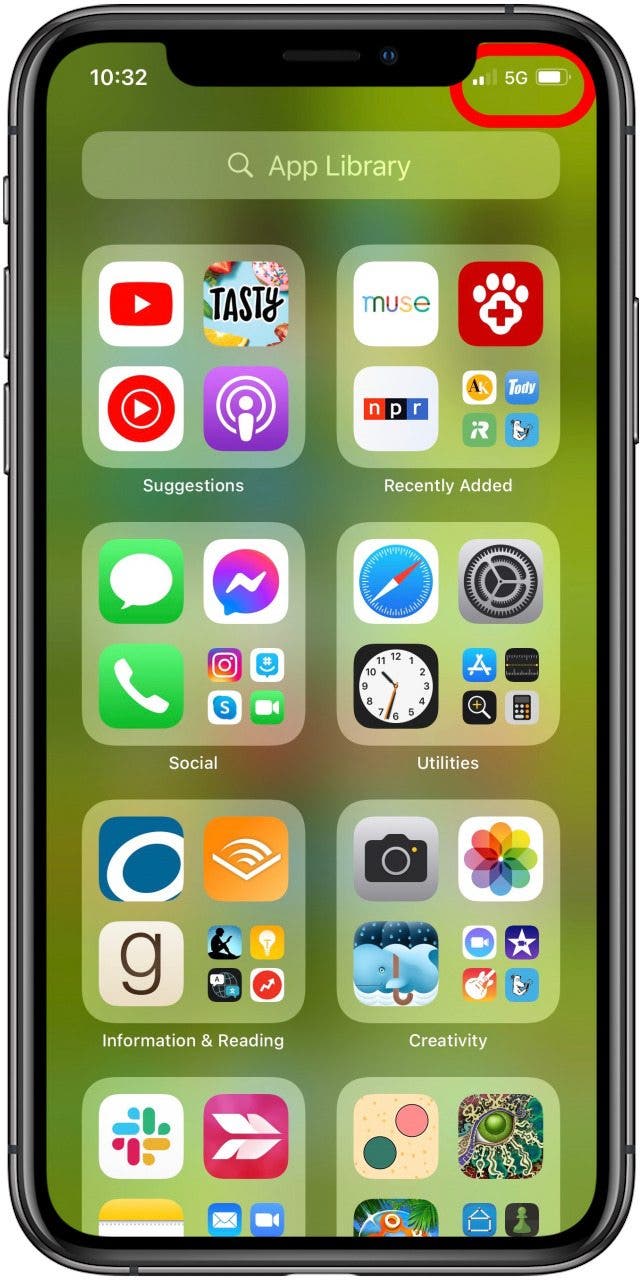 If you have any iPhone 12 model or later and a compatible carrier, you may see a 5G symbol, which also represents the availability of your carrier's network and the speed of that network. Users with older iPhones might also see 3G or 4G, the predecessors of 5G. If your Wi-Fi is turned off or you're out of range, you might see LTE instead of the Wi-Fi icon. This means your cellphone carrier's network is available, and you can connect to the internet using your data. Whether you see LTE or not, you will see four bars in your status bar representing your cellular connection strength. If all the bars are filled white, you have a very strong connection. If only one bar is white, your internet will be extremely slow, if it works at all. If no bars are white, you'll have no data connection at all.
If your mobile network is not available and cellular data isn't working, borrow someone else's phone and call your cellular service provider, or navigate to their website. It may be that the service outage is on their end, and you'll have to wait for network maintenance and repairs to use your cellular data again. 
If you have one or more bars highlighted, you should have a data connection. Now you need to double-check that your cellular data is on. If Cellular Data is off and won't turn on, skip this step. If it's on, but still not working, scroll down within the same Cellular Data page and make sure all the possible apps are toggled on, so they're able to access your cellular data. Here's how to turn on Cellular Data on iPhone:
Open the Settings app.


 
Tap Cellular.


 

Make sure Cellular Data is toggled on.


 
Make sure the apps you want to use cellular data for are toggled on. 


 
Note: if you are traveling internationally, follow these steps to make sure your iPhone is set up for data roaming:
Opening the Settings app.
Tap Cellular.

Tap Cellular Data Options.


 
Toggle on Data Roaming.


If you still have no service, your next step is to reboot iPhone. Here's how to restart iPhone; it's quick and easy! When your iPhone restarts, check Cellular Data Settings again, then test to see if cellular data is working.
iPhone cellular data still not working? You may see a message like "an update is required to use cellular data," which means you need an iPhone update. Here's how to do an iOS update. 
Also, if you like trying out new iOS features ahead of the general public, consider joining the Apple beta program. 
Next, you should remove the SIM card from your iPhone and check to see if it's the wrong size for the tray or damaged. If the SIM card is damaged, contact your cell phone carrier to get a new one. If your SIM card came from an old iPhone or iPad, check with your cell phone carrier to make sure it's compatible. Here's how to remove a SIM card from iPhone with SIM card removal tool or paperclip.
If the previous steps didn't fix your data connection, Reset Network Settings and restart your device once again. What does Reset Network Settings do? Resetting your network settings will reset Wi-Fi networks and passwords, cellular settings, VPN and APN settings, and often fixes network glitches. This step does remove Wi-Fi memory, so be sure to have your passwords handy for re-entry. 
If your iPhone isn't connecting to your cellular network the way it should, you may need to update carrier settings. Here's how to do a carrier settings update on iPhone. 
If none of these troubleshooting steps has worked, contact Apple Support for further assistance. 
If Apple Support was unable to help you, this is the final possible fix. This is the most time-consuming of the troubleshooting options because you need to back up your device first, or you will lose all your data when you Factory Reset your iPhone. Here's how to back up your iPhone to iCloud and how to back up your iPhone on a computer. 
After you've backed up your device, here's how to factory reset an iPhone. Once everything has been restored, check your Cellular Data again. Hopefully, this was the last-ditch effort that fixed the problem.