By

Jim Karpen
Fri, 05/16/2014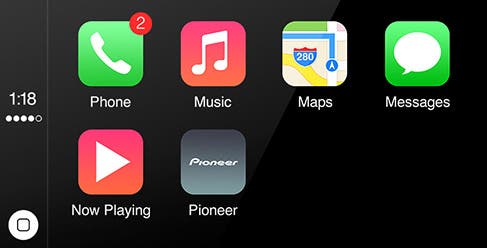 When Apple announced CarPlay, their new technology for automobiles, the big question was whether it would only be available on new cars, or if older cars could also take advantage of it. Then to the relief of many, two different companies announced forthcoming aftermarket CarPlay systems, with the one from Pioneer to be the first to hit the market. As noted by AppleInsider, Pioneer has been offering hands-on demonstrations of its NEX car infotainment system to the media this week, including CNBC, Macworld, and Digital Trends, which has a very detailed hands-on review of the system. Pioneer's CarPlay system offers Phone, Music, Maps, and Messages. See an earlier post for a bit more detail. 
According to the CNBC report, the NEX system will work with most cars except for some luxury vehicles. Support for CarPlay will be in the form of a software update for Pioneer's five NEX systems. The imminent arrival of CarPlay from Pioneer ("in a few weeks") is somewhat earlier than had been expected. Pioneer's NEX systems begin at $700. To install CarPlay, one downloads the software from Pioneer's website to a USB thumb drive, and then plugs it into the system to install the update.
CarPlay lets you take advantage of various iPhone functions in your car while minimizing distraction. You can make calls, receive calls, listen to voicemail, use the Maps app, listen to music, and send and receive text messages. You simply press a dedicated button on the steering wheel to alert Siri, and then you control CarPlay just by speaking. Siri even reads your incoming messages to you and lets you dictate responses.
In addition to controlling CarPlay with Siri, if your car has a display with a touchscreen, you can control it that way. Plus, the knobs and controls for your in-car display can also be used to control CarPlay, such that, for example, turning up the volume knob will increase the volume of the music being played from your iPhone.
Of course, a major feature of CarPlay is Apple's Maps. As with your iPhone, you can simply ask Siri for directions, and a map will appear on the in-car display along with spoken turn-by-turn directions, traffic conditions, and estimated travel time.
But, interestingly, Apple has added a layer of intelligence to CarPlay that gives it much more functionality. It actually anticipates your needs and predicts where you want to go based on recent trips and by using addresses from your email, text messages, contacts, and calendar.
In addition to using CarPlay for listening to your music, podcasts, audiobooks and iTunes Radio, you'll also be able to use specific third-party audio apps such as Spotify, Beats Radio, Stitcher, and iHeartRadio. Apple says that more apps will be coming soon.
The first three manufacturers to offer CarPlay were Ferrari, Mercedes-Benz, and Volvo. Over a dozen additional auto manufacturers are planning to offer it this year: BMW Group, Ford, General Motors, Honda, Hyundai Motor Company, Jaguar Land Rover, Kia Motors, Mitsubishi Motors, Nissan Motor Company, PSA Peugeot Citroën, Subaru, Suzuki and Toyota Motor Corp.