By Daniel Rasmus on Wed, 06/17/2015
Tangerine is not only a lovely citrus fruit, but also the title of a Sundance Film Festival official selection. Tangerine is the first full-length feature film to be shot entirely on a mobile device. If you want to give shooting high quality film with your iPhone a try, the Steadicam Smoothee ($169.00) could turn your home movies into professional looking Steadicam work, and offer professional videographers an entry path into the Steadicam experience.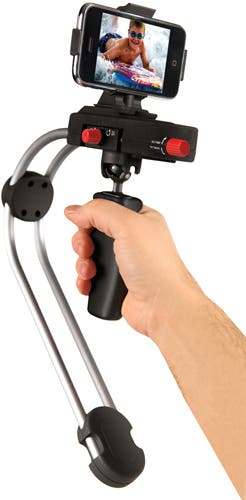 The Smoothee works with iPhone 3Gs 4/4S, 5/5s, and 4th generation iPod Touch, as well as Drift HD170 Stealth, Drift HD, Drift HD720, Drift HD Ghost and Drift Ghost-S, Flip MinoHD,  GoPro Hero 2,  Hero 3 and Hero 3+ and Hero 4.
Master your iPhone in one minute a day:
Sign up to iPhone Life's Tip of the Day Newsletter and we'll send you a tip each day to save time and get the most out of your iPhone or iPad.
Pros
Because the Steadicam is already prepared to be used with an iPhone 5 or a GoPro, there is no need for the frustrating and sometimes aggravating task of balancing the Steadicam system. Built-in weight can be shifted to accomodate different cameras, and more can added if needed. Unlike bigger, more expensive mounts, the Steadicam Smoothee is almost ready to go out of the box. The adjustment gears are easy to use. Clear handling instructions help move from set-up to cinematography in a few simple steps. For an up-and-coming cinematographer, the Smoothee provides excellent practice for Steadicam control, a little something to put on a resume. Traditional Steadicams can take videographers up to two years to master.
Cons
This device is lighter than a Steadicam for a DSLR by a long shot, but that doesn't mean it's lightweight. The Smoothe should perform well for weddings or vacation outings, but it would be a pain to carry all day. Most of the weight of the device sits in your wrist, so getting a brace could be helpful if you want to use it for extended periods of time. Regardless, your arm is probably going to get tired after awhile. The Smoothee is not a recommended addition to your Disneyland camera bag as you seek to enjoy the Diamond Celebration. 
Lack of support for iPhone 6 means you can't leverage the iPhone 6's superior camera, but it also means you can put your old iPhone 5 to very productive use.   
The Final Verdict
Overall, the device is very smooth, easy to use, and can hold its own against traditional and much larger Steadicams. If you take a lot of wandering shots and don't want everything in every shot to capture handheld jerkiness, the Smoothee is a good way to implement a the smoothness of a Steadicam into small camera video productions.
Alyssa Rasmus, owner of Pink Camera Media, contributed signficantly to this review.