By

Erin MacPherson
Updated 09/13/2023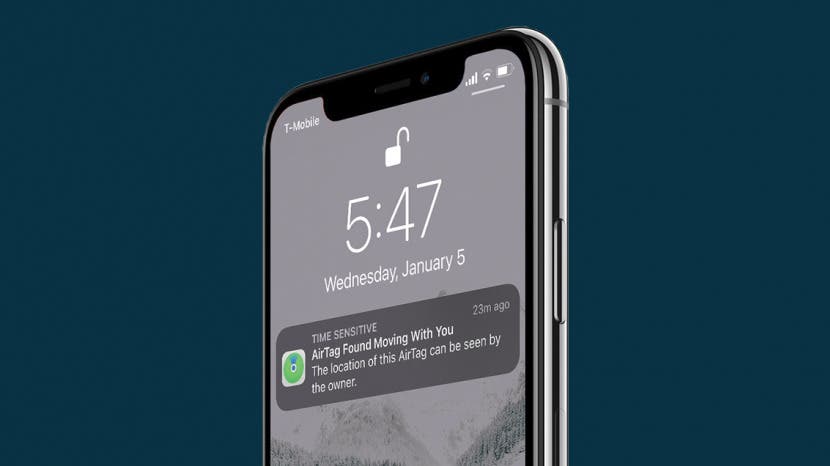 * This post is part of iPhone Life's Tip of the Day newsletter. Sign Up. *
Apple AirTags are a great tool to help you keep track of items like your wallet, keys, or backpack. However, they can also be used by untrustworthy individuals to track people without their knowledge or consent. Learn how to scan for AirTags in the Find My app to prevent unwanted tracking and how to disable an AirTag that may be found near you.
Related: How to Find a Lost iPhone, Even If It's Dead or Offline

Discover your iPhone's hidden features
Get one daily tip each day (with screenshots and clear instructions) so you can master your iPhone in just one minute a day.
Why You'll Love This Tip
Enjoy greater peace of mind when you know how to scan for an AirTag that someone may be using to track you.
Disable iPhone AirTags you discover from tracking your location through the Find My app.
How Apple AirTags Keep You Safe from Stalkers
AirTags have raised some concerns about the potential for unwanted location tracking, especially since they're so small that you may not notice if one has been planted on you or in your belongings. Fortunately, several safety measures exist to prevent this. First, AirTags that are away from their registered owner for a certain amount of time will start making a very noticeable alarm sound, so you can tell if one is near you and disable it. Second, an AirTag found moving with you even for a short time will cause a notification to pop up on your iPhone, alerting you that there's an unknown AirTag nearby. Finally, Apple has introduced the ability to scan for AirTags near you, just in case you think one is close by but hasn't yet triggered an alert on your iPhone. Need some help deciding what to put your Airtag on? Check out this article all about the best items to use an Airtag with! Keep reading to find out how to scan for and disable unknown AirTags near you.
How to Find Unwanted AirTags Nearby & Disable Them
We'll show you how to use Apple AirTag security features to keep yourself safe from unwanted tracking. Note: This feature is only available with iOS 15.2 or later. Ensure your iPhone is running the most current iOS version and then follow the steps below to find unknown Apple AirTags close to you and disable or report them. To learn more about privacy and security for your Apple devices, check out our free Tip of the Day newsletter.
If you receive one, tap the AirTag Found Moving With You notification and skip to Step 6. Otherwise, move on to step 2.


 
If you don't get one of these notifications but think an unwanted AirTag may be nearby, open the Find My app.


 

Tap Items.


 
Tap Items Detected With You or Items That Can Track Me, depending on which option you see. If you don't see either option, then your iPhone has not detected any AirTags nearby, and you won't need to scan.


 

If given the option, tap Search and follow the on-screen instructions. If you do not see this option, tap the unknown AirTag that was found nearby.


 
You will see a map of the AirTag's location (including a path showing it moving with you if applicable), along with the exact time that this AirTag was detected. If an unwanted AirTag is found moving with you, I strongly recommend that you screenshot this screen in case you need for legal purposes later.


 

Swipe up on the menu below the map to see more options to find and disable the unwanted AirTag.


 
Tap Play Sound to see if you can hear where the AirTag is hidden via the sound of the alarm.


 

If you realize the AirTag found moving with you is actually a trusted AirTag (like one belonging to a friend you're currently hanging out with), tap Pause Safety Alerts.


 
Next, tap Pause for Today. 


 

To learn more about the unknown AirTag, tap Learn About This AirTag and follow the on-screen prompts.
To learn how to disable an unknown AirTag, tap Instructions to Disable AirTag, then follow on-screen prompts.


Pro Tip
iOS 17 lets you share your AirTag with friends and family! This is incredibly useful for communal items like remotes, dog collars, or the spare house keys but can compromise your privacy if you have the AirTag on you.
​Now that you know the various ways to identify an unknown AirTag and disable it, you can move about your day with more peace of mind. Remember that if you do find an unwanted AirTag moving with you, it's a good idea to screenshot your findings, follow the steps to identify the AirTag, and report the information to local law enforcement.