By

Joe Landolfi
Thu, 05/18/2017
It could be a video you're working on professionally, or a video for a social media post that you want to spruce up; but if you need to edit a video simply and quickly while you're on the go and prefer not to use the Apple iMovie app or Clips app, these are the best five third-party video editing apps on the App Store.
Related: How to Create & Edit Videos with Apple's New Clips App
VideoShowHero lets you edit the length of a video, crop scenery out of the video, put music in a video, enhance the sound of the video, mute the sound of the video, and also speed up or slow down a video. There are also features on this app that take note from social media platforms like Snapchat and Instagram. For instance, you can apply filters like those found on Instagram to a video, and put stickers on top of a video like you can in Snapchat. Since these two social media apps have video content, this editing app is perfect for those social media users who like to play with filters.
Just like VideoShowHero, this app lets you edit the length of a video, crop scenery out of a video, put music in a video, etc. You can also enhance the sound of the video, mute the sound of the video, speed a video up or slow a video down. And it also features Instagram and Snapchat filters. One feature this app has that separates it from the rest is the feature that allows you to create a collage with photos on your phone.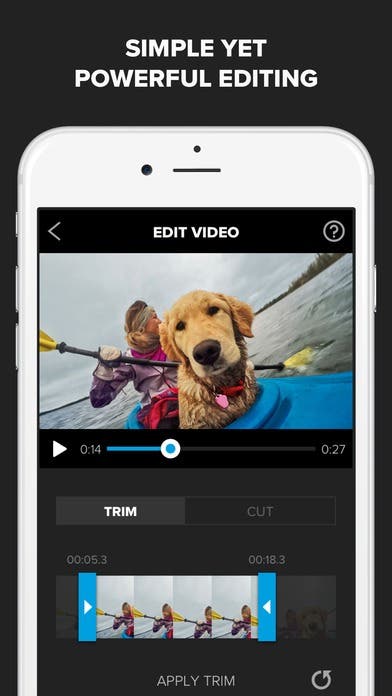 Of all the five video editing apps, Splice is the one with the fewest features, but the features it does have are efficient and easy to use. If your only task is to condense a video or combine two videos together then all you need is Splice. But that is pretty much the only capabilities that Splice has aside from editing audio.
Video Editor for YouTube allows you to upload videos on YouTube as its name implies; however, it must be done from a computer. It would be better if the user were able to sync the video directly from their phone, since that's where the editing occurs.
Filmmaker Pro has a rating of four stars in the App Store. One of the reasons why the app doesn't have a perfect five star rating like Splice, VideoShowHero, or Video Editor Music, No Crop, Cut is due to the fact that it is a bit harder to navigate. On the previous apps, the features are contained in a bar below the editing screen. However, in Filmmaker Pro there are two bars on both sides of the editing screen, which makes trying to locate editing features a hassle.