Master all the buttons and ports on iPhone X and later, including sound buttons, the side button, and your iPhone's silent mode switch.
By

Hallei Halter
Updated 03/02/2023
What To Know
The iPhone X and later (with the exception of the iPhone SE) have no Home button.
iPhone X, 11, 12, 13, and Phone 14 buttons are used in conjunction with swipes and gestures to control many iPhone features.
You can adjust your iPhone ringer and alerts with the Volume buttons by opening Settings > Sounds & Haptics > toggle on Change with Buttons.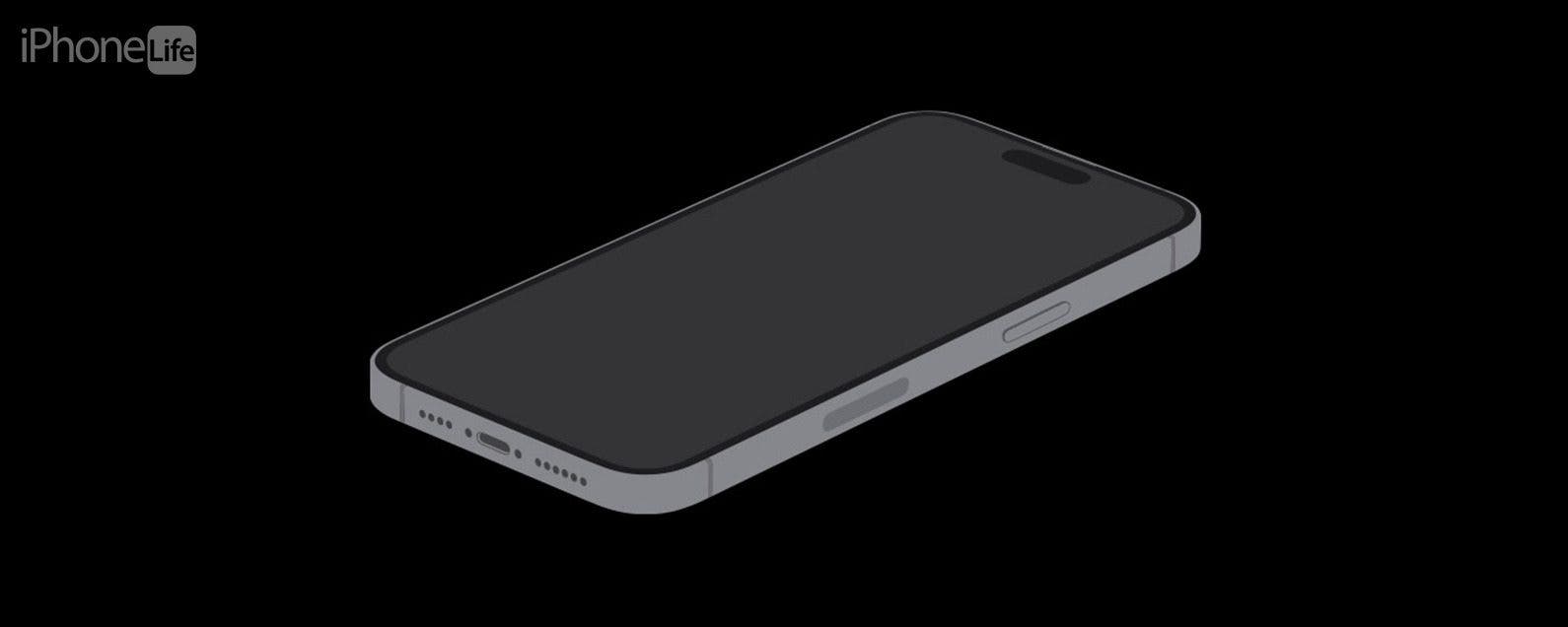 If you're learning how to use your iPhone 14, 13, 12, 11, or X, here's an overview of the different iPhone buttons and ports you'll see on your phone. I'll help you identify and understand every sensor, port, speaker, microphone, and button to help you navigate your phone. To learn more about iPhone specs and features, sign up for our free Tip of the Day.
Jump To:
Where Is the Home Button on iPhone X & Newer Models?
The iPhone Home button is a staple of the iPhone 8 and earlier, as well as the iPhone SE. Newer iPhones, however, do not have a Home button or Touch ID. Instead, they have Face ID and a larger display. Instead of using the Home button to return to the Home screen, users can simply swipe up from the bottom of the screen.
Here is a list of iPhones without Home buttons:
iPhone X
iPhone XS & XS Max
iPhone XR
iPhone 11
iPhone 11 Pro & 11 Pro Max
iPhone 12 mini
iPhone 12
iPhone 12 Pro & 12 Pro Max
iPhone 13 mini
iPhone 13
iPhone 13 Pro & 13 Pro Max
iPhone 14 & 14 Plus
iPhone 14 Pro & 14 Pro Max
Related: How to Use the Dynamic Island on iPhone 14 Pro & Pro Max
Diagram of iPhone Buttons & Ports
Here is a photo from Apple's support page that shows the different iPhone buttons and ports on the iPhone X and later. If you have an iPhone 8 and earlier, read this instead.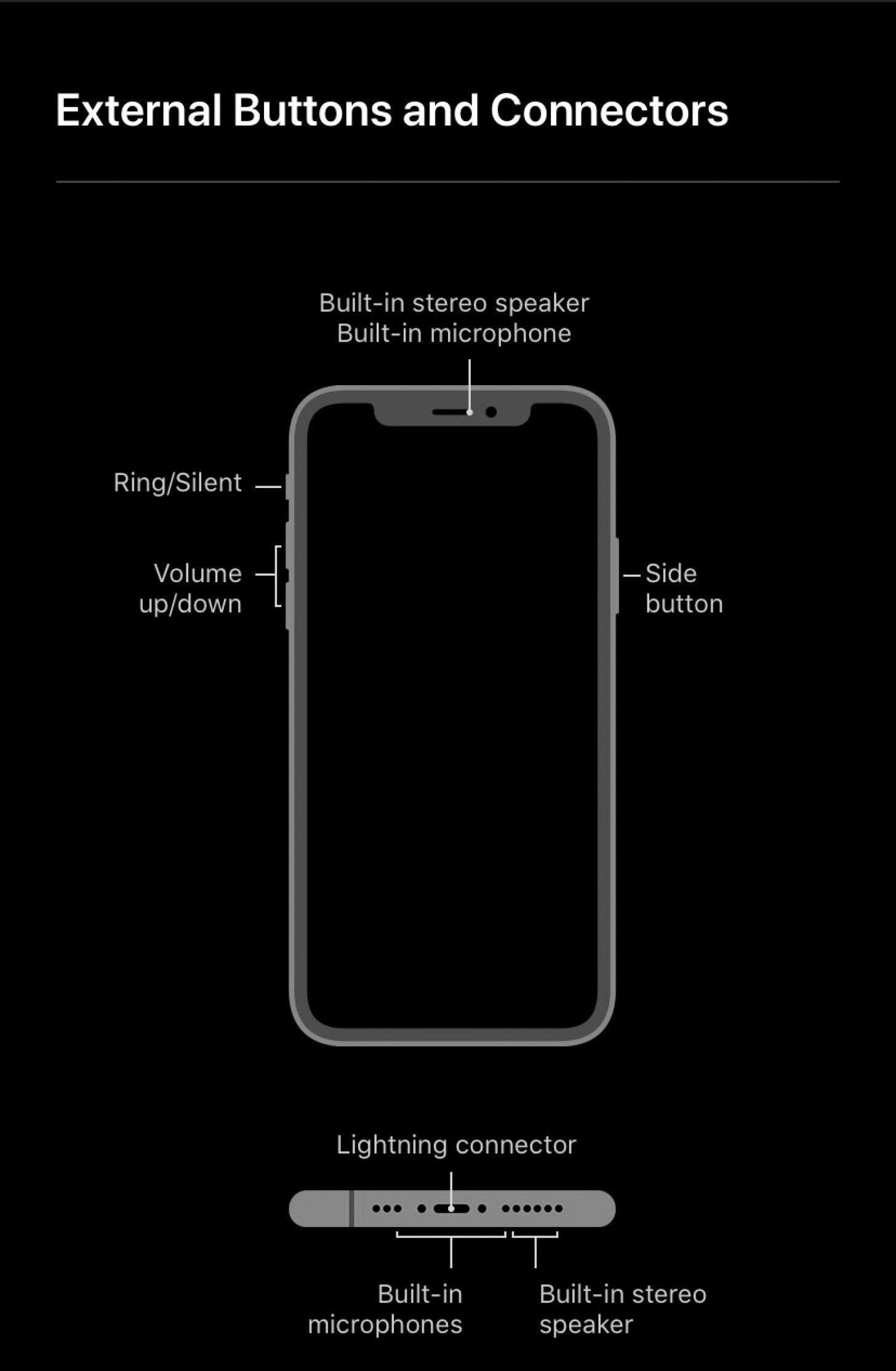 Starting from the top, I'll explain in a little more detail about what each button, port, and other iPhone feature does:
1. Top Speaker & Mic
At the top of your iPhone are a front-facing built-in stereo speaker and microphone. Together with the microphones and stereo speaker at the bottom, these help your iPhone provide quality sound and allow you to be heard or recorded. The iPhone speakers allow you to hear when you play videos, receive calls, or if you have sounds on for notifications, for example. The iPhone mics let other people hear you when you're talking during a call or if you're recording a video or message.
2. Ring/Silent Switch
On the top left of your iPhone is the Ring/Silent switch. Are you wondering how to turn off your iPhone's silent mode on an iPhone 14, 13, 12, 11, or X? Just push the Ring/Silent switch! With the switch pushed up, your phone will ring for calls and notifications. If you push the switch down, you'll see an orange tab letting you know the switch has been pushed down and iPhone silent mode is on. 
Pro Tip: With the Ring/Silent switch down, your iPhone's Ringer is silenced, and your phone won't emit noise for calls or notifications. Even with the Silent switch pushed down, your phone may still vibrate if you have iPhone haptics enabled.
3. Volume Buttons
Below the Ring/Silent switch are the iPhone Volume buttons. The top Volume button will make the sound louder, while the bottom Volume button will reduce the sound. Your volume buttons can have other functions, such as being used to snap photos.
On either the left or right side of your iPhone, you'll see a tiny hole. This is the SIM tray, and you can open it by using a paperclip or SIM tray opening tool. You can use the SIM tray to find out if your iPhone has experienced water damage!
The iPhones below have the SIM tray on the left side:
iPhone 14 Pro
iPhone 14 Pro Max
iPhone 14
iPhone 14 Plus
iPhone 13 Pro
iPhone 13 Pro Max
iPhone 13
iPhone 13 mini
iPhone 12
iPhone 12 mini
iPhone 12 Pro
iPhone 12 Pro Max
The iPhones below have the SIM tray on the right side:
iPhone 11 Pro
iPhone 11 Pro Max
iPhone 11
iPhone XS
iPhone XS Max
iPhone XR
iPhone X
You can also adjust your ringer volume with your volume buttons. Here's how:
Adjust Your Ringer & Alerts with iPhone Volume Buttons
Open the Settings app.


Tap Sounds & Haptics.



Under Ringer and Alerts, toggle on Change with Buttons.


4. Side Button
On the right is the iPhone Side button. You can click the Side button to turn your iPhone screen on or off. If you use Apple Pay or purchase from the App Store, you'll typically double-click with your iPhone's Side button to confirm a purchase. This is sometimes referred to as the "sleep wake button on iPhone." 
5. Lightning Port
Finally, between the built-in bottom microphones and stereo speaker, is the Lightning connector port. You'll use this Lightning port to connect your iPhone to anything with a Lightning connector, such as Lightning connector, USB to Lightning charging cables, and other compatible devices. The Lightning port is both an iPhone charging port, and for sending and receiving data.
For iPhone X and later, the device won't have a physical home button, but you can add one to the touchscreen if you want. And if you're not sure which iPhone you have, you can check to see which one it is.
The Back of the iPhone
On the back of your iPhone, you will see two or three cameras, depending on your model. The tiny hole is the microphone, just like near the front camera. There is also a small textured circle; this is the camera's flash. 
The iPhone 12 Pro and Pro Max also have flat black circle near the cameras that is the same size as the flash. This is the Lidar sensor that gives newer iPhone models AR-shooting possibilities.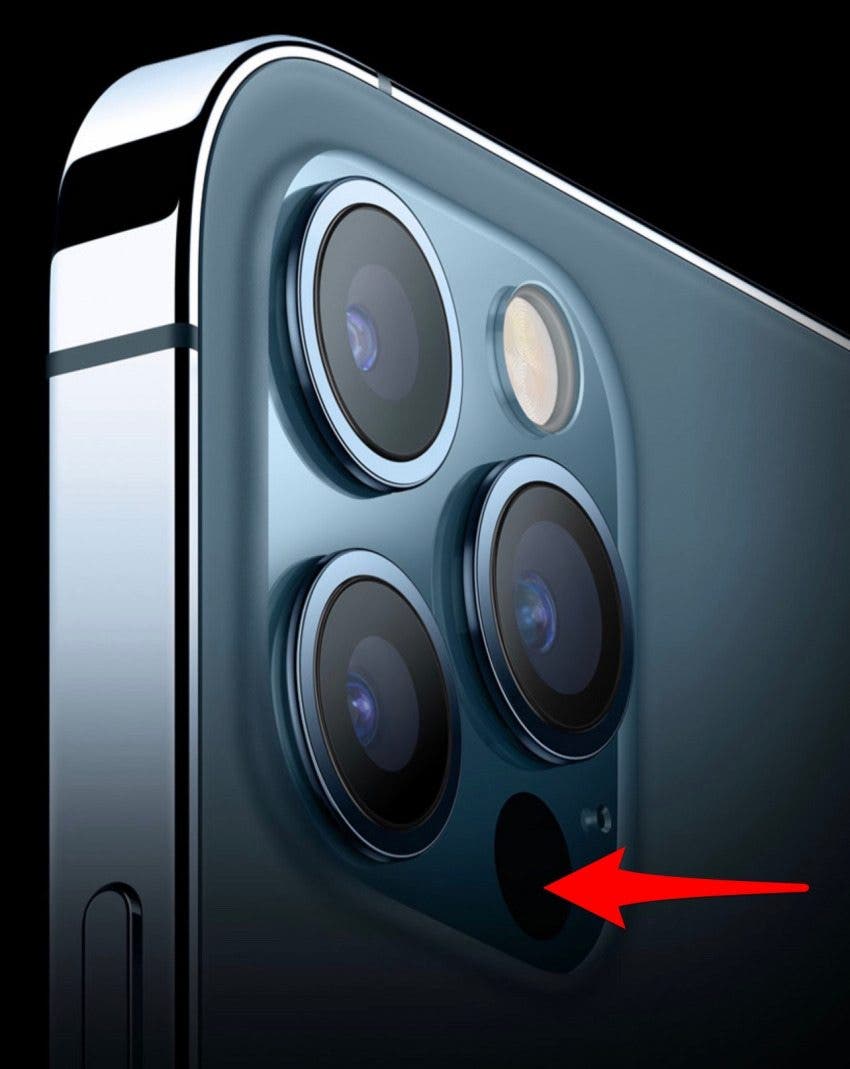 Now you understand how to navigate all the buttons and ports of your iPhone X and later!!