Your iPhone's Visual Voicemail transcribes voicemails on your iPhone when you can't or don't want to listen to them.
By

Conner Carey
Updated 09/12/2021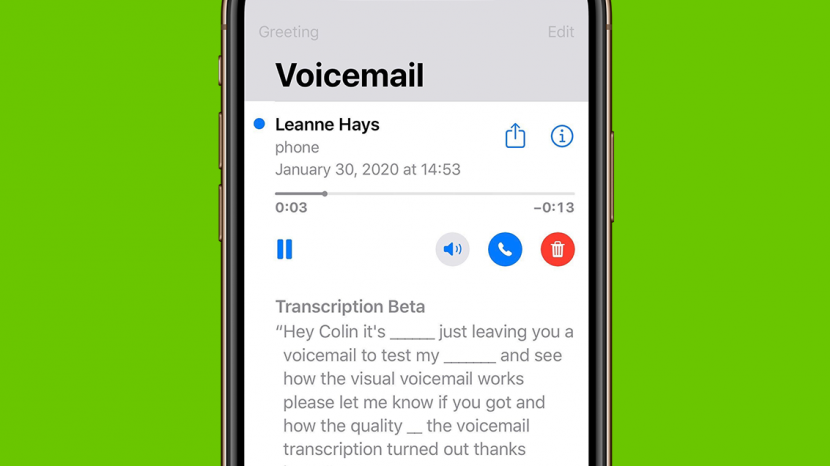 We've already gone over how to set up voicemail on your iPhone, so now it's time to learn how to use Visual Voicemail. A lot of people are asking, "How do you use Voicemail Transcription on the iPhone?" The voicemail-to-text feature on Apple's iPhone takes voicemail and transcribes it, so you can easily read phone messages. The feature itself is pretty easy to use, but it can be a little glitchy. We'll also go over what to do if Voicemail Transcription is not working on your iPhone. Here's how to use the voicemail-to-text feature known as Visual Voicemail on your iPhone. 
Related: iOS 14 Draining Your iPhone Battery Life? Here Are 13 Ways to Fix It
We've already gone over how to set up voicemail on an iPhone, how to change the voicemail greeting on your iPhone, how to change your voicemail password, and how to open your voicemail so you can listen to and delete messages. Check out our free Tip of the Day for more Phone and Voicemail tutorials. 
Jump to:
What Is Visual Voicemail (Voicemail-to-Text) on the iPhone?
*It's important to note that your carrier must support Visual Voicemail in order for this feature to work, regardless of the iPhone you have. If you're not sure whether or not your carrier supports Visual Voicemail, check here.
Visual Voicemail allows you to read a transcription of the voicemail sent to you. Once read, you can listen to the voicemail if you feel like the transcription missed a piece of information. You can also let Apple know whether or not the Voicemail Transcription was useful. Many people want to know how to turn Voicemail Transcription on or off, but you can't do either at this time. Voicemail-to-text on iPhone is a default feature that works on devices running at least iOS 10. However, if you own an iPhone 6 or earlier, Voicemail Transcription will not work on your device. It does, however, work on iPhone 6s, iPhone SE, and all newer models including the iPhone 12. 
Open the Phone app.


 
Tap Voicemail at the bottom of the screen.


 
Tap the voicemail you want to read.


 
You'll see a paragraph of text above the voicemail play button. That's the voicemail transcription.


To listen to the voicemail after reading the transcription, tap the Play button. 
 
The voicemail transcription may not be perfect, but it gives you an overall idea of what the person was talking about and whether or not they're a telemarketer. Once you've read the voicemail transcription, you can choose to listen to the voicemail or simply delete it.
While some love the Voicemail Transcription feature, I've heard from quite a few people who just want to turn the dang thing off. Unfortunately, Apple didn't include a way to disable Voicemail Transcription on iPhone.  I suspect Apple will give the option to disable Voicemail Transcription in future updates. When it does, we'll make sure to update this post with how to turn off Voicemail Transcription. You may, however, be able to disable it by going through your cell provider's site, such as Verizon, and select the option to turn it off that way.
For whatever reason, Voicemail Transcription only works on iPhone 6s or later, including iPhone SE and the newer models such as iPhone 8 and iPhone X. If you have an iPhone that Voicemail Transcription works on, make sure you've updated to the latest iOS. If you want to try and get Voicemail Transcription working on your iPhone now, we recommend resetting your Network Settings:
Open the Settings app.
Tap General.


 
Select Reset, then Choose Reset Network Settings.


 
Enter your passcode and confirm.


 
You'll need to re-enter your Wi-Fi passwords after your network settings have reset.
If you've tried something that fixed Voicemail Transcription for you, let us know in the comments so other people can try it too. We expect Apple will address the problems with Voicemail Transcription in future updates.
Tap on a voicemail to read the transcription.
Beneath the transcription, you should see Was this transcription useful or not useful?


 
Tap useful or not useful, depending on how the voicemail transcription was.
A pop-up will let you know what will be sent to Apple for improving the service.
Tap Submit to accept or Cancel to change your mind.